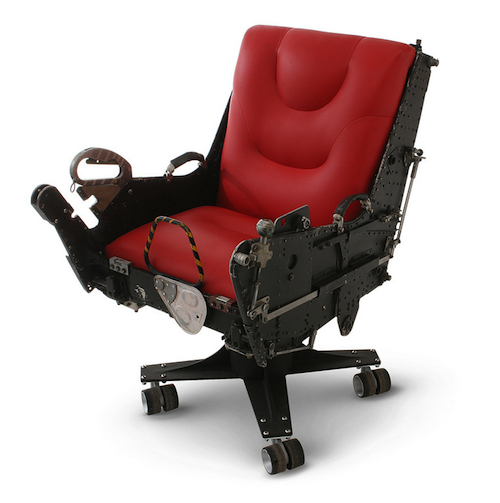 F-4 Ejection Seat. All images courtesy of MotoArt.
"This is a hard business. Not everyone loves fuselage office dividers. But if you believe in something you can never give up."
— Dave Hall, Co-Founder, MotoArt
Ever caught yourself daydreaming while stuck in the office chair behind your monitor, imagining yourself as a pilot at the controls of a jet fighter or bomber? If not, then perhaps your levels of maturity are stratospherically higher than ours, but if the excitable child or adventurous spirit in you is not lost, then this high-flying range of furniture could be for you — provided you can afford it.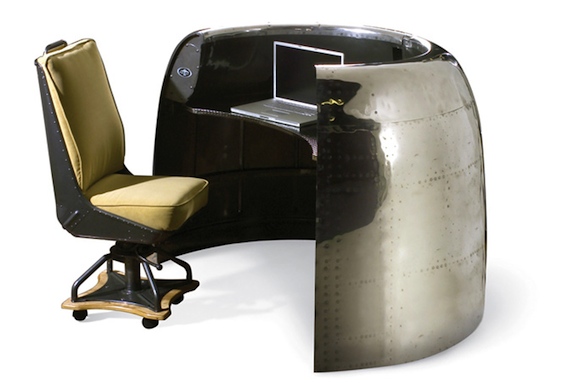 DC-6 Cowling Airplane Desk
Trust us, these seats, stools, tables, reception desks, sculptures and even fish tanks are an armchair aviator's dream, manufactured as they all are from abandoned aircraft parts — many of them from military planes. From engine covers to ejection seats, propellers to rear stabilizers, they've all been reclaimed, recycled and reused by MotoArt. Strap yourself in as we take the tour to see what's on offer.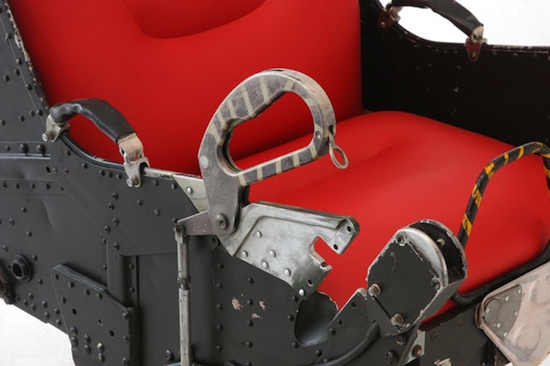 F-4 Ejection Seat (detail)
Take this low-riding seat — except, of course, it's no ordinary seat. No, it's an F-4 Ejection Seat, ideal for anyone's who's ever envisaged themselves as an ace pilot on the tail of an enemy fighter, particularly if in the cockpit of a McDonnell Douglas Phantom, where this ejection seat was once ensconced.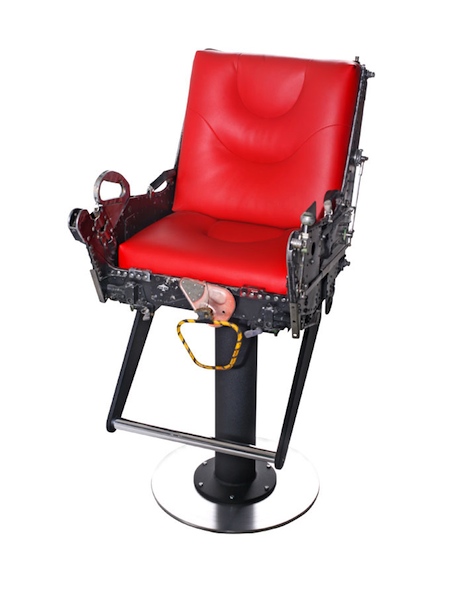 F-4 Ejection Bar Stool
This variation, a highly limited-edition series of F-4 Ejection Bar Stools (with only a handful left) swivels on a single post and features a polished foot rest. We're just wondering whether it could also function as a one-button solution to removing overly rowdy revelers from a party or bar!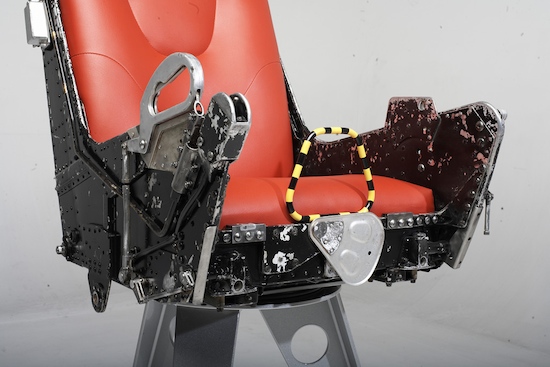 F-4 Ejection Bar Stool (detail)
The other version of the F-4 Ejection Bar Stool also uses the original fighter plane bucket seat, with the workmanship retaining the original paint to complement the plush, "high-performance" upholstery.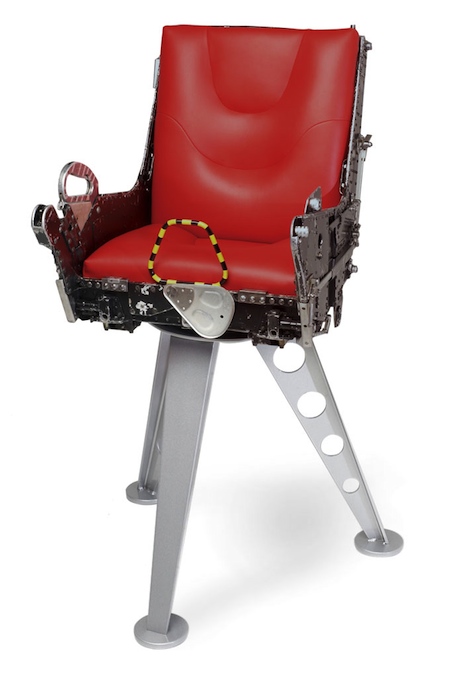 F-4 Ejection Bar Stool
The F-4 Phantom was a long-range supersonic interceptor and fighter-bomber introduced in 1960 that formed a major part of U.S. military air power for 30 years before being phased out in favor of modern replacements like the F-15 Eagle, F-14 Tomcat and F/A-18 Hornet. It was MotoArt's ace vision that ensured not all the remains of this out-of-production aircraft were lost to the scrapyard.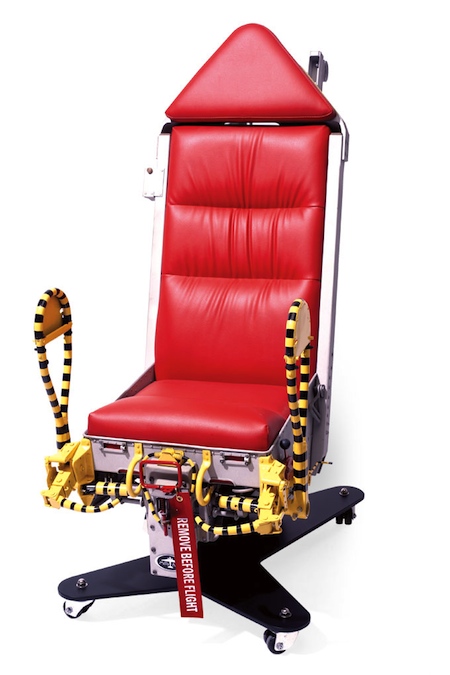 B-52 Ejection Chair
This next Ejection Chair was once housed in the cockpit of a B-52 Stratofortress, the largest bomber in USAF history. It's arguably MotoArt's best, sold as "a virtual escape from the gravity of an ordinary executive environment." Among its design features are paintwork that replicates that of the original chair, like the yellow-and-black seat handles, and an "intact ejection pin, replete with the 'remove before flight' warning tag." New upholstery and a gloss aluminum finish add a sleek look to this relic from an aircraft built to be able to carpet bomb areas with a 60,000-pound payload. The B-52 Bomber was a stalwart of the Cold War, but after the thaw in icy international relations many of these flying behemoths were junked in line with the Strategic Arms Reduction Treaty. Some were packed off for early retirement to Tucson, AZ's famous Airplane Graveyard, where rows of the once proud planes line up, their wings now amputated.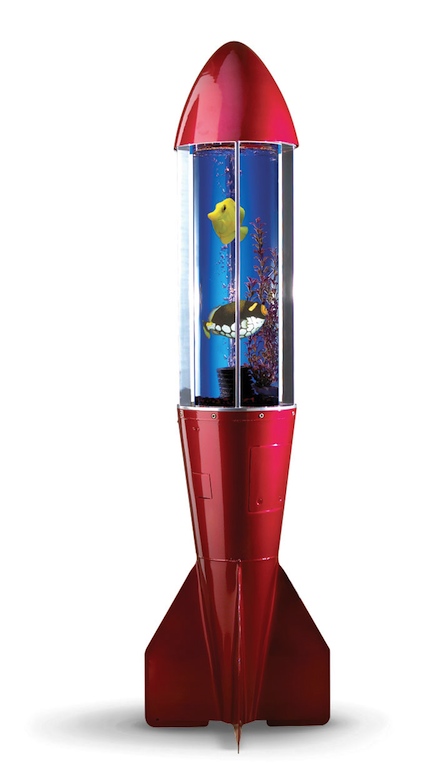 MK-84 Aquabomb
One of MotoArt's most mind-blowing yet oddly most homely contributions to interior design is the MK-84 Aqua Bomb. Made using the tail fins of the eponymous bomb, it's a 10-gallon vertical fish tank with inbuilt pump, filter and lighting that stands over 6½ feet tall. Liberally dropped on a huge range of targets in Vietnam and Operation Desert Storm, the MK 84, known as the "Hammer" due to its power, weighs up to 2,000 pounds and carries a lethal high explosive able to create a 50-foot-wide, 36-foot-deep crater. It is ironic that a weapon built for such destruction should now provide such tranquility!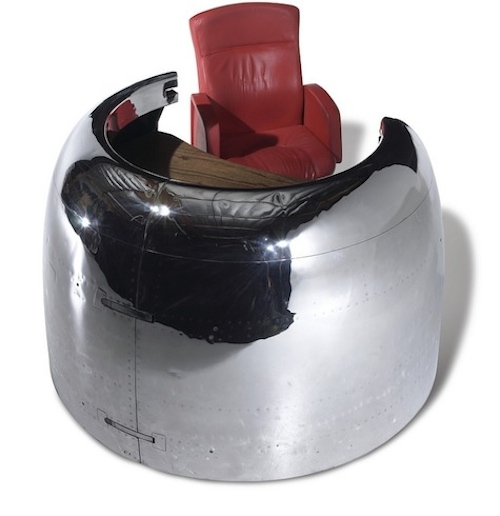 KC-97 Cowling Airplane Desk
Were those whose fates collided with MotoArt lucky? Well, their ejection chairs were at least spared the ignominy of becoming scrap. And B-52s, Phantoms and Mark 84 bombs are not alone in having been salvaged for this offbeat repurposing. The USAF's Boeing KC-97 Stratotanker gave up some of its materials for the airplane desk above, for example.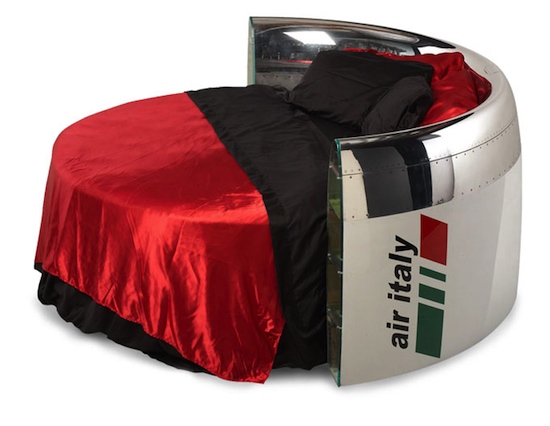 747 Jet Liner Bed
And then there's this round 747 Jet Liner Bed, which features the engine cover housing of the eponymous oversized airliner as a headboard, which is then painted and mirror polished. High-flying style! You've probably realized by now that MotoArt specializes in an array of furniture items that were once integral to different airplanes — both civilian and military. The polished cylinders of the Douglas DC-6 Cowling Desk (top), which can be used as bar or workstation, began its life housing the once widespread airliner and transport aircraft's piston-powered engines.
747 Cowling Reception Desk
The Boeing 747 Cowling Reception Desk, nearly 9 feet across, is more slick reuse of an old engine cover from the archetypal jumbo jet, one of the largest aircraft to take to the skies. They're pretty limited, too, as apparently only a couple of 747s come off the production line each year.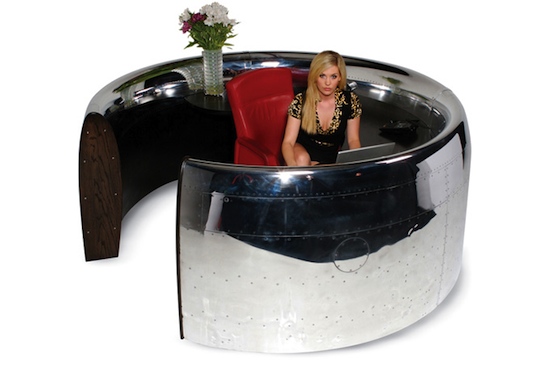 747 Cowling Reception Desk
Various wing parts now serve not to stop aircraft plummeting to earth, but to ensure stationery doesn't drop the more incidental distance to the home or office floor.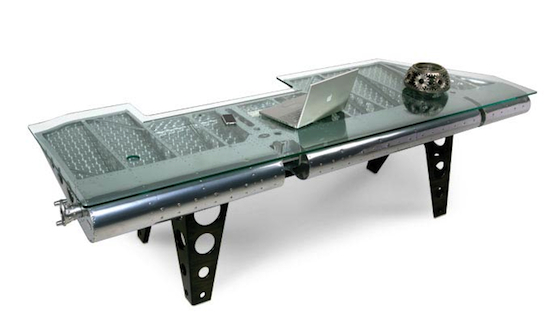 B-25 Mitchell Bomber Airplane Desk
Take the B-25 Mitchell Bomber Airplane Desk: once a wing, its aluminum frame covered in cloth; now given a glass surface through which you can see the design details of the rudder and elevators that allowed this tough twin-engine medium bomber to fly on its many WWII missions — like the morale-boosting Doolittle Raid on mainland Japan in which all 16 B-25s crashed after the attack, martyrs to the cause.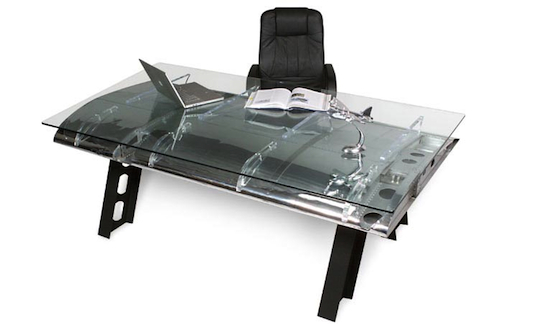 C-130 Outer Flap Airplane Desk
Another classic warplane whose retirement has proven rich pickings for the guys at MotoArt is the C-130 Hercules. "The epitome of strength and prowess, C-130 desks and the C-130 conference tables transform any executive office space into an aesthetically bold command center," booms the marketing spiel. The wing flaps are salvaged from around the world, then crafted into products ranging in size from 4 to 20 feet.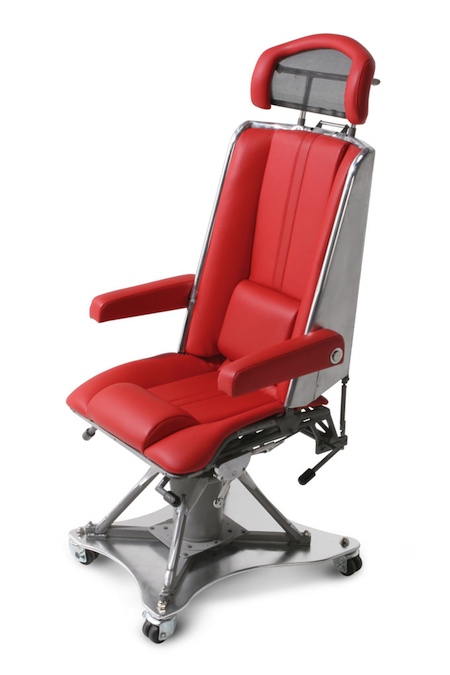 C-130 Navigators Chair
Meanwhile, the C-130 Navigators Chair restores the air crewman's seat with red racing upholstery, casters and reclining functionality. More furniture to put you at the helm.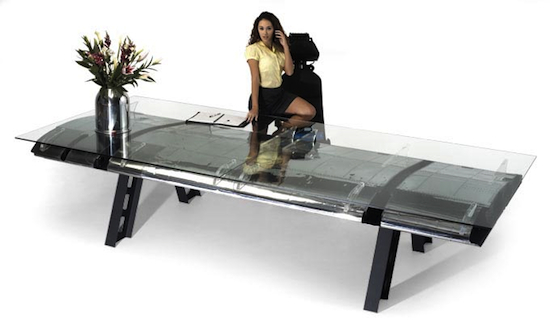 C-130 Inner Flap Conference Table
The Hercules has been a widely used mainstay for well over 50 years, serving in various roles from troop and cargo transport and offensive ops (as the AC-130 gunship), to search-and-rescue and wildfire fighting. A durable beast, some of its 40-year-old models have been reinstilled with life by MotoArt.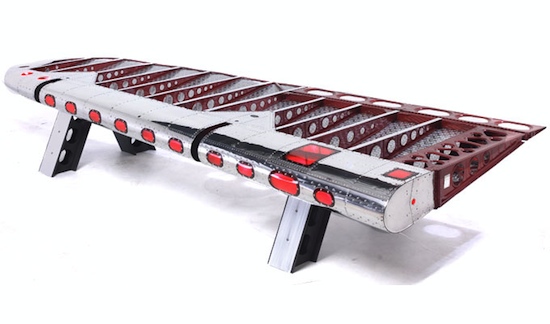 DC-4 Conference Table
Interested in buying any of these discarded pieces of equipment and weaponry transformed into furniture? Those who are will need a purse big enough to match their enthusiasm for all things aviation, with some items costing tens of thousands of dollars, and owned by the rich and famous.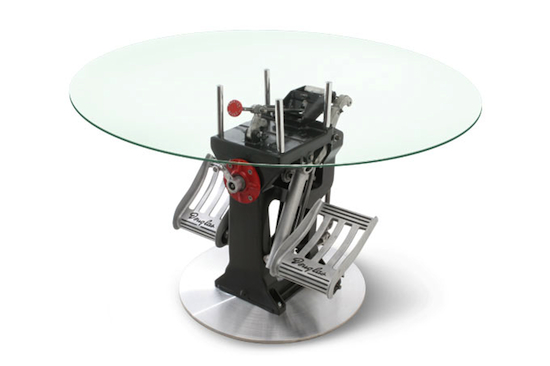 Douglas C-133 Pedal Table
That said, significant man hours go into creating each custom piece of furniture, as the team of technicians — working out of the 12,000 square foot Torrance Hangar — strip, repair, cut, grind, sand, buff and polish the former airplane parts into a beautifully burnished addition to any room.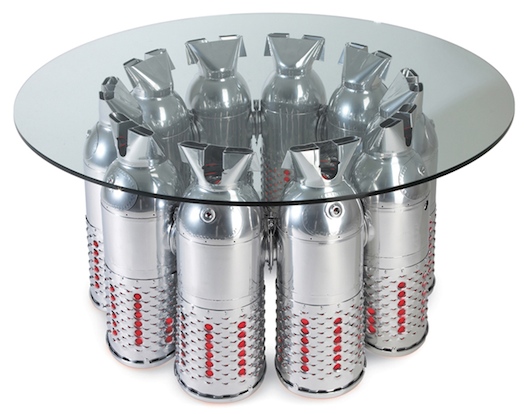 F-4 Phantom Coffee Table
MotoArt began as a flight of fancy for ex-Disney signage maker Dave Hall and artist and business partner Donovan Fell. In early 1998, Fell noticed some greasy, dented B-17 propellers in the scrap pile of his local junk metal recycler.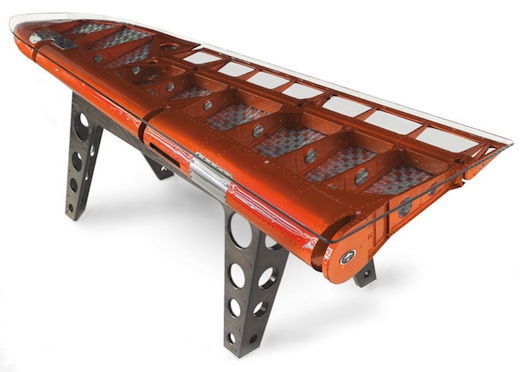 C-119 Airplane Rudder Desk
"What beautiful shapes they were and what countless memories of engineering, combat and freedom they contained," says Fell. "It was love at first sight, and I vowed to save these unique forms of metal from the smelter's furnace. Within minutes a deal was struck and the possession of several hundred pounds of scrap aluminum changed hands."

Large Propeller Sculpture: DC-3
After several weekends of restoration work, the idea of propeller blade sculptures formed, and "Within a few months my office and adjacent workspace had become a propeller forest," Fell continues. Other sources for more blades and other parts were found, and the rest is history. "The rescue of these marvelous engineering components from yesteryear gives much joy as well as a feeling of being a small part of the great art of aviation," concludes Fell. With this kind of passion for the recycling process, it's no wonder MotoArt's work has taken off.
Thanks to MotoArt for permission to use their images