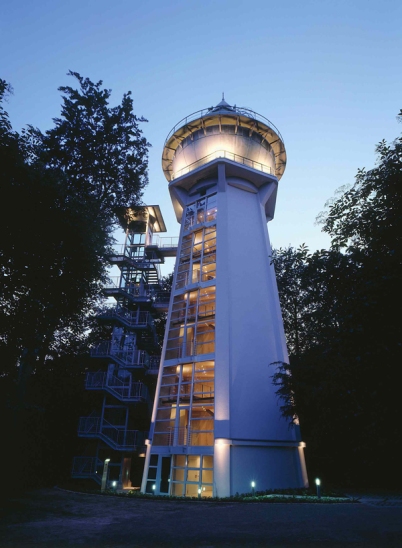 Image: Friedhelm Krischer for MADAKO, used with permission
One thing all old water towers have in common is that once their original purpose ceases to be important, they quickly turn into eyesores. Yet, on the other hand, their historic and cultural significance prevents them from being torn down. A dilemma? Not for creative architects, city planners and communities considering an altogether new purpose, as these seven examples show.
7) Groningen Water Tower, The Netherlands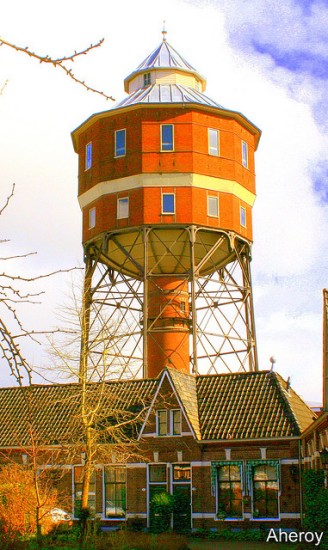 Image: Aheroy
Though this old water tower in the Dutch city of Groningen is made of bricks, it has kept the trademark spherical style of water towers, perched on top of a single pillar. The old water tower was converted into living quarters, with ample windows and a picturesque tower room on top. For reinforcement, the repurposed tank now rests on a 12-sided steel frame.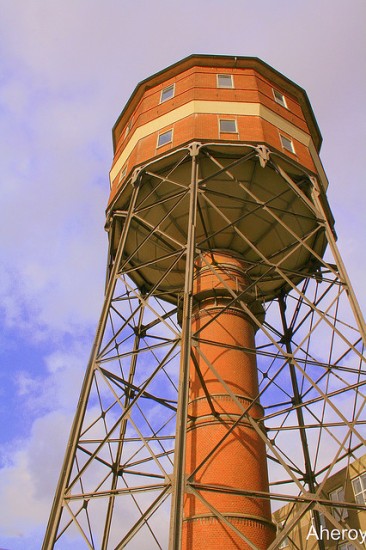 Image: Aheroy
Though standard water towers require a minimum height of 20 feet and a tank 13 feet around, this one, built in 1908, certainly seems larger and grander, like everything at the turn of the century. In its heyday, it must have provided more than 2 million gallons of water on average. Luckily, it got preserved after it was no longer needed and now makes for a beautiful landmark in the vibrant Dutch city.
6) House in the Clouds, Thorpeness, Suffolk, U.K.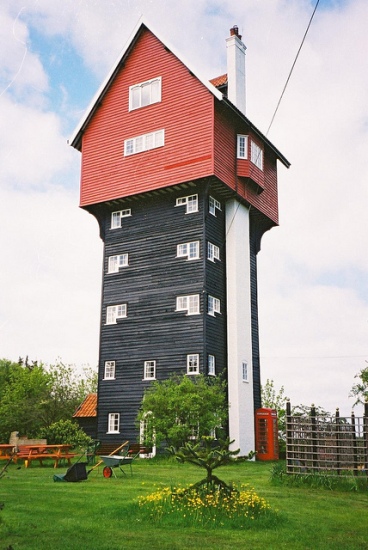 Image: Karen Roe
The "House in the Clouds" in Thorpeness, Suffolk, is a famous landmark in the area. Built by Braithwaite Engineering Company of London in 1923, it was constructed with the purpose of supplying water to the village of Thorpeness. Its water tank had a capacity of 50,000 gallons. The water tower was deemed an eyesore and was disguised as a house by Glencairn Stuart Ogilvie and architect F. Forbes Glennie.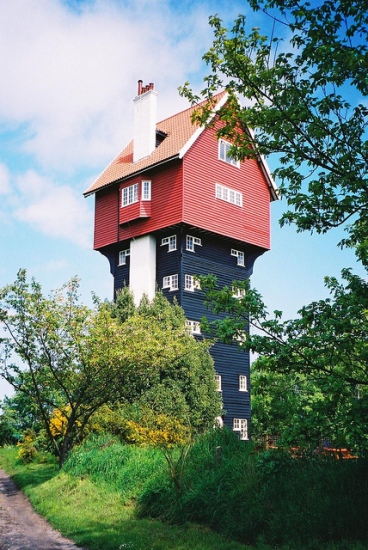 Image: Karen Roe
Today, the water tower house has been converted into a real home, housing five bedrooms and three bathrooms. The house at the top of the building is accessible via 78 stairs and houses a games room with a pool table and ping pong table. Starting from £2,130 (approximately $3,430) per week, the cottage in the clouds can be yours for a self-catering holiday — if 70 feet up in the air doesn't make you dizzy that is!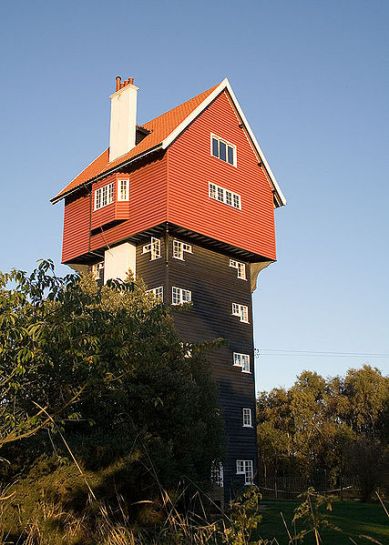 Image: Andrew Dunn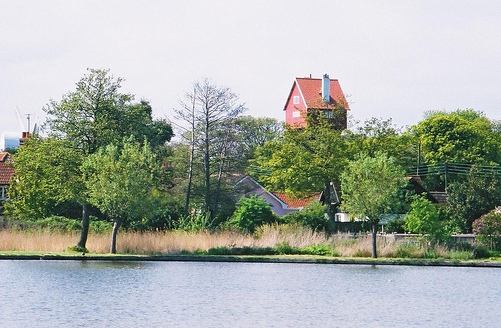 Image: Karen Roe
Now you know why it's called the "house in the clouds!"
5) Jaegersborg Water Tower, Gentofte, Denmark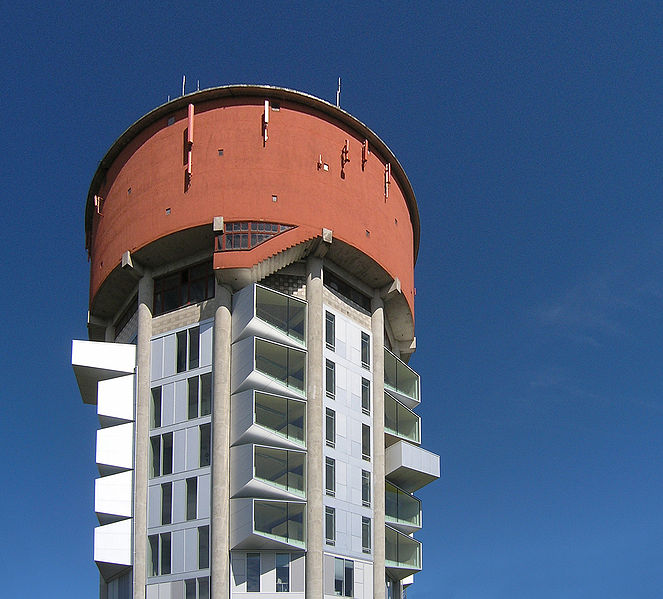 Image: Seier+Seier
The old Jaegersborg water tower, in Gentofte, just north of Copenhagen, illustrates that it's not only water tower tanks that can be repurposed, but also the space below. This unusually large water tank rested on concrete pillars and wasn't the prettiest to look at. Danish firm Dorte Mandrup Architects won a competition in 2004 to convert the structure into a mixed-use building, and did so beautifully by incorporating the existing structure into a new, modern design, all the while keeping budget constraints in mind.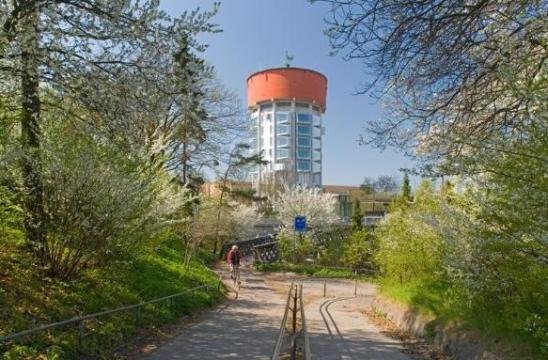 Image: Jens Markus Lindhe & Dorte Mandrup Architects, used with permission
Just two years later, the project was completed, creating a total floorspace of 9,448 square feet: 40 new student apartments on the top floors were created, with a youth center and several large multipurpose rooms on the lower floors. Most noticeable about the project are the huge bay windows, each of which marks one student unit. Those and the communal balconies ensure that enough light enters the apartments, while outdoor space is also provided — not to mention stunning views of the surrounding landscape.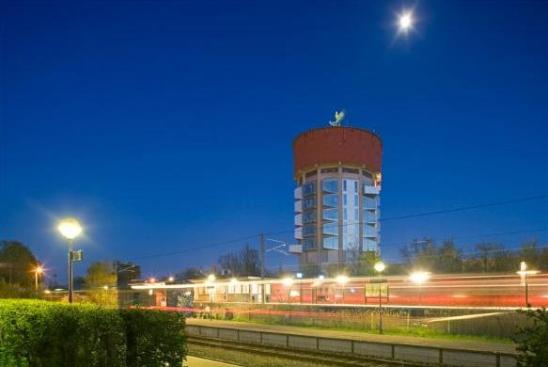 Image: Jens Markus Lindhe & Dorte Mandrup Architects, used with permission
Inside, space is well utilized and functional: each apartment comes with ample storage space, a loft bed, small kitchen and living area dominated by a huge window, letting in more than enough light and sunshine. And on the outside? The water tower's exterior is much improved, making for much sought-after housing in what is now a modern landmark.
4) Sunset Beach Water Tower, California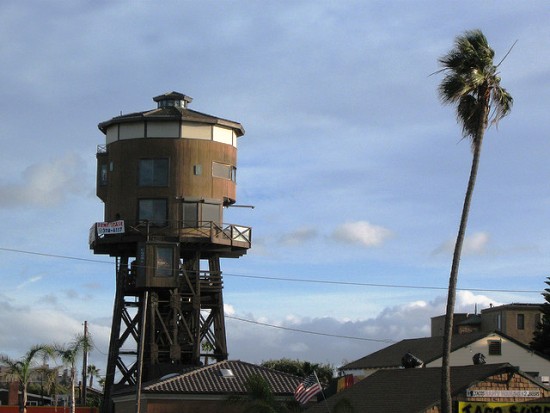 Image: John VanderHaagen
Though this water tower could do with a fresh paint job, it's all about location, location, location. It is situated at 1 Anderson Street, right on Huntington Beach in California, and provides some of the best views around. It's even up for rent as a vacation home, asking $5,000 a week, according to some sources.
Image: John VanderHaagen
Inside, it's quite luxurious: an elevator leads up to the fourth-floor living area, so no climbing is required. The tri-level home has two suites, a huge bar, a fire pit lounge, an outdoor Jacuzzi and an office in the room with the best view at the top. According to BeachCalifornia.com: "From one direction you can see the Pacific Ocean and Catalina Island. Other views include Newport Beach, Long Beach, Port of Los Angeles, San Pedro, [the] San Bernardino Mountains and, on a clear day, you can see L.A." The tower stands 87 feet tall, on 21 wooden legs reinforced with steel at the joints, and is 30 feet in diameter.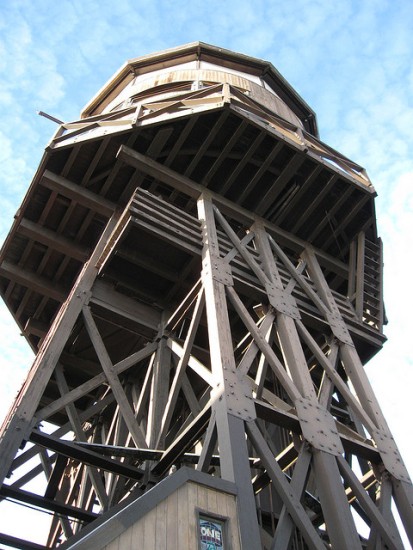 Image: John VanderHaagen
The water tower was built in the late 1800s to provide water for the Los Angeles-San Diego steam engines. It ceased operation in 1974 and was sold in 1980. Soon after, renovations to turn the tower into a family home started, which involved getting the water tank down, converting it into a home at ground level, then hoisting it up again. In 1985, the home was sold, but the family that bought it apparently decided the lofty spot was too dicey for small children. Since then, they have rented it out as a spectacular holiday let.
3) Chateau d'eau, Steenokkerzeel, Belgium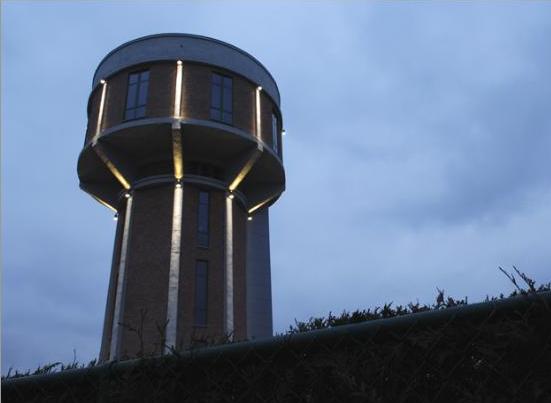 Image: Olivier Papegnies, courtesy of bham design studio
Unlike the other water towers shown here, this 98-foot-tall example, built between 1938 and 1941, supplied the Belgium village of Steenokkerzeel with water until the early 1990s. In 2004, it was placed under protection as a monument, and in 2008, its conversion into a single-family home commenced. To maintain the building's identity as a water tower, concrete elements in the interior such as the ceilings, stairs and the 54,992-gallon water basin have all been preserved.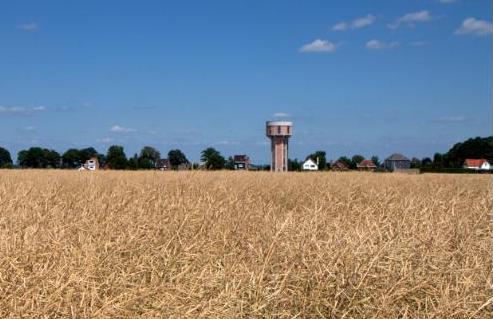 Image: Jasmine van Hevel, courtesy of bham design studio
Image: Jasmine van Hevel, courtesy of bham design studio
After its redesign, the water tower provides a living area of 1,476 square feet spread over six floors: the entrance and a two-car garage on the ground level; a technical room, storage and utility room on the first floor; a guest room and office on the second floor; a spacious bathroom taking up the whole third floor; a circular bedroom with dome ceilings on the fourth level; a dining room, living room and kitchen on the fifth floor; and from there, a steel bridge leading to the terrace that provides panoramic views in which the water tower seamlessly integrates itself.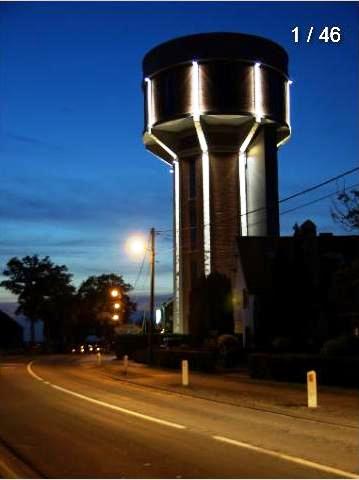 Image: Xavier Hang, courtesy of bham design studio
For those who'd like to use the water tower themselves, there is good news: from the beginning, the water tower was planned with a dual purpose in mind. It functions both as a family home and as a meeting space for groups and workshops. Hence the water tower has also been equipped with the latest in audio visual and IT equipment. This and its proximity to the local airport should make it a prime spot for these kind of events. We're checking on availability right now!
2) Brasschaat Water Tower, Belgium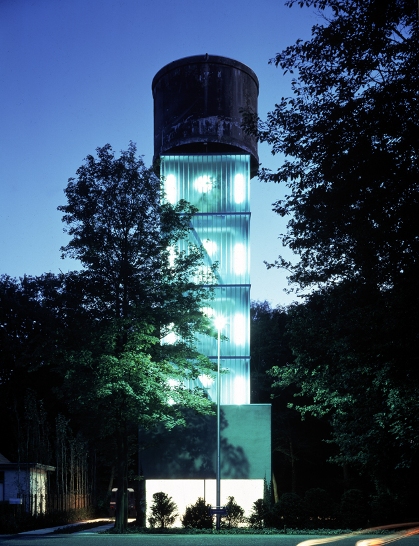 Image: Sven Everaert, courtesy of Crepain Binst Architecture
With its huge concrete barrel resting on a 19-foot-high concrete foundation, the old water tower that once belonged to Brasschaat Manor, just outside of Antwerp, was far from pretty. But one man dreamed of turning it into a house, and after planning it over six years, from 1991 to 1996, his dream finally became a reality with the help of architect Jo Crepain.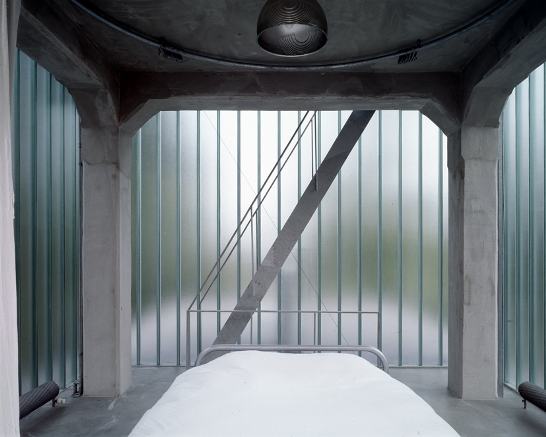 Image: Sven Everaert, courtesy of Crepain Binst Architecture
The water tower got a concrete foundation made of glued Ytong bricks, on which rest four Reglit glass walls — three glazed walls and a clear one on the south side of the building. Three small balconies were also added on the south side to make the most of the sunlight. Inside the tower, steel staircases connect the five top levels. For protection from light and view, and as a thermal buffer, curtains were placed a good distance away from the tower's glass walls. Fluorescent lamps provide a warm glow inside and out at night, turning the old water tower into a lighthouse in the woods.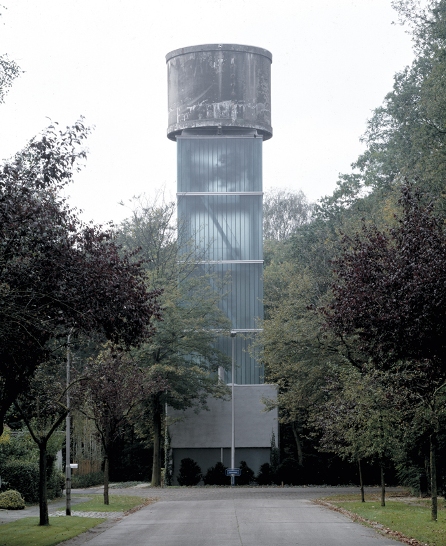 Image: Sven Everaert, courtesy of Crepain Binst Architecture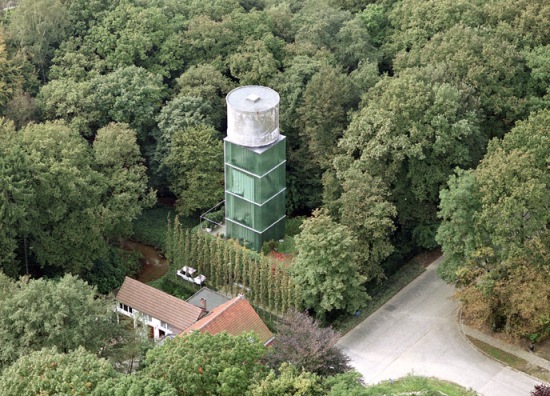 Image: Coolens & Deleuil, courtesy of Crepain Binst Architecture
Altogether, the water tower now houses a bedroom, a guestroom, kitchen, bathroom and even a TV and hobby room, winter garden and a terrace. In the future, the ivy planted around the water tower house will envelop it, thus allowing it in due time to completely blend into the environment.
1) Water Tower in Essen-Bredeney, Germany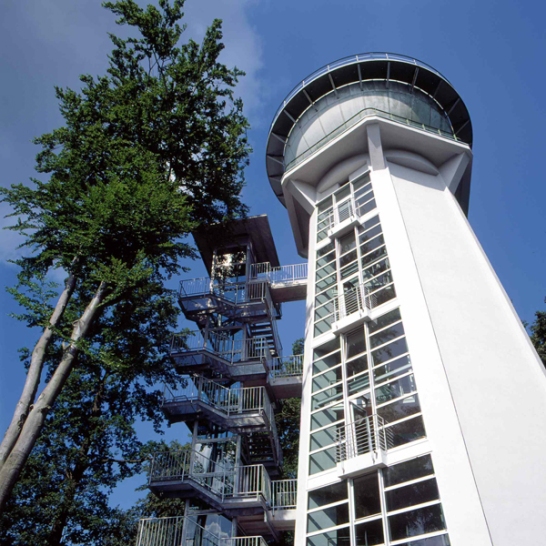 Image: Friedhelm Krischer for Madako, used with permission
The old water tower in the southern borough of Bredeney in Essen, a town in the center of Germany's Ruhr area, faced two problems: it couldn't be torn down because it fell under historic building protection laws, and it also couldn't be significantly altered because of the same laws. So, what to do? After many decades of standing around unused, the water tower was finally converted into an eight-story, multiple-use building by German architectural firm Madako in 2002. With very little alteration to the original structure, the old water tower was transformed into living quarters. It now houses an office on the ground floor, with a conference room on the top floor — breathtaking views included. The remaining six floors are taken up by three two-story apartments with high ceilings and lots of natural light. A modern outdoor staircase unobtrusively connects each apartment while assuring privacy.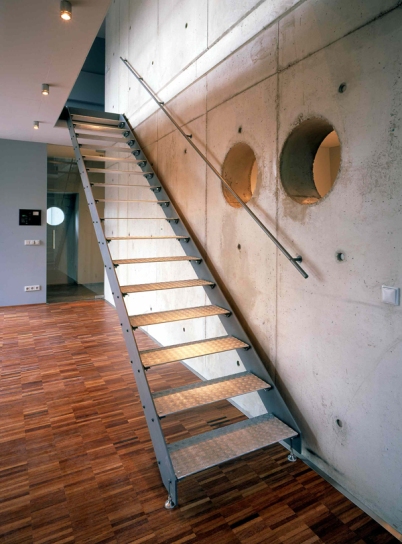 Image: Madako, used with permission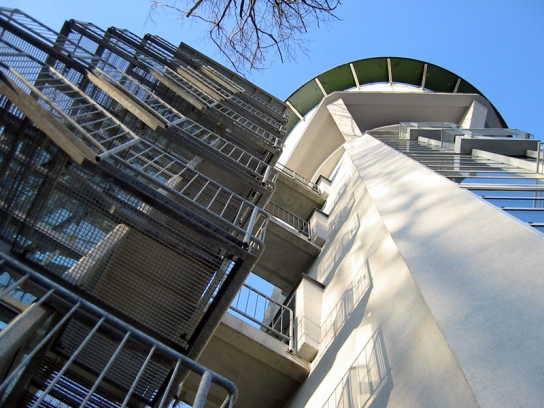 Image: Sebastian Fehlings for Madako, used with permission
What's remarkable about this project is that it was able to incorporate green building principles with ease. Taking advantage of the originally airy construction, for example, means reduced energy costs, while avoiding demolition and heavy reconstruction means less debris, transportation and installation of parts. Culturally, an old landmark was restored to new grace. And, from the outside, it still just looks like a beautiful old water tower. What's not to love about this project?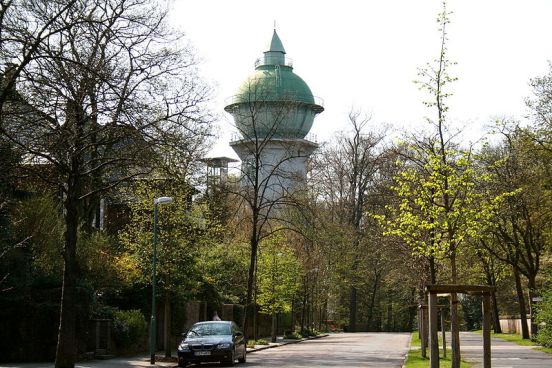 Image: Frank Vincentz
As we have seen, water tower preservation makes sense for many reasons: Apart from preserving often beautiful landmarks and historical buildings, the sturdy structures make for green and lofty living among the treetops. Regardless whether they are made of concrete, brick or wood, water towers are versatile structures that can turn living into an experience!
(Bonus Entry) Strenci Water Tower, Latvia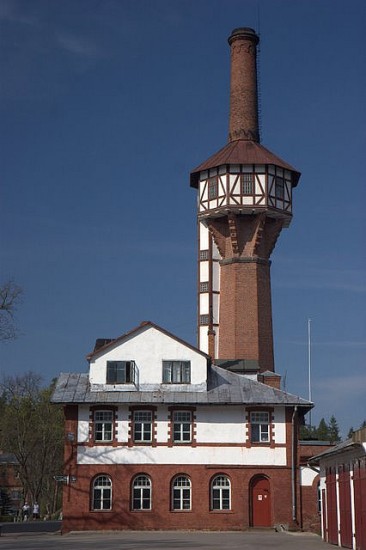 Image: Tom Godber
The water tower in Strenci, on the banks of the Gauja in northern Latvia, is in a way the most unusual one in our list. Unlike any of the others, it has been extended upward rather than downward or outward. It stands on the premises of a psychiatric hospital and was incorporated into the facility's heating system — thus a chimney was built on top of the original early 20th-century water tower. If you look closely, you can make out the different kinds of bricks used in the original structure and the new one. Though no patients are actually housed in the picturesque "cottage in the clouds," it is a favorite spot, especially in the winter, as it is always warm.
Sources: 1, 2, 3, 4, 5, 6, 7, 8, 9, 10, 11, 12, 13