Most people think of recycling as something that happens outside the home. You stack your newspapers and gather up your bottles and cans, and someone takes them away to a mysterious facility where they are recycled into usable materials. But the best kind of recycling takes place without the aid of a big truck or drop-off facility. You can recycle everyday items that would otherwise end up in the landfill into unique, decorative accents for your home just by taking a second look at how they function.
Vintage suitcase vanity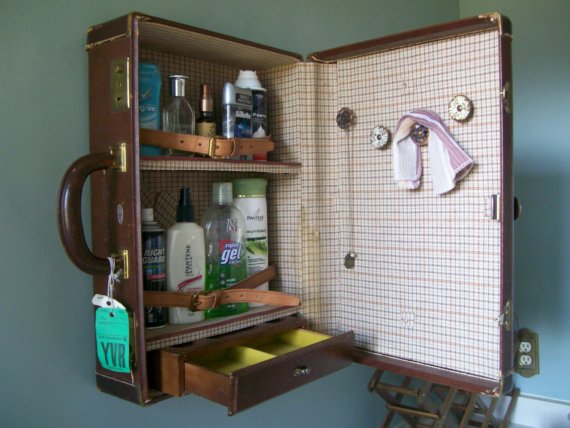 Old suitcases and briefcases litter the shelves of thrift stores all over the world. This vintage luggage is a favorite of Etsy designer
LoveNostalgicWhimsy
of British Columbia, Canada. She surprised even herself when she transformed this oh-so-aged brown leather suitcase into a vanity/medicine cabinet. Meticulously handcrafted, the vanity has two shelves that are covered in the same material as the interior of the case, and retains the original leather luggage straps that help restrain your many products.
Cobre copper sinks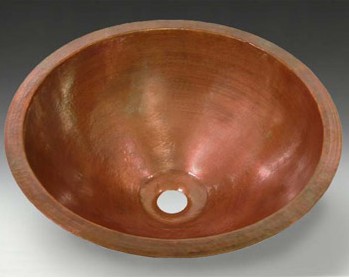 Cobre ("copper" in Spanish) fixtures are beautiful and unique, and have been made by the Purepecha Indians of central Mexico since pre-Columbian times. In the 16th century, the Purepecha made domestic implements and weapons from copper found in above-ground mines. Because the copper mines have long been closed, today the smiths gather and melt discarded copper, from primarily industrial sources to use in their workshops. These sinks are still hand-hammered in Mexico, and can be purchased from
EcoHaus
.
Vetrazzo recycled glass countertops
For more than a decade, Vetrazzo has been producing remarkable countertops and surfaces for every room in your home. Durable and easy to clean, these surfaces are made from 85% recycled glass. Most of the glass in Vetrazzo products comes from curbside recycling programs. Other glass comes from windows, dinnerware, stemware, windshields, stained glass, laboratory glass, building demolition, traffic lights and other unusual sources. This means the color palette of their surfaces is always changing, and gives each surface its own unique story.
Bristol and Bath Kyle basins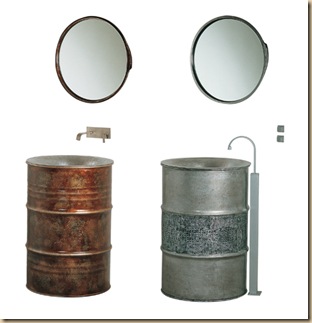 Part of the
Second Chance collection
, Kyle basins are made with oil drums reclaimed from scrapyards and then cleaned, refurbished and decorated. The units measure 24 inches wide by 34 inches tall and come in a copper (shown) or pewter finish. The top of the drum, including the fixing clasp, is used to create a coordinating mirror. The collection also includes a wash basin made from wine barrels and sinks made from tires.
Recycled magazine mirror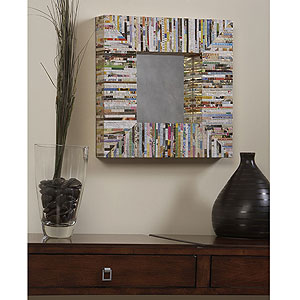 This unique mirror from Linon Home Décor makes the perfect accent piece for any bathroom. Available in different shapes and sizes, each mirror's frame is handcrafted from discarded magazines. The design is punctuated by clean, crisp lines that reflect a decidedly chic and modern appeal, perfect for the bathroom or any other area of the home.