One of the easiest ways to implement greener choices into your home is by replacing your cleaning products one by one. If you replace an empty bottle of glass cleaner with a new eco-friendly bottle, you aren't shelling out a bunch of money upfront to replace all of your cleaning products at the same time. However, if you need some help determining what the most eco-friendly glass cleaner on the market is, here is some advice.
Green versions of major brands
If you head to your neighborhood big-box store, you'll likely find a "green version" of glass cleaner from each of America's major brands. Green Works by Clorox and Nature's Source by the makers of Windex are two popular brands. If you want an easy solution, one of these brands may be a good choice. The products claim to be made of mostly natural ingredients and a quick look at the material safety data sheets does not reveal any hidden toxins.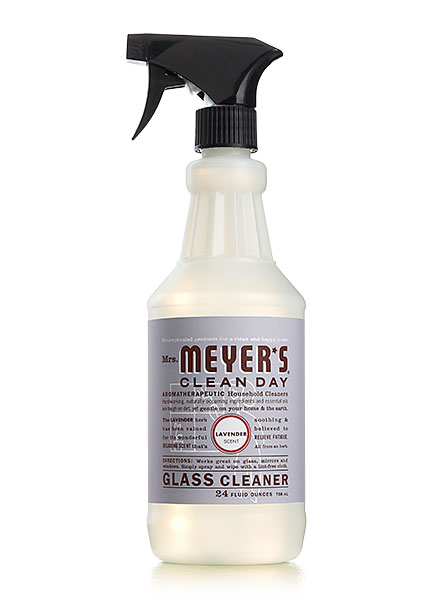 Mrs. Meyer's Glass Cleaner
I love the Mrs. Meyer's line of household cleaners, especially the lavender fragrance. I have had good results with the glass cleaner, but unfortunately I have not been able to find refill bottles anywhere. This means that if I want to continue to use Mrs. Meyer's glass cleaner, I need to purchase a new bottle every time the old one runs out. This leads to a lot of plastic waste and thus cuts into the eco-friendliness of the product.
Seventh Generation
Seventh Generation
glass cleaner is primarily made of water with some plant-derived ingredients and two preservatives, common in most natural cleaners. The product isn't tested on animals, is nontoxic and biodegradable and is even certified kosher. The good news is that you can purchase a 32-oz. bottle of Seventh Generation glass cleaner, which will last quite a bit of time in most households, thus reducing the amount of plastic waste generated by purchasing new bottles.
Homemade cleaner
Although there are several major commercial brands and smaller eco-labels that offer green glass cleaners, my vote for the most eco-friendly glass cleaner is the product you make yourself. Simply combine a little rubbing alcohol and vinegar with water and
voilà
, you have your own homemade glass cleaner. The upside is that you know all of the ingredients and you can make as much (or as little) as you need. You also have the added benefit of using the same bottle and pump over and over again, nearly eliminating your plastic waste. What is your favorite eco-friendly glass cleaner? Do you have an option not mentioned above?