Most of the shower curtains that you'll find in affordable retail outlets are made from
PVC (polyvinyl chloride)
, a chemical material that contains more than 100
volatile organic compounds
and poisonous chemicals, including
phthalates
,
mercury
and
dioxins
. While you may love the way your beautiful PVC shower matches the other accessories in your bathroom, the poisonous gases and compounds it contains can spread in the air and stay for many days, jeopardizing your health. But we need something to keep all that shower water from spraying all over the bathroom, so here are some shower curtain options that will help you avoid PVC in your home.
PEVA shower curtains
PEVA stands for polyethylene vinyl acetate, but unlike its toxic cousin, PEVA is chlorine-free, PVC-free, biodegradable and often used as a PVC alternative in toy products, baby bibs and shower curtains. PEVA shower curtains usually cost between $30 and $45, and are very easy to clean and lightweight, which makes them easy to hang. These eco-friendly shower curtains are available at many retailers, but the best places to buy them are IKEA and Vitafutura.
EnviroCurtain certified organic cotton shower curtain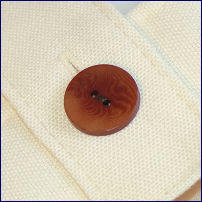 These
shower curtains
are made with American-grown organic cotton and are custom woven in the U.S. They are then treated/finished with antimicrobial and water-repellent finishes to provide superior performance against mold growth. For a unique touch of style, the curtains even feature sustainable Rainforest Tagua Nut buttons, so no shower rod hooks are necessary.
Hemp shower curtains
If you're looking for a shower curtain that's sustainable along every step of the manufacturing process, you might want to consider those made from hemp. Hemp plants use less water than cotton plants and supply greater fiber yield per acre. Despite what you might think, the hemp fabric used to make these curtains is soft, subtly aromatic and a healthy alternative to conventional vinyl shower curtains. Also, hemp shower curtains, unlike vinyl, can be machine washed. Check out the hemp shower curtains available at
GreenHome.com
and
Rawganique.com
.