In a highly trafficked area such as the kitchen, where food and water run amok, it's not a question of whether spills and messes
might
occur… it's really just a matter of
when
. From the sink and stovetop, to the counter, appliances and floor, there are so many diverse surfaces to contend with that arming yourself with a durable and absorbent sponge is absolutely key.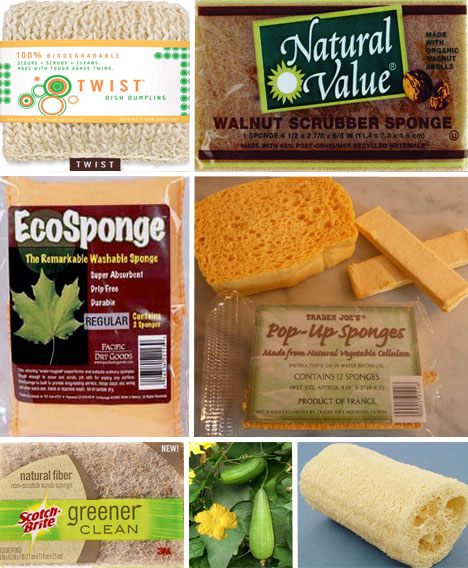 Except for that neon-tinted model you're clasping tightly inside your hand; that baby
has
to go. I know you stocked up at your local warehouse club or friendly dollar store. You're right, it really does look "cute"… for a sponge. Yes, dirt-cheap household staples are especially attractive these days, but the synthetic foamed polyurethane plastic sponge that you're using (and its nine other doppelgangers sitting underneath your sink) are all made with petroleum, bleach, assorted sulfates and a whole slew of chemicals.
Even after you throw old sponges away
, the bacteria-killing triclosan that they're impregnated with negatively impacts aquatic ecosystems. Plus, the synthetic materials that they're composed of continue to release dioxins and formaldehyde into soil and the atmosphere long after they've left the factory. Of course, you have far more planet friendly options to consider (such as
making your own knitted or crocheted dish cloths
), but don't worry about the time it's going to take to hunt down the greenest of the green. This article breaks it all down for you.
100% cellulose sponges
Pros:
Man-made from plant-based materials like cotton fiber and/or wood pulp, which are renewable and make Mother Nature a lot happier.
Manufacturing process releases fewer environmental toxins overall (compared to conventional plastic/polyester versions).
Fully biodegradable — can be composted successfully (just cut into small pieces to aid decomposition).
Cons:
Not ideal for germaphobes since fungi and bacteria love moist plant fibers (but frankly, all you have to do is microwave your sponge for at least a minute for a clean slate, or soak them in a hydrogen peroxide bath).
Can be pricey compared to synthetic, mainstream versions.
Depending on the brand, some may not seem to hold up as effectively as others.
Some brands may blend polyester plastic into wood pulp, so read the labels carefully!
Brands to consider
Honorable mention
Hiroki Hayashi made waves with his easy-on-the-eyes red and yellow scrubbing wonders, which resemble perfect portions of fresh tomato or saffron-infused pasta. Almost everything about his
Original Spaghetti Scrubs
seems eco-friendly, including the recyclable plastic-free packaging and cotton fiber base of the scrubbers (enhanced with naturally abrasive recycled corncobs or peach pits). But then there's the polyester content, which is simply just a codeword for plastic. Bummer. Scrubbing the dishes could have been a lot more fun.