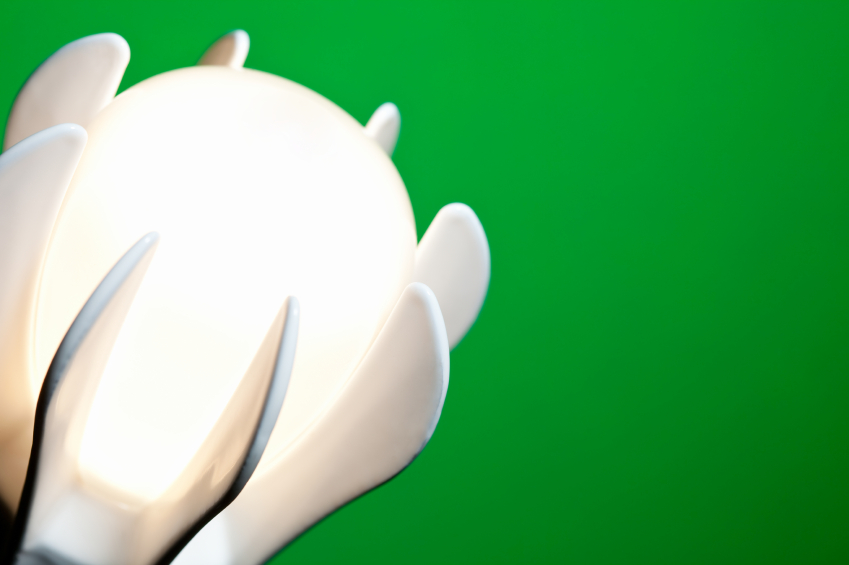 Decorating a living room can get out of hand fast. These technologically advanced times have a downfall: too many options. If you're looking for a way to light your sacred space and still be green, check out this list of gorgeously green lighting options. When looking for an eco-friendly lighting system, you should examine two things: the energy efficiency of the fixture and the recycled content/recyclability of the fixture. It may be hard to pinpoint the recycled content and recyclability of the lamp, but asking sales associates or specifically searching for such items should give you an idea of what to expect. These days, newer lighting fixtures that meet energy requirements are marked Energy Star certified, so keep your eyes peeled for that label.
Lamps
Green with Glamour offers made-to-order
table lamps
(and several chandeliers) made from natural clay and nontoxic glazes made by LightenUp Design. The company also operates a carbon-neutral website, and it is also a member of
1% For the Planet
, an alliance that gives 1% of its profits annually to environmental causes. This
cork-and-recycled-paper lamp
serves lighting and organizational purposes. Want to utilize some power from the sun? Check out this
solar-powered lamp
. Charge it outdoors (it's waterproof, and upside down it looks sort of like a flowerpot), and then bring it in to light up your room. Here's another
mason jar solar-powered light
that uses LED bulbs and the generous power of the sun. Efrain E. Velez designed
this Krank lamp
that you wind yourself. Crank it for one minute and you'll have light for 20 to 30 minutes. From the website, the description reads: "this manual LED fixture uses the principle of magnetic induction." This is great, especially if your kids don't mind cranking it up for you! Make your own lamp from fun recycled materials.
Instructables
shows you how to turn a blender into a table lamp. Scout out your local thrift store for used teacups, and you can make
this nifty lamp
, which is also a great conversation piece!
Or…
Invite some natural light into your space! Learn how to
maximize natural light
in your home.