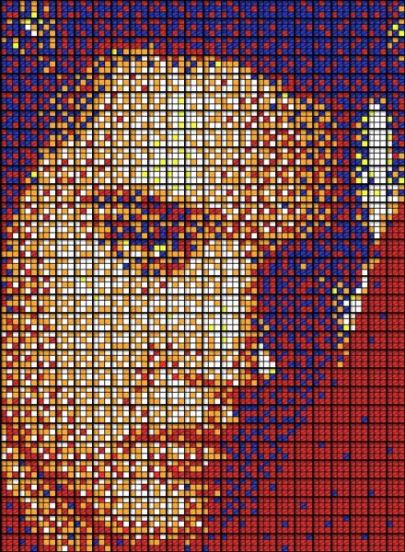 "Portrait of a King" — 450 cubes, 3.4 ft x 4.7 ft All images courtesy of Cube Works Studio and used with permission.
Who doesn't remember the Rubik's Cube, the mechanical 3D puzzle that was one of the must-have toys of the '80s and is actually still going strong today? Having sold more than 350 million cubes since 1980, when it was licensed to be sold by Ideal Toy Corp, the Rubik's Cube is considered to be the best-selling puzzle game ever made. That's an awful lot of old toys out there — but what can anyone do with them?
"Can't Help" — 450 cubes, 3.4 ft x 4.7 ft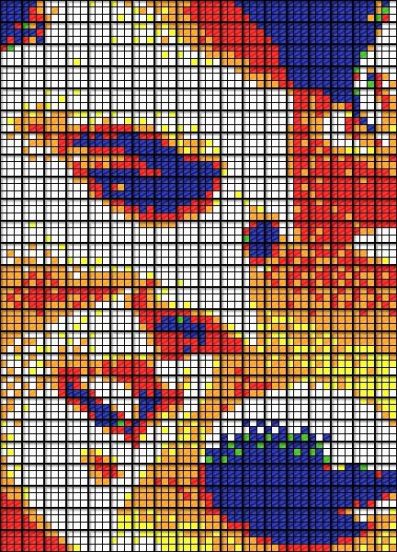 "The King," with black accents — 368 cubes, 3 ft x 4.3 ft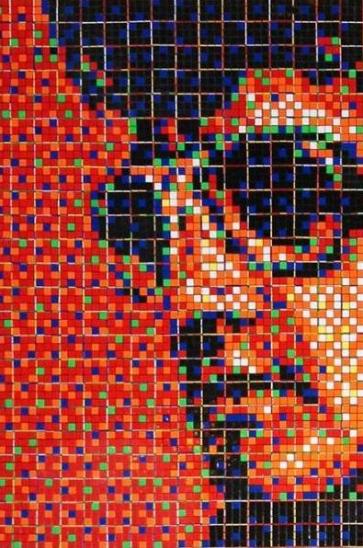 What you might not know is that the six colors of the cube — red, white, blue, orange, green and yellow — and its structure, make for some wonderful pixellated artwork. Toronto-based graphic artists' collaborative Cube Works Studio specializes in artworks made with Rubik's cubes — a "unique twist on modern art," as they put it. By combining hundreds of the individual mechanical riddles to make images of stars, which have themselves been endlessly recycled as pop culture icons, Cube Works exhibits creative reuse that hits the top of the pop charts.
"Jammin'" — 352 cubes, 3 ft x 4.1 ft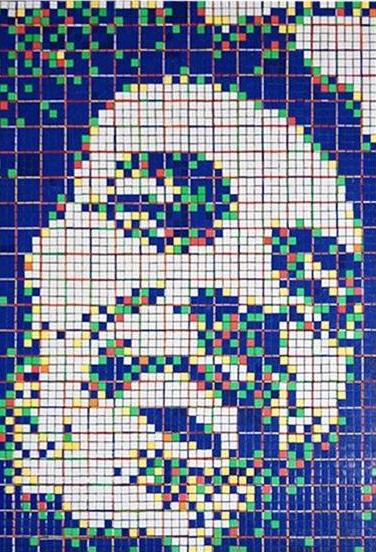 "Jimi" — 425 cubes, 4.7 ft x 3.1 ft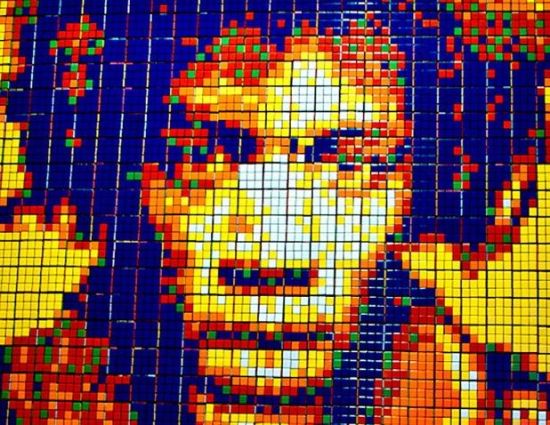 "Next to Your Fire" — 720 cubes, 3.4 ft x 7.5 ft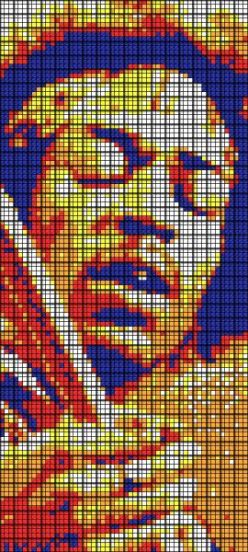 Among the many pieces, featuring movies stars, famous pop artworks and other classic art pieces, it is probably the series of iconic musicians that is the most striking. Madonna, Michael Jackson, Slash, Alice Cooper and Bono are all there, alongside legends like Elvis, Ray Charles, Stevie Wonder, Bob Marley, Bob Dylan, Jimi Hendrix and the Rolling Stones' Mick Jagger and Keith Richards.
"Union Jagger" — 644 cubes, 4.3 ft x 5.2 ft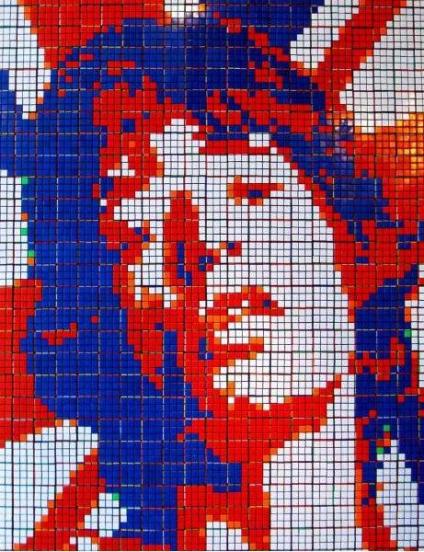 "Indestructible" — 450 cubes, 3.4 ft x 4.6 ft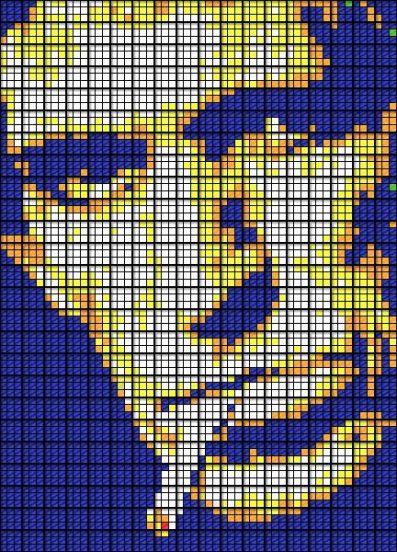 "Indestructible," red — 450 cubes, 3.4 ft x 4.6 ft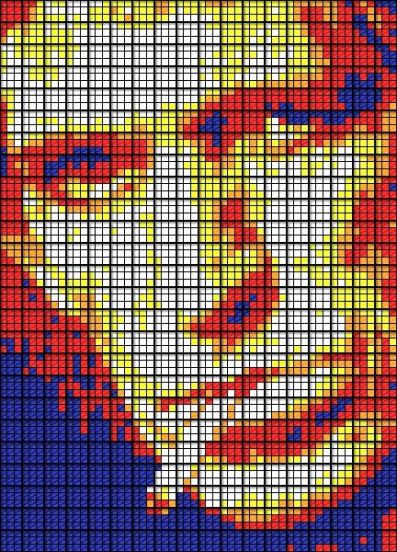 Often, there's more than one rendition of the same image, making it fascinating to compare the different moods and attributes of each. Elvis, seen top, was captured in three different poses and phases of his life — from a young king, to his older reinvention, complete with classic glasses. All three portraits are striking, and capture the performer's essence. Particularly with the very first image, seen from a distance, it is hard to believe that it has been made only from Rubik's cubes and their limited palette. The nuances seem perfect, especially if viewed from afar.
"Bob" — 450 cubes, 3.4 ft x 4.7 ft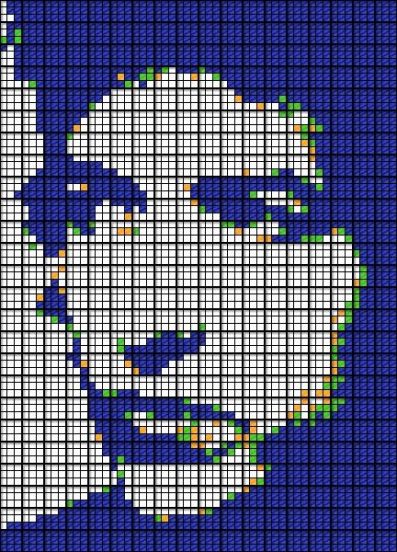 "Changin'" — 450 cubes, 3.4 ft. x 4.7 ft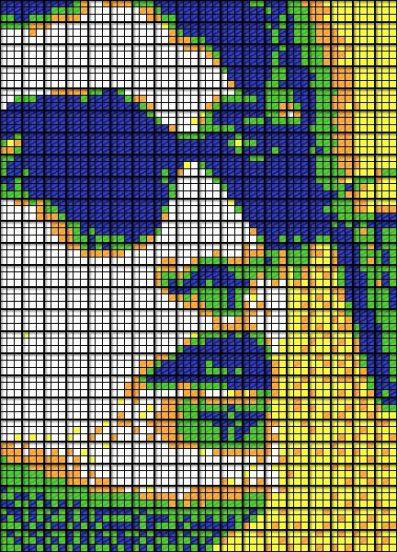 Josh of Cube Works explains how it all started: "I have always been a fan of early 8-bit and 16-bit video games. Something about pixel art that I just enjoy. People have been making images with cubes ever since someone had three or four and made a pattern and put them on their shelf. I have merely taken it to a much larger scale with the help of my team. I feel everything is fair game when creating art. All it takes is a bit of imagination. I especially enjoy using cubes for the simple reason [that] it just touches so many people."
"Bono" — 720 cubes, 3.4 ft x 7.5 ft
"Slash" — 544 cubes, 3.1 ft x 6 ft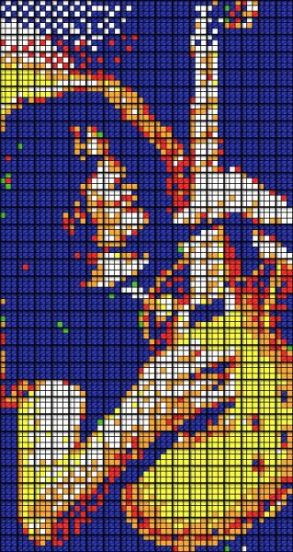 Given the popularity of the puzzle, it's certainly an object that many people can easily relate to when they see it being reused. The countless hours spent with the toy and the attempt to create patterns and art with it have always gone beyond its intended use. Even if solving the sometimes maddening puzzle was beyond you, artistic repurposing was always an option — if not quite of the level of sophistication reached by Cube Works!
"Alice" — 450 cubes, 3.4 ft x 4.7 ft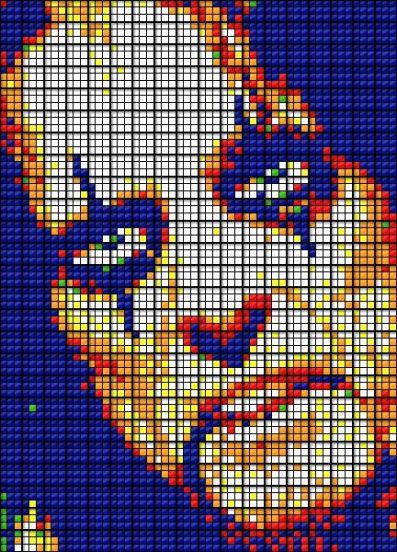 "Lick It Up" — 375 cubes, 2.8 ft x 4.7 ft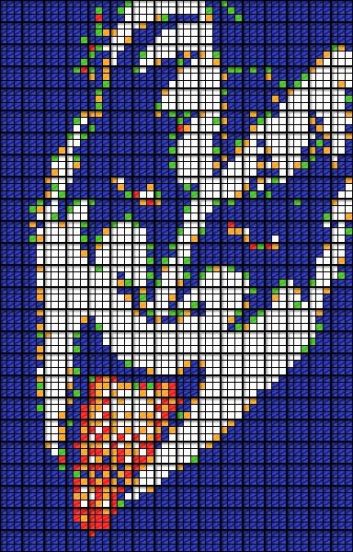 Another strength of the portraits is that they capture each artist's nature through trademark details — Jimi Hendrix's closed eyes while playing the guitar, Ray Charles' glasses, Bob Marley's smile, Keith Richards with a cigarette stub and many other typical, now iconic, poses.
"Ray" — 480 cubes, 2.8 ft x 6 ft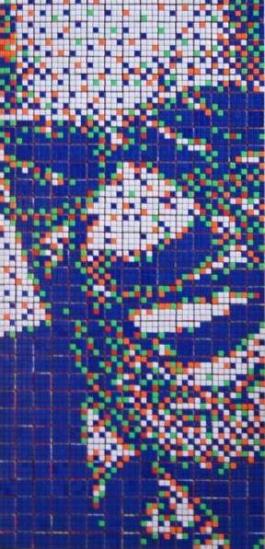 "Stevie" – 300 cubes, 2.2 ft x 4.6 ft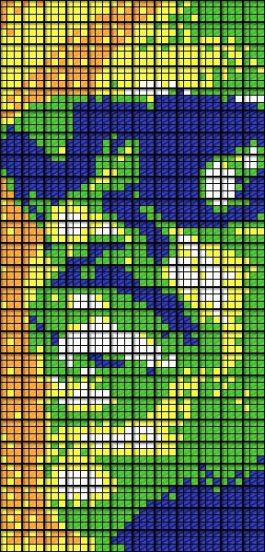 Cube Works also stresses the recycling aspect of its art. In fact, the art collaborative's goal is to "re-contextualize common objects to create complex, high-quality pieces of functional art." Josh explains: "I also enjoy using dice and spools of thread as well. I truly believe what's old can and will be new again. Whether it's old crayons, colored pencils, buttons, push pins, used aluminum cans — with a little imagination and creativity they can be transformed into works of art for all to enjoy."
"Vogue" — 432 cubes, 3.4 ft x 4.5 ft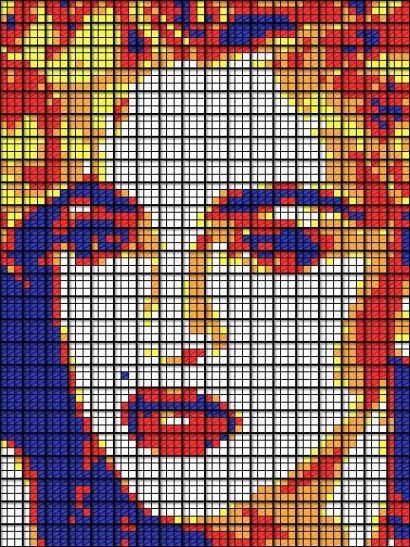 "Like A Virgin," pop — 540 cubes, 3.4 ft x 5.6 ft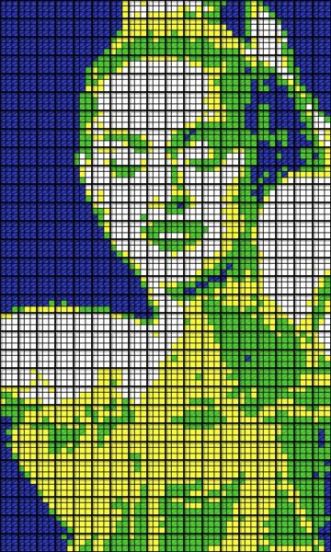 It is only fitting to end an article that started with a king to end it with another one — the "King of Pop," that is, Michael Jackson, here in four beautiful renditions.
"Bad" — 450 cubes, 3.4 ft x 4.6 ft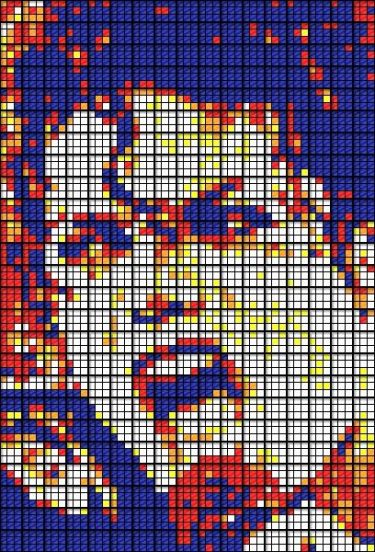 "Thriller," red — 450 cubes, 3.4 ft. x 4.6 ft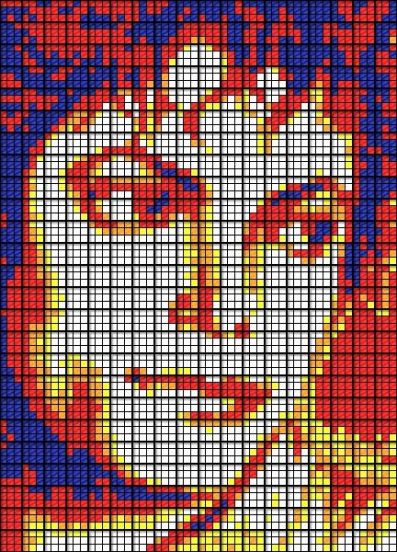 "Thriller," pop — 450 cubes, 3.4 ft. x 4.6 ft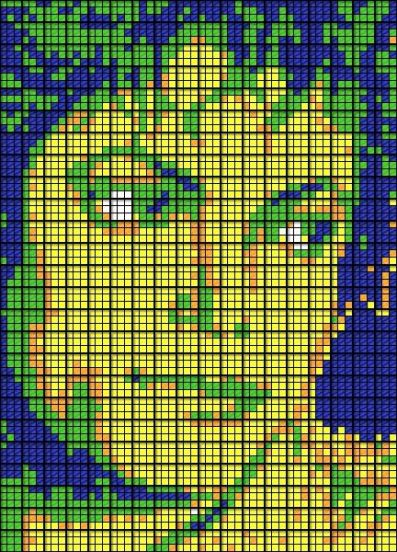 "King of Pop" — 450 cubes, 3.4 ft x 4.6 ft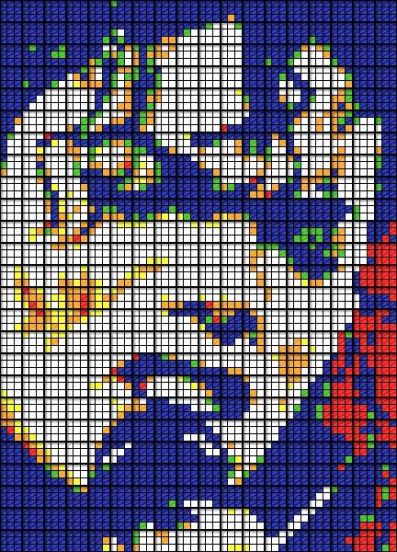 To see Cube Works' other artworks made out of recycled items, like dice, spools and mixed media, make sure to visit
the group's website
. You can also find more information about their custom creations there. Last but not least, here is a time-lapse video of the creation of one of Cube Works' larger pieces, "The Hand Of God."
Special thanks to Josh at Cube Works for granting image permissions and providing information.
Additional sources: 1, 2