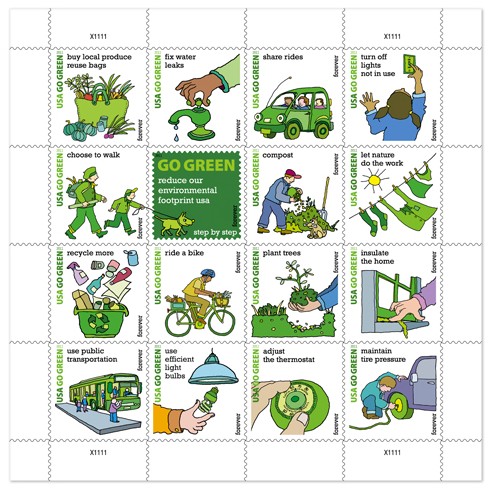 The U.S. Postal Service is out with a new set of "Go Green" stamps aimed at encouraging the protection of the environment and public health, including stamps that feature recycling and composting. "Each year, the Postal Service selects a stamp to serve as its social awareness stamp," said Joseph Finan, postmaster for Albany, NY. "We're creating a culture of conservation at the Postal Service that will have a lasting impact in our workplaces and our communities." The Postal Service is doing its part to "Go Green" by providing you with eco-friendly mailing materials and stamps. As part of its Go Green commitment, it has designed a series of 16 Forever stamps showing what each of us can do to promote the health of our environment.
Some ways you can go green
Plant trees.
Besides producing oxygen and removing carbon dioxide and contaminants from the air, trees and other plants provide a habitat for birds and other wildlife.
Adjust the thermostat.
Every degree you lower your thermostat in cold weather, or raise it during hot weather, can lower your energy bill by 3 percent and conserve valuable natural resources.
Use public transportation.
Taking the bus, train or carpooling vs. driving your own car saves gas, money and reduces pollution.
To learn more about the stamps, click here.
Sources: Waste Recycling News and USPS.com.