Carpets really tie a room together. Hardwood and other nonfabric flooring is nice (and easier to clean), but there's just something about having nice, soft carpet under your feet that makes a room feel comfortable and homey. Most carpets are synthetic — nylon, polyester or acrylic — all of which are petroleum-based products and thus
not very good for the planet
. Then, these synthetic fibers are backed by materials such as latex,
polyvinyl chloride
, 4-phenylcylclohexene or polyurethane, which are also
petroleum
based, as are the adhesives that are used to secure carpeting to floors in some applications and the latex padding used in others. Yuck! Makes you think twice about letting your small children and pets run around on the carpet, doesn't it? Fortunately, there are some recycled carpet alternatives out there that allow you to create a more planet-friendly living room without sacrificing plushness.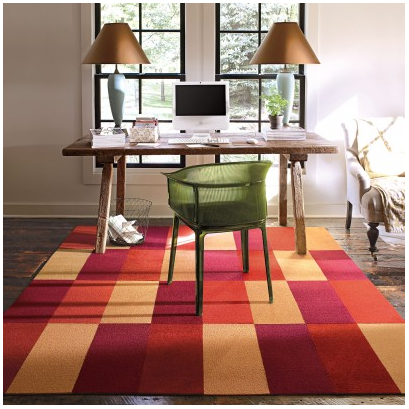 Mohawk's EverStrand carpeting transforms recycled plastic into fibers that are far superior to the lower-grade synthetic fibers used to make other brands of carpet yarns. Each year, the company turns more than 3 billion plastic bottles — 14,000 every minute — into naturally stain-resistant carpet. Mohawk also offers SmartStrand carpeting that is made with a renewably sourced polymer containing ingredients made from corn sugar. According to the company, every 7 yards of SmartStrand saves the energy equivalent of 1 gallon of gasoline.
It may not win an award for the most beautiful or unique carpet styles anytime soon, but the residential carpet collection created by GreenFloors is definitely something that takes both human and environmental health into account. The majority of GreenFloors' residential carpets are made from 100% post-consumer
PET
recycled food and drink containers. By purchasing 1 square yard of GreenFloors carpeting, you will be keeping approximately 40 plastic containers out of the landfill. The dyeing method is less polluting and requires less energy to produce then other floor types. All GreenFloors carpets have been tested and meet EPA and
Carpet & Rug Institutes Indoor Air Quality Standards
.
FLOR Recycled Carpet Squares
FLOR believes in a closed-loop product life cycle, which means it carefully considers its eco-footprint every step along the way: design, manufacturing, use, delivery and even reclaiming old FLOR carpets and rugs. The company's unique carpet tiling products are made with both post-industrial (taken from industry scraps) and post-consumer (made from materials recycled by consumers and businesses) materials. FLOR is also committed to making sure none of its products end up in a landfill. Through its unique
Return & Recycle Program
, used carpet tiles are reclaimed and turned into new products.
How to recycle your old carpet
If you're thinking about ripping up your old carpeting to lay something more eco-friendly down in its place, it's important to think about proper disposal in advance. According to the
Carpet America Recovery Effort
, nearly 5 billion pounds of used carpet end up in landfills every year. The last thing you want to do is send all those petroleum-based chemicals into the soil and water table. Eco-friendly recycling options include:
Donate or utilize trade websites: If the carpet is still in fairly good condition, consider putting it up on Craigslist or Freecycle so that someone else can use it.
Check out the Carpet America Recovery Effort website, where you can find a list of carpet reclamation sites.
Search 1-800-RECYCLING's recycling location finder for other recycling options in your area.