The moment our old friend Mr. Sunshine makes his presence known, socks and lace-up shoes are typically pushed aside in favor of those perennially toe-baring delights known as flip-flops, and boy, what a relief they are. Bestowing the wearer with an instant form of eco-friendly air conditioning during seasonal heat waves — often for as little as one solitary dollar per pair — the rubber-soled wonders seem innocuous enough, but Mother Nature would likely disagree. Here's the first problem. Today's models are commonly made with crude oil-based
polyurethane
(aka #7 plastic) rather than sustainably produced natural latex rubber, and are almost always excluded from municipal recycling programs.
They are also so impossibly affordable and manufactured in a rainbow of alluring colors and patterns that consumers can easily justify owning a dozen or more pairs, which ends up fueling hyper-consumerism. Rather than spending the time to repair or even creatively upcycle a flip that has met its final flop, we typically chuck and replace what is no longer up to snuff since there's always an infinite, budget-worthy supply at our fingertips.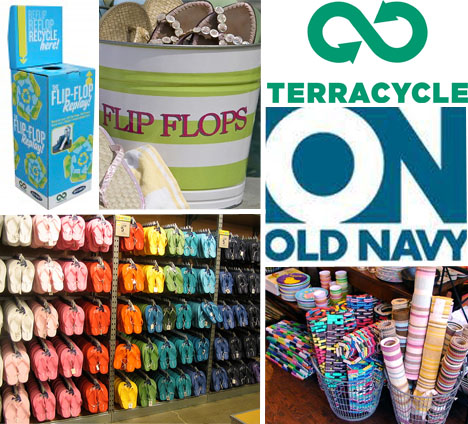 In honor of Earth Day, Old Navy — one of the top purveyors of said Technicolor-tinted footwear — is wisely stepping up to the plate by making flip-flop recycling collection containers available in all of its stores from April 22 through May 21. Worn-out, used, abused and otherwise undesirable footwear will then be sent to
TerraCycle
(the now famed waste reinvention specialists), where the material will be chopped up and reincarnated into U.S.-based playgrounds. Naturally, Old Navy's hot-off-the-presses flip-flops will be prominently displayed right near their recycling collection bins just in case you want to make an impulse purchase, but hey… everyone's gotta pay the bills somehow. While the Old Navy-TerraCycle partnership is admirable, it isn't the first time that flip-flops have been responsibly culled from our waste stream. Intent on creating a "zero flip-flop waste world,"
Feelgoodz
, the maker of biodegradable, all-natural rubber footwear, sends recycled flip-flops to Kenya's
UniquEco
, where they take on new life in assorted fashion accessories, housewares, art and toys (Hansen's Surf Shop, a long-time San Diego-based favorite,
also collects spent flip-flops
for the African artisan, but
you can just as easily send your old pairs directly to them
). A unique flip-flop upcycling effort born Down Under (courtesy of eco-artist Angela Van Boxtel) comes in the form of
the 'heART' chain link fence
, which embraces the raw spirit of urban art by encouraging people to weave their personally adorned flip-flops into the open metal framework found lining endless city streets and parks. While the colorful patchwork of polyurethane, which was originally made to resemble the shape of a heart, instantly cheers up any concrete jungle, this spirited flip-flop movement encourages participants to fashion whatever shapes they like using "donations" that are enhanced with paint, photos, poetry, crafting supplies, personal mementos and plain old personality. If you're still hankering for an inventive way to keep your old pair out of the trashcan, you might:
Create handmade rubber stamps for your children by tracing cookie-cutter shapes onto soles, carefully cutting them out with an X-Acto knife and then using a Speedball or Staedtler 1V gouge tool to carve designs that can ultimately be inked.
Shred the soles and use the resulting material as a decorative gift bag/gift basket filler or reusable Easter basket "grass" alternative; you can also use it to cushion fragile objects while shipping/storing them, or stuff pillows/pet beds with it.
Make pet toys… or children's toys — visit UniquEco's website for fantastic inspiration.
Need a thoughtful yet affordable gift for a party host? Make a set of beverage coasters that you customize with doodads and trim.
Looking for a naturally waterproof form of entertainment for the kiddies during bath time? Recycled flip-flop soles can be easily transformed into chunky letters, numbers and shapes if you have a steady hand and a sharp blade.
Got the DIY bug? Flip-flops can be quickly turned into miniature thumbtack-ready message boards; or, you might just want to cobble a whole collection of them together in one large, recycled picture frame.
If you've amassed a large collection of world-weary flip-flops, it wouldn't be too hard to make a wastebasket out of them, or even a colorful doormat.