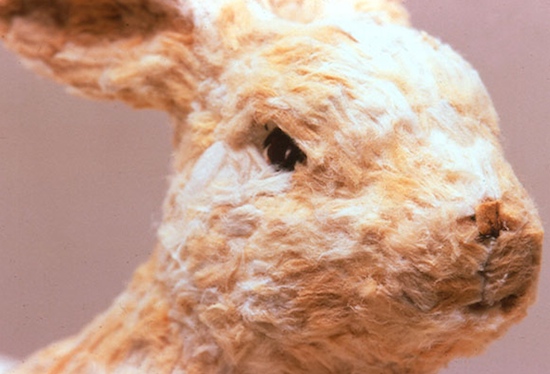 Image courtesy of Tom Deininger
Could cigarettes be one of the most disposable commodities in the world? No sooner is a cigarette lit (millions a second, surely) then it is abandoned, half-alight and part intact, often onto the streets of cities. Though many would say that the best thing for our health, and that of the environment, to boot, would be to extinguish the billion-dollar tobacco industry all together, it smolders on. Here we show the work of a crop of artists who have repurposed or reused the enduring cigarette to more positive ends than pollution.
7. Christ You Know it Ain't Easy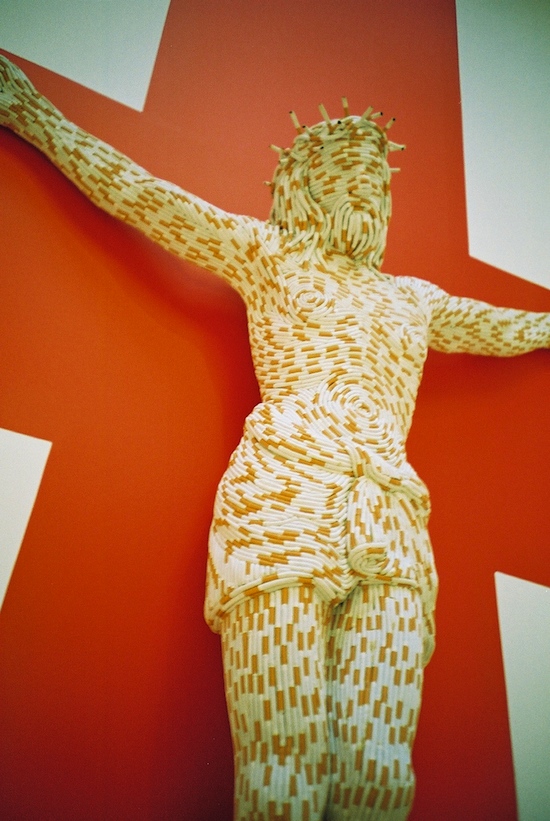 Image courtesy of Simon Griffiths
This sculpture by Sarah Lucas is titled "Christ You Know it Ain't Easy" — a comment, perhaps, on the difficulty of giving up smoking. Lucas, who is part of the eminent group known as the Young British Artists, or YBAs, first began smoking when she was 9. For years, the enfant terrible was hooked on two packs of Marlboro Lights a day until she finally gave up, "cold turkey," in 2000. From that act sprung the inspiration to use cigarettes in a series of works, gluing unlit cigarettes onto objects such as toilets, garden gnomes and drink cans. An artist who regularly uses found objects in her work (cars and lorries included), she once said, "I've got these cigarettes around, so why not use them" — an attitude we heartily commend.
6. Serge Gainsbourg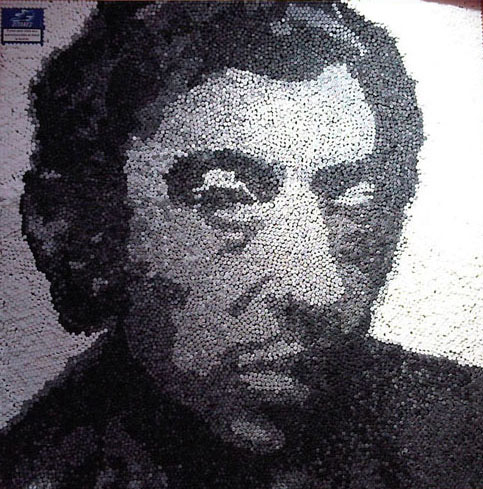 Image courtesy of Jinks Kunst
This portrait of the erstwhile French singer-songwriter Serge Gainsbourg was created out of 20,394 cigarette filters lifted from the streets over the course of three years. Made by the Swiss-born artist Jinks Kunst, whose work is largely inspired by music and popular culture, the ashen-faced portrait of Gainsbourg is an apt tribute to a man synonymous with Gauloises, the iconic French cigarette brand. We've no doubt the offbeat, experimental musician would have approved.
5. Tom Waits
Image courtesy of Mike Oncley
Depicted above is Tom Waits, the famously surly actor and musician whose gravelly voice could easily belie a lifelong addiction to cigarettes. In 1993, Waits memorably starred alongside Iggy Pop in the short film
Coffee and Cigarettes III
, a subtle, comic vignette in which the two men define themselves as a generation hooked on, you guessed it, caffeine and nicotine. In this portrait by artist Mike Oncley, Waits' enigmatic face is portrayed using just coffee beans and cigarettes — some broken up or half-enjoyed. View it from a distance for the full effect.
4. Filter Bunny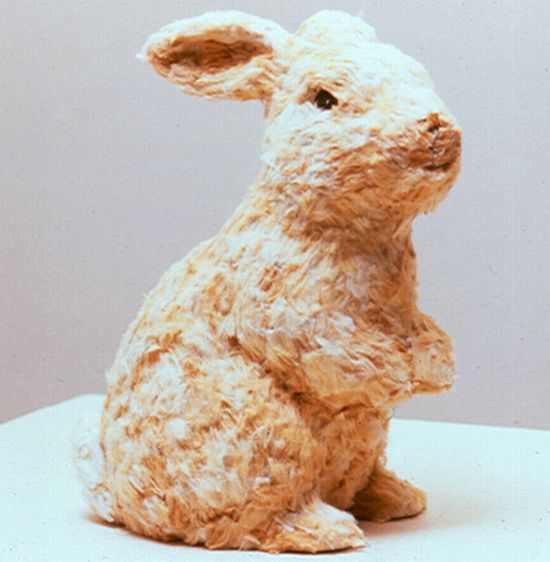 Image courtesy of Tom Deininger
Tom Deininger is an artist focused on creating new shapes out of found objects. This rabbit sculpture, entitled "Filter Rabbit," is made from the torn filters of discarded cigarette butts. A man deeply troubled by what he calls "the environmental crisis we are facing," he says of the work: "I don't think making cute, little bunnies out of discarded cigarette filters is going to fix everything, but it doesn't hurt. Its gravity may lie in it as a metaphor," by which, presumably, he refers to the tension between pollution and the natural world. He hopes that the filter bunny will urge people to think about new uses for already available materials.
3. Venus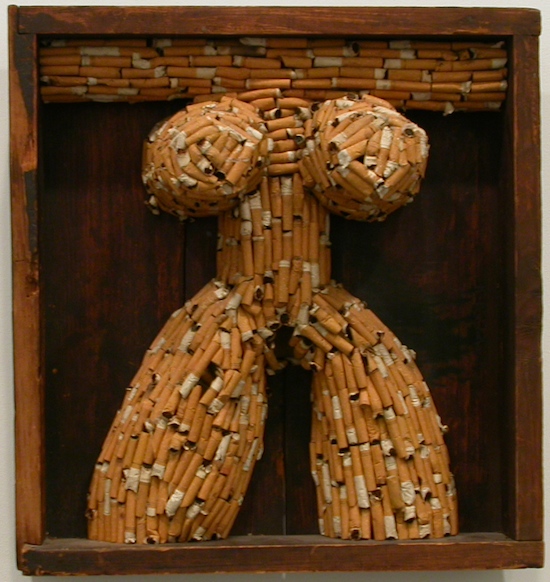 Photo by Roberta Fallon
The late Al Hansen, the creator of this buxom, cigarette-butt figure, was an artist who rubbed shoulders with the likes of Yoko Ono, William Burroughs and Andy Warhol. Grandfather of the musician Beck, Hansen was an earlier exponent of art created from
objets trouvé
, recreating the above image, which he called "Venus," in repurposed Hershey Bar wrappers, burned cigarette papers and matchsticks. He used cigarette butts in several variations of the endomorphic figure, collecting the butts, with the help of his grandsons, from the ashtrays of America's bars and cafés.
2. Camel's Head
Image courtesy of Claire Jones
Claire Jones, an art and design student at the University of Michigan, made this wonderful sculpture of a camel's head entirely out of discarded Camel-brand cigarette butts. It's not clear if the artist smoked the cigarettes herself, but art is surely a better destination for the butts than the streets of Michigan. The admirable concept of reuse apart, the camel-colored cigarettes make an ideal material for a sculpture of a camel, the fluffy filters perfectly resembling the animal's fur.
1. Iraqi Veteran Burn Victim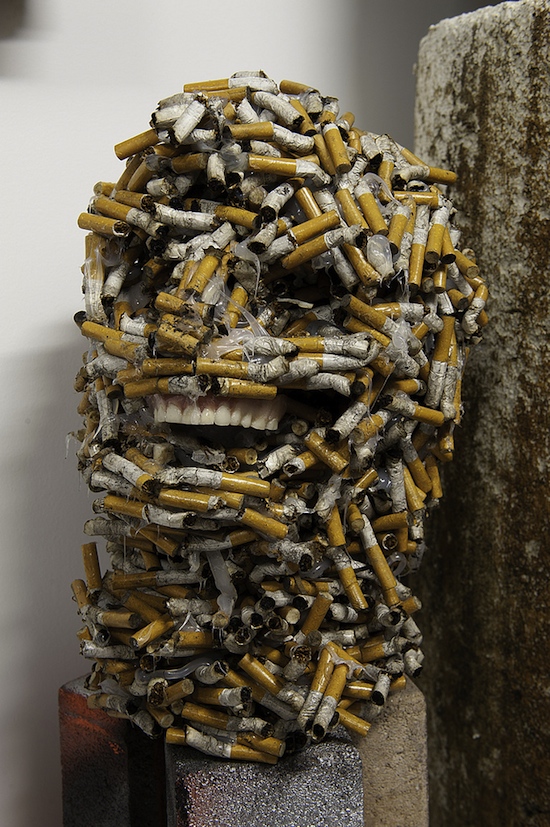 Image courtesy of John Norwood
John Norwood, creator of the "Iraqi Veteran Burn Victim," above, is a self-confessed "compulsive recycler." Committed to creating art out of junk, his studio in College Point, NY, houses a vast collection of weird and wonderful work, much of it created from unlikely materials such as insulation foam, old shoes and used Marlboro packets. This piece, formed solely of cigarette butts, teeth and glue, is a striking reminder of the inflammatory situation in Iraq.