Image: Will Rockwell All images courtesy of the artists and used with permission.
Ah, the glorious days of steam power, when computers were beautiful and flash drives were pieces of art. Say what? We are, of course, thinking of the imaginary world of steampunk, in which Victoriana rubbed shoulders with the high-tech ? and with the impossible.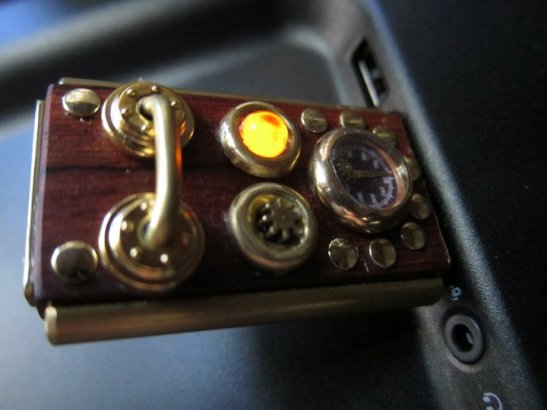 Image: Will Rockwell
Whether you're thinking of globetrotting airships or clockwork pocket computers, steampunk has room for it all ? even for your handy USB stick. Could there be a more stylish way to apply a finish to the finer details of everyday life?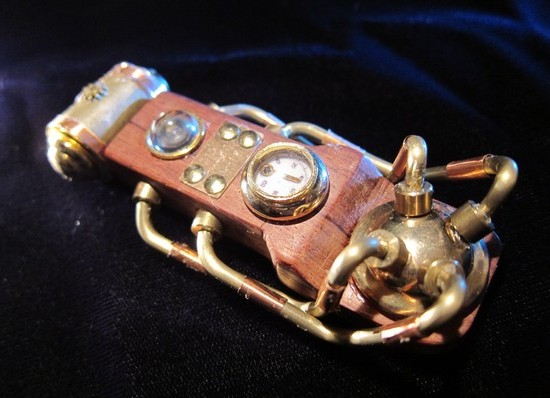 Image: Will Rockwell
Even better yet, you could make your own and carry your steampunk style with you! Yes, using piping, watch parts and the all-important USB flash memory drive, you can create your own approximation of the designs seen here, while leather scraps might also come in handy. Some hot glue, some solder and some tools will also prove to be very useful. Read on to find out more about the awesome steampunk USB stylings featured here!
10. The Wheelhouse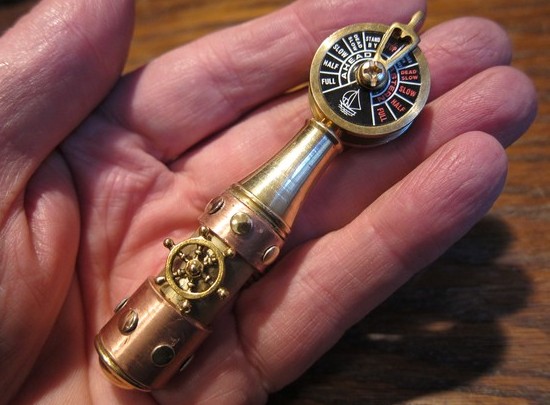 Image: Will Rockwell
"The Wheelhouse" is the perfect gadget for fans of all things nautical. It is made of reused copper and brass tubing and lovingly decorated with brass rivets and two special pieces: a miniature ship's wheel and an engine telegraph that's modeled after those used on the Titanic.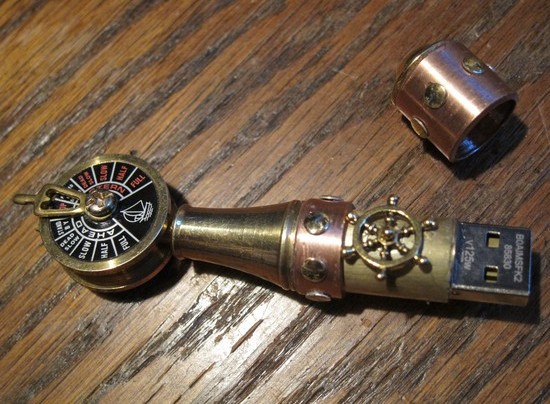 Image: Will Rockwell
Not only will your data go full steam ahead with this flash drive, but it also comes in one of Will Rockwell's trademark custom faux vintage tin boxes, which are collectors' items all on their own.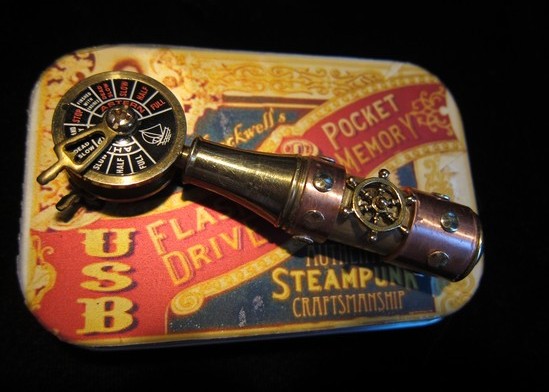 Image: Will Rockwell
This one reads "USB flash drive 8GB pocket memory" and "Authentic Steampunk Craftsmanship." We just love the attention to detail!
9. USB keychain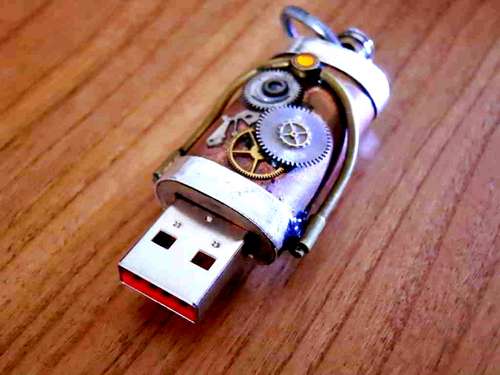 Image: Kaelessin
What we like about this USB keychain is its tiny size and the fact that that it is simple yet distinctly steampunk. It is also made from all repurposed materials: old watch parts, brass tubing and leftover metal parts.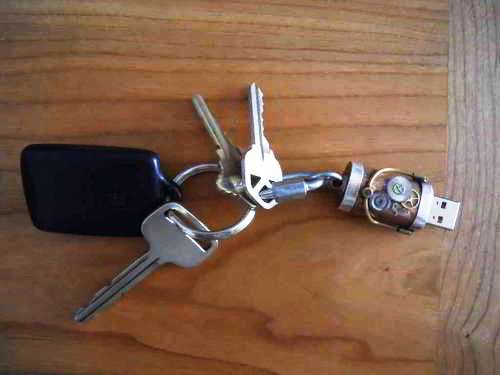 Image: Kaelessin
As you can see from the image above, this flash drive is small even for a keychain, so will fit nicely into your pocket. If you follow the picture links, you'll get detailed instructions on how to make your own.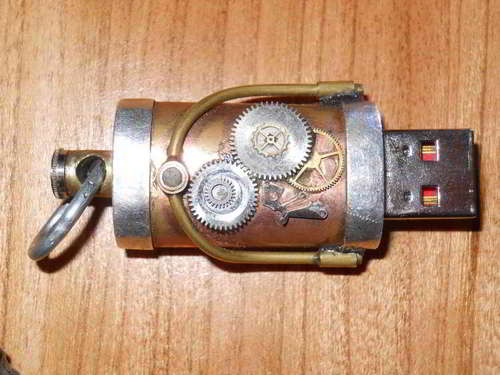 Image: Kaelessin
Creator Nathaniel explains how this creation came about: "As an applications developer, you can imagine that I do a lot of transferring data. I utilize these little drives extensively, but, as usual, I was not pleased with their out-of-the-box look. Solution: pry them out of their boring little cases and create something worthy of the high-profile data stored within!" We couldn't agree more.
8. Captain Nemo's personal flash drive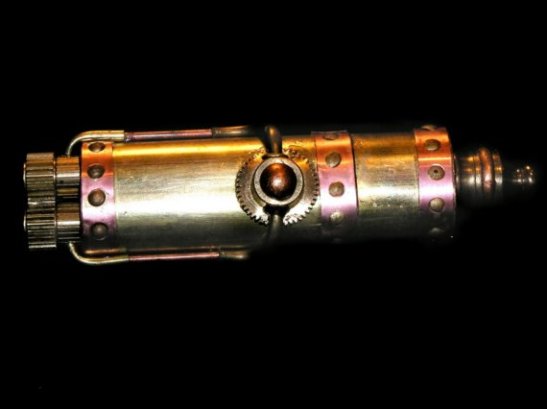 Image: Will Rockwell
"Flash! Divers salvaging the remains of the Nautilus have recovered what appears to be Captain Nemo's personal flash drive, or Pocket Memory, as they were once called. Even more amazing, the device still functions." Given its look, this beautiful copper and brass creation from the workshop of Will Rockwell looks like it really could have been Captain Nemo's flash drive. Can you count all the repurposed screws, rivets and gears?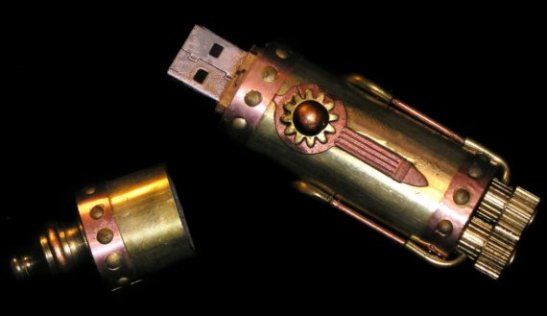 Image: Will Rockwell
This repurposed drive has quite a history; not only because it was Rockwell's first creation, but also because it was priced at $3,000 at one point! Now, it can be yours for $300.
7. A case of… USB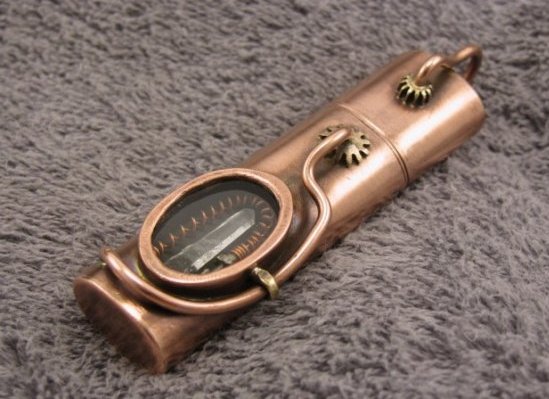 Image: Derrick Culligan
Another classic is this USB flash drive by the Steamworkshop. It is made of reused copper sheets and tubing and a carefully placed coil. If not aware of the dimensions, one might mistake the flash drive for a sleek case for foldable glasses.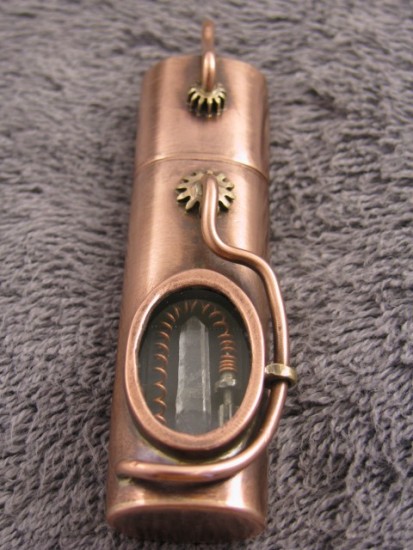 Image: Derrick Culligan
The real eye-catcher? The embedded quartz crystal. If you don't have any quartz lying around, any crystal will do. The complex cover design makes this one look like a miniature piece of art.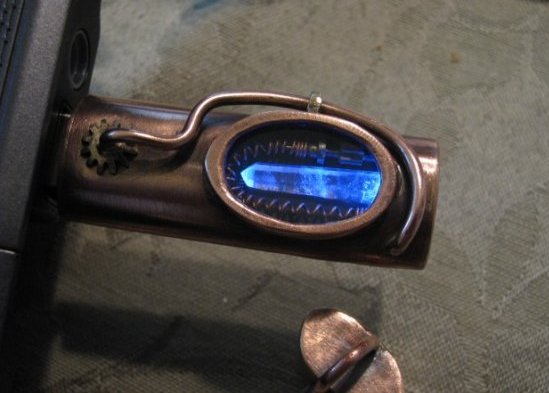 Image: Derrick Culligan
And did we mention that the crystal lights up when the USB is transferring data? Plus, the flash drive is waterproof, so you don't have to worry about any accidental spills. We want one right now!
6. Bottle-top USB
Image: BasementFoundry
This USB drive is really one of a kind because when not in use it looks like a bottle stopper. Meanwhile, it glows blue while transferring data, reminding us of an old-fashioned diver's helmet. Regardless of what you think it looks like, though, it's one cool steampunk gadget!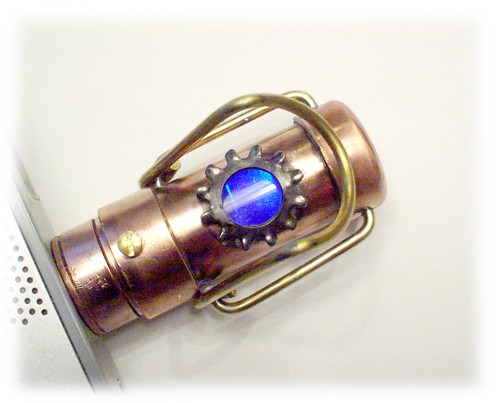 Image: BasementFoundry
The best part about the drive? It is also fully recycled. Creator Jumpei Funaki explains his philosophy: "I use repurposed parts as much as I can, especially the copper piping, the body of the flash drives. I go out to some work site remodeling residential houses and ask contractors to set aside pipings for me. I guess this is one of my ways to reduce waste a little." Hear, hear!
5. Light bulb USB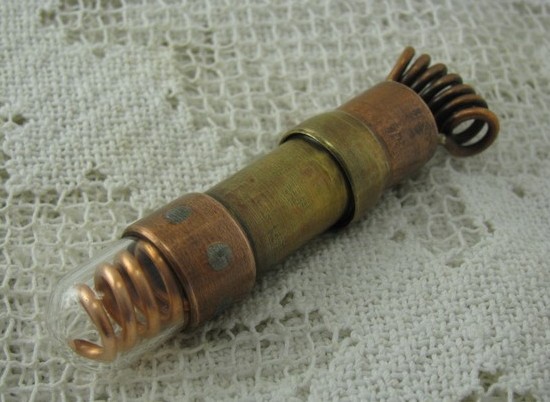 Image: Derrick Culligan
One of the Steamworkshop's older creations, this USB drive is a real classic. The tiny, repurposed glass cylinder and leftover copper wire coil remind one of a light bulb. And indeed, the glass tail flashes red when transferring data.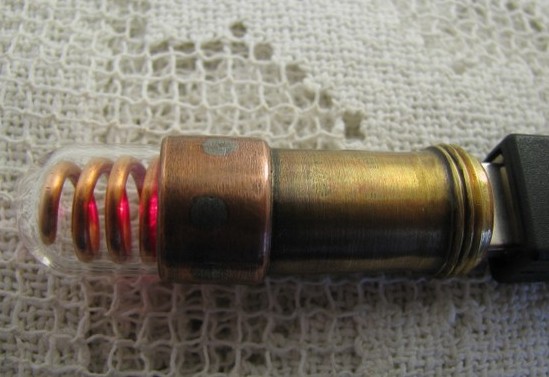 Image: Derrick Culligan
Because of its authentic look and feel, it's easy to mistake the USB drive for a real steam-powered gadget, especially when it's closed. Creator Derrick Culligan explains the secret behind this look: "I've distressed the surface and carefully applied patina to give it the look and feel of a true antique. People who handle my pieces often think they're antiques."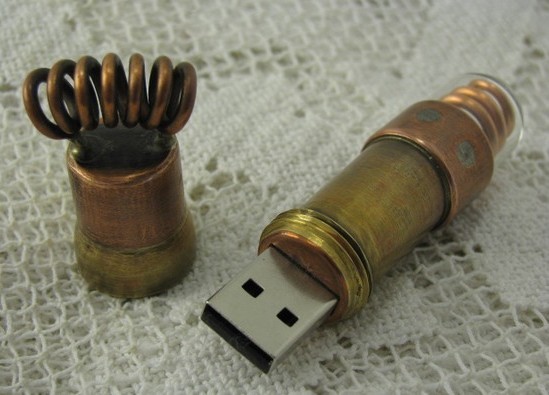 Image: Derrick Culligan
Like Culligan's other USB drives, this one is also waterproof, and the cap can be used as a pendant. This is very handy for anyone in danger of losing USB caps or indeed whole drives!
4. Steam(punk) train USB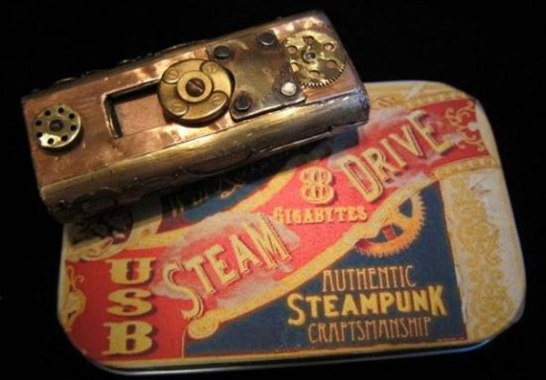 Image: Will Rockwell
This 8GB USB drive is as steampunk as it gets. Made of leftover brass and copper parts, it also has repurposed gears, screws and bolts in all the right places. The compact gadget has a retractable USB connector and comes in a really cool custom faux vintage tin box that reads "8 Gigabytes USB Steam Drive," with maker Will Rockwell's name right on top of it.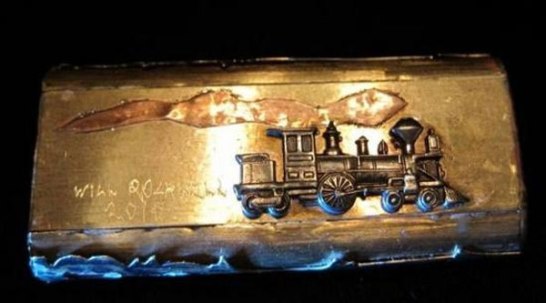 Image: Will Rockwell
Why have we called this a steam(punk) train USB? It's very simple; because there's a beautiful train embossed on the back of the USB, complete with steam cloud and Rockwell's signature etched in it!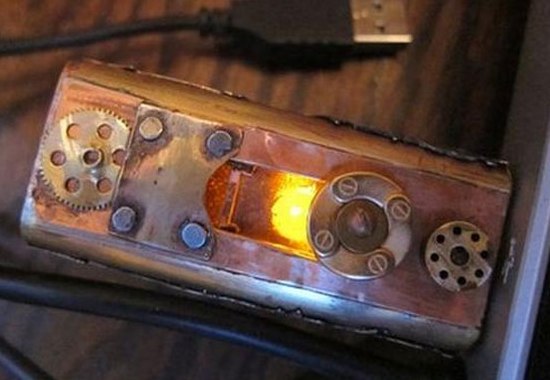 Image: Will Rockwell
Oh, but that's not all. Fire it up — er, plug it in — and start transmitting data, and the little light in the middle will emit a yellowish glow, not unlike a miniature furnace. This beauty was once available but has since been sold.
3. The Collective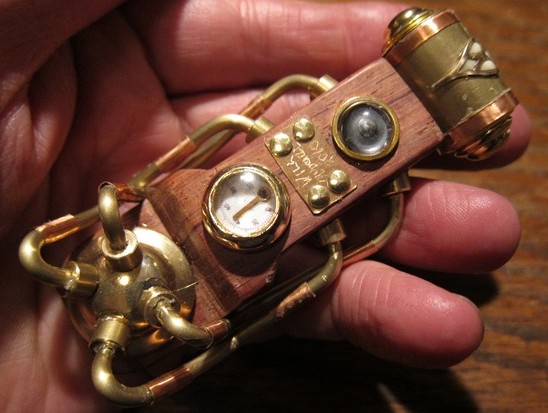 Image: Will Rockwell
"The Collective" is a real collectible that may be too precious to actually be used. But then, why waste 16GB and a sturdy USB? This piece was sculpted from rosewood (leftover pieces, we imagine) and decorated with four brass coolant pipes that snake around its rear. The service light is a large framed cabochon that's a highly polished, rounded and unfaceted gem.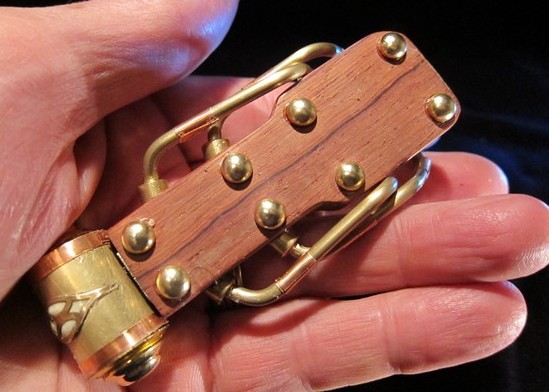 Image: Will Rockwell
Equally impressive is the tiny imitation gauge with a domed cover whose marker is a repurposed watch hand. The flash drive's cap is made from a small, decorative storage tank. Like all of Rockwell's creations, a tiny plaque in the middle with his engraved signature, confirms that it's an original.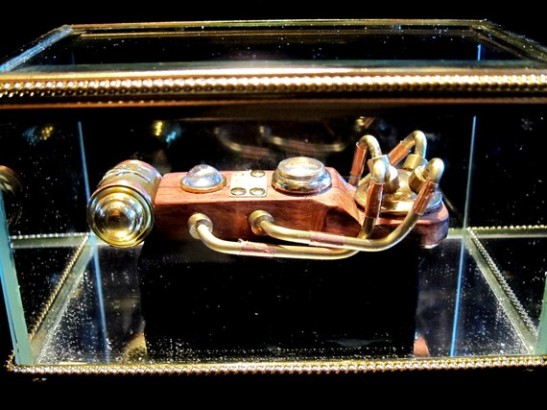 Image: Will Rockwell
Even the back with its eight upcycled brass rivets looks very decorative. But, for those who are hard to impress, check out the cool case this USB drive comes in: a velvet-covered plinth in a glass museum case with a hinged top. Makes it look somewhat like a grasshopper, don't you think?
2. Test tube USB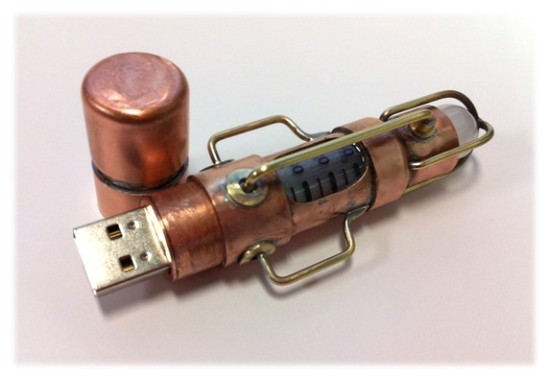 Image: BasementFoundry
Those who are scared of injections may not want to use this USB, as its body does rather remind one of a syringe. But don't worry, this USB is actually made from an old test tube, leftover copper pieces and brass wiring. The (re)use of materials is clever here, and the tube actually glows red when in use.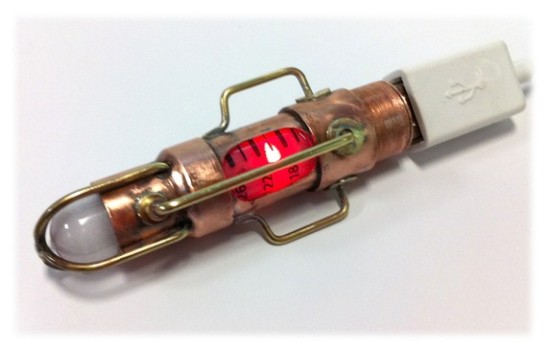 Image: BasementFoundry
All the copper and brass parts have either been reclaimed or purchased from locally owned hardware stores. Do-it-yourselfers take note of this tip: "The antique look of this drive is achieved by polishing but not treating it, thus letting a natural patina develop," artist Jumpei Funaki reveals.
1. Glowing quartz crystal USB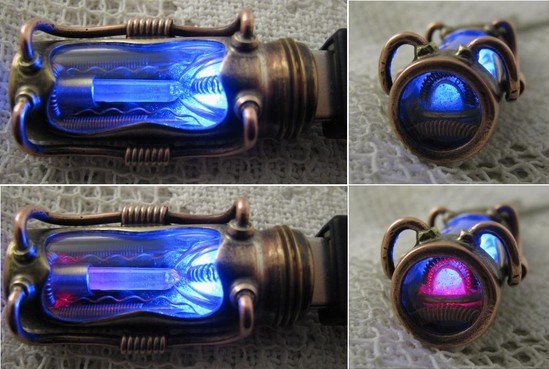 Image: Derrick Culligan
This USB flash drive is one of our favorites, featuring a quartz crystal that can be seen through an elegantly curved glass window. But, the best thing is that the crystal lights up! It turns blue when plugged in and red while transferring data, so at a glance, you always know what's going on. How cool is that?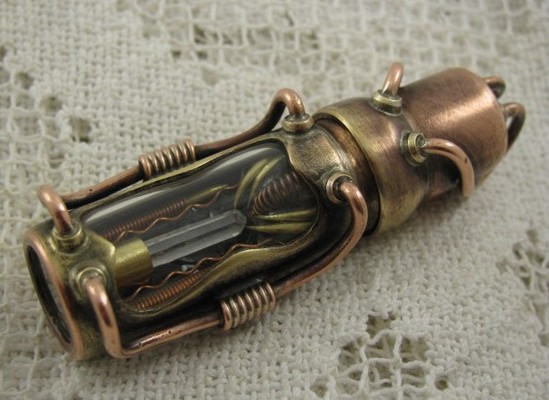 Image: Derrick Culligan
The sturdy exterior is made of repurposed brass, copper and glass (no plastic here!) and the metal connections are silver. If you ever spill your coffee or water over it — no problem! This USB stick is also 100% waterproof!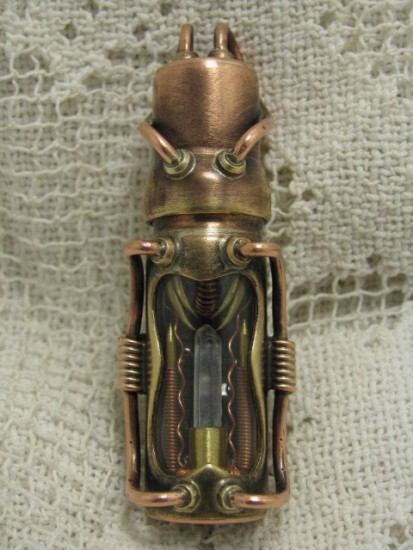 Image: Derrick Culligan
Creator Derrick Culligan of the Steamworkshop also makes steampunk jewelry, and one can see the crossover here: The drive's cap sports a loop for attaching a chain or necklace so that it can be worn as a pendant. Multipurpose repurposing — we love it! After so much steampunking genius, it's hard not to jump up and get to work in the basement or with the toolbox to create a brand-new, recycled USB drive right away. So, what are you waiting for? There's a wealth of inspiration out there, and we hope to hear your DIY story soon!