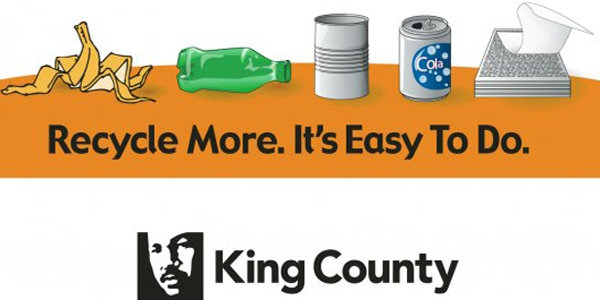 Imagine having a group of highly educated recyclers at your fingertips — a group of people who not only know the ins and outs of recycling, but also love to teach others how to do it effectively. That's the premise behind the
Master Recycler Composter
(MRC) program in King County, WA (which encompasses the eastern and southern suburbs of Seattle). Modeled after the highly successful Master Gardener program, this free course aims to turn individual citizens into recycling specialists. Participants can sign up for the annual training by downloading an application form from King County's website. Once enrolled, they take a series of seven or eight evening classes that cover everything from what to recycle at the curb, to where to drop off e-waste. They also learn about backyard composting, dealing with household hazardous waste and waste reduction. MRCs also take Saturday field trips to a
transfer station
,
landfill
,
materials recovery facility
and commercial composting operation in King County. The field trips provide a chance to see recycling in action, and, conversely, to understand what really happens to items that aren't recycled. Once they've completed the program, individuals are asked to "pay back" the community by volunteering to spend at least 40 hours over the next two years educating others about recycling. Activities include staffing booths at special events, giving presentations to professional and social organizations and working in schools. Karen May, Project Manager for King County's MRC program, estimates that King County has 140 active volunteers right now. In 2010, those volunteers gave at least 680 hours and reached 11,350 people through various events. "It really helps people feel like they can channel their energy and their passion for the environment," she says. "The trainees are quite enthusiastic to get out and spread the message." King County's class has been around since 1990. It started at roughly the same time King County launched its curbside recycling program. That wasn't an accident; MRCs were seen as a resource to help people better utilize the new system. May notes that the program remains a tremendous help to their recycling staff. "It helps us expand the extent of our outreach beyond what our office staff could do on their own," May says. "In addition, personal interaction with the public through volunteer outreach has proven to be an effective tool to educate individuals and motivate them to action." The MRC curriculum continues to evolve based on people's interests and community need. Instructors used to spend more time on backyard composting. Now that King County residents can put compostable waste out at the curb, instructors focus their teachings elsewhere. However, May says that in the past five years they've spent a lot more time discussing waste reduction. "It's more prominent in people's minds now," she says. "It's a popular topic." Still, the program stays zeroed in on its goal of training people who can provide one-on-one instruction to their fellow citizens. Given that recycling systems can vary greatly from town to town, having the human resource created by the MRC program is a huge benefit to residents wherever they exist. At least eight other communities have set up similar programs, including
Hennepin County, MN
;
Wake County, NC
;
Hamilton
and
Montgomery
counties in Ohio; and
Edmonton, AB
, in Canada.
Karen May, Project Manager for King County's Master Recycler Composter program, can be reached at (206) 296-4353 or Karen.may@kingcounty.gov.