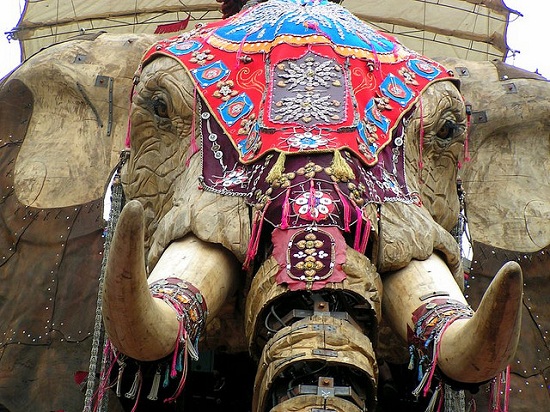 Image courtesy of Judepics
Londoners are not known for their
joie de vivre
, so when they're swinging from the lampposts and smiling from windows, there must be… an enormous French elephant in town!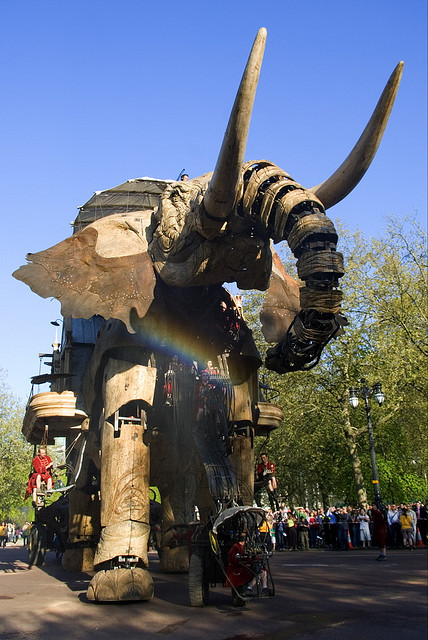 Image courtesy of Simon Crubellier
Not even a lugubrious Londoner emerging from a long winter and resigned to a short summer could fail to marvel at the amiable 40-foot beast that sauntered through the city's winding streets, its outsized leather ears brushing the top of Admiralty Arch.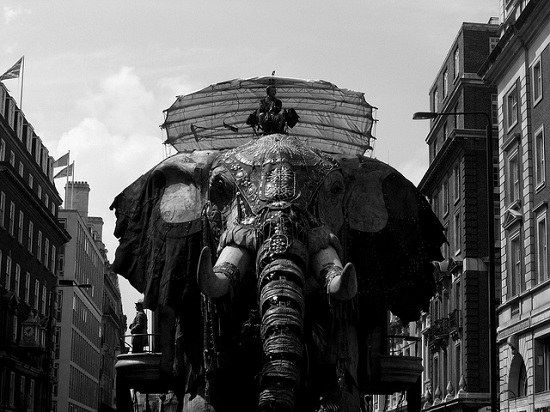 Image courtesy of C.G.P. Grey
Any elephant in London would stop traffic. But this one caused street lights to be removed and roads to be closed. Weighing as much as seven African elephants and more than Nelson's Column, the majestic animal caused no small brouhaha.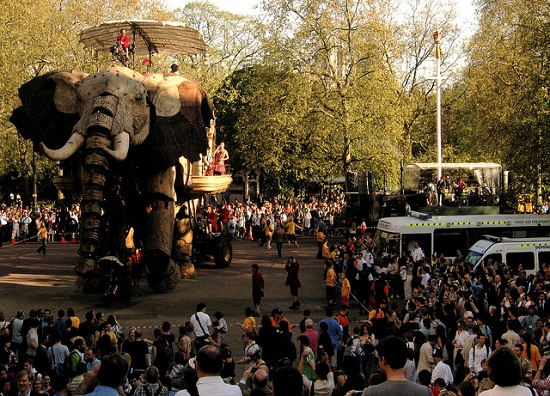 Image courtesy of C.G.P. Grey
Even its wooden performance couldn't deter the British from taking their hats off to the French. Formed not of skin and bone, but of 45 tons of reclaimed wood and steel, this giant, mechanical Nellie was created by France's Royal de Luxe theater company as part of a four-day show.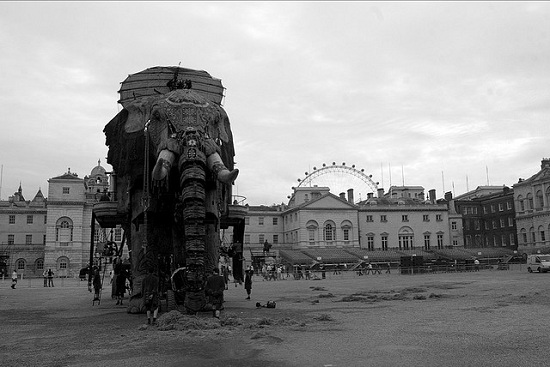 Image courtesy of Simon Crubellier
Called The Sultan's Elephant, the show was first performed in the French cities of Nantes and Amiens, before transferring to London for one long weekend.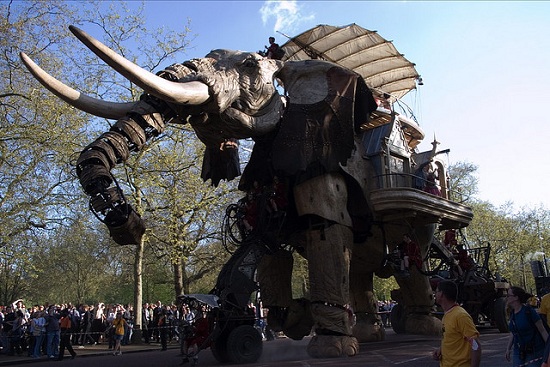 Image courtesy of Simon Crubellier
Commissioned to celebrate the centenary of the death of Jules Verne, and inspired by one of his stories, the recycled robot tells a time-traveling tale about a sultan, his elephant and the girl of his dreams. This was street art at its best — and certainly at its biggest.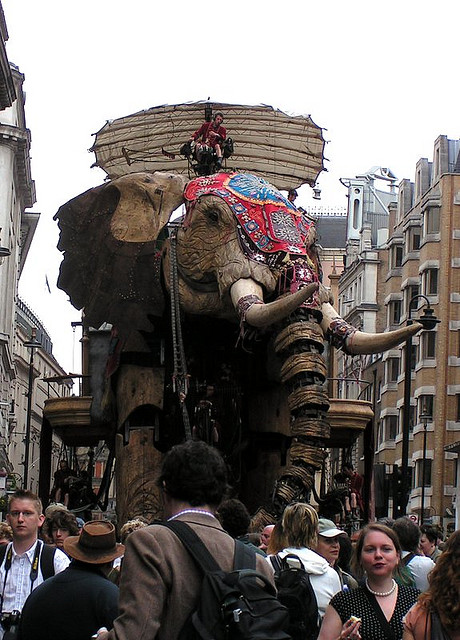 Image courtesy of Judepics
Designed by Francois Delarozière, the elephant was powered by a mixture of hydraulics, motors and levers operated by a crew of 22, dressed in knickerbockers and frockcoats. There could be no mode of transport more thrilling. Its hundreds of moving parts, the pistons that pumped water from its articulated trunk, the sound of its thumping feet and the sight of its tusks surging through unlikely locations promised crew and sightseers alike a magical ride.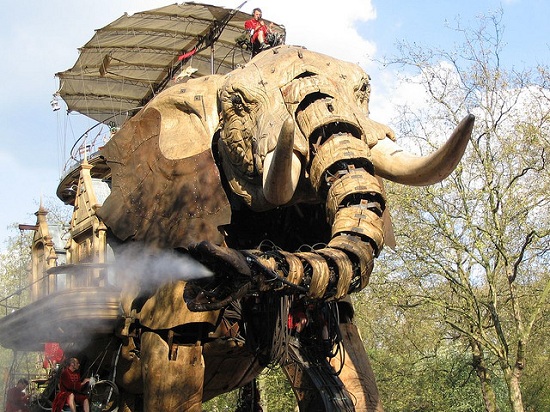 Image courtesy of Raindog
The show began with a bang. The London performance, lasting for four days and sprawling across the city center, began on a Thursday as a colossal antiquated wooden barrel apparently soared into Waterloo Place. It had no concern for the tarmac beneath it (it tore a 3-meter hole in the ground) and the city didn't know what had hit it. Crowds gathered round this strange and unexpected vessel. Smoke rose from it, but it wasn't until the Friday that its contents emerged in the form of a giant marionette — not the elephant, but a little girl (in fact, an 18-foot giant).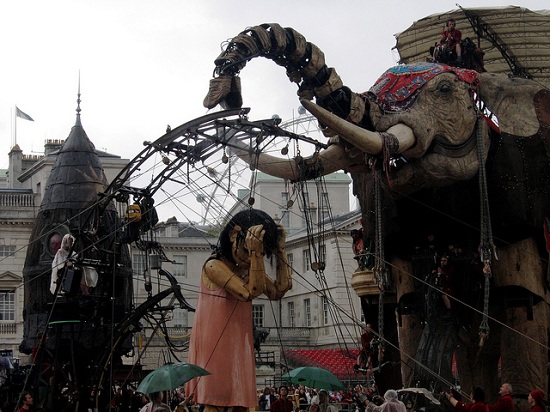 Image courtesy of C.G.P. Grey
The girl puppet was greeted by the elephant and the sultan, who had by now also arrived in Waterloo. Though thousands had turned up to see the arrivals, the enormous tourists had some sightseeing to do themselves. The girl toured London in an open-top Routemaster bus, and carved up the mall on a stupendous scooter; her hair, made from the tails of as many as 80 horses, blowing softly in the English breeze.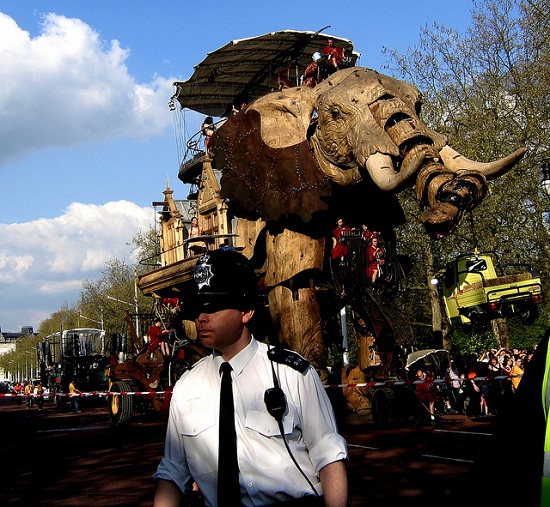 Image courtesy of C.G.P. Grey
Meanwhile, the elephant trumpeted around the St James's area, and the next day headed to Trafalgar Square, effortlessly wooing everyone who saw him. In spite of his astronomical proportions (more than 56 square meters of reclaimed poplar was used in his construction), his pleasant, wrinkled face told of a gentle demeanor. Sure enough, this was a beast sent to enchant rather than frighten.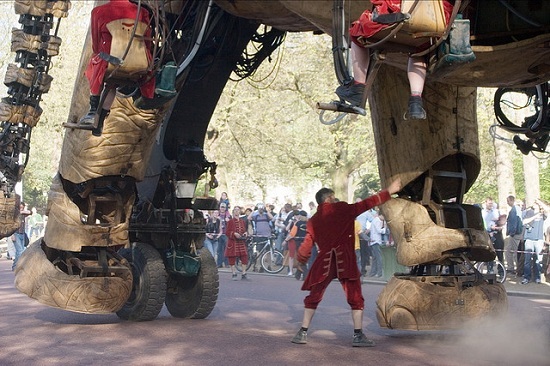 Image courtesy of Simon Crubellier
And though the way he moved for the audience was authentic — the way his ears flapped and his trunk snaked, resembling a real elephant — it was the very theater of him that made him so special. He was magical realism incarnate. He might blink in the sun, but his every move was visibly made possible by the frenetic hands of French men and women. The elegant crew could be seen pulling levers, pushing buttons and speaking on headsets, thereby bringing the giant to life.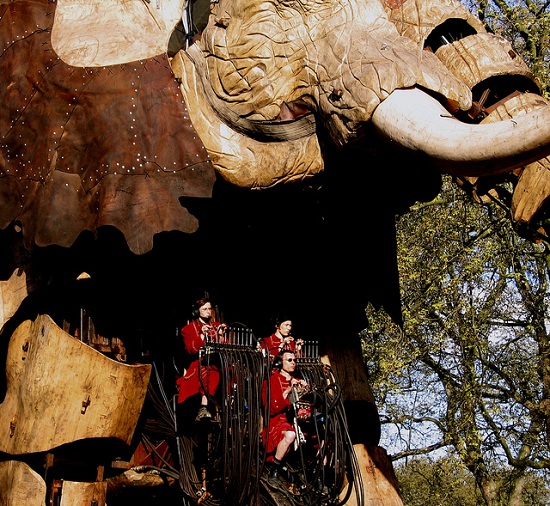 Image courtesy of C.G.P. Grey
On day three, the elephant slept over lunch, while rain fell in Trafalgar Square. Sinking to his knees with extraordinary deftness for one so large, the amazed audience could hear him snore and snuffle.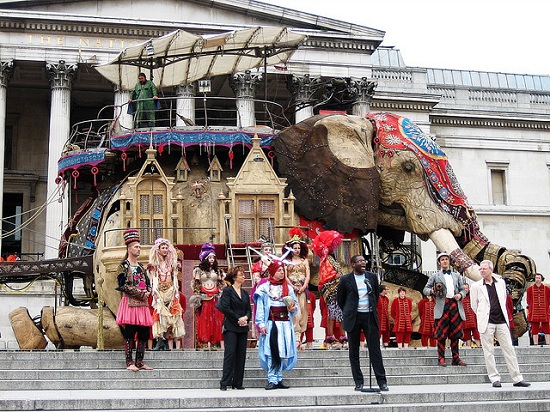 Image courtesy of Simon Crubellier
Its stillness allowed the crowds to contemplate the scenes before them: How had a gargantuan elephant made of old wood and discarded metal managed to seize the heart of London? Where had it come from, and where would it go next?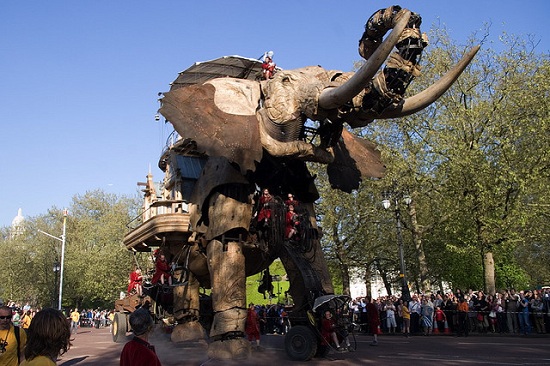 Image courtesy of Simon Crubellier
Rising from his slumber, the elephant picked up the girl and carried her in his two spectacular tusks for The Grand Parade. His swooping trunk and swinging head drew further gasps from the fixated crowd, while fairytale characters danced around the huge, slow-stepping animal.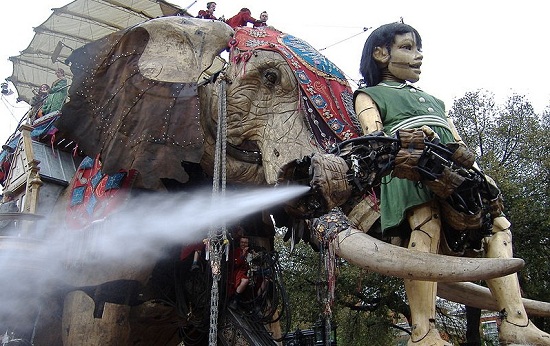 Image courtesy of Frankie Roberto
The sight of the elephant and its upscaled compatriots captured the imagination of young and old. If only the show could go on.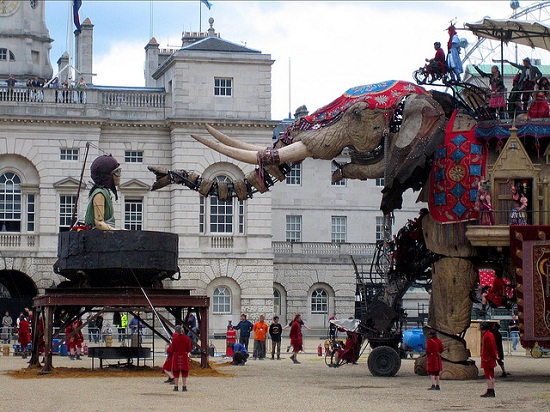 Image courtesy of Simon Crubellier
Alas, on day four, the little girl, in the garb of a steampunk aviator, rocketed out of London. Having returned to her ship, it fired, enveloped in flames and smoke, before returning empty to its base. The girl, it was clear, had traveled in time. The sultan's elephant went to Battersea Power Station.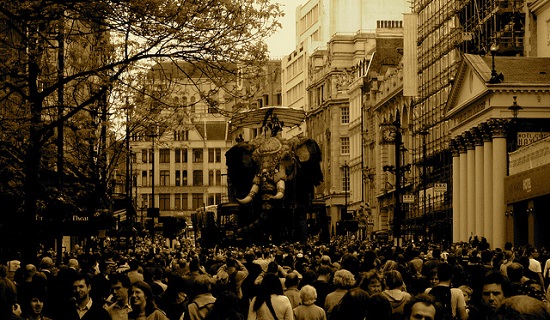 Image courtesy of C.G.P. Grey
For the thousands who were lucky enough to witness the fleeting visit of this giant elephant and his friends, the memory of him lives on. Junk has never been so beguiling.