"Anita," 2010, 24″ x 30″ All images used with permission of Samuel Price.
Labradors, bull terriers, dalmatians, bulldogs, spaniels, collies and pugs… Dogs come in all shapes and sizes, as San Francisco-based artist Samuel Price knows better than most. Price is a collage artist who specializes in creating portraits of pets, but is probably best known for immortalizing pooches on canvas for their owners — as well as the dog-loving eyes of the World Wide Web.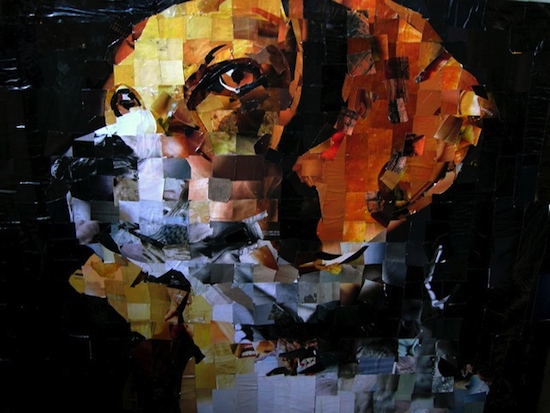 "Redwood Beagle," 2007, 18″ x 24″
You name the breed, and Price has probably captured its likeness. But the best bit is that the artist uses stacks of recycled magazines as a palette of colors that he anticipates using for each artwork — painstakingly cutting out hundreds of squares by hand, assembling them into something new and, in the process, doing his bit for saving the planet's trees.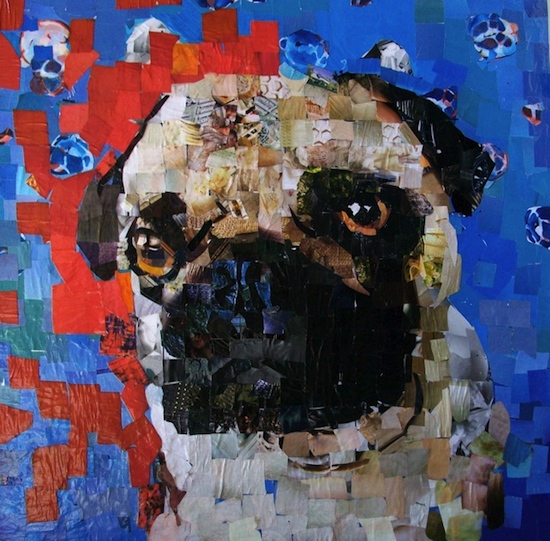 "Puglet," 2010, 24″ x 24″
As Price recently pointed out: "Conservatively, I work five days a week at collage using at least 20 recycled magazines a day. That's 100 magazines a week, 400 a month, 4,800 a year and 48,000 in 10 years. Using these calculations, I have saved at least 650 trees through these artistic endeavors." Not bad for a one-man collage-making maestro, whose one-of-a-kind pet portraits have begun garnering him attention beyond the Bay Area, where he lives and works.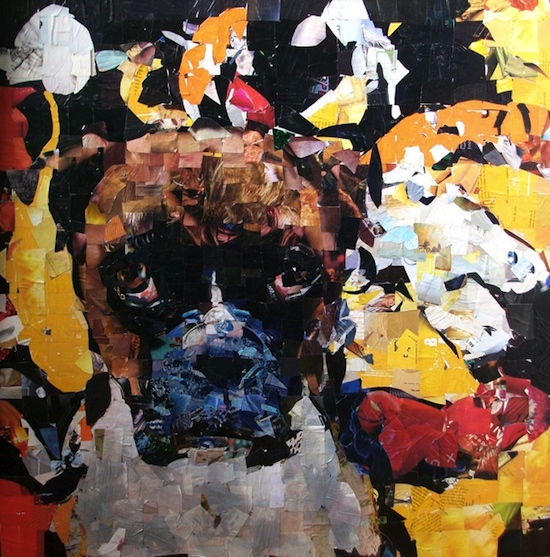 "Boxer at Koi Pond," 2009, 30″ x 30″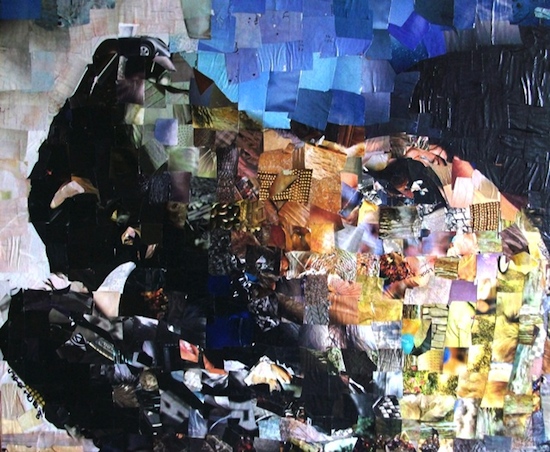 "Mortis," 2009, 20″ x 24″
For Price, the process almost always begins with a reference photograph of the animal he has been commissioned to portray, provided to him by the owner. "When I begin, I take the photo and use it as a model, comparable to a blueprint drawing," he says. "I study the image, and focus on the details and subtle nuances of the mouth and eyes that make every animal unique."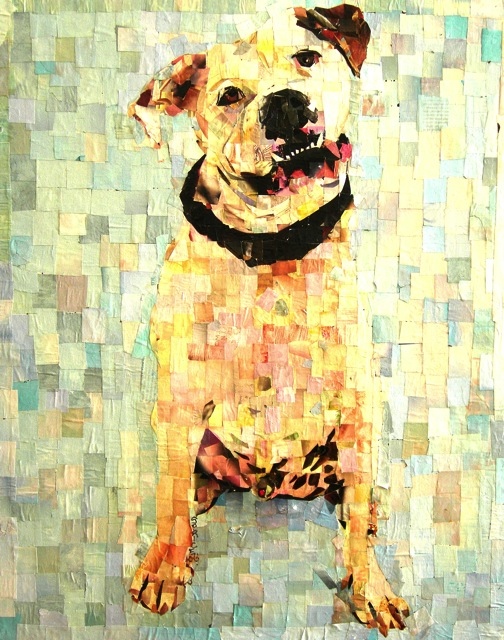 "English Bulldog," 2007, 24″ x 30″
A detailed grid on the canvas helps Price translate the photographic image into collage form and thus he begins to work on the shades of the dog's fur. Working while sitting on a yoga mat on the floor, Price spreads out a dozen or so magazines around him and begins to cut the suitably toned pictures into roughly square-inch pieces using a straight-edged knife.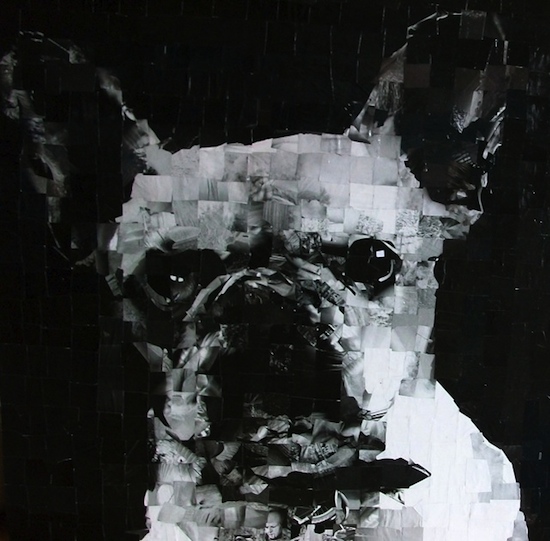 "Michelle," 2008, 30″ x 30″
Each magazine cutting is soaked in acrylic glue before being individually applied to the working surface. Thus, square by square, what was glossy starts to take on an apparently fuzzier animal form.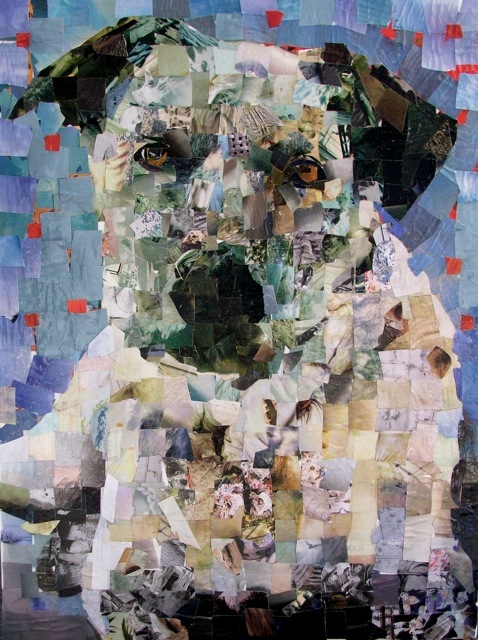 "Thelma," 2010, 18″ x 24″
If it sounds like the pieces of a puzzle being put together, it's a puzzle Price has gotten practice at solving for almost a decade now, honing his technique, as he says, and naturally adapting his skills to the different demands of his subjects.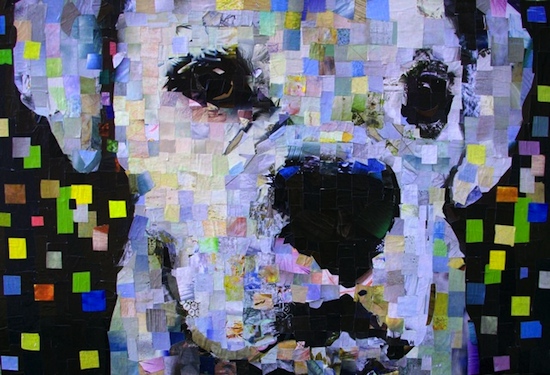 "Vivian The Bulldog," 2009, 24″ x 36″
Yet, whether producing landscapes or portraits of dogs, other animals like horses or people, it boils down to a process of combining small elements of color and texture to create a bigger picture, much as pixels do — though of course without any computer assistance.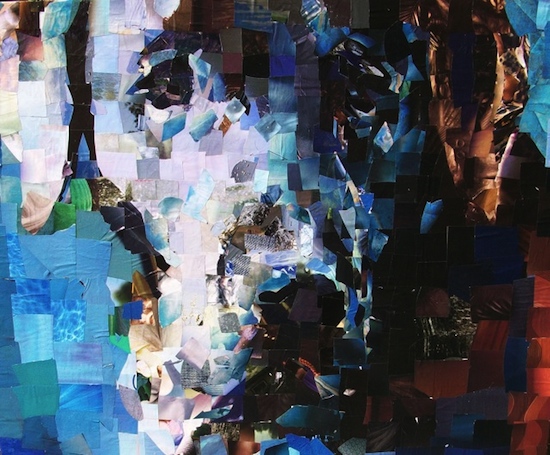 "Buster," 2009, 20″ x 24″
Though each canvas may contain hundreds if not thousands of hand-cut squares — the portraits range in size from 18" x 24" to as large as 4′ x 4′ — each one is "picked meticulously for its color and shape," according to the artist. As Price says: "I spend many hours simply digging for the materials that best fit the canvas, searching for the perfect match."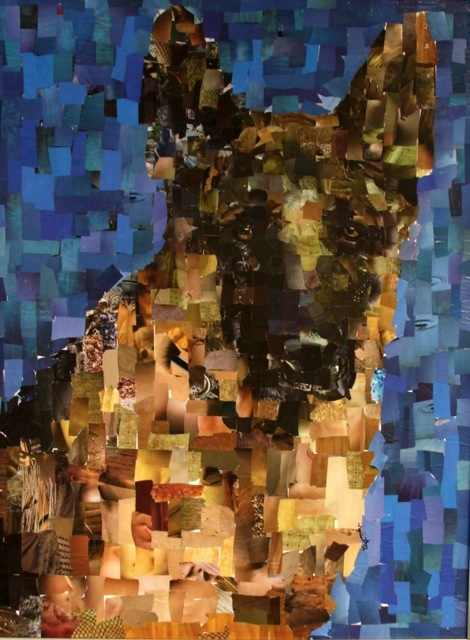 "Blue German Shepherd," 2010, 30″ x 40″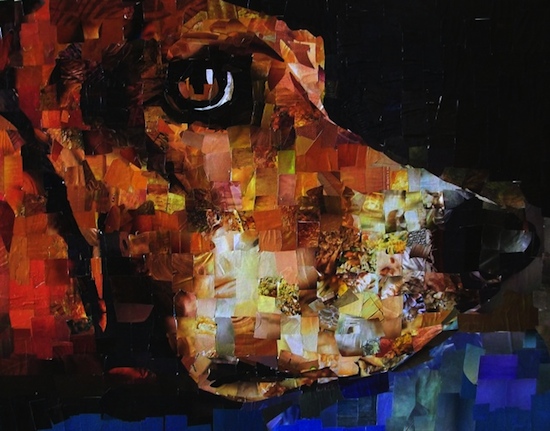 "Simon," 2008, 22″ x 28″
Where does he get the discarded stuff that's so crucial to all his work? "I recycle a lot of the old magazines in hospital lobbies and subscribe to a ton of magazines," he told SFGate.com. "Fashion and design magazines are some of my favorites because of their vivid colors. I get a good deal of my greens from
National Geographic
and
Sports Illustrated
and my blues from surf magazines."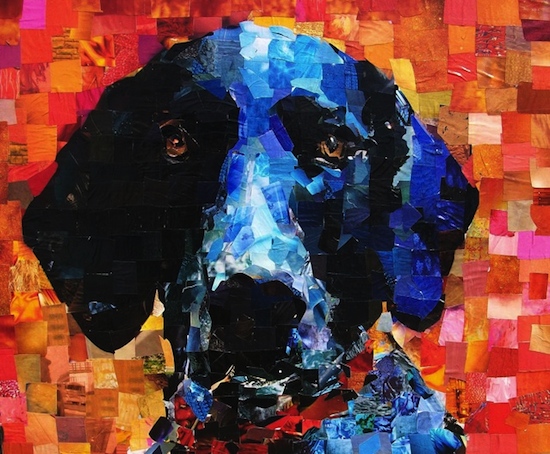 "Flicker," 2009, 20″ x 24″
In this way (unless we're being unfair on hospital porters and the training they receive today) Price transforms what might otherwise end up in the trash into priceless pieces of art. After all, while individual portraits can cost clients anywhere between $800 and $4,000, who can put a price on the bond that exists between person and pet? Certainly not the green-thinking dog owner with cash to spare and a mutt whose memory they wish to preserve.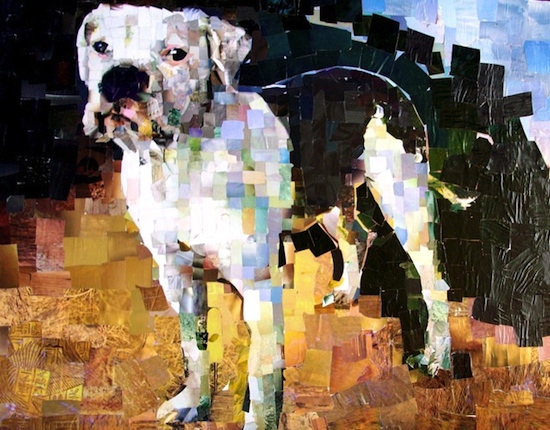 "Moose," 2010, 24″ x 30″
Yes, it is the owner-pet relationship, as well as the spirit of the animal, that Price aims to capture in the medium of magazine clippings and polymer emulsion — the latter of which acts both as sealant and adhesive. Perhaps that's why he always starts each piece with the pooch's eyes, the key to getting the likeness spot on — and the part of the anatomy commonly thought of as the window to the soul.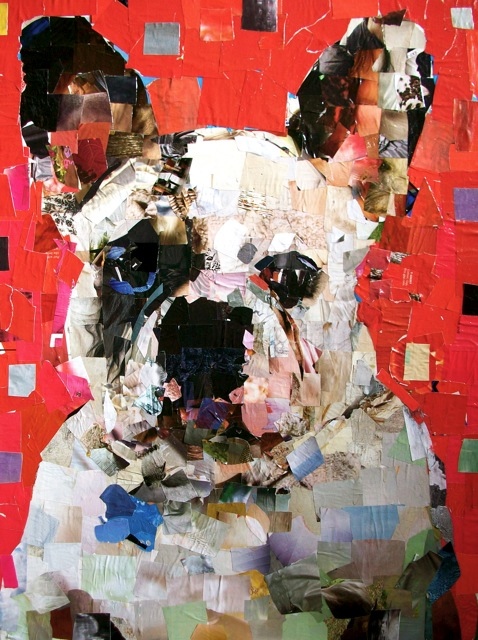 "Frenchie," 2009, 18″ x 24″
"I love art. I love animals. That was the bridge," Price told SFGate.com of the link between his medium and his primary choice of subject. "Many years ago, I was commissioned to do my first piece by a co-worker. One day, I was listening to her critique a painting of her dog, Floyd, and she didn't like how it was turning out. I offered to try my hand at creating a portrait. It was a complete leap of faith. The original photo I worked from was slightly blurry and the collage came out with a similar, soft, just-out-of-focus quality. To this day, it's still one of my favorites." You can see the piece he created below.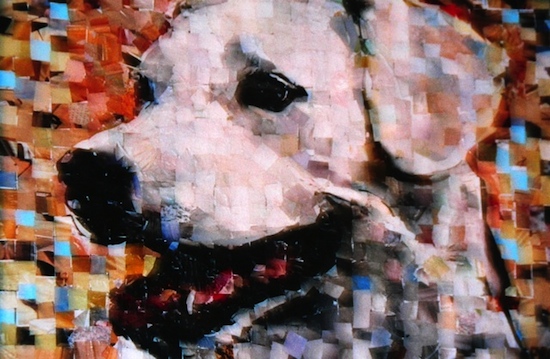 "Tiff's Floyd," 2004, 24″ x 36″
Each dog portrait Price creates is naturally a one of a kind — a reflection both of the artist's skill and the diverse forms taken by our four-legged friends. "There's a lot more unique qualities in dogs," Price told L.A. Unleashed. "Dogs have a lot of personalities. They come in all shapes and sizes."
"Juno," 2010, 24″ x 30″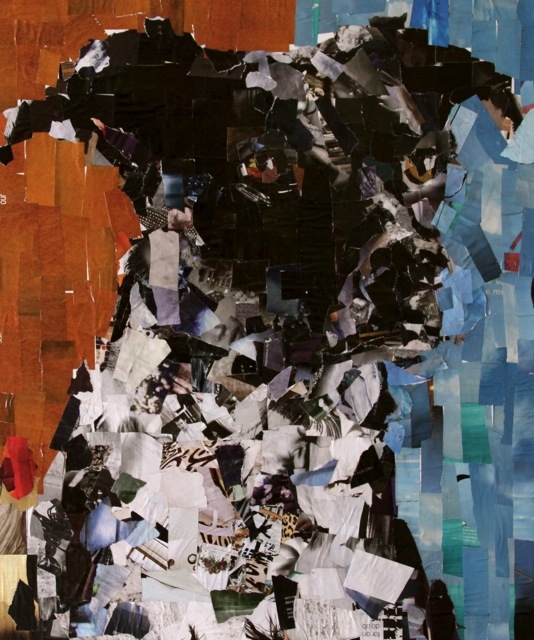 "Arlene," 2011, 18″ x 24″
Yet with each individual collage portrait comes a familiar set of challenges. While he works, the creative process is, Price says, always one of repetition and searching — repeating the action of gluing each square in place so that it won't slide away, and always searching for the bigger picture, even as he deals with those devilish details.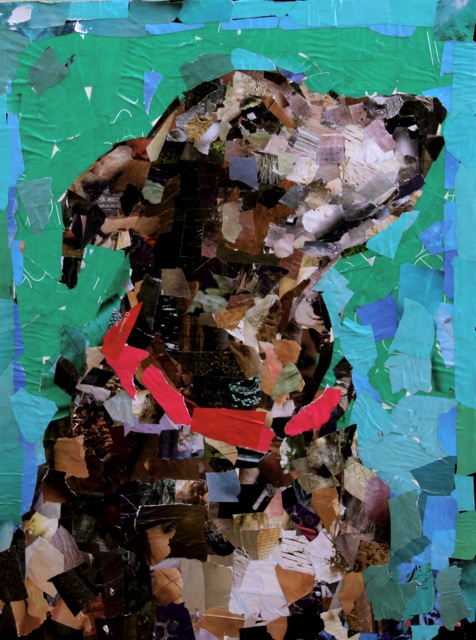 "Maple," 2011, 18″ x 24″
Taking a step back every now and then to check his progress from afar is a luxury he affords himself, but he must also always trust his close-up sense of perspective and proportion, even though "the closer you get to the image, the more it disappears."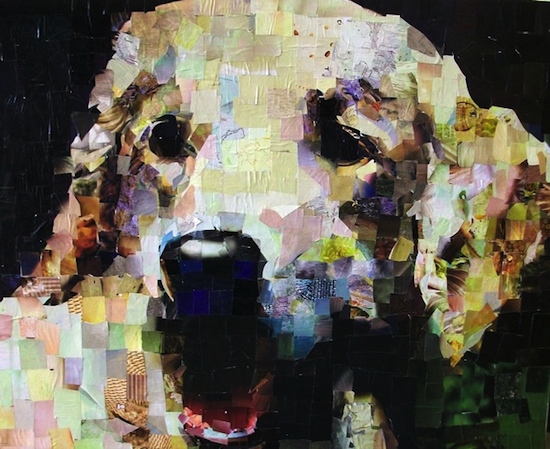 "Charlie," 2008, 24″ x 30″
Observers often find it difficult to tell what exactly it is this pet portrait collage artist is trying to represent while he is at work, but Price knows he is on track so long as he has a solid idea of the total image he is aiming toward — hence the importance of a good photograph. As for the finished product, well what more could you ask? They are artworks that express the affection between man and man's best friend — and do so in eco-friendly fashion.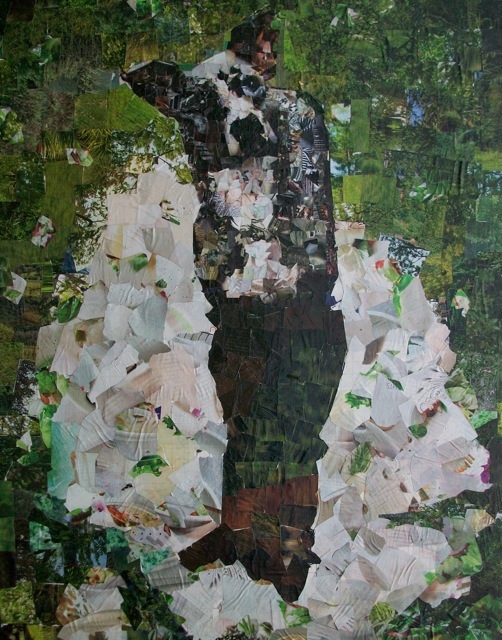 "Dog In The Pond," 2009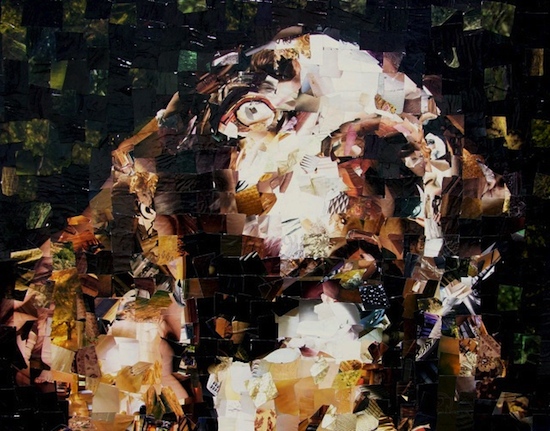 "Perciville," 2009, 22″ x 28″
Price started his life as an artist at a young age, teaching himself the collage skills he would sharpen in later life at a point when he couldn't afford to buy paints and so started cutting up magazines and newspapers instead. The son of two nurses, he worked at surgery centers and himself spent time training in nursing school to support himself — where he found ample supplies of old magazines!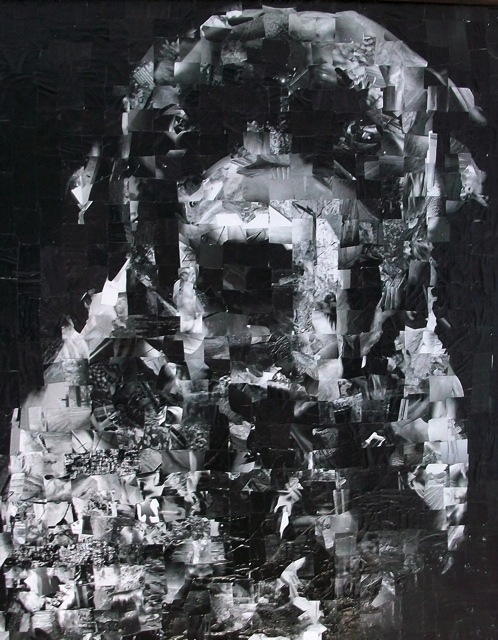 "Perro de Presa," 2008, 24″ x 30″
With thanks to Samuel Price for contacting us about covering his art and for permission to use the images of his inspiring work. If you're interested in a portrait of your own canine companion, or to find out more about Price, visit the
artist's website here
.
Sources: 1, 2, 3, 4