It's beginning to heat up outside, but before you reach for the tank tops, shorts and
sandals
, there is one indispensable accessory that should be at the very top of your list. Some say that an expertly selected pair of UV-shielding sunglasses is an absolute must-have for peepers from brown and hazel all the way to blue and Liz Taylor violet (based on their protective safety factors alone), but if we're going to be perfectly honest, this simple staple is more often favored for its ability to transform the wearer from
ho-hum
to
heck yeah
in seconds flat. Think about the most iconic images of celebrities captured throughout the ages, and they share one thing in common: They're almost always wearing a snappy pair of sun-shielding frames. The cat's-eye sunglasses that Audrey Hepburn wore to elegant perfection in
Breakfast at Tiffany's
are easily rivaled by the incredibly varied but perennially eye-catching array of frames sported by fellow style maven Jackie Onassis.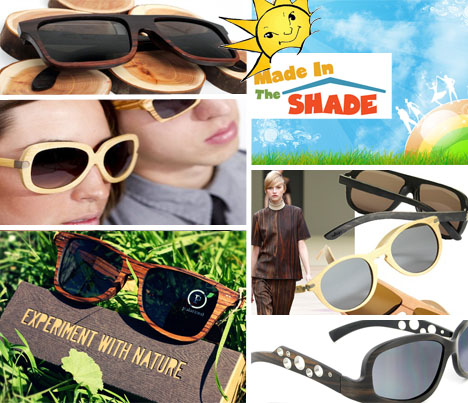 Tom Cruise and his beefy
Risky Business
Ray-Bans (a look that Jack Nicholson is rarely without) are forever burned into our brains, as are the famed day-to-night looks sported by musical legends Madonna, Michael Jackson and Bono, proving that whether your future is bright or not, rocking a pair of shades always offers an instant cool factor regardless of the weather outside. What's even cooler is that manufacturers are making them easier on Mother Nature by incorporating greener materials and packaging and manufacturing commitments. For a rundown of the most notable companies in the sustainable shade biz, read on!
iWood Eco Design
uses reclaimed Forest Stewardship Council (FSC)-certified woods plucked straight from luxury jet interiors (think teakwood, ebony and zebrawood) to craft the 18 styles in its collection, along with VOC- and formaldehyde-free glue and protective coatings. These babies will set you back a yowch-worthy $370 no matter the pair you select, but they are crafted to outlive plastic versions.
Shwood
offers six equally earthy yet infinitely more budget-worthy designs carved out of American cherry, East Indian rosewood, walnut and zebrawood along with a protective walnut and maple slider case that looks elegant despite its hipster-treehugger roots.
Dragon
might be considered the trailblazer in the bunch since it has managed to fashion its E.C.O. sunglasses with 100% renewable materials — truly an admirable accomplishment in and of itself. Available in polarized and nonpolarized versions, the frame and lenses are both available in a rainbow of varying colors and whatever combo you select, your shades will be tucked away in a FSC-certified container accompanied by a 100% organic cotton pouch printed with water-based ink.
Gold & Wood
offers an extensive sunglass collection that is as glitzy as it is green, produced in a manner that streamlines waste production throughout every aspect of the manufacturing process. Like so many of its competitors, it too embraces the naturally sustainable qualities of FSC-certified wood, staining its frames with low-toxic, eco-friendly dyes. Vegans and vegetarians, take note: Gold & Wood also carves some of its frames out of
Vietnamese and African buffalo horn
humanely removed from domesticated animals that are destined for the food supply.
Waiting For The Sun
hand-carves rapidly renewable materials like bamboo and Australian tea wood into texturally intriguing frames that bestow the wearer with an impossibly chic movie star look.
Earth Conscious Optics
transforms 95% recycled plastic and stainless steel into six different men's and women's sunglasses, all priced at a respectable $129.
What makes the line even more appealing is its "One Frame One Tree" initiative, which ensures that a seedling is planted in a developing country courtesy of
Trees For The Future
every time a frame is purchased.
Juicy Couture's "Choose Green"
two-toned sunglasses — fashioned from 55% renewable plant-based plastic trimmed with highly sustainable bamboo temples — prove that going green can look awfully slick. The organic cotton canvas pouch they come with (printed with soy ink) isn't too shabby, either.
Proof
, like so many of its competitors, makes great-looking sustainable-wood sunglasses, but its unique edge is that part of the purchase price of each pair is earmarked toward offering restorative optical surgery to patients in India. The brand also has a dandy sunglass recycling program that gives consumers a discount on a future pair, transforming worn-out frames into wooden fuel pellets or animal bedding.