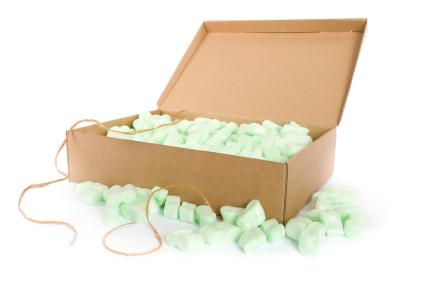 What's white and insulating and airy all over? You guessed it: expanded
polystyrene
foam plastic, the king of all cushioning materials (at least for the last several decades). Like Kleenex, Q-tips and countless other ubiquitous everyday products that end up becoming a part of our cultural lexicon, this lightweight packaging material — trademarked by Dow Chemical Company as the Styrofoam that we all used to know and love — enjoyed a long and prosperous career until people began scrutinizing its ecological impact. For a product composed of 95% air, it's difficult to imagine that polystyrene is so hard on Mother Nature, and yet the reality of the petroleum-based white stuff is that during its manufacture, a number of detrimental
chlorofluorocarbons
(CFCs) are involved — including coal- or petroleum-derived
benzene
(
a known carcinogen
), styrene (an
EPA-classified potential human carcinogen
) and HCFC-22 (found to be "
three to five times more destructive to the ozone layer than previously believed
"). While the majority of these compounds deplete our protective atmospheric ozone, to be perfectly fair,
just 3% of our planet's total global CFCs
are the result of expanded polystyrene foam. There's a lot more to Styrofoam's bad eco-rep than meets the eye, however. Among its most troubling aspects:
The very building block of expanded polystyrene foam plastic is petroleum, which is neither renewable nor sustainable and generates multiple types of polluting emissions, including volatile organic compounds, formaldehyde, carbon monoxide and sulfur dioxide.
Expanded polystyrene foam generates a significant volume of air, water and solid pollution during the manufacturing process.
Styrofoam monopolizes precious landfill space; plus, scientists believe it can potentially persist in its solid form for thousands of years.
The incredibly lightweight material, used in everything from consumer electronics packaging to food-grade containers, takes a chemical toll on the human body.
Due to its ability to break down into smaller nonbiodegradable bits, polystyrene is typically consumed by wildlife that mistake it for food, resulting in physical obstructions, starvation and death.
You can do your best to intentionally avoid Styrofoam by exclusively purchasing brands such as
Dell
that use eco-friendly packaging alternatives, but it's easier said than done, because the majority of today's electronics manufacturers are still clinging tightly to the white stuff. So, let's look at this situation realistically, shall we? Inevitably, you're going to end up with expanded polystyrene foam plastic whether you like it or not. Here's how to make sure it ends up doing more
good
than
harm
:
Mold it into a chair, or if you've accumulated a large volume of polystyrene, a sofa (as designer Kwangho Lee did).
Drop it off at one of Dart's 13 nationwide recycling facilities or one of EPS Packaging's even more comprehensive collection of participating recyclers across the U.S. and Mexico.
Place a few small pieces of polystyrene between toes in order to prevent freshly polished nails from getting smeared.
Whittle a few floaters for your next fishing trip or handcraft bath-time toys for your wee little water enthusiast.
Snip your way to a funky, chunky necklace that's naturally buoyant, too!
Limonene, extracted from citrus peels, has been proven to dissolve Styrofoam by as much as 5% of its normal size without ecological detriment, and the resulting goo happens to work as a powerful adhesive.
Carve lightweight planters out of a chunk of Styrofoam (just make sure that the new home sustains non-edible botanicals)
Make a Halloween costume or props out of unwieldy pieces.
Mail Styrofoam back to the Alliance of Foam Packaging Recyclers (just beware that you'll have to incur the cost of shipping it, which is relatively minor given how lightweight it is).
Create your own beanbag chair stuffing or fill a homemade "draft dodger" with chopped-up Styrofoam to keep the elements at bay.
Countless seasonal decorations can be made with embellished pieces of recycled Styrofoam, from Christmas ornaments/gingerbread houses and Halloween decorations (tombstones and jack-o-lanterns, anyone?), to glitzy Easter eggs you can display year after year!
Solid blocks of polystyrene can be transformed into free seedling starters (preferably for non-edible plant materials).
Find more information on Styrofoam disposal at foamfacts.com!