Summer is approaching, and with that comes an urge to be outside. Whether you're grilling delicious burgers, chatting with friends over a glass of wine or reading a good book, an outdoor deck is a fantastic feature for your home. Not only are decks a nice place to relax, but adding a deck to your home can also raise your home's equity. For those in the market for an eco-friendly deck, or maybe looking to upgrade features of your already existing deck, check out these green options for your summertime outdoor haven.
Research your materials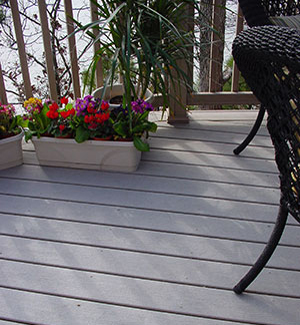 If you are building a brand new deck for your back yard, you'll need to research possible materials to use. Think of eco-friendly options, such as reclaimed wood or composites made from recycled materials. Building a deck with reclaimed wood will make for a beautiful and earth-friendly deck. You can find reclaimed wood with a quick search online.
Old Barn Reclaimed Wood Co.
sells reclaimed flooring, paneling, wood beams and lumber through its website. Virginia-based
Appalachian Woods
specializes in reclaimed wide-plank wood flooring. Learn as much as you can about where your materials come from.
MoistureShield Decking
gives consumers a lot of information about its products. For instance, its decking is made from mostly pre- and post-consumer content. Pre-consumer content includes food packaging waste, pallet wrap, construction debris, waste pallets and kiln-dried red oak mill waste. Post-consumer materials include high-density polyethylene like milk jugs, detergent bottles and plastic grocery bags. Turning these items into decking saves them from being dumped into the landfill, and it provides a unique and recycled composite for your outdoor deck.
Building
What are other ways you can reduce your impact on the earth while you build your eco-friendly deck? Use simple steps to stay sustainable, such as not using more materials than necessary, using zero (or very little) electricity and recycling or reusing your extra materials once your project is finished.
Finishing touches
If you are adding a new coat of paint to your deck or sealing it for protection against the elements, look for an eco-friendly option, such as low- and no-VOC paints. Water-based wood sealants are better for the environment than oil-based sealants. Look for organic options for these items, like this
organic path and patio cleaner
from the Ethical Superstore. Finally, add some greenery to your patio with potted flowers and herbs. Plants are an eco-friendly and esthetically pleasing way to decorate. Now that the work is done, sit back and enjoy your earth-friendly deck!