Environmental photographer
Edward Burtynsky
's visual account of our endless accumulation of societal junk — with grand-scale, panoramic views of shipping yards, industrial facilities and even recycling centers — paints an otherworldly perspective of our penchant for acquisition and disposal. When you examine his simple snap shot of
hundreds upon thousands of car tires
heaped so high that they form their very own planetary landscape, you can't help but take pause while contemplating how casual our society continues to be about buying, purging and repeating. Diving into a photographic scene of consumerism isn't quite the same as witnessing the spectacle in person, however. Being right in the middle of a junkyard littered with vehicle carcasses can be a surreal experience because you're reminded that what was once vibrant and fully mobile ends up, either through an accident or the hands of time, becoming a mere shell of its former self. Steel, glass, silicone and countless other man-made materials ultimately collide in grand piles of undesirable waste that succumb to the one-two punch of elements and sheer neglect.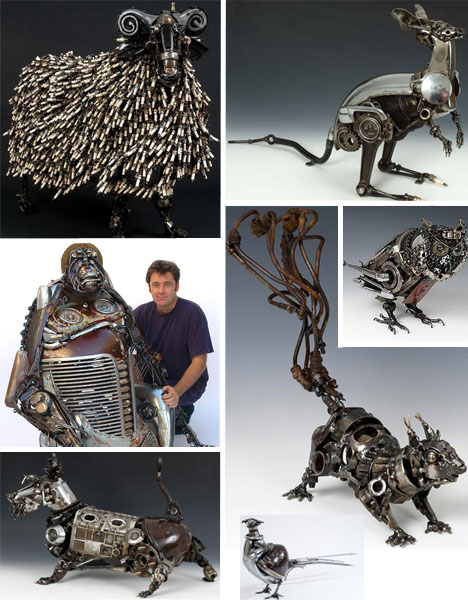 Sure, we occasionally scavenge what we deem to be valuable parts from these dead vehicle depots, but we purposely tuck our junkyards far away from the main drag because they're just as unsightly as they are a blatant reminder of our obsession with shiny, new possessions. And the last thing that we want is a nagging voice compromising our consumeristic fun. Auto recycler
James Corbett
witnessed this scene firsthand and decided to apply his ever-growing expertise in a rather unique manner: by cultivating a quirky side career as a recycled car-part sculptor. While he always a latent interest in art, the then-36-year-old never really tapped into his creative instincts until he laid eyes on a handcrafted trophy made out of recycled gears. Amusingly, he was so unimpressed by the makeshift creation that it inspired him to take matters into his own hands. Appropriately, Corbett made the most of the materials that he was surrounded by on a daily basis, augmenting his stash with cheap finds gleaned from swap meets and other scrap yards. His one rule of thumb: Capitalize on the inherent character of each recycled steel and chrome car part by resisting the urge to bend them into oblivion (although in rare occasions, he admits to cutting the odd piece to make it fit). Using vintage De Soto radiator grills, hubcaps, light assemblies, odometers, door handles and countless other rescued German and French vehicular goodies from the 1940s through the 1960s, his imaginative sculptures, which he fits together like the pieces of a puzzle with the aid of a welding torch, were met with such unbridled enthusiasm that he made a full-time transition into the role of recycled auto-part sculptor in just more than a year. The very first piece that the Aussie native assembled was an off-road racer, followed by various additional vehicles and wildlife creatures, but some say that both his don't-mess-with-me sheep (studded with 1,500 repurposed spark plugs) and his hulking orangutan (boasting a rusty old instrument panel "chest") both deserve a spot at the top of his sculptural empire. Corbett's leap of faith has clearly paid off, given the frequency with which he has been
formally commissioned
to create new works throughout the past decade and today, his eye-catching car-part assemblages — some of which sell for as much as $30,000 U.S. — can be seen in private global collections as far and wide as the U.K., Japan, the United Arab Emirates, Switzerland and America. Not bad for someone with humble origins as a junk slinger!