Don't laugh, but I think that in many ways the desert tortoise would be the ultimate eco-pet for my family. We live in the metropolitan Phoenix area, smack dab in the middle of the Sonoran Desert, which is one of the natural habitats for the desert tortoise. Desert tortoises don't need fancy housing; they just need to have an underground burrow in a secure area of your yard. The burrow allows the animal to escape from the summer heat and hibernate in the winter. The burrow conserves resources needed to create an artificial habitat that so many other household pets require. Creating a burrow for your future desert tortoise isn't as simple as digging a hole in the ground, though. Check out this instructional file on how to
create a variety of burrows
for a desert tortoise.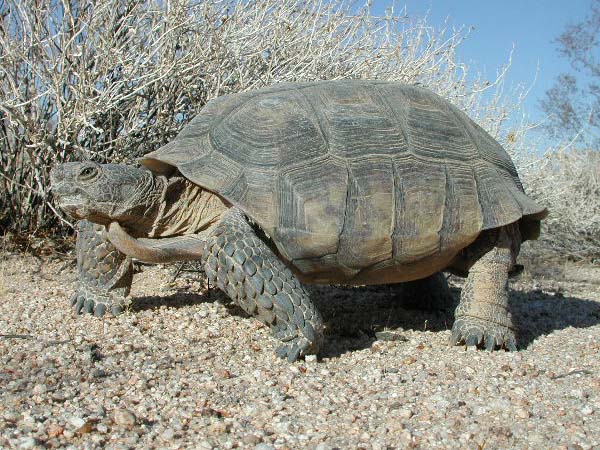 OK, now that you know where your desert tortoise can spend its days, you'll need to know what to feed it. Skip the processed pet food aisle and make sure that your new reptilian friend has access to a good variety of native plants and you're set in the food department. The Arizona Game and Fish Department even has an online brochure to help:
Native Plants for Desert Tortoises
. While a desert tortoise is beginning to sound like a great pet, obtaining one isn't as simple as heading out to your local animal shelter and picking out your next family pet, though. In Arizona, you will need to contact one of the
state-sanctioned desert tortoise adoption facilities
. These facilities will only allow adoptions to individuals and families that live in areas of the state where the animal is found in the wild, including the Phoenix and Tucson metropolitan areas, as well as the Bullhead City, Kingman, Lake Havasu City and Yuma areas. If you live in other desert areas outside of Arizona, such as parts of California, Utah, New Mexico or Nevada, make sure to investigate adoption policies. If I've convinced you that your next pet should be a desert tortoise, please don't run out into the middle of the desert looking for one. The desert tortoise is actually a threatened species and thus protected under the Endangered Species Act. Capturing one from the desert is illegal, so make sure you contact a desert tortoise adoption agency or your state's Game and Fish Department for more information.