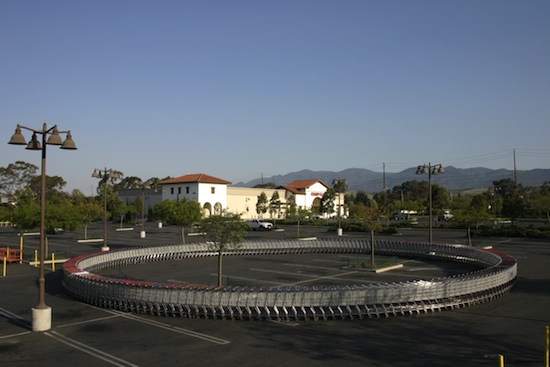 Image: Robert Wechsler All images courtesy of the artists and used with permission
Shopping carts, or trolleys, are not objects that usually attract our curiosity. We use them to transport our groceries, and that's about it. But, if we stop to think for a minute, they are sleek examples of industrial design, and what's more, have their own secrets — and a secret life!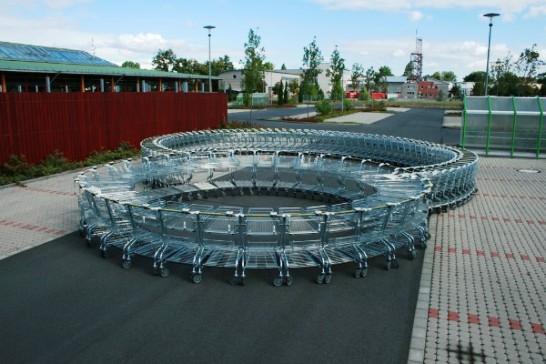 Closed Circuit (2008). Image: Eberhard Bosslet
You see, when no one's looking, they regroup to form gigantic art displays, helped by a few artists who understand their quest for a greater purpose…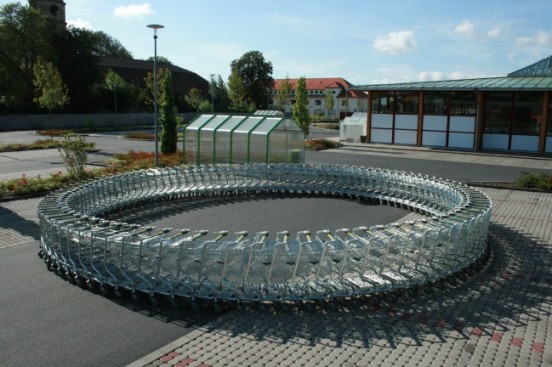 Image: Eberhard Bosslet
Eberhard Bosslet is one such artist who understands the shopping carts' pleas. Calling his installations "Instant Sculpture," he frees shopping carts from their orderly rows and instead gives them a new shape — large circles, preferably. The double circles, top and below, are made from 110 shopping carts between them, using 33 for the smaller circle and 77 for the larger one.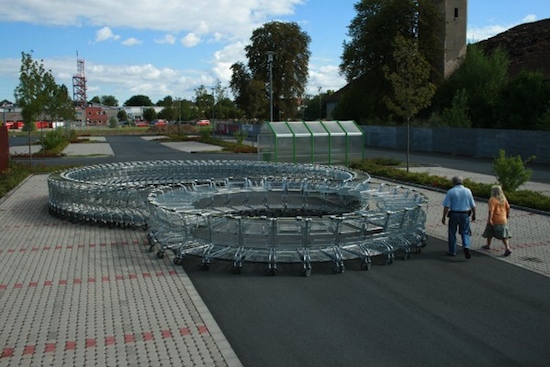 Image: Eberhard Bosslet
The 58-year-old German artist is a professor of sculpture and spatial concepts at Dresden's University of Fine Arts. Since the early '80s, he has been focusing on installation art in industrial and commercial contexts. Shown below is a piece he created outside a branch of the popular Germany discount chain, Aldi, in 2007, using 37 shopping carts.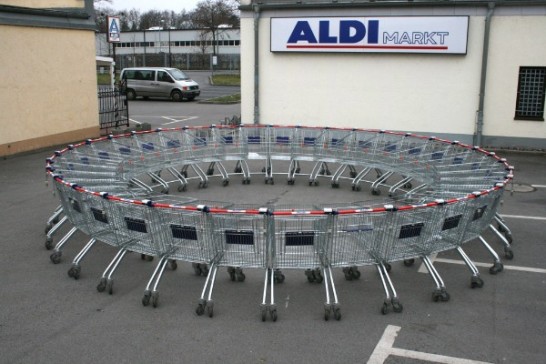 Image: Eberhard Bosslet
In Bosslet's shopping cart pieces we get a sense of these symbols of our consumer society resisting the linear rows into which they are normally organized. Creatively repurposed, they exceed their typical use and value and become objects of art — paradoxically, without purpose.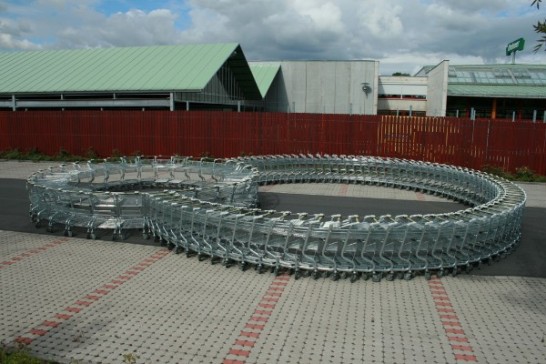 Image: Eberhard Bosslet
Regarding his shopping cart installations, Bosslet calls on artists and non-artists alike to participate and create their own installations at shopping malls near them. Make sure to send your photographs to Bosslet so that he can document them!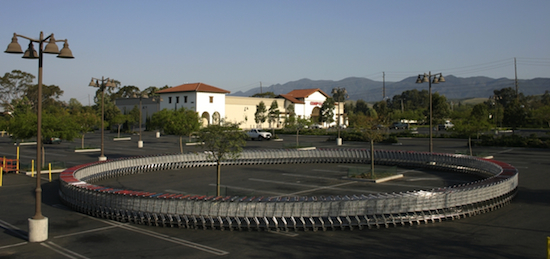 Image: Robert Wechsler
Los Angeles-based artist Robert Wechsler is another artist who understands shopping carts, and whose work, he says: "Is about repurposing the very familiar objects of day-to-day life." Bored of their lives at the store, the carts seem to strive for greater things, displaying a tendency to group and regroup, and not because they have to, but simply because they can — with a little helping hand! Wechsler realized the "hidden potential in their design" — namely their ability to curve — and "wanted to see that potential realized." The result was "Applied Geometry," shown above, a giant circle of shopping carts formed in the empty Costco parking lot in Goleta, CA, one morning in May 2004, using close to 250 carts. Wechsler had to contend with supermarket employees who thought he was "mentally unbalanced" and was almost stopped while he was working, despite the fact that he had sought permission. The situation was resolved, however, and he was able to complete the job.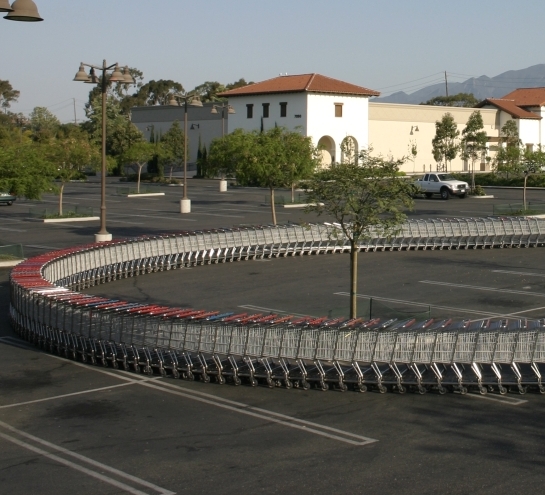 Image: Robert Wechsler
But why do shopping carts actually curve when strung together — even if it's not quite visible to the uninitiated? Wechsler explains: "All carts/trollies are designed and built so that when nested they have a predetermined amount of slack. This is done so that the carts can be nested pushed and steered around the parking lot in bunches. Without this slight give, the carts would nest into ridged unsteerable columns. My piece was about taking that hidden but built-in angle and exploiting it to the fullest potential. In essence, I was finishing an arc that was begun by the original designers. In the simplest terms, therefore, my cart circle was about completion."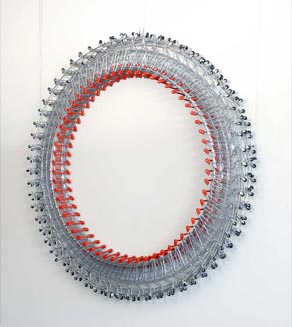 Michael Brennan: "One Ring to Rule Them All," 2007 Suspended Sculpture of 60 miniature shopping trolleys 191 x 184.5 x 18 cm. Image: Michael Brennan
Last but not least, we have artist Michael Brennan's 2007 sculpture, entitled "One Ring to Rule Them All," in a clear nod to Tolkien's
The Lord of the Rings
. In contrast to the other installations, this one is suspended, making it indeed look like a giant ring. Alluding to a popular misconception about his sculpture, Brennan explains: "It's often thought that this work uses actual shopping carts, when in fact it is constructed from miniature shopping carts — each measuring approximately 30 cm in length." In spite of its size, it is an impressive installation and one worth pondering over, recycling the commonplace form outside its normal context. Who would have thought that an ordinary, industrial object like a shopping cart could take on such deep, if oblique, meaning? Regardless of whether these art installations make you think about the endless cycle of consumerism or simply industrial design in general, the shopping cart is one cool everyday object that certainly deserves more than a second glance — particularly if repurposed for greater things!
Sources: 1, 2, 3