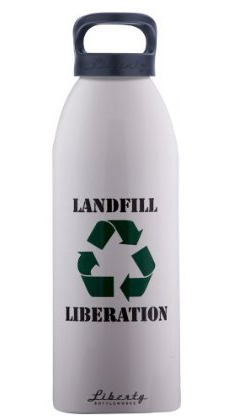 There is only one reaction when people experience warmer weather, longer days and enjoyable sunshine: Get outside and play! Whether you partake in summer weather aggressively or with a passive enjoyment, hours in the sun undoubtedly results in the need for refreshment. With nicer days in full swing, a handy bottle of water with some eco-muscle behind it is a necessary companion for all summertime activities. For just these circumstances, the metal bottles from
Liberty Bottleworks
pack the greenest punch. Sure, there are other metal water bottle makers out there, but you'll be hard pressed to find one that's as earth friendly and patriotic as these aluminum vessels forged in Yakima, WA. Step aside, inferior metal water bottles. Four factors make this the greenest bottle maker around.
Factor 1:
A Liberty water bottle is made of metal. As with all other metal water bottles, the green benefits lie in the fact that metal is endlessly reusable. Metal bottles are also becoming synonymous with hazard-free.
BPA
(Bisphenol A) is noticeably
not
present in metal water bottles, which is a good thing, considering this organic compound is a toxic substance that can mimic a body's hormones and lead to detrimental outcomes. Of note: BPA might be present in plastic containers marked with the recycle codes 3 and 7.
Factor 2:
The metal Liberty water bottles are made from is the almighty and endlessly recyclable aluminum. Aluminum is one of the most recycled materials on this planet, and it's wonderful to see another company utilizing this substance for yet another sturdy product. This means that Liberty produces a completely recyclable product from 100% recycled materials, resulting in a perfect example of cradle-to-cradle processing.
Factor 3:
Liberty bottles are forged in the outdoorsy, environmentally prone Pacific Northwest. Yakima is in the heart of the nation's 42nd state. Made in America means a better, localized economy, and fewer miles to travel from manufacturer to consumer, which of course limits carbon-spewing and energy-sapping transit methods. This "vintage" manufacturer additionally puts a heavy emphasis on design, enlisting the talents of local and nationwide artists to create the eye-catching and unique imagery proudly displayed on each bottle. Localized manufacturing makes for a happy, healthy populace and environment. But Liberty doesn't stop its progressive thinking there.
Factor 4:
This company flies its sustainability flag beyond just its products as a paramount example of social responsibility and environmental stewardship. As shown on its "stewardship" webpage, "At the heart of Liberty Bottleworks is a desire to make a difference in our world." This desire is brought to fruition through donations and sponsorships to various nature-preserving and nature-promoting institutions. The hallmark of Liberty's philanthropy is its pledge of 1% of sales and 1% of working hours to helping large, local and grassroots efforts. Institutions that reap these benefits include the National Park Service, Keep America and SheJumps.org, among others. How and when you use a water bottle is up to you, but finding a greener product to keep hydrated isn't always easy. All in all, the refreshment canisters from Liberty Bottleworks are the best option for quenching your thirst with a rugged yet environmentally sensitive bottle.