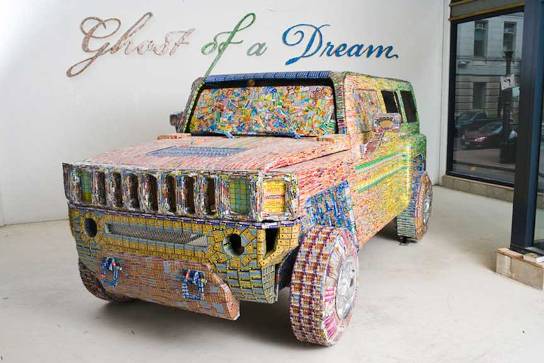 All images courtesy of Ghost of a Dream
If a lottery ticket seems like the pass to your dreams of wealth coming true, then the discarded remains of non-winning tickets are not simply pieces of paper, but crushed dreams made real. Yet behind each dream lost is also the hope of better luck next time, allowing the cycle to continue — and a never-ending stream of raw materials for artists who might reuse the thrown-away slips of card and paper.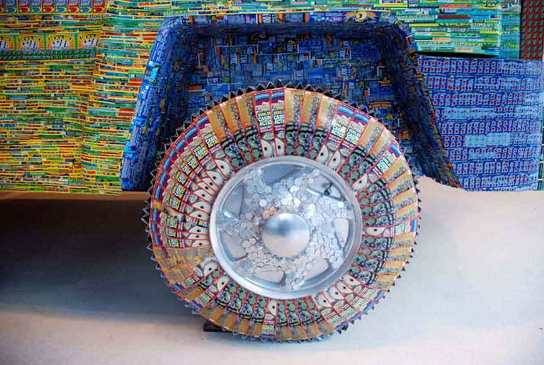 Ghost of a Dream is a collaborative project by artistic duo Adam Eckstrom and Lauren Was. Unlike many other people, the husband-and-wife team do not regard unlucky lottery tickets as simply the end of a dream, but the beginning of one; their own dream of creating highly unusual art on a large scale seems to have come true, at least.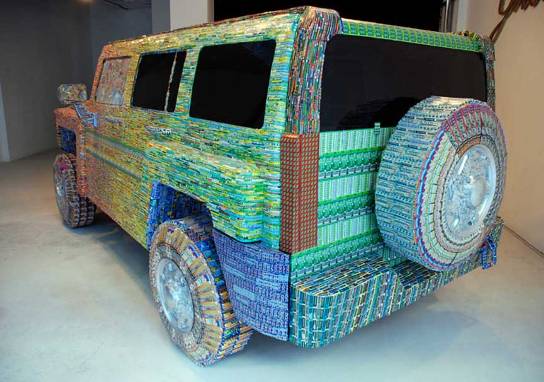 "Dream Car" (2008), pictured top and above, is an actual-size Hummer H3 replica made of thousands of discarded lottery tickets, their accumulated worth amounting to $39,000. It's some sight! "Dream Ride 567" (2010), below, is the sports model of their dream car idea. The attention to detail in such pieces is fantastic, with everything from the vehicles' tires to exhaust pipes (to the entire chassis) recreated in lottery ticket form.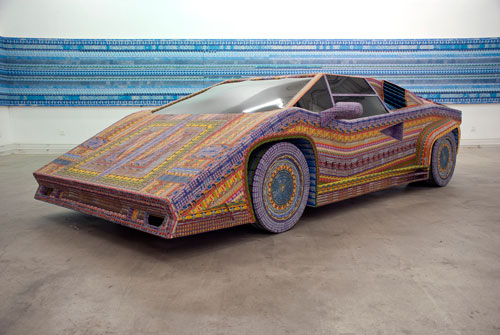 The lottery ticket series began one fine day in Brooklyn, NY, when Eckstrom and Was were out walking their dog. Inspiration struck upon seeing colorful lottery tickets littering the floor.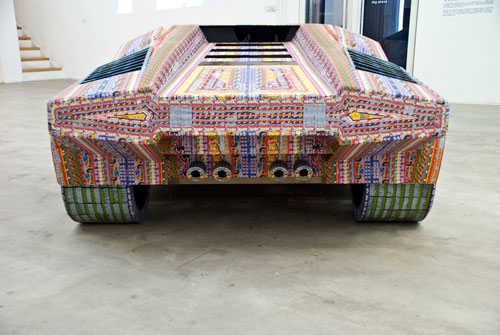 "We started to collect tons and tons and talk about what people dream about when they play the lottery. Then we did some serious research to find out what people buy when they do win the lottery. Through our research we found that most people, after they win the lottery, the first thing they do is buy a car," say the artists.
As the artists' idea relies on the fact that the lottery tickets are used, they have to employ creative ways to gather their raw material. They collect the "scratchers" from grocery stores, gas stations, bars and the streets. What makes their work somewhat easier is the fact that winning the lottery is a big dream in most parts of the world, so they can collect and artistically recycle discarded tickets from city streets worldwide, wherever their travel takes them.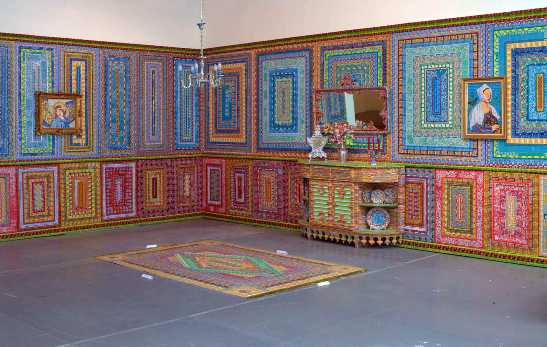 After the car, it's a house and a vacation that are high on the list of winners' dreams. "Dream Home" (2009), pictured above and below, is made out of discarded lottery tickets worth $70,000. The attention to detail of this dining room is marvelous.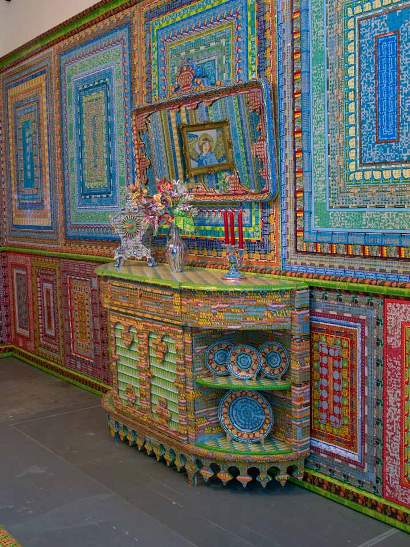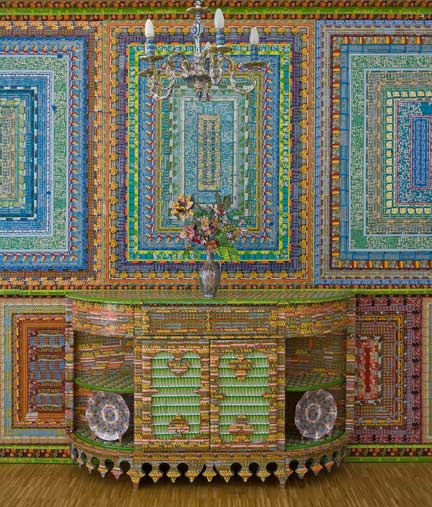 We can see framed portraits on the walls, an elaborate chandelier and a colorful carpet in the center. An exquisitely decorated sideboard contains what seem to be china plates, a vase with beautiful flowers, an antique clock and a candlestick. A large framed antique mirror presides over the whole arrangement.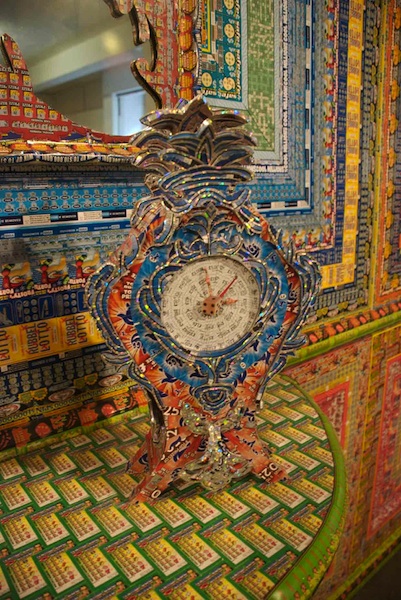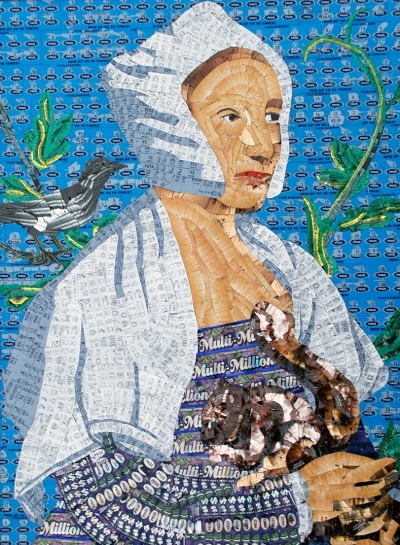 It's obvious that the "Easy Money" series uses literally tens of thousands of recycled lottery tickets. "Dream Vacation" (2008), below, for example, was made out of $29,000 worth of lottery tickets. Dreams in paper form, all of them, but does the prize of money really make us happy? That's the question that's practically staring us in the face when viewing these art pieces. Would we or wouldn't we dance with joy upon winning the lottery? Yet what would happen to us over the years? Would we really be happier?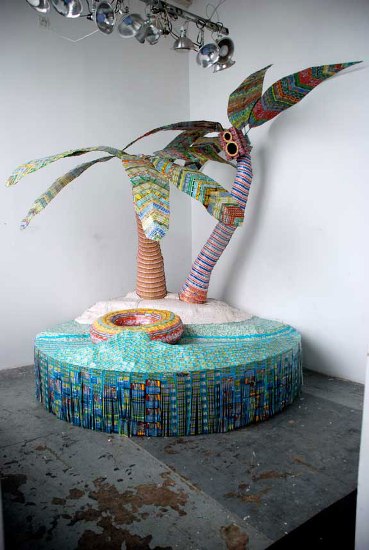 TV series like
The Millionaire
,
Sweepstakes
and
Windfall
show that those questions have gripped audiences for decades. Another was
Lottery!
, a popular drama in the 1980s that followed winners after they got lucky. Set in different cities around the U.S., the show usually painted a bleak picture. Winners would go crazy, become greedy, fight with old friends, give all their wealth away or worse. Food for thought when pondering art that finds a new use for the paper detritus of dreams not so much broken as never realized in the first place.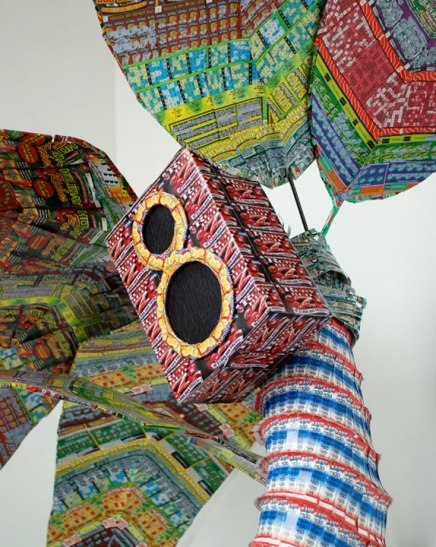 Adam Eckstrom graduated from the University of Minnesota in Minneapolis with a B.F.A. in Sculpture and Photography in 1999. Lauren Was obtained a B.F.A. in Sculpture from the School of the Art Institute of Chicago in 1999. The pair met at the Rhode Island School of Design, where they graduated with an M.F.A. in Painting with Honors in 2005 and an M.F.A. in Sculpture with Honors in 2004, respectively.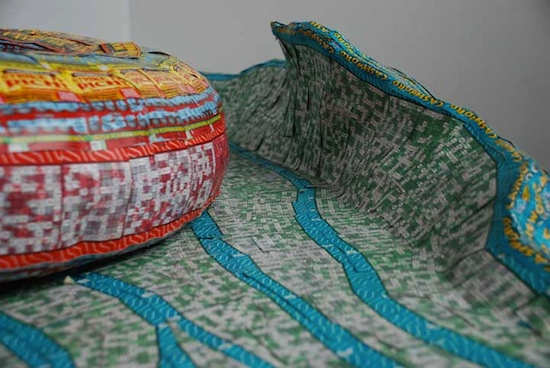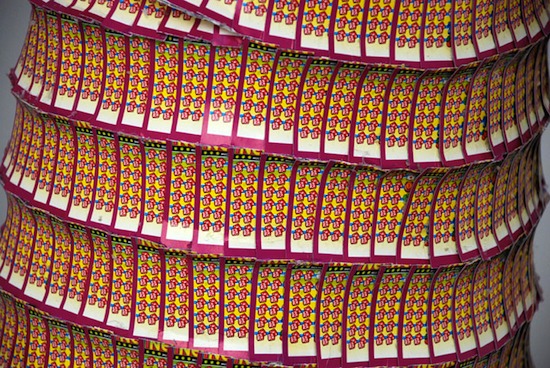 Eckstrom and Was formed Ghost of a Dream in 2006 and started with their "Easy Money" series in 2008. Their work has been exhibited in New York, Rhode Island, Miami, Berlin, London and Basel, Switzerland.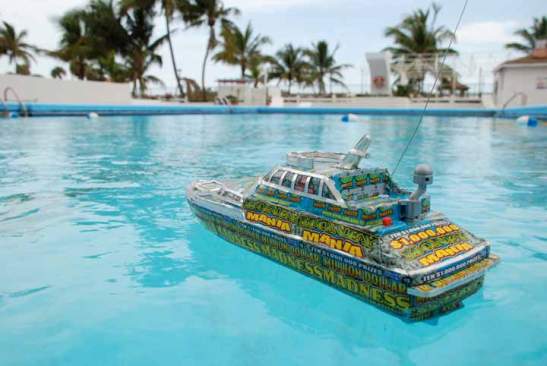 The topics of their exhibitions — "Money Mania" (2008), "Runnin' on a Dream" (2009), "Future Perfect" (2010), "One in a Million" (2010), "The Price of Happiness" (2010), "Everybody Wants Some Heaven" (2011) and the recent "A Strange Attraction to the Beautiful and the Dreadful" — exhibit money, happiness and the concept of sheer luck as recurring themes in their work. However, it is not only money that they focus on, but rather people's innermost drives and desires. Do make sure to check out their
website
for current art and exhibitions.
Additional sources: 1, 2, 3, 4, 5