We look toward Hollywood to sweep us away into a magical world of happily ever after tales that are rendered larger than life thanks to colorful set designs, imaginative costumes and — most importantly — compelling main characters. Movies, however, are not always a fail-safe entertainment and stress-diffusing option.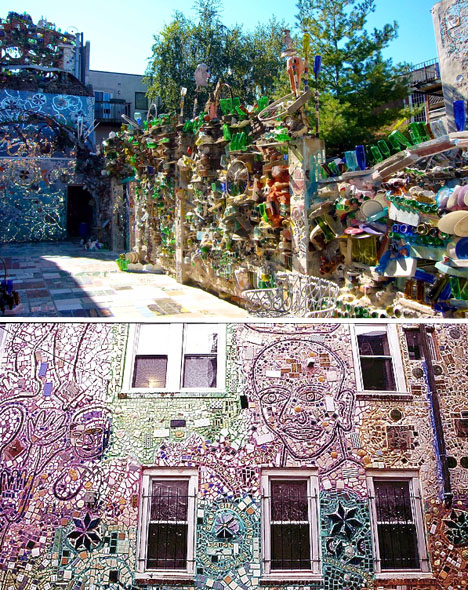 During those occasions when La-La Land films miss the mark all together, diving into the pages of a book can offer a relatively captivating alternative, but alas, even words don't always successfully paint 1,000 pictures (backwards pun intended). How, then, is a frazzled mortal with 50 different real-world headaches supposed to shut off his or her brain, even momentarily? Bubble bath manufacturer Calgon convinced us throughout the 1970s and 1980s that soaking in a tub of its bubbles could transform us to another time and place. MillerCoors brewing latched onto its infamous "It's Miller Time" sales pitch, reminding us that anytime was (and still
is
) a good time to knock back a few. In their own unique ways, all of the above enable us to shut off our brains for a while, but the same effect can be achieved by submersing yourself in an enchanting public art installation. Such is the case with one of the wildest visual spectacles to grace American soil, Isaiah Zagar's mosaic-studded eco-microcosm "
Philadelphia's Magic Gardens
," which encompasses half a city block at 1022 South St. in the City of Brotherly Love. Conceived in 2004, the Pratt Institute graduate (along with his wife) literally erected the sculptural outdoor-indoor wonder piece by piece in the neighborhood throughout a 14-year period on the site of a former parking lot. Against a concrete backdrop, old toilets, holiday ornaments, bicycle wheels, wine bottles, mirror shards and countless other abandoned bits and pieces were strategically embedded to form a "Where's Waldo" tapestry of figures, shapes, thought-provoking quotes and other artistic imagery. Among the most telling words included in Zagar's sweeping mosaic, "Remember walking around in this work of fiction." and "I built this sanctuary to be inhabited by my ideas and my fantasies." both speak volumes about the intent of this public structure to offer a safe haven away from the madness of everyday life.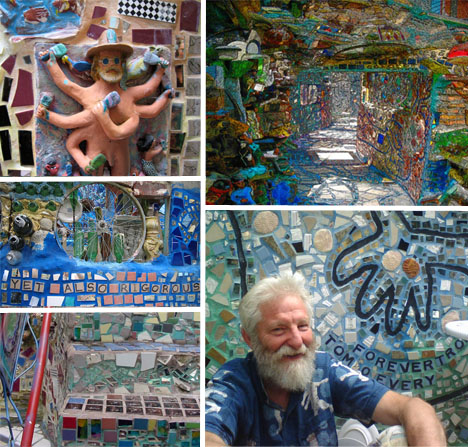 And my oh my, how Zagar succeeds. Every repurposed treasure in his magical haven — diverted from the landfill (including countless broken tiles donated by the local Lowe's home improvement center) — might normally be regarded individually as eyesores, but as part of an eco-ensemble unit, the whole spectacle comes together to enchant and mesmerize in a collision of color, texture and whimsy. Rows of reclaimed green and amber glass alcohol bottles sashay around the spokes of a decommissioned bicycle wheel as effortlessly as random gargoyles survey clusters of dish fragments, maze-like panels of multicolored tiles and even a circular piece designed to commemorate the September 11 tragedy. There are so many surprises to discover while perusing this vast work of art that one might easily decline an invitation to the movies, which is precisely the point. Art, when done the right way, can just as effectively transport us to another world as any conventional form of media. Zagar, a Philadelphia native, is also known as the guy who has fashioned at least 100 additional mosaics amid the random streets of his 'hood, says that he's long been regarded by museums as an artistic outsider. In response, he purposely made his mosaic "folk environments" easily accessible to the public, in effect to "change how (people) look, feel and dream." If you'd like to visit Zagar's artistic opus in person, you're in luck — it's open daily, and for a $5 admission price, adults can take their time exploring every nook and cranny. Similarly, children ages 6 to 12 can experience the wonder that is Philadelphia's Magic Gardens for a modest $2 fee (wee ones 5 years of age and under get a free ride). Monthly
mosaic workshops
taught by the master himself are also available to budding artists several weekends throughout the year.