When they're not hiding, playing, terrorizing the dog or grooming their lovely fur, cats are usually asleep. Pet experts estimate that most healthy adult cats spend more time asleep than they do awake, dozing up to 16 hours a day (sometimes more).
While most cats are content to curl up on couches, in laundry baskets and on sunny window sills, it's still important for them to have a soft, dedicated sleeping area where they can hide out and get their rest during the day.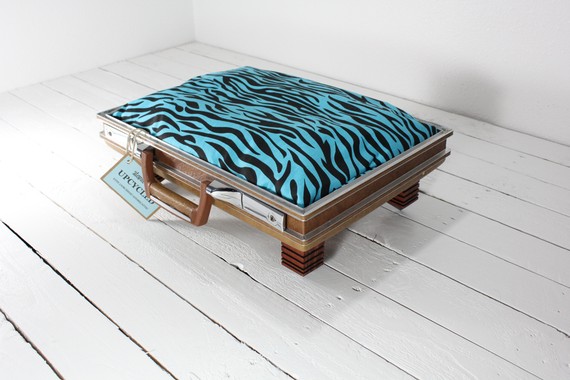 If you're looking to give your little prince or princess a place to slumber peacefully, these recycled options are the perfect planet-friendly solutions!
West Paw Organic Bumper Bed
This donut-like design is perfect for kitties that like to curl up for a nice afternoon nap. With a machine-washable outer covering made from organic cotton, the only thing better than the outside of this bed is what's inside: super-soft, premium IntelliLoft stuffing, made from 100% recycled plastic bottles, that will stand up to years of catnaps.
Nature Nap Oval Cat Mats
These hand-crafted beds are made in the U.S. with creature comfort in mind. Featuring custom-designed fabric, these beds boast poly-knit backing that interlocks the fibers to add strength without sacrificing softness. Thick recycled poly batting is sewn inside for extra comfort and topstitching eliminates bunching, while creating a raised edge for added support.
Upcycled Vintage Suitcase Pet Bed
This is a cozy bed for your furry friend upcycled from a vintage leather suitcase! It's handmade by artist Atomic Attic and comes with removable, triple-stitched, machine-washable fluffy cushion for cleaning convenience.