So, you just bought a new refrigerator, but what do you plan to do with your old one? If you can't sell it then you need to make sure that you properly recycle the refrigerator. This holds true for all home appliances.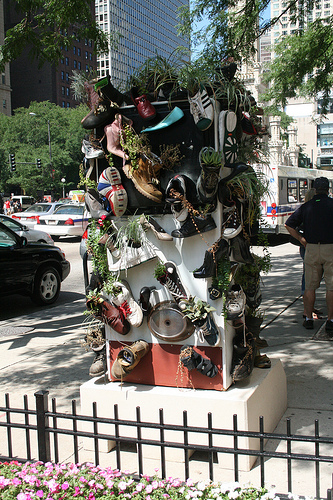 The importance of appliance recycling has forced utility companies to devise a new and rather creative way to get the word out: appliance art. That's right, your old refrigerator may end up making an appearance in a temporary public art display designed to educate consumers about appliance recycling. In the summer of 2010, recycled refrigerators that had been transformed into works of art greeted shoppers on Chicago's famed Michigan Avenue. Nine Chicago area artists were commissioned to create the pieces, formally known as
Fine Art Fridges
. While the fridges were fun to look at, they helped deliver a very important message, courtesy of Chicago-based utility company ComEd: recycle your old refrigerator. ComEd customers can have their old refrigerator hauled away at no charge; in fact, they receive $25 for allowing the company to recycle the appliance. ComEd isn't the only utility company transforming refrigerators into works of art. Arizona-based Salt River Project (SRP) also sponsored a public art display in the summer of 2010. The event, known as the
Fridge-A-Thon
, was hosted by the Arizona Science Center in Phoenix. SRP Fridge-A-Thon refrigerators were also on display at Country Thunder, a country music festival outside of Phoenix; a local NASCAR race; and the Waste Management Phoenix Open golf tournament. Programs like these are wonderfully eye opening, expanding consumers' environmental education in a fun and creative way. Although I have never had the opportunity to see one of these refrigerator art displays in person, I can assure you that if I saw one, I'd definitely stop to take in what was on display. What better way to catch someone's attention than with a boldly decorated refrigerator sitting on the sidewalk?