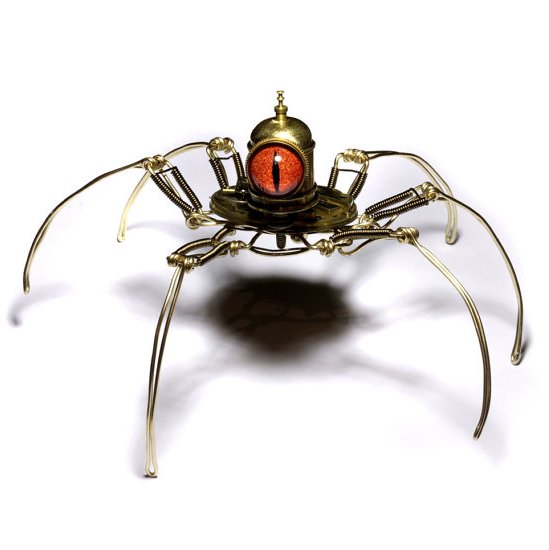 All images courtesy of Daniel Proulx of Catherinette Rings
Merging the mechanical and the organic, Montréal-based artist Daniel Proulx created these amazing steampunk spiders from pieces of brass, copper, gemstones and antique clock parts. It's amazing to see how leftover wire pieces, springs, bolts, screws and other objects you might find in your garage or toolbox can be transformed into extraordinary steampunk creations — at least in Proulx's capable hands.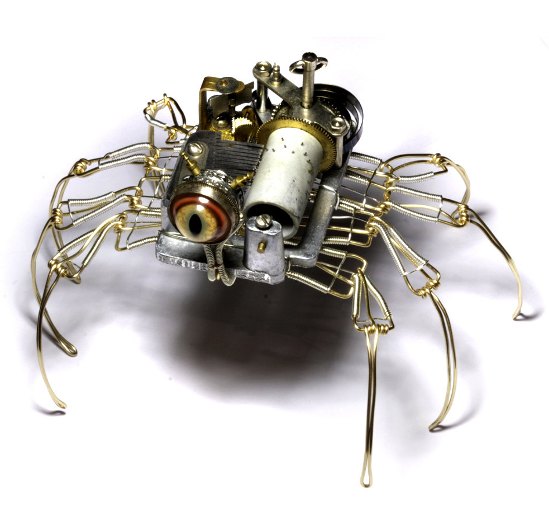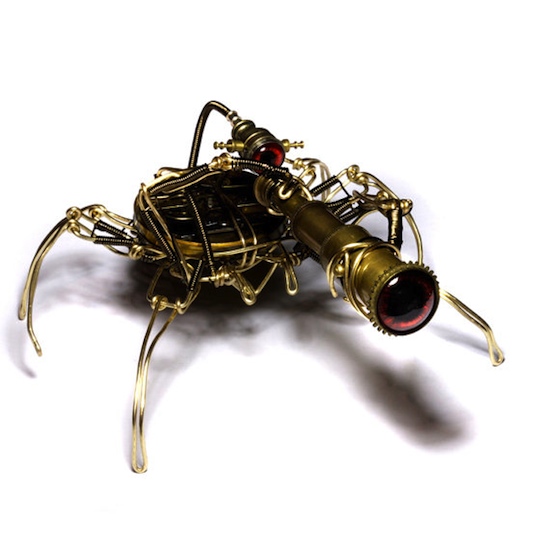 Nothing is safe from Proulx's creative gaze, having turned a vintage music box, various old watches, a miniature telescope and even a Swiss Army knife into amazingly creepy steampunk spiders!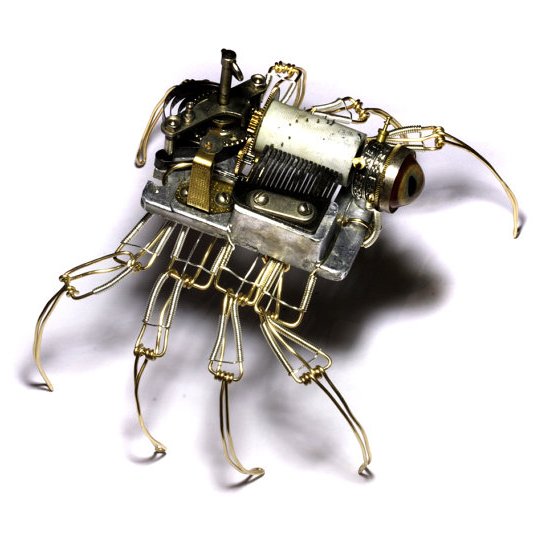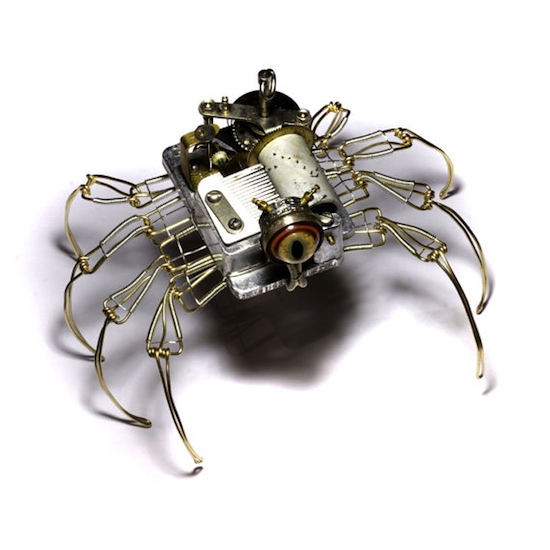 The body of the steampunk spider above, for example, is actually a vintage music box that plays the French nursery rhyme Frère Jacques. Talking about this little twist in the tail, Proulx says: "I imagine this creature in a horror/sci-fi story where it is using the nursery melody to make its victims fall asleep before crawling out of the darkness." Creepy, but ingenious! We love the taxidermy glass eye of this cyclops spider. We told you nothing is safe from Proulx's gaze; what's more, we don't feel very safe under the gaze of this mechanical arachnid!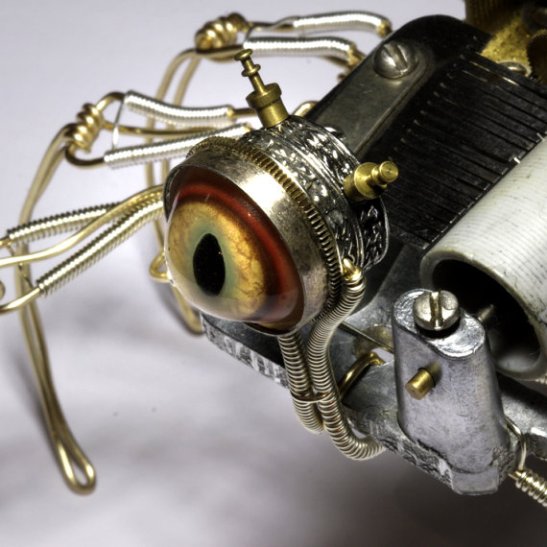 Most of Proulx's steampunk spiders are around 5.5 inches long and 4 inches tall, though some, like the music box spider — which measures around 6″ x 7″ x 5″ — are a little bigger. All have some special feature that complements their retro-futurist look — a style Proulx soon realized was the quintessence of steampunk, before he absorbed himself into the culture more extensively.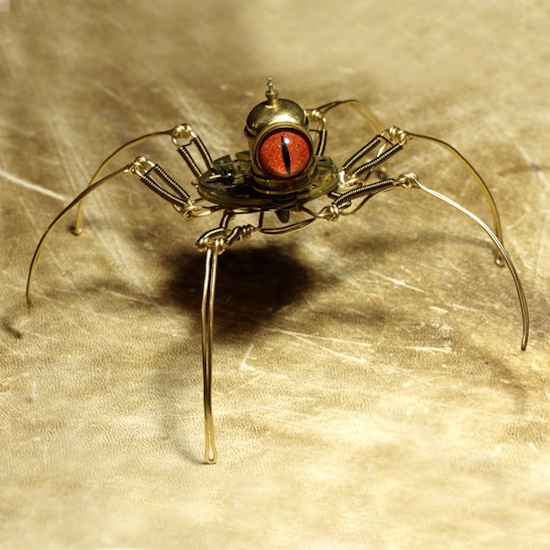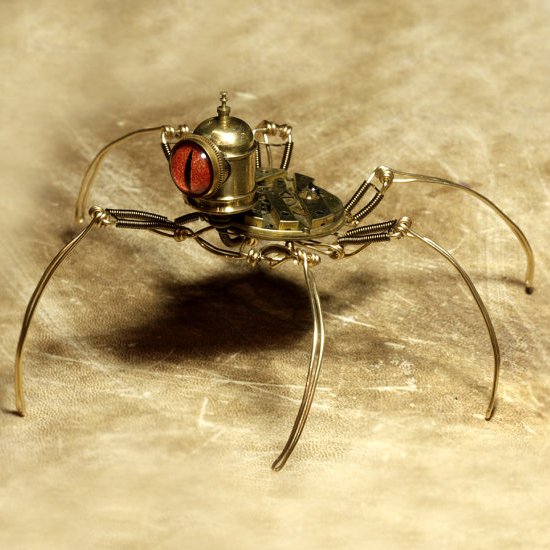 This amazing steampunk spider will make you see orange — if you stare for too long into its strange single eye. Made of thin wire and springs, this creation looks surprisingly spider-like and ready to pounce, its roving eye perhaps searching for potential prey. Take a close look at the spider's body if you're wondering about the inner workings; lots of clockwork parts make up this delicate piece of art.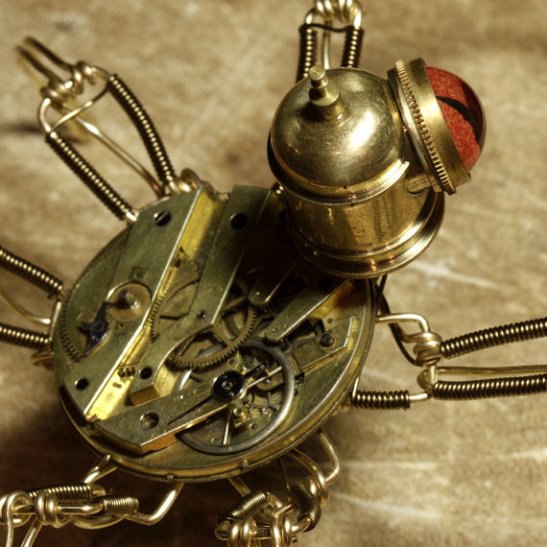 Says Proulx: "The steampunk genre is an infinite source of inspiration. It encourages people to be creative like the inventors of the Victorian era. As a steampunk artist, it is very important to innovate and bring something new and refreshing to this style." And, needless to say, it is also this creativity that gives discarded objects a new lease of life through artistic reuse.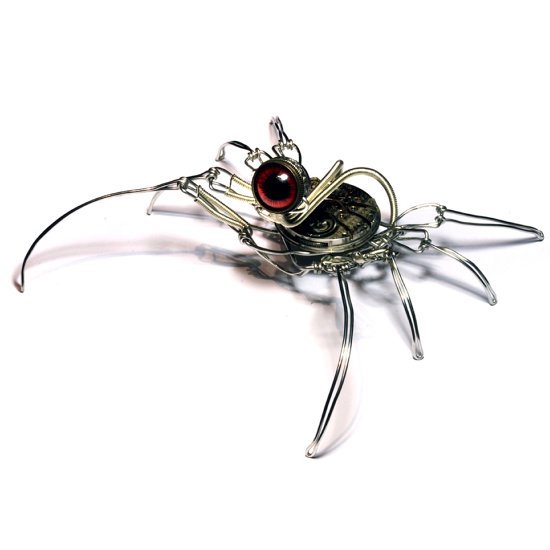 No less delicate (nor any less weird!) than any of the other spider creations, this next eight-legged nightmare has a special feature: its beady eye switches color from red to green! Pretty cool, huh? Though rather elegant to look at — a gentleman among spiders, you might say — this silver-colored mechanical-seeming arachnid seems like the perfect gift for anyone easily creeped out by spiders.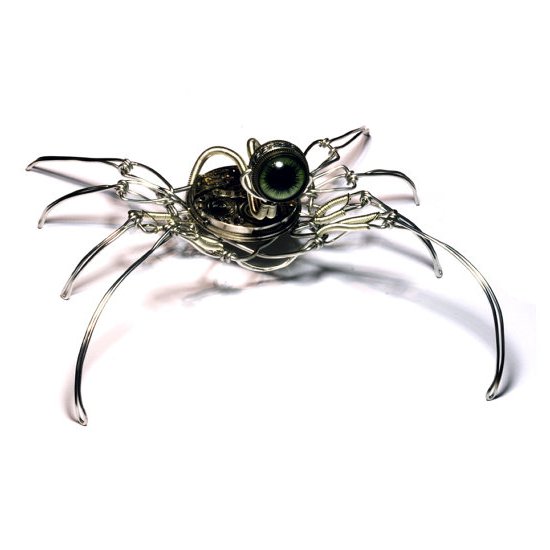 Speaking of being creeped out, the next creature from the darker reaches of Proulx's imagination (below) will definitely make your skin crawl. It was fashioned out of an old Swiss Army knife to give many of the spider's multiple legs extra "features." Yes, there's a corkscrew, a spoon, a fork, two knives and a bottle opener that looks especially viscous. Imagine being attacked by all of them simultaneously! Thankfully, the creature's not real, of course, though it might inspire some nightmares…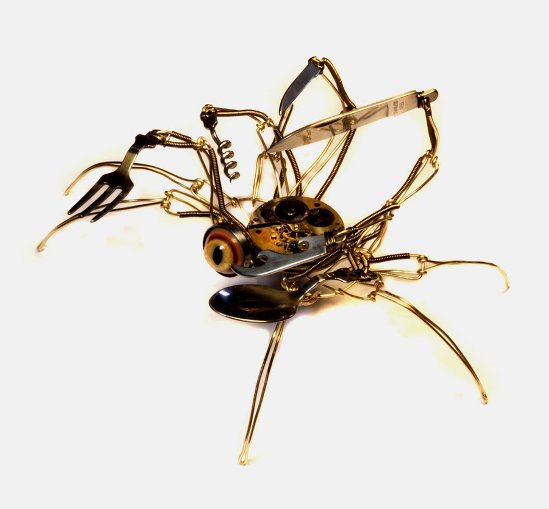 Still, as we know, not all spiders attack. Some, like the one pictured below, are perfectly harmless. All they might do is spy on you and pass on that information to their more viscous cousins. Mwahahahahahaha!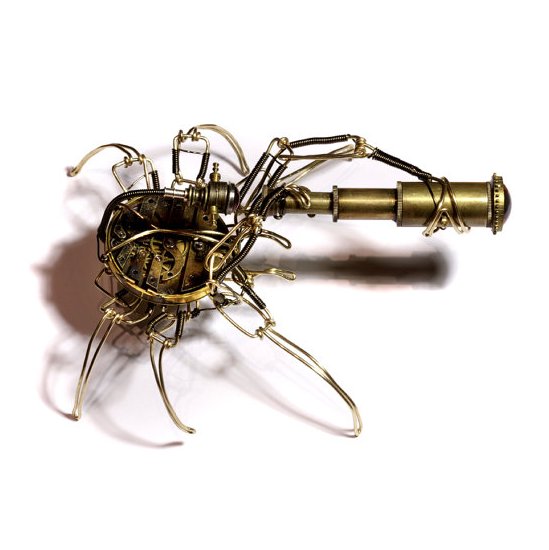 It's the two red eyes — one vintage telescope peeper and one toggle eye — that make this creation so startling and convincing. But don't miss the intricate craftsmanship of this brass spider's body, either.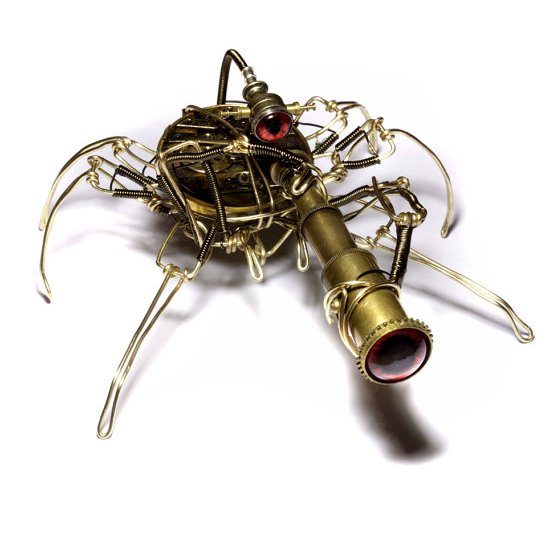 Looking at the next spider, below, "cute as a button" are the words that might come to mind, as it is hardly bigger than a penny. This sturdy-looking creature has shorter legs than its brethren above, but it's also made of leftover wire and springs. On its back, it's carrying a blue gemstone, making it a very precious little critter indeed.
Small enough to be a piece of jewelry, one might mistake this shiny arachnid for a brooch, before reminding oneself that it is a spider after all — a steampunk creation born out of Proulx's habit of breathing new life into old, then repurposed, parts.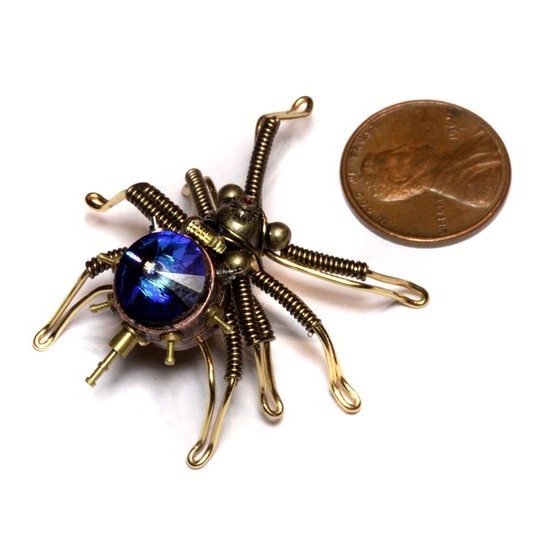 This last steampunk arachnid creation is an awesome-looking robot crab, below. The carefully crafted, recycled clockwork body is complemented by six wire legs and two strong pincers. The beady glass eyes almost remind one of a frog, but that just adds to the creature's charm. From creepiness to cuteness overload!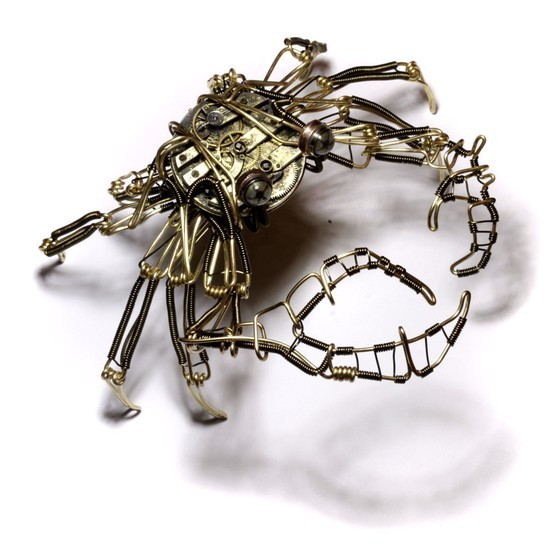 Proulx also makes wire steampunk jewelry. In fact, it is with rings that his business started one fine (or perhaps dark!) day in April 2008. Since then, he's been perfecting and developing his own technique for creating original designs, with creepy-crawlies of all kinds a recurrent theme in his work.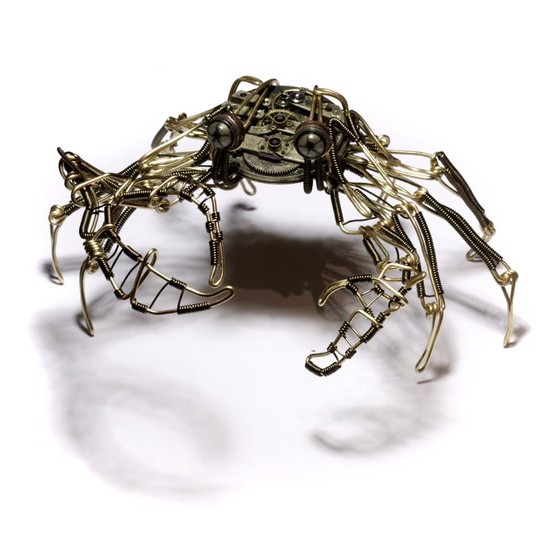 He's not looked back since then, and soon quit his day job to make steampunk jewelry and sculptures full time. Make sure to check out Daniel Proulx's Etsy shop,
Catherinette Rings
, for more of his creations.
Sources: 1, 2