When manmade structures such as churches, casinos, commercial buildings, power stations, highways and even bridges reach the end of their perceived lives, you might be surprised to learn what their fate ultimately is. Kaboom! Demolition crews carefully strategize how to take them down with the assistance of wrecking balls, excavators, sledgehammers and explosives, in the process generating roughly
136 tons of landfill material
annually. That doesn't seem terribly planet friendly, does it? Resource conservation and "going green" are both supposed to be deeply embedded in our subconscious by now, so why should the construction industry be excluded from such a valid and essential eco-battle cry? Even if a building is structurally risky, surely there has to be a way to repair it or simply salvage usable portions for other applications.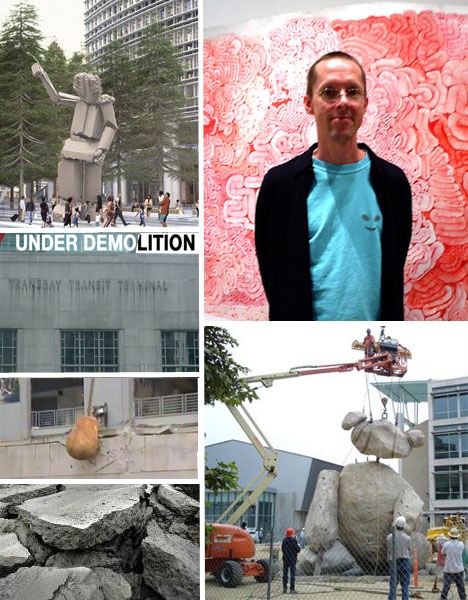 The major drawback in trying to fix something that has already sustained structural damage is the potential for liability issues and/or serious injury (possibly even worse) if those repairs ultimately fail. There is also the issue of cost, which can vary widely across the nation, and in the grand scheme of things, it's often easier to level past-prime structures in order to start from scratch. Developers faced this conundrum with San Francisco's 71-year-old concrete Transbay Terminal, which had succumbed to the effects of weather and a chronic lack of maintenance, making it more of an outdated eyesore than a vital transportation hub. The decision to demolish it last year in order to pave the way for a $4.2-billion eco-replacement (slated to be completed by 2017) was met with great support, but that presented a new and rather obvious question: What should be done with all of the post-demolition rubble? That's when Tim Hawkinson entered the picture. Famed for his extraordinarily diverse sculptures using materials as diametrically opposed as recycled plastic bags, cardboard tubes, rocks, feathers, electrical hardware, human hair/fingernails and eggshells, the San Francisco native has made a long career out of reimagining that which we think nothing of throwing in a garbage can. Among his most memorable creations, he achieved a major feat of engineering back in 2005 by transforming eight granite boulders (the equivalent of 180 tons) into the remarkable likeness of a bear without using tools or manual tweaks to physically alter them. Appropriately so, he has been commissioned to create a
monumental public art piece
— to take up permanent residence on the corner of San Fran's Mission and Fremont streets — which will be constructed with a modest amount of recycled Transbay Terminal materials. Specifically, Hawkinson's 41-foot-tall humanoid figure (which will be positioned with one finger outstretched toward the sky) will come to life thanks to the artful arrangement of a recycled light pole, concrete pillars and jersey barriers. Meant to serve as a beacon to the future that still manages to commemorate its historical roots, Hawkinson says that his piece, which symbolizes the fact that "life is composed largely of transitions," emulates the classic stacked-stone structures embraced by Greek and Native American cultures. Maria Ayerdi-Kaplan, the Executive Director of the Transbay Joint Powers Authority, adds, "The inclusion of the Hawkinson piece, made of recycled concrete and material from the old terminal, is a further testament to our commitment to sustainability and public art." Aren't you the least bit curious what a project of this nature, scale and recycled content actually costs to execute? At an astounding
$1.15 million
, it turns out that crafting an eco-phoenix from the flames of a demolition doesn't come cheap!