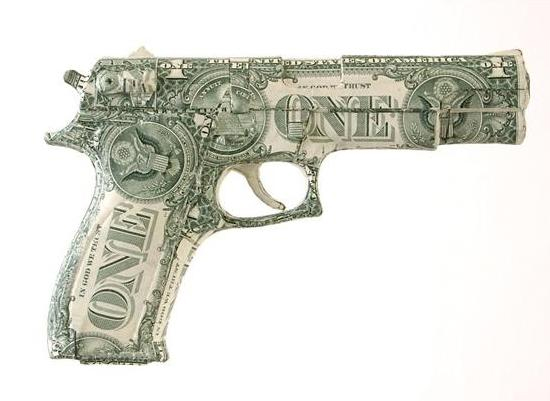 "Absolute Power" (2005) U.S. dollars, 19.5 x 12.5 x 3.5 cm All images courtesy of Justine Smith
One thing few people would want to recycle is money. After all, in using expressions like "throwing money out the window" and "money doesn't grow on trees," we indicate how precious it is to us, and how hard it is to come by. We may not be made of money, but sometimes it feels as if we'd like to be.
"Absolute Power II" (2005) U.S. dollars, 71.5 x 18 x 4.5 cm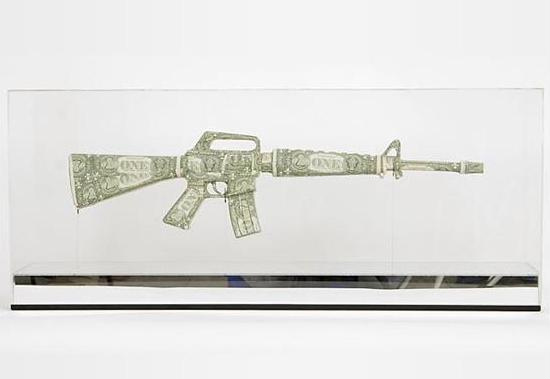 M16 detail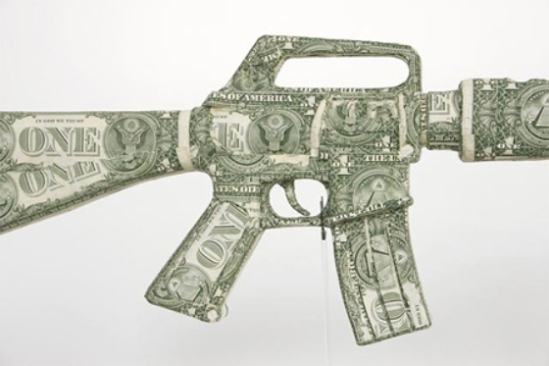 Like many of us, London-based artist Justine Smith is obsessed with money. However, her quest is the opposite to most people's: Rather than accumulating money for its own sake or to spend it, she collects the green stuff in order to use and repurpose as many notes of different currencies as possible in her provocative art. Some of the most arresting of her banknote artworks are the modern weapons she creates — guns and grenades — that take aim at the root causes of many of the world's conflicts.
"Instrument of State – Iran" (2009) Iranian rials, 11.5 x 6.5 x 6.5 cm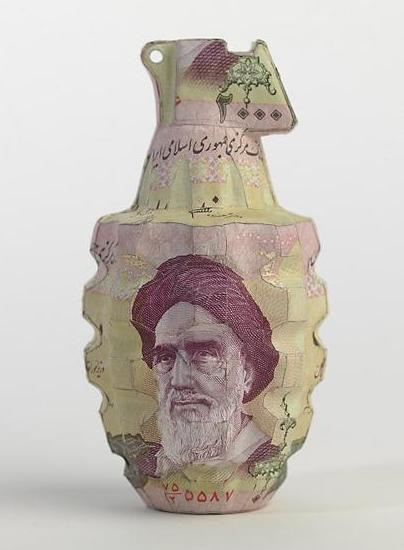 Smith's banknote sculptures are not mere decorative pieces of paper. Instead, her sights go deeper. It is what the banknotes actually represent that is the key to her work, especially with the weapons series. Thus, when looking at her "camouflaged" M16, S&W 456, and fragmentation hand grenades, the question triggered in the observer's mind is not, "How much is it?" but, "What can you buy with it?" The clue to the answer is offered in the titles the artist has given each piece.
"Collateral Damage" (2007) U.S. dollars, 11 x 6.5 x 6.5 cm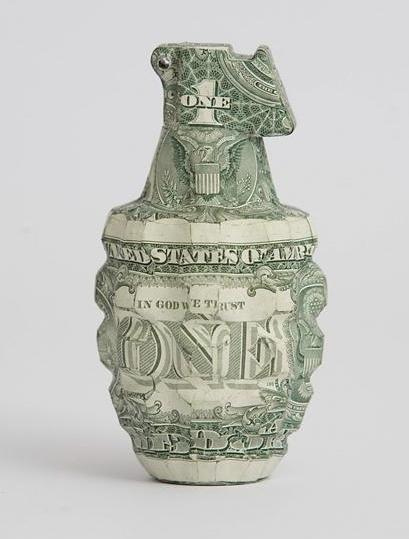 At the same time, in their stark esthetic beauty, the pieces remind us that money is still just a piece of paper, and the question of whether it is overrated hits us like the report from a rifle. Smith's work calls attention to the fact that money is both material and immaterial. In this series, without pointing fingers, she prompts us to look at the deadly cycle of cash, weapons, violence and war that money represents in many parts of the world.
"Instruments of State — Myanmar" (2009) Myanmar kyats, 20.5 x 13.7 x 3 cm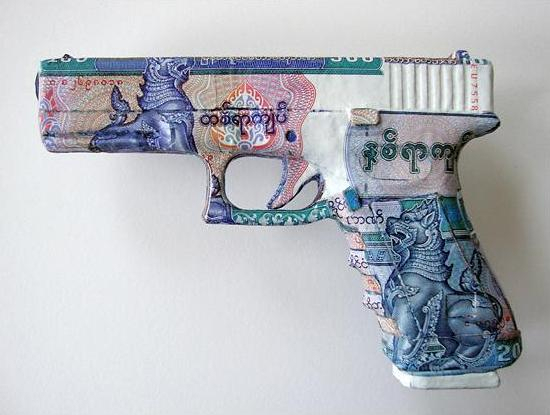 Speaking of which, Smith also creates beautiful maps, like those below, made out of repurposed currency. The world map, for example, is made in such a way that the different national currencies represent the countries in which they circulate. Did you expect anything less?
"Money Map of the World" (2005) — 136 x 82 cm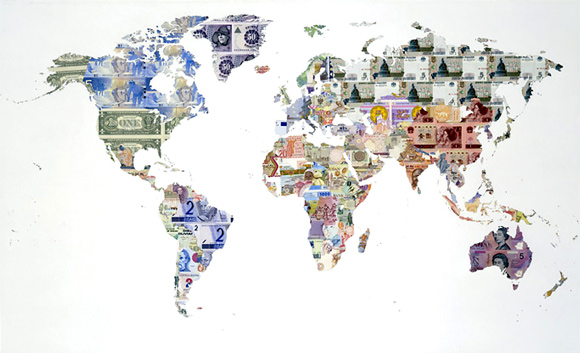 Talking about her choice of medium and themes, Smith says: "My work seeks to explore the money as a conduit of power and its ability to impact the political, economic and moral sense." At one level, money is mere paper, but at another level, it is the social values it represents that concern the artist.
"Old Europe" (2007) — 83.1 x 89.6 cm
"Old Europe" revives all the old, pre-Euro currencies of Europe in a more motley depiction of the continent and its countries, while "Euro Europe" (below) lets us grasp the monetary union at a glance. A better purpose for bills than that which we're used to? You decide.
"Euro Europe" (2007) — 83.1 x 89.6 cm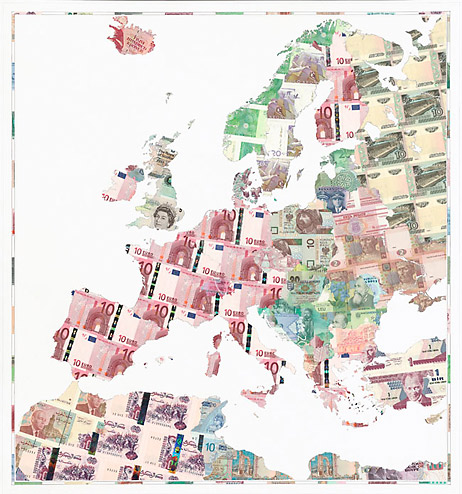 Smith's work has been exhibited extensively in galleries and museums in Britain and the U.S. Some of her pieces belong to the collections of The British Council, The British Government Art Collection, financial institutions, international corporations and various private collections. You can visit her
website
to see more of her sculptures and collages.
Sources: 1, 2, 3