Electronics recycling in the United States has a checkered past. Over the past decade, this rapidly developing industry has grown to $5 billion in the United States alone, according to
recycling industry association ISRI
. The challenge that comes with this rapid growth is ensuring that the infrastructure in the U.S. is keeping pace. This has proven to be an issue, since much of that infrastructure is still being built and there is limited oversight by state and federal governments. There are 25 states the mandate some form of an electronics recycling program for original equipment manufacturers, but some states have little oversight for the standards recyclers must meet to be a part of a manufacturer program. While some states have these landfill bans or disposal prohibitions on certain types of electronics, it is still permissible for consumers to landfill materials in much of the country. Lax federal regulation on the exporting of e-waste as well as the handling of electronics when processing has also compounded the problem. Some recyclers that lack an economically feasible option to process the e-waste entrusted to them domestically are instead exporting materials abroad for processing.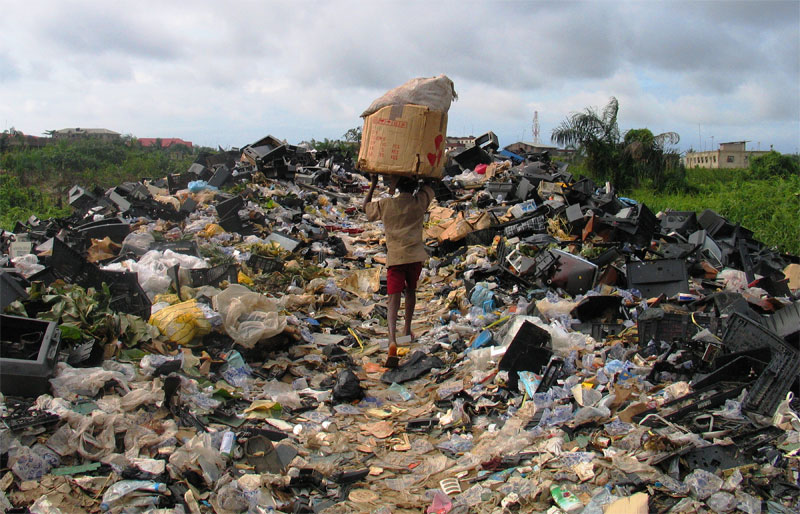 Exporting e-waste has its pitfalls. The material is considered a toxic waste, thanks to the components that make our smart phones, laptops and tablets work. This material has to be handled properly and in an environmentally safe manner, and in some cases, developing countries aren't equipped to properly recycle e-waste, enforce their own environmental laws or police the companies and people who import e-waste. The result is
e-waste dumps in Ghana
, "cooking" components
to burn away plastic and get at precious
commodities in India, and
children playing on piles
of unrecyclable waste in China. It's against this backdrop, and the lack of federal regulation in the U.S., that industry self-policing standards arose. The Responsible Recycling (R2) standard was developed first, by a coalition of industry, government and environmental groups. The e-Stewards standard was developed by a break-away group of the R2 development coalition; this breakaway group wished to see the U.S. align with the Basel Convention, which effectively bans exportation for recycling. R2 permits exports, but to verified recyclers and to countries which accept the e-waste for recycling. Manufacturers, who are required to recycle their products in Europe, 25 U.S. states, six Canadian provinces and other regions, want their products recycled responsibly. Dell, Apple, Sony, LG, and other global brands have supported both R2 and e-Stewards as requirements for the companies that handle their products at the end of life. Manufacturers have led the way in pushing forth the R2 and e-Stewards certifications here in the U.S. since only five of the 25 state e-waste programs require electronics recyclers to be R2 or e-Stewards certified. The trickle-down effect has been that consumers now have increased access to responsible recycling under the state programs when manufacturers utilize R2 and e-Steward recycling partners. Recently, two certification bodies took the unprecedented step of publicly censuring an electronics recycler in Chicago.
R2 Solutions
, which oversees the Responsible Recycling (R2) standard and the
Basel Action Network
, an international environmental group, issued press releases accusing Intercon Solutions of Chicago with improperly and illegally attempting to export e-waste to China through Hong Kong. The company processes approximately143 million pounds of electronics per year, BAN reports. R2 Solutions delisted the company as a certified recycler, and BAN denied e-Stewards certification. Intercon denies wrong doing, and released the following statement through its legal counsel – "Intercon Solutions does not export hazardous waste. While Intercon Solutions has the highest respect for BAN's mission, it has reviewed its findings and the evidence in no way justifies the conclusion that Intercon Solutions exported hazardous waste. Intercon Solutions has hired a law firm to review the matter and to protect its reputation in the e-cycling industry." The matter has proceeded to court in Illinois, and the industry will be watching the court process with great interest. Intercon holds R2 certifications – for now – and was in the process of applying for certification to e-Stewards. The problem is that Intercon was a Preferred Vendor for the Manufacturer's Interstate Takeback System (MITS) – a national network created to help manufacturers meet their regulatory requirements in all 25 states, monitoring collections and matching the collected e-waste up with responsible recyclers. If proven true, the allegations could have serious ramifications for MITS and the companies that rely on its network of certified e-waste recyclers. Sony, LG, Acer, ViewSonic, and other manufacturers that have taken environmental pledges would bear the stain of improper environmental management – and would have their brands tarnished by the e-waste industry's irresponsible actions. That stain would include financially supporting the illegal export of material to Hong Kong through Intercon Solutions and then claiming that material as responsibly recycled under the state programs to meet the manufacturer's recycling obligation in that state. Because many of the state programs have little oversight especially for electronics recyclers outside their state borders, it has been left up to the manufacturers to ensure they are selecting recyclers that are compliance with local, state, and federal law. But regardless of state regulations, manufacturers and programs such as MITS must bear the responsibility to select the highest quality recyclers to operate their programs in compliance with all regulations (local, state, and federal) and to the highest industry standards including R2 and e-Stewards. MITS, in March, announced a new downstream auditing protocol required of all recyclers involved in the system, just weeks after the alleged exporting incidences in the BAN investigation occurred. An assessment of the MITS program needs to be made – if manufacturers are required by states to have R2 or e-Steward certified recyclers handle their end-of-life electronics, and such programs include companies that aren't in compliance with the standards, can the manufacturers still say they are in compliance with state law? In absence of strong U.S. regulation in terms of state standards for recyclers and federal exporting bans, industry will have to straighten its self-policing activities. BAN and R2 Solutions have stepped in where MITS failed in evaluating the recyclers utilized under its program. In the end, it is the manufacturers that support the MITS program that may bear the biggest burden of all. Source:
Greenmuck.com