Despite whatever craziness may be happening around the world and within our own personal lives, music is a powerful elixir, capable of making it all seem just a little bit better. Even as the bills pile up and the car breaks down for the third time this year, popping in a stress-relieving selection by our favorite artist is quite like experiencing yoga-induced enlightenment. That musical Zen moment has the power to not only calm and center us, but also to encourage us to keep on keepin' on. Which is why, in spite of the economic climate, there is one luxury that many of us will always make room for in our budgets: attending a live concert. Among the
top grossing performers
last year, it's hardly surprising that Lady Gaga, Bon Jovi, Dave Matthews Band and U2 were at the top of the heap, but despite all of those good vibes that they spread, there's an unfortunate eco-consequence to their stage shows: the dreaded colossal carbon footprint.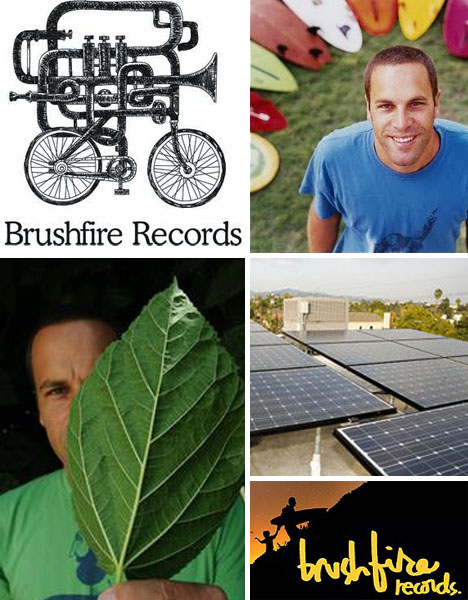 U2 is intimately familiar with this conundrum ever since they were accused of consuming so much energy during their 2009 world tour that they could have kept a single light bulb illuminated for 159,000 years… or made a round-trip journey to Mars.
Being an international musician, however, isn't easy to pull off unless one consistently circles the globe to visit their fans and makes certain, shall we say, planet-unfriendly compromises, in order to be a part of the biz. Not entirely so, says Jack Johnson, everyone's favorite melodious surfer dude with a chill, green attitude. In addition to utilizing
two solar-powered music studios
(Los Angeles-based Solar Powered Plastic Plant and The Mango Tree in Hawaii), Johnson operates an eco-friendly record label called
Brushfire Records
while also touring as sustainably as possible. For a reminder of how to conduct the music business the eco-way, look no further than this green tycoon who has proven through his daily actions that making a real difference is all about vision, drive and consistent execution:
Location of Brushfire Records:
Larchmont Village in Haleiwa, HI
Proprietors:
Famed surfer, filmmaker, singer-songwriter and environmental activist Jack Johnson (remember
Bubbly Toes
?) and music video director, documentary filmmaker and
photographer
Emmet Malloy
Date launched:
2002
Eco-features of Brushfire Records' recording studio:
Energy-efficient lighting
Low-flow toilets
Cork flooring
Solar-paneled roof
Secondhand timber on the walls
Recycled furniture
VHC-free varnished floors
Recycled denim scraps insulating both the walls and ceilings
Eco-friendly music packaging
Mandatory office recycling
Laptops are favored over desktop computers to reduce power consumption
Forest Stewardship Council papers are used for all office and company needs
Desktop device monitors the amount of green energy the rooftop solar panels are generating
Eco-friendly features of Jack Johnson???s tours:
CD packages and concert posters are made with 100% post-consumer waste recycled paper and printed with eco-friendly inks.
An EnviroRider offering sustainable concert touring suggestions such as energy offsets for venues, reusable drink containers/water-filling stations and biofueled transportation is adhered to throughout the production of every concert.
Musicians and crew members dine on a large percentage of organic and locally grown food using biodegradable tableware and cutlery.
 A minimum of half the waste produced at each concert must be composted and/or recycled as required per Johnson's contract.
Through Zimride, concert attendees are encouraged to share a ride rather than drive solo.
Johnson "requires distributors to engage in earth-friendly implementations" that help to shrink their carbon footprint, such as using recycled paper stock for packaging.
1% of concert and music sales are donated to environmental causes through 1% for the Planet.
100% organic cotton concert T-shirts are offered to attendees rather than chemically laden, conventionally produced options.
Johnson has donated the entire lion's share of his tour profits to eco-charity (both in 2008 and 2010).