We're often told not to judge a book by its cover, but it seems as though
Earthology Institute
has every intention of making its green leanings entirely transparent. The first thing you notice when exploring the nonprofit organization's website is that it dabbles in quite a diverse array of planet-friendly endeavors focused solely on making our world a better place. Through the implementation of various sustainable educational programs, Earthology Institute focuses on greening not only farming, schools and people's daily lives, but also the art and music industry. Whoa, Nelly. Sounds like someone has his or her head in the clouds. Perhaps these goals may seem somewhat on the lofty side, but thanks to the assistance of grants and sheer people power, they're well on their way to making several of them happen. Not only have they rescued a parcel of pristine natural habitat in Wisconsin, which will now be preserved rather than developed, but the group has also been actively working toward reforming local and national policies with regard to the use of chemicals and toxins in our daily products, not to mention conducting sustainable outreach work with American Indian tribes.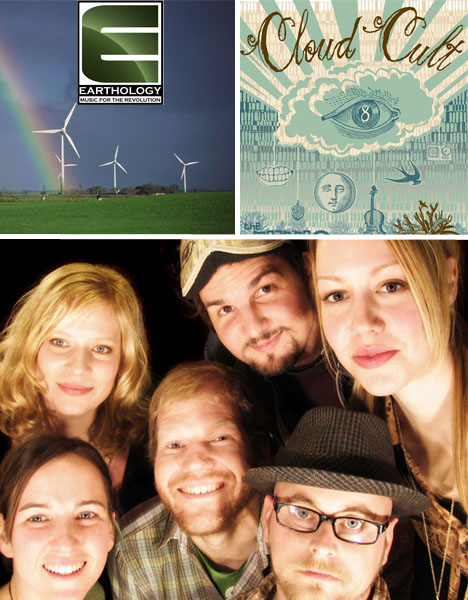 So, how does a nonprofit that burns the candle at both ends find the time to also run Earthology Records? If you ask founders Craig and Connie Minowa, it's not so much about what they put into it, but rather what they get out of it — namely, the pleasure of pursuing their many eco-passions while also redefining the music industry so it reflects a greener paradigm. Profits take a back seat to establishing a more conscientious business policy that makes sustainable touring and recycled/organic merchandise of paramount concern. In fact, the Minneapolis-based CD manufacturing company
Copycats Media
regularly uses the post-consumer recycled CD packaging concept, appropriately termed the Cloud Cult model.
A rundown on Earthology
WHO:
Craig and Connie Minowa, members of indie rock band Cloud Cult and proprietors of nonprofit org Earthology Institute and Earthology Records.
WHAT:
Earthology Institute serves as the clearinghouse for multiple environmentally friendly endeavors, including the record label Earthology Records (which is how Cloud Cult's catalog ultimately reaches the masses).
WHERE:
Earthology Records' main recording studio is located on a northern Minnesotan organic farm, with a second one located in Vernon County, WI, where the Minowas currently live and work.
HOW:
Through their nonprofit umbrella organization, Earthology Institute, the Minowas are able to pursue various fulfilling eco-passions while making their Cloud Cult offerings available to their fans in a greener, more responsible manner.
Why Earthology Records is so green:
Studio located on a sprawling organic country farm
Building made with upcycled and reclaimed materials culled from site
Recycled soundproofing material made with recycled shredded clothing insulates studio walls
Structure has low carbon footprint thanks to geothermal energy system
Recycled CD jewel cases are obtained from local stores and personal donations
CD inserts made with 100% post-consumer recycled paper, printed with soy-based ink and sealed with PVC-free, biodegradable shrink-wrap
Cloud Cult touring merchandise is either made with organically grown or recycled material
They help fund Native Energy's work with wind turbine construction in North and South Dakota
Despite touring with biodiesel-fueled transportation, they offset the higher carbon footprint of Cloud Cult's many venue stops by planting more than 1,000 trees annually.
They also rock solar panels on their van!
Famous last words:
"It's surprisingly affordable these days to mitigate your ecological impact. When you're thinking about yourself as a citizen on this planet, it's a natural part of your responsibility." — Craig Minowa