When it comes to construction projects, "green" often translates to "more expensive." As a result, many working families, seniors and people with disabilities don't have a chance to enjoy the multiple benefits of eco-friendly living: lower utility costs, healthier living spaces and the feeling that you're doing the right thing for the planet. That bothered
Enterprise Community Partners
, a nonprofit organization dedicated to creating opportunities for low- and moderate-income people through affordable housing and thriving communities. To help level the playing field, Enterprise launched the
Green Communities program
, which provides information and financing to groups looking to build green housing that's also affordable for people of modest means. Since 2004, Green Communities has invested $700 million into building and preserving 16,000 housing units across the country. Several of these projects have made recycling a big part of their mandate. Here's a sampling:
Plaza Apartments, San Francisco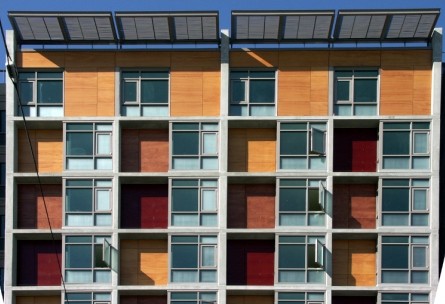 The
San Francisco Redevelopment Agency
, which oversaw development of the Plaza Apartments, focused on recycling from beginning to end. The 106-unit complex includes many recycled (and in some cases, easily recyclable) materials, such as steel framing, insulation and flooring. An estimated 75% of construction waste was diverted from the landfill. Now that the project is up and running, energy-efficient lighting, appliances and window treatments keep energy usage low. The building was designed by
Leddy Maytum Stacy Architects
and
Paulett Taggart Architects
.
Blue Vista, Longmont, CO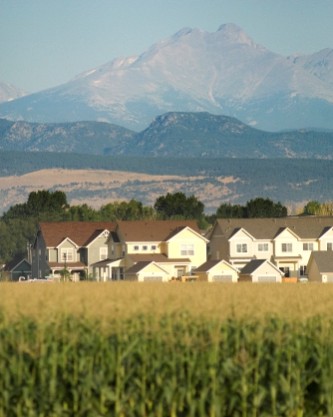 Blue Vista has so many environmentally conscious features that "Green Vista" might have been a better name. Homes are located within walking distance of shopping, jobs, public transportation and other services. Lighting and appliances are Energy Star rated, and low-flow fixtures and irrigation systems help with water conservation. Recycled products include insulation, carpets and carpet padding. In 2008, Blue Vista received the Green Development Project of the Year Award for Single Family Homes from the National Association of Home Builders. The project was developed by
Thistle Community Housing
and designed by
Wolff Lyon Architects
.
Orchard Gardens, Missoula, MT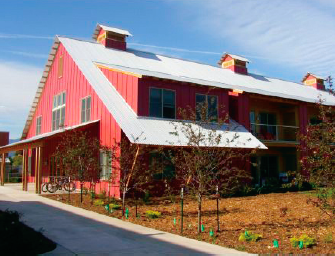 Located on the edge of Montana's second largest city, Orchard Gardens is a 35-unit apartment complex with some unusual green features. Crushed recycled glass was used as a road base and fly ash was mixed into building foundations. A barn built with straw-bale construction and 2 acres of land devoted to community gardens are part of an on-site food security initiative. Green energy features include ground-source water, photovoltaic panels and a solar hot water system. Orchard Gardens was the brainchild of
homeWORD
and was designed by Don MacArthur with
MacArthur, Means & Wells, Architects
.
The Margot & Harold Schiff Residences, Chicago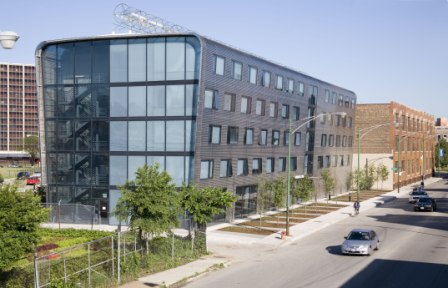 Situated in the same neighborhood as the former Cabrini-Green housing complex, one of the country's most notorious housing projects, the Schiff Residences set a great example of a quality, green place to live. The project's roof features the world's first battery-free wind power generators. In a first for Chicago, greywater from sinks and showers is collected, processed and recycled for use in the toilets. Building materials are low in
volatile organic compounds
, which improves indoor air quality and lowers the likelihood of health problems. All that, and the apartments are still affordable to people who are formerly homeless and/or disabled. The complex was developed by
Mercy Housing Lakefront
and designed by Helmut Jahn of
Murphy/Jahn Architects
.
Randolph Place Apartments, Richmond, VA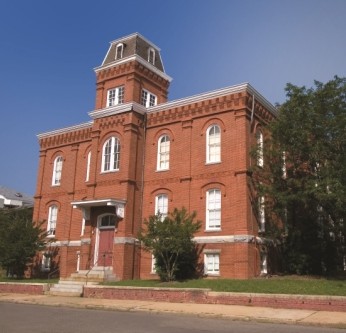 The stunning architecture at this senior housing complex calls attention to Randolph Place's first green feature: The whole building, which used to be a school, was "recycled" rather than being torn down. Individual apartments feature recycled insulation, carpets, ceiling tile and a tin roof. Energy Star appliances and low-flow water fixtures keep consumption low, and trees planted around the building add shade as well as beauty. This project was developed by the
Better Housing Coalition
, which worked with Charpentier Chen Architects P.C. for design services.