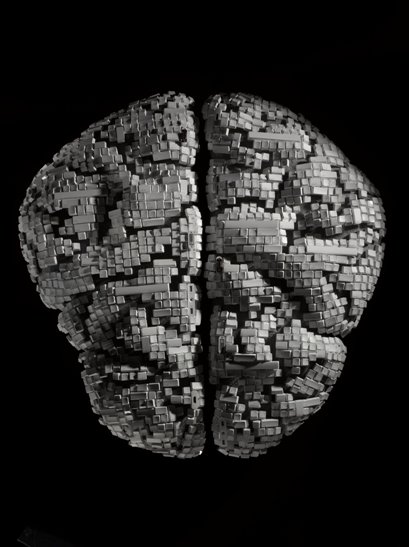 Image: Christopher Griffith and Megan Caponetto All images used with permission of Megan Caponetto and the respective photographers.
Can you imagine the internal workings of the human form recast in discarded nuts and bolts and computer keys? Megan Caponetto certainly can. Caponetto is a New York-based prop designer, prop stylist and self-proclaimed set goddess; indeed, many of her clients would agree that she really can work miracles, bringing inanimate objects to life. She works on major advertising and editorial campaigns, making sure their centerpieces are as astonishing and as inspiring as they can possibly be.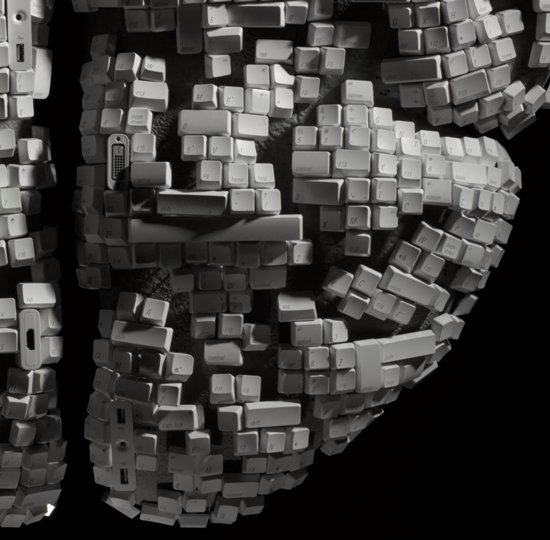 Image: Christopher Griffith and Megan Caponetto
For her "Body Parts" series, she repurposes everything from computer keys to sugar cubes to recreate human anatomy. For the brain above, for example, Caponetto used hundreds of discarded keyboard keys and shaped them into the outline of a brain in an amazing feat of conceptual transformation and of physical recycling. Even the space bar integrates nicely into the sculpture, which was commissioned by
Wired
magazine. With the increasing amount of time that we spend in front of computers, one wonders how soon it'll be before our brains really do look like this!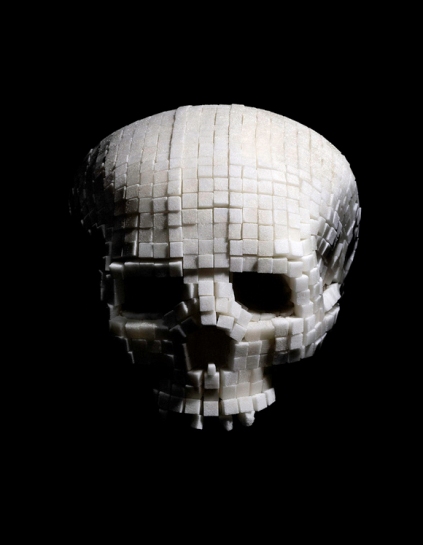 Image: Greg Broom/Jed Root and Megan Caponetto
Caponetto's work comes in a huge range of shapes and sizes ? from icons formed from thousands of square feet of flattened corn, to assemblage mosaics spreading across the floors of her home. The skull above, however, is rather smaller; it was made out of hundreds of sugar cubes in a project for
Men's Health
magazine. Making new out of old can sometimes be quite problematic; in this case because the sugar cubes kept melting. Caponetto, in speaking to
SPD.org
recalls the experience: "It was terrifying. I thought I finally found an adhesive that wouldn't dissolve the sugar but I was so wrong and the 'clinking' sound of the cubes hitting the table all night made me feel totally powerless… [But] it ended up looking good anyways! It was one of the few projects that I've done that I shook all the way to set not knowing if it would actually be OK." Caponetto has always had an affinity for combining old things to make something new; according to her NYT bio, she was: "The kid in the basement gluing rocks together." Fortunately, she didn't stop there…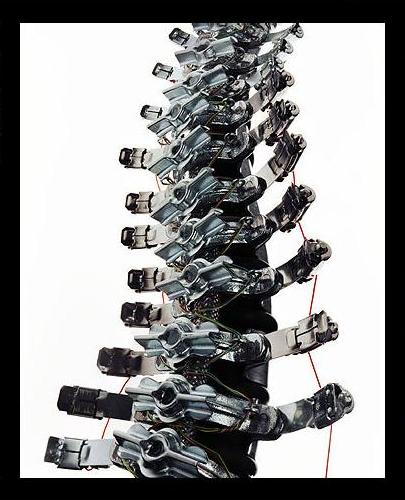 Image: Christopher Griffith and Megan Caponetto
This spine sculpture started Caponetto's human anatomy series. Made of ordinary clamps that quite convincingly resemble human vertebrae, the prop can even move like a human spine.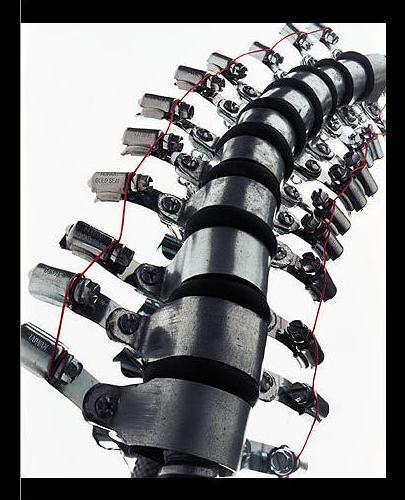 Image: Christopher Griffith and Megan Caponetto
Caponetto says of her experiences: "The spine was an awesome project conceptually and to physically put together. I got great satisfaction with it being able to move like a real spine despite being metal parts from Home Depot and it was the beginning of what has now become a signature of mine  ? body part sculptures."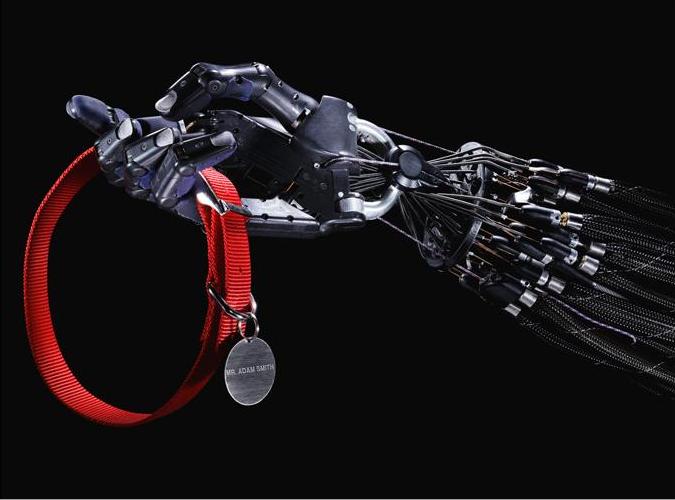 Image: Christopher Griffith and Megan Caponetto
This bionic hand is attached with what looks like a pulley to a bunch of bungee cords representing the sinews of the arm. The bluish-black color and gripping pose make it look only too real.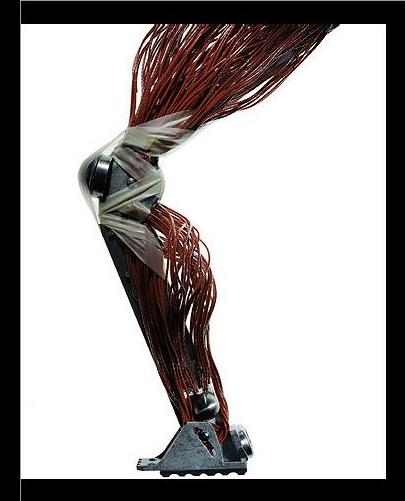 Image: Christopher Griffith and Megan Caponetto
Like the hand above, this bionic leg uses simple materials to represent human anatomy. In this case, the cluster of red cables resembles the muscles and sinews of a human thigh and calf all too well. Metal parts make up the ankle and knee; the latter held together with tape. We like to hope that a real human knee is more sturdy than that!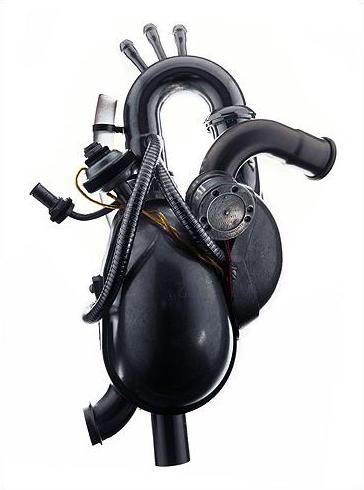 Image: Christopher Griffith and Megan Caponetto
One of our favorites, this heavy-duty heart sticks to the basics: some bent black pipes, safety masks, valves and bathroom fixtures  ? done! Any problems? A bit of plumbing should take care of them. A pretty good heart simulation that gets the point across.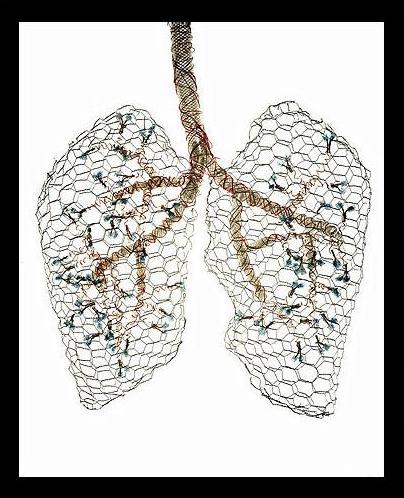 Image: Christopher Griffith and Megan Caponetto
That lungs are vital yet delicate organs comes through strong and clear with Caponetto's lung sculpture here. The trachea is made up of a bit of rolled-up wire mesh, branching out into the main bronchi and then into smaller ones. The lungs are transparent and abuzz with activity.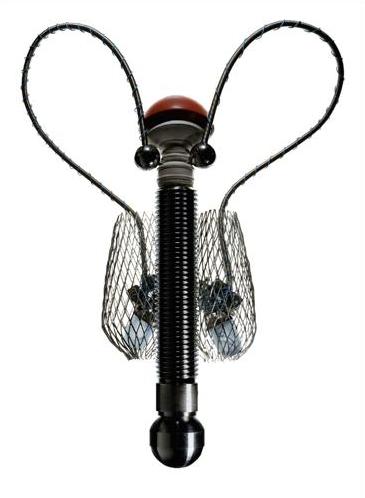 Image: Christopher Griffith and Megan Caponetto
As a closer look reveals, the activity is created by dozens of tiny flies that populate the lungs. Each one is made up of a single screw, some wire and more wire mesh for the wings. A scary thought to have dozens of those little critters in our lungs? Definitely!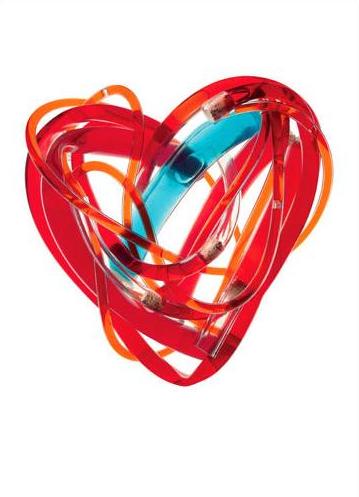 Image: James Wojcik and Megan Caponetto
Here are two more heart sculptures that are more vivid than mechanical — one made out of flexible plastic tubes with cork stoppers, the other out of red, white and orange pieces of wire. In the one above, colored liquids make the model more realistic with orange and red liquids symbolizing the veins and one thick, blue tube the aorta.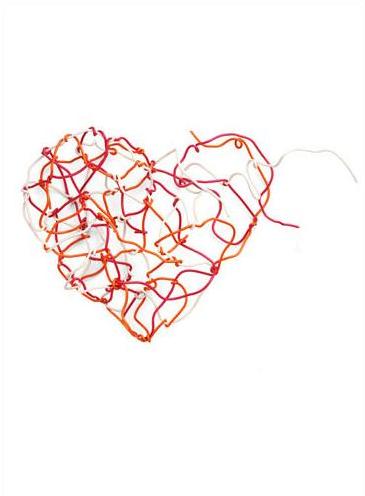 Image: Plamen Petkov/plamenpetkov.com and Megan Caponetto
Creating stunning props is an art that few master. Megan Caponetto is one of them, and her series of anatomy sculptures made out of the most unusual repurposed materials is a joy to watch and discover. To see more of her projects, visit her
website
.
Additional source: 1