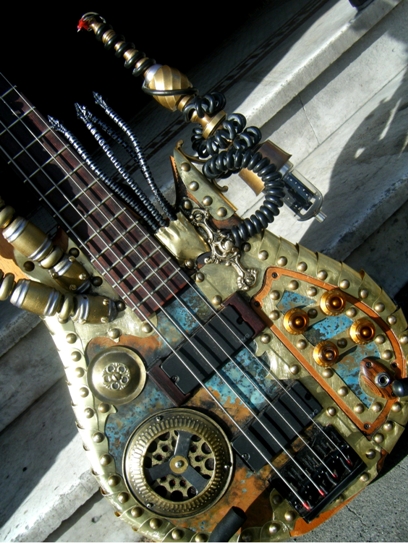 Image: Molly Friedrich All images courtesy of the artists/photographers and used with permission.
There's nothing wrong with a regular guitar — and electric guitars are of course arguably the coolest of modern instruments — but after seeing the creations we've collected here, you might look at the old six-stringer you have lying around and suddenly think it's a bit boring. Customizing — or in this case, steampunking — your guitar will add so much to its esthetic potential. See, apart from the fact that it will increase its weight, with all the recycled nuts, bolts, screws and nifty gadgets like valves, clocks and more added to it, your guitar will become a true one-of-a-kind. We've found 10 guitars that seem to have come straight from the age of steam power — with a riff of electric futurism thrown in for good measure!
10. Ornamental Experiment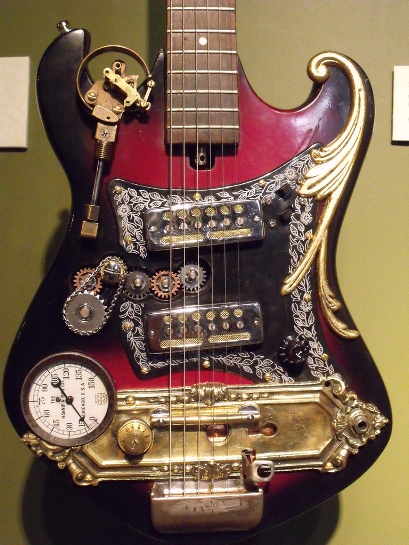 Image: Emil
One thing immediately evident about Steve Brooks' steampunk guitar, dubbed "The Grand Experiment," is its intricate brasswork. The leaf-like ornament on the right is just stunning, and the use of what looks like an old brass name plate is pure genius. Add a valve and a few gears in the right places and you have steampunk awesomeness that rocks!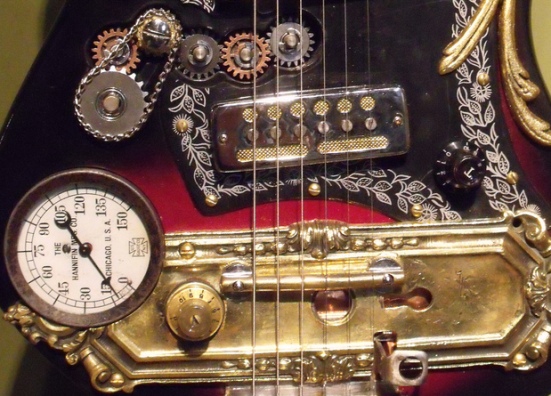 Image: Emil
This beauty was snapped by Flickr photographer Emil, aka Egkg1, at the Charles River Museum of Industry and Innovation in Waltham, MA, where it was on display in December 2010. Now if we can just remember where we put that bottle of polish and that box of old brass trinkets…
9. Rusty Beauty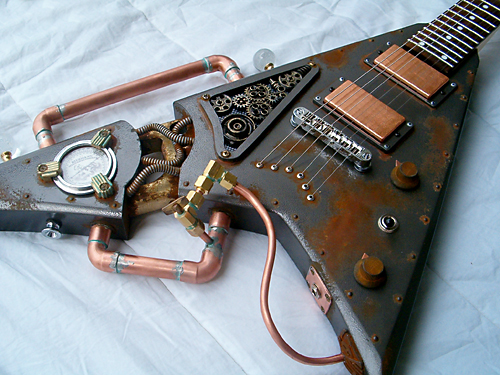 Image: Rob Lee
Creator Jeff Ritzmann of
Thunder Eagle Guitars
built this V-shaped monster a few years ago. Particularly cool features include the copper piping that seems to emerge from the sides and the cut-off edge, connected by coils. Meanwhile, the "gears" have been taken from a LEGO Technics set. The rusty look of this awesome and fully functional time-meets-music machine even extends to the EMG pickups that have been copper leafed. With the dial thrown in for good measure we love this piece and we're sure you could find similar spare odds and ends for steampunking your own axe in similar fashion!
8. Recycled Guitar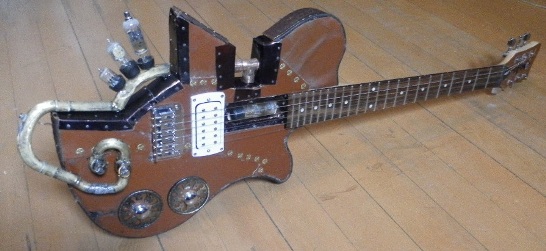 Image: Allyson Cikor
The amount of thought and work that goes into creating a steampunk guitar can immediately be seen by looking at this awesome creation. Guitar maker Allyson Cikor, aka Pooka-Pooka, took the trouble to list all the upcycled and repurposed materials that went into making it, just for 1-800-RECYCLING. If the leather on the outside of this guitar looks familiar, that may be because it used to be an old brown suitcase. The leather around the outside edge, meanwhile, came from some old horse-riding equipment and the cool ornaments around the volume and tone knobs were cut from an antique brass drawer handle.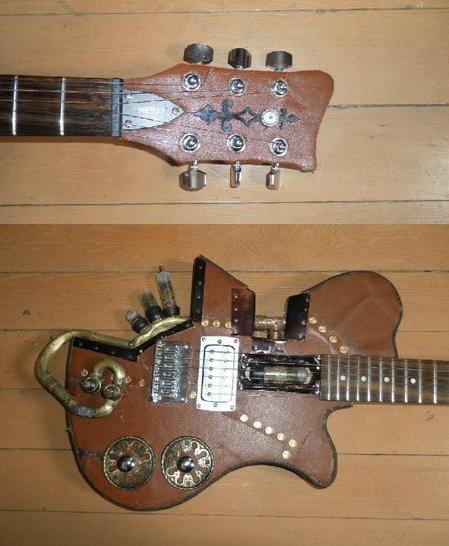 Image: Allyson Cikor
The three "bulbs" sticking out from the side of this axe were once 1940s or '50s radio tubes. Cikor glued clock gears inside them and wired the bulbs up to make them look even more steampunk. Cikor goes to great lengths to get ahold of her materials; she recently visited a torn-down farmstead in her area to ask the people there to keep materials salvaged from the rubble — that's where she got the brass and copper sheeting and piping that make this guitar look so awesomely gritty.
7. Steampunk Ukulele Bass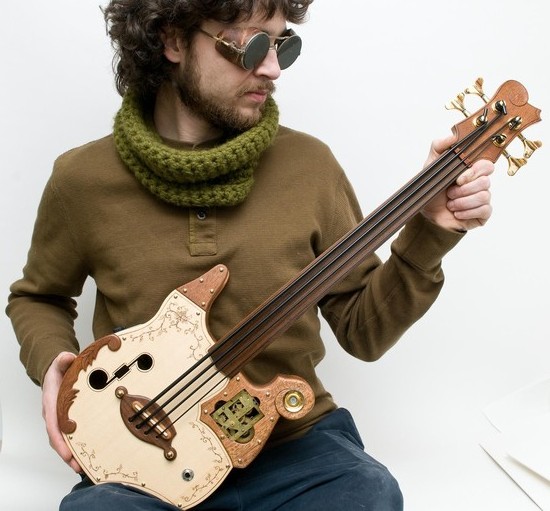 Image: Celentano Woodworks
This steampunk acoustic and electric ukulele bass is a real beauty. Created by Asheville, NC-based Celentano Woodworks, it can be made to order. Although built using different regional woods, the ukulele also includes brass gears taken from a repurposed clock, some brass nails and various odds and ends you probably have gathering dust in your own garage.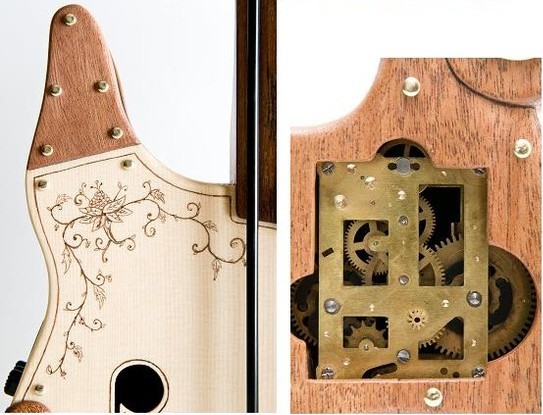 Image: Celentano Woodworks
Here's a close-up of the intricate craftsmanship on display. The ornate, clockwork steampunk elements are perfectly integrated with the rest of the instrument, which is also beautifully carved.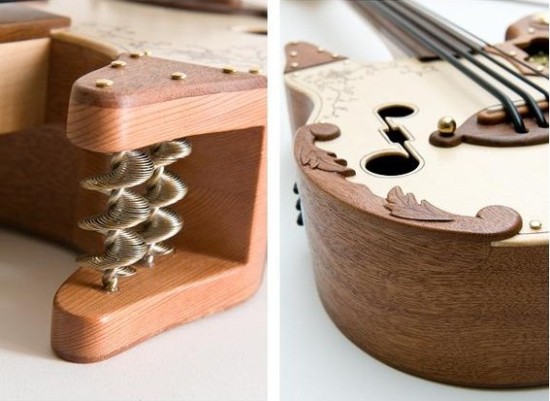 Image: Celentano Woodworks
As the details show, much thought has gone into into this ukulele. It can be tuned like any regular bass and measures about 30 inches in total; the body is approximately 10″ x 10″. What's more, as one of the images above shows, when thinking about sartorial style, this ukulele bass goes wonderfully with some authentic
steampunk goggles
.
6. Grit-tar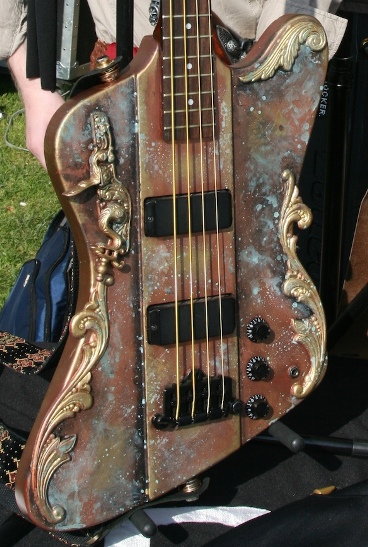 Image: Chris
What we like about this homemade steampunk creation is that it's kept simple, with the focus on selected brass accents and the busy colorization. It's fun to see how the spacy-looking background and brass ornaments came together to form one lean, mean steampunk machine.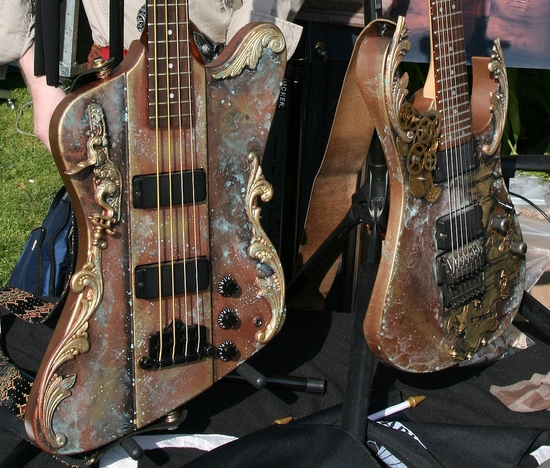 Image: Chris
Did we say one lean, mean steampunk machine? Actually there's not one, but two of them, both of which were seen at the Maker Faire 2008. Though both are heavy on the leafy, brass ornaments, the one on the left is counting more on the splashed-on color theme, while the one on the right goes all out with brass gears and other brass ornaments. We're sure you could find similar surplus decoration lying in the attic, just waiting to be repurposed, to pimp out your own
geetar
like this pair. Now it's just about deciding which style to go for…
5. Steampunk Banjo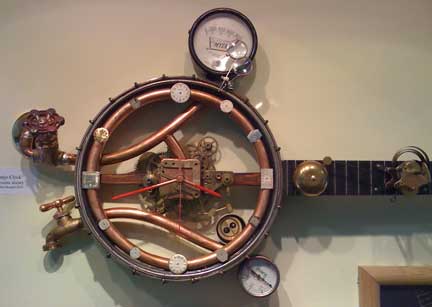 Image: Scott MacDonald
This amazing steampunk banjo is an 1890s Lyon and Healy five-string banjo that maker Scott MacDonald discovered at a craft fair where he snapped it up for just $10. Unfortunately, it was severely broken and beyond repair, but that didn't deter MacDonald. He seriously steampunked it by adding copper tubing, spigots, valves, gauges and gears, and turned it into a wall clock.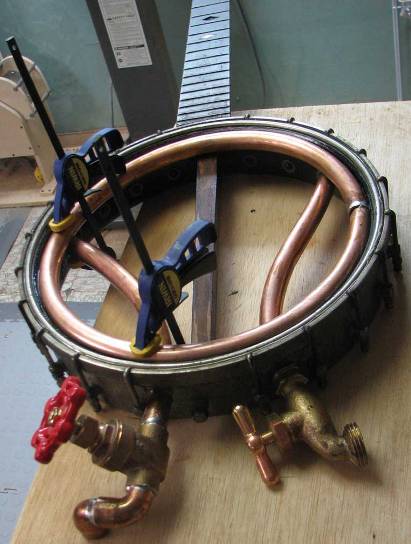 Image: Scott MacDonald
Don't miss the vintage watch faces used as number indicators, the old bicycle bell on the fingerboard, that super steampunk pressure gauge, the wind-up manual alarm on the neck and the water feed that seems to be coming out of the wall. What luck the vintage instrument got salvaged by MacDonald, so that it now adorns the walls of his guitar shop. While you may not be able to play this banjo, it's certainly a worthy addition to the steampunk guitar canon.
4. Moustaches Ukulele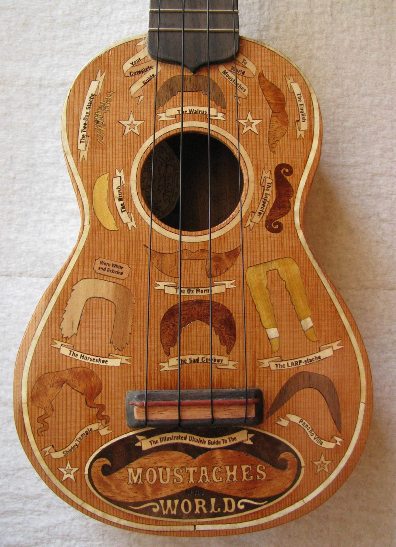 Image: Xylocopa
And in case you ever forget, there's Sir James Richard's motto displayed prominently on the guitar neck (women, take note!): "There are three kinds of man you must never trust: a man who hunts south of the Thames, a man who has soup for lunch and a man who waxes his moustache." We'll keep that in mind.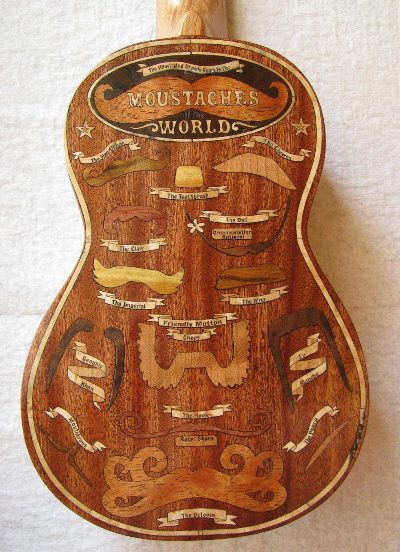 Image: Xylocopa
If you're wondering where to obtain such an essential object, design team Andrew and Michele of Xylocopa will consider customizing one for you. The only element we might personally add is ensuring that only recycled wood was used in its making.
3. Jay Turser's Repurposed Guitar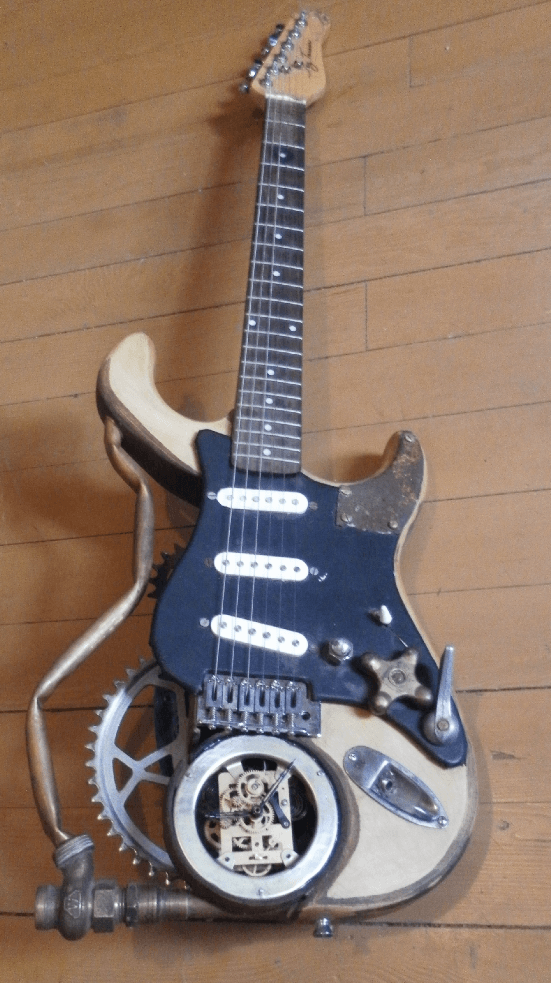 Image: Allyson Cikor
Talking about the starting process for this, her first steampunk guitar, Allyson Cikor (see also: entry 8) says: "I chopped an old Jay Turser solid body I had using a band saw, and just found the other pieces around my yard. The metal pipe I had to bend myself using a fire pit." That's dedication!
Image: Allyson Cikor
But the repurposing goodness doesn't end here; there's lots more: the leather on the pickguard is from the seat of an old chair, with the rusty bit on the edge having been cut from an old oil can. The prominent knobs were once parts of a faucet, and it was sheer genius to add an old mechanical alarm clock to the bottom of the body. Who knows, maybe this could work as a metronome?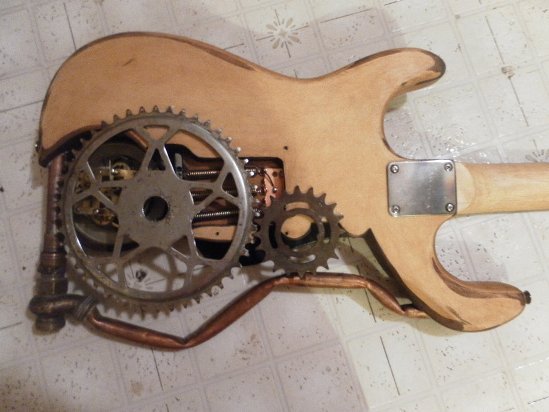 Image: Allyson Cikor
If the big gears look familiar, they once belonged to a bicycle. The back view above shows them in all their glory. The bent and straight piping on the side, trademarks of Cikor's guitars, came from the rubble of an old farmstead that was ripped down. Talk about a guitar with a history! Two words: recycling win.
2. Victorian Gun-tar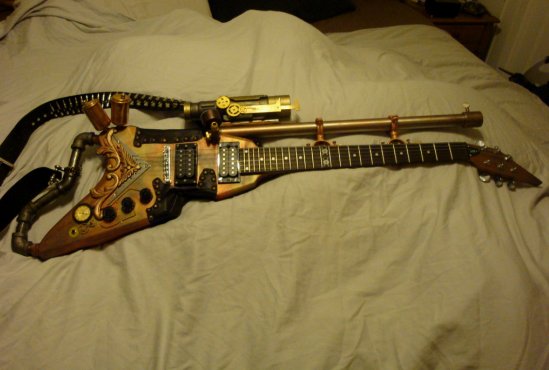 Image: George V. Berger/Astro Helix
If you cross a hunting rifle with a guitar and steampunk both, you'll get the awesome Victorian Axe Cannon, the work of George V. Berger, aka Astro Helix. Made using a Washburn "Dime" Flying V, Berger added gears from multiple music boxes, a microphone stand, piping, brass and leather elements, steam dials and more. Apart from creativity, patience, time and a brain for creative repurposing, it took lots of sandpaper and plumber's cement to make. Now, the sturdy guitar weighs a proud 27 pounds!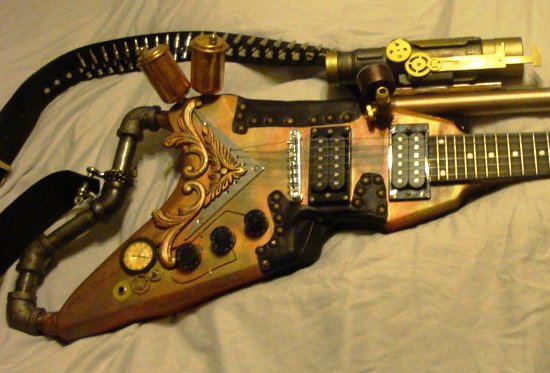 Image: George V. Berger/Astro Helix
And did we mention the secret powers of the gun-tar? We'll let George explain: "It gathers and stores kinetic energy produced by the sound it generates and uses that to propel solid iron projectiles forward at something close to 17 to 18 times the speed of sound. Its effective range is roughly 6 miles, and can split a modern sports car in half in one shot at point blank." 'Nuff said. Stay out of the way of this steampunk cannon! The guitar has been bought by Tommy Tallarico, organizer of Video Games Live. You can
see a clip here
from Video Games Live 2010 in Vancouver, BC, where a live symphony orchestra and choir, conducted by Jack Wall, play the theme from the Xbox game
Halo
. See Tommy rock the song on the gun-tar after 2 minutes, 20 seconds.
1. Tentacle Bass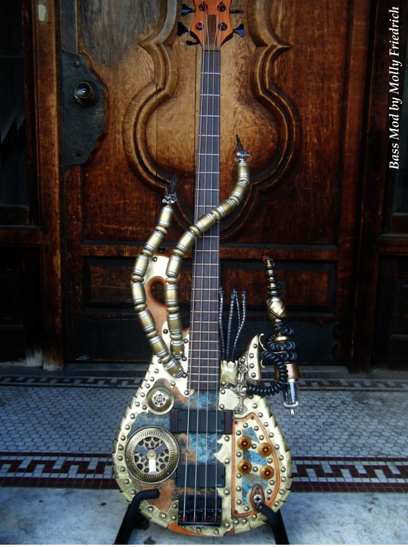 Image: Molly Friedrich
Guitar designer Molly Friedrich, aka Porkshanks, has designed many a guitar in her life, but this commissioned bass for Benjamin Ensor of the band Mungus was a particular pleasure. She says: "He asked me to create a Jules Verne-inspired clockwork Lovecraftian beast… and other than that for a theme, he gave me permission to do whatever I wanted… so here it is, 16-inch tentacles and all!"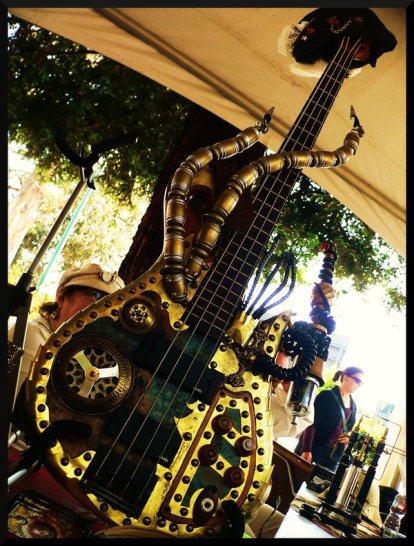 Image: YukiValentine
It really is a beauty. Can you tell what the pieces once were before they were repurposed and made bass history? According to Friedrich, the tentacles don't interfere with the strings and the metal work isn't as heavy as it looks. Phew! Would have been a shame if the instrument wasn't fully functional. But trust us, it is. We're thinking of going to the nearest yard sale to find upcyclable parts for modding our own bass guitar steampunk style. Did we mention that for most of these guitar artists, the customizing was inspired by the simple fact that they love tinkering with stuff and had an old guitar lying around? As these 10 have proven, you can use almost anything that strikes your fancy for creative recycling. So, what are you waiting for?