Fashion designers would like us to believe that the costlier the garment, the higher the quality, and perhaps to some extent that is true, but there are certain extenuating factors that make mincemeat out of fabric, like kitty claws. Such was the case with several pairs of my rather pricey velour lounging pants that probably would have stood the test of time, were it not for the enthusiastic upright stretches of my dear sweet feline, Snagglepuss, against my legs. In seemingly record time, my knock-around duds went from sleek, to pockmarked, to holey and finally woefully thread bare. Despite hand sewing many of the more noticeable kitty-triggered ventilation spots over and over again, the fabric itself succumbed to a massive fashion malfunction, forcing me to finally let 'em go. Far too disheveled to donate and seemingly impossible to repurpose into anything other than cleaning rags (thanks to those menacing little puncture wounds), with great regret, I ultimately kicked them to my curb on garbage day. This kind of situation isn't unique, however. It constantly plays out all over the world — not necessarily due to limber cats — but perhaps the result of splattered paint, inconvenient tears or spots that just won't come out.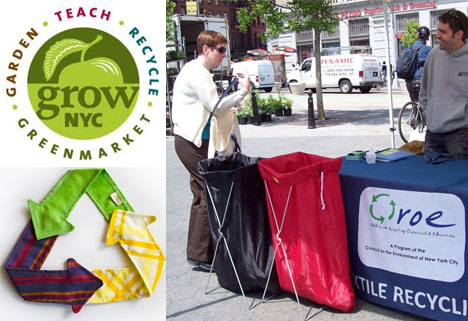 What most of us don't realize is that textile recycling programs that give previously used natural/synthetic fabric, fiber, leather and other materials a second life actually
do
exist. Based on the EPA's
fabric reclamation statistics
(13.8% of the 12.7 million tons of textiles created in our country in 2009 were reprocessed or exported, which amounts to approximately 2 tons), it would seem that we're in need of far more widespread education. In the meantime, New York City has spearheaded a unique program called
RefashioNYC
, which focuses on preventing the 200,000 tons of textiles that residents dispose of annually from entering landfills in the first place. Offering apartment dwellers convenient access to 3-foot deep, tamperproof white metal collection bins right in their buildings, the hope is that if free and easy recycling opportunities for linens, shirts, pants, shoes and other fashion accessories exist, people will participate. Plus, they're tax deductible! Here's how it works. Once bins are full, a pickup is scheduled within five days and materials are then sorted in a Queens-based
Housing Works
warehouse. (Housing Works is an organization that works toward alleviating lifestyle challenges for low-income and/or homeless individuals living with HIV or AIDS.) Anything that is deemed to be of widespread commercial value is sold through Housing Works' various New York City locations, with all profits earmarked toward its various community programs. Any remaining merchandise is sent to other assorted nonprofit thrift shops located in America and abroad in an effort to limit waste, but Housing Works does acknowledge that it is forced to dispose of less than 10% of donations because they are in such bad condition. Now, you're probably wondering what happens to all of the other textiles in this program that aren't in good enough condition to wear. In addition to making industrial rags out of donations, fabric can also be shredded and turned into the springy stuffing for seating/mattresses, carpet/roof padding, household insulation, loudspeaker cones and even the creation of new yarn for second-generation garments (a process known as fiber reclamation). As far as the actual success rate of this Refashion-Housing Works collaboration, given its new launch of May 24, 2011, only time will tell, but they're certainly making it incredibly effortless for people to reuse. Some may be surprised to learn that New York City is working diligently toward achieving a new and undoubtedly ambitious sustainability goal: to cut the amount of solid waste that ultimately gets landfilled by 75%. This program seems to have come in the nick of time!