Shaking the dust off old bikes, steampunk fans have proven that with some repurposed accessories and a healthy dose of creativity, almost anything is possible!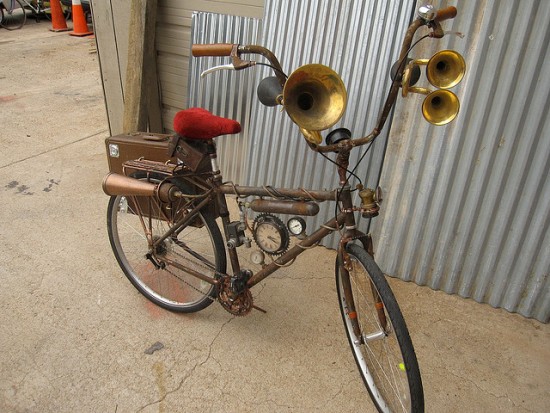 Image: Del Cruiser, used with permission
Steampunking an item that really did exist in the age of steam power has its own unique charm because the object leaves the realm of fantasy and enters that of possibility. What if some of the cycles below are actual, eccentric remnants of the Victorian age, left in someone's basement and, one fine day, simply dusted off? Perhaps we've suspended our disbelief a little too far; in any case, repurposing is a whole lot of fun and you just never know what you might find…
10) Penny-Farthing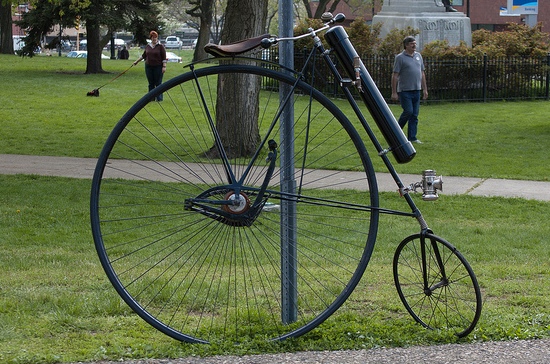 Image: Tim Pierce
Our first entry is a case in point. In the days of steam power, this is how the bicycle craze started — with penny-farthing cycles. Developed and used in the 1880s, these vehicles were the first to be called bicycles and were characterized by a large front wheel and a much smaller rear wheel (in this case, it's flipped). Their amusing nickname comes from the old British penny and farthing coins, with the former being much larger than the latter, so that if put side by side, the penny leading a farthing would resemble one of the new bicycles.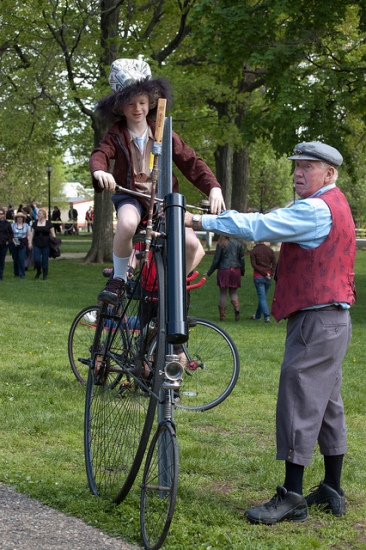 Image: Tim Pierce
As a symbol of the late Victorian era, it is no surprise that penny-farthings are popular with steampunk fans. And, as the image above shows, riding one is child's play — if you can find a friendly soul (or pole) to hold the cycle for you while you get on, that is! What we love about this bike is the long black tube and the small golden coachman's lamp below. It can't get more authentic than steampunking a high wheeler!
9) Steam Trike Hybrid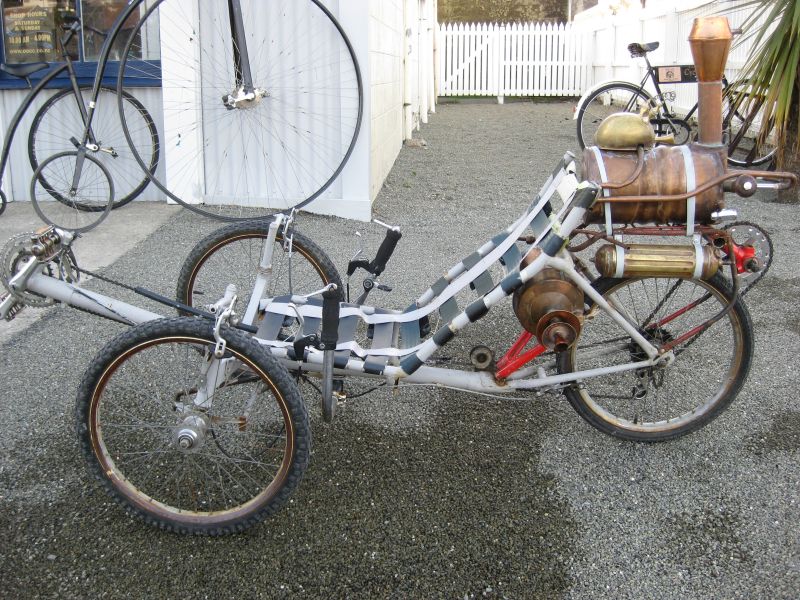 Image: Matthew Thredgold, used with permission
In Oamaru, New Zealand, on the way to Wellington, there's a cycle shop called the Cycle Works that's worth checking out. This recumbent tricycle, for example, is one of the bikes on offer. Sturdy and fast, it seems to go for a kind of steampunk-modern hybrid look.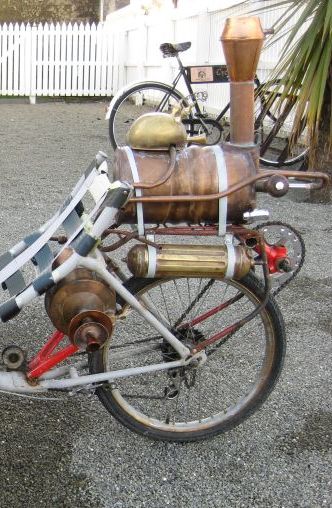 Image: Matthew Thredgold, used with permission
The back of the trike deserves a closer look. The boiler-like structure with chimney can only have one purpose: to create steam for propelling the cycle! The two brass cylinders below also look quite functional. But, unfortunately, the contraption is not motorized and the rider has to rely on muscle power. Too bad, but we certainly like the look of the trike!
8) Steampunk Cruiser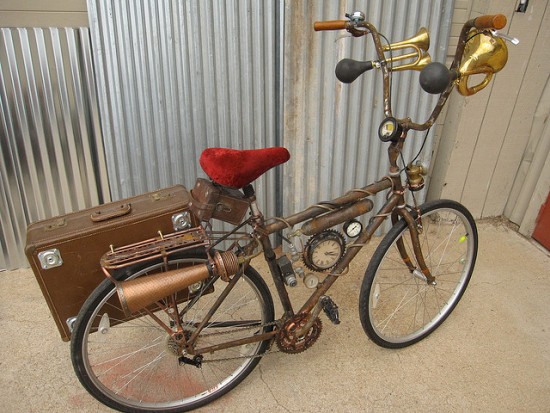 Image: Del Cruiser, used with permission
This steampunk bicycle captivates wits its various cool features: the two big brass horns in front, for example, the clock and valves attached to the frame, the bright red saddle and the vintage suitcase mounted on the side, as a steampunk saddle bag. For that added vintage look, the faux rust patina works nicely. Don't miss the voltage meter on the handle bar, the tool bag under the seat or the "exhaust" for extra vroom. The lamp is a carbide miner's lamp and the bomb-like item under the saddle bar is an "aether dispensing apparatus." We love it!
7) Steam Trike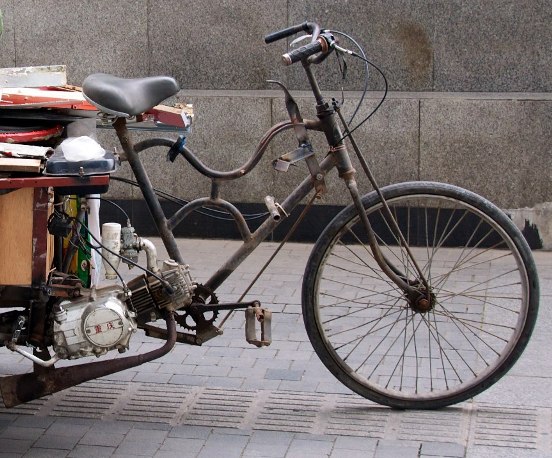 Image: Empty007
This steampunk bike is actually a trike, and very much in use as a vehicle to transport all kinds of odds and ends, as seen below. Outfitted with what looks like a homemade motor, this steampunk trike actually gathers up some real steam!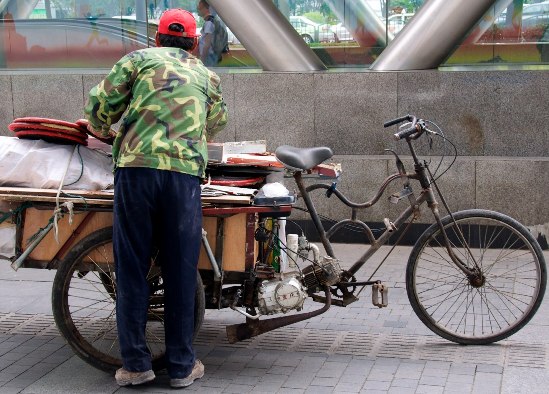 Image: Empty007
What we like about this bike is the unusual frame shape — making for easier mounting, no doubt — and the fact that the minimalist approach makes it look like it has come straight from the steam age.
6) Steampunk Low Rider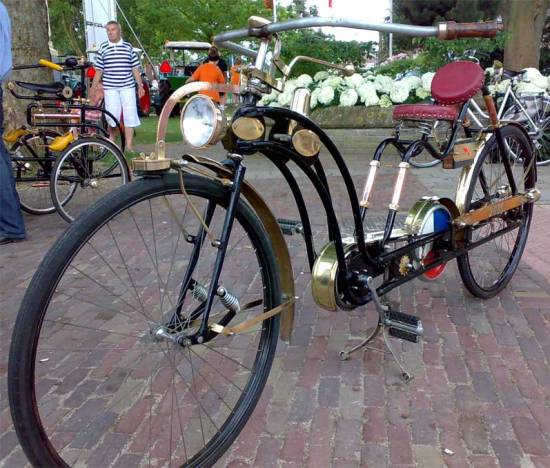 Image: Tom Stezi, used with permission
This steampunk bicycle was spotted at an old-timer show in Holland. The Dutch, having a reputation for valuing and producing good bicycles, also have an impressive line in steampunk cycles like this one. The black bike with gold ornamentation is quite elegant looking and laid back, too, judging by the low ruby seat that would place the rider in a lying position (hence the backrest). Notice the patriotic touch with the red, white and blue chain guard. The leather handles are also nice, providing a good grip on a speedy ride.
5) Suicide Bike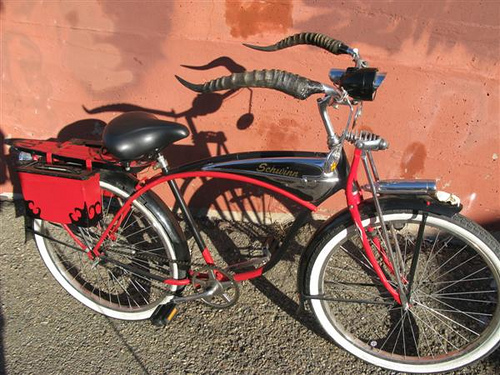 Image: Daniel Pon, used with permission
The suicide bike gets its name from the high probability of impalement that the rider faces when using the bike (according to its creator). Yup, the handlebar is custom made from quite scary-looking found African reed buck antlers. The red paint of the bike clearly adds to the sense of urgency that comes across.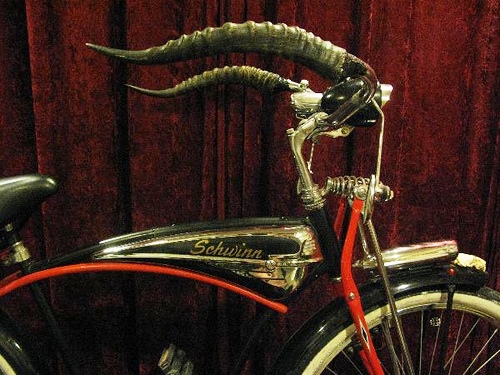 Image: Daniel Pon, used with permission
Creator Daniel Pon puts it: "The bike was created from the frame up and was completely hand painted. It has been loaded with fun vintage accessories such as an electronic horn, head and tail lights and an old generator to power them. I made custom removable saddle cases from army ammo boxes."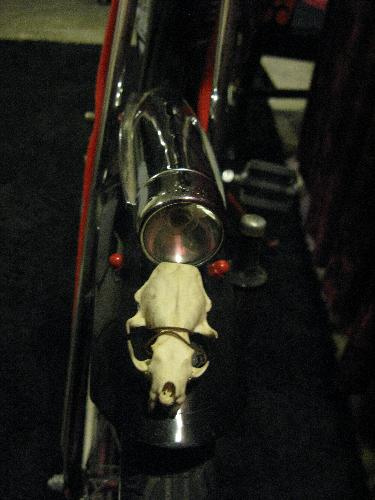 Image: Daniel Pon, used with permission
Love is in the details! As you can see above, the bike's fender sports a small mink skull with an eye patch! Though it may not be the most practical of bikes, it sure ranks high on the coolness scale. Function just has to follow form in this case.
4) Steam Tote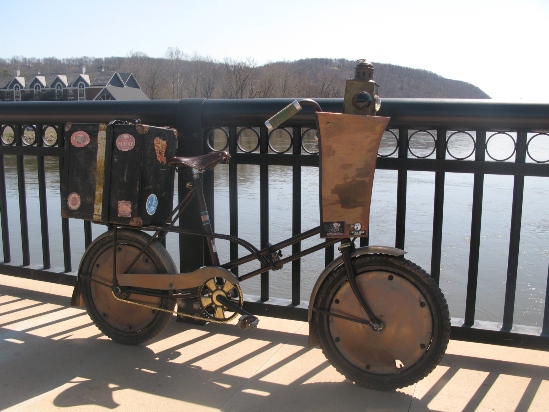 Image: Underground Velo, used with permission
It's hard to believe that this incredible steampunk cycle started out as a regular bike. Found by the side of the road some 15 years ago, it first served in its original shape for about 10 years before it got its steampunk makeover.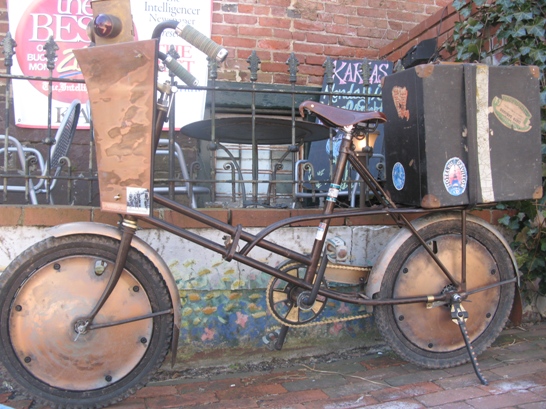 Image: Underground Velo, used with permission
The attention to detail is remarkable: The bike has hand-painted disc wheels, fenders and chain guard while the fairing was once a fancy garbage can. Aerodynamic from the outside and with stickers from all over the world on the inside, the fairing proves that this bike has traveled in space and time.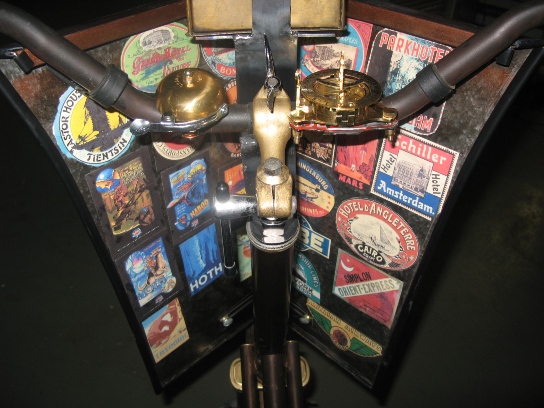 Image: Underground Velo, used with permission
The handlebar with its golden-colored bell, sextant and beautiful oversized lamp provides something of a distraction for the cyclist. Ridden in period attire, we're sure this amazing bike would turn many a head.
3) Horned Cycle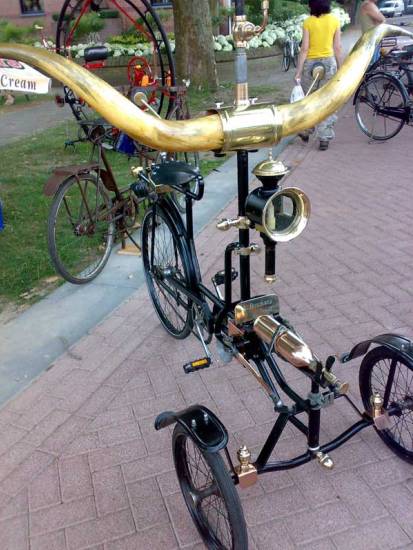 Image: Tom Stezi, used with permission
This eye-catching steampunk bike is actually another trike, and hard to miss because of the giant horn that serves as a handlebar. We love the black-and-gold color scheme and that the two-wheel axle is in the front rather than in the back. The coachman's lamp adds a nice touch and so does the device below it. Is it a pump or another aether-dispensing apparatus? We're not sure, but it sure is one cool trike!
2) Brass Lion
The "Brass Lion" is a steampunk tadpole trike created by Eric and Allen aka
Steuben's Wheelmen
. As the name suggests, there's a lot of brass on this steampunk cycle: not one but two coachman's lamps above the seat, an impressive-looking horn, a lamp, a bell and a small brass lion as a figurehead in the front. Ample gears, springs and wooden mudguards complete the look. Make sure to check out the video to see this awesome bike gliding by.
1) Penny Farthing Times Two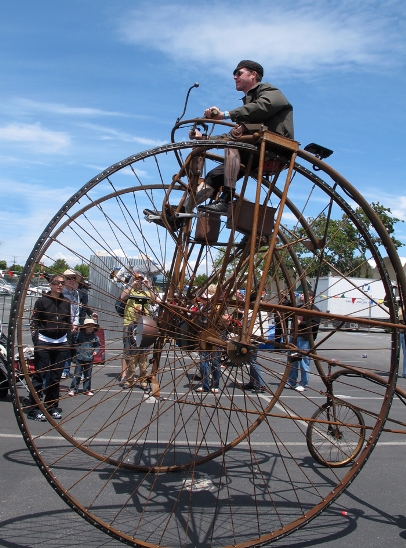 Image: Shelly Schroeder, used with permission
In a nod to authenticity, we end this post how we started it: with a bike plucked straight out of history. Well, almost. Photographer Shelly Schroeder aka Ridingpretty saw this amazing creation at the Maker Faire. It looks like two high wheelers that were joined for double the fun.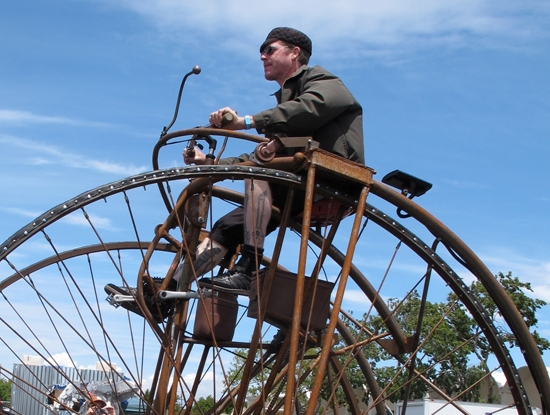 Image: Shelly Schroeder, used with permission
This awesome "double penny" moves via regular cycle pedals and the cyclist sits atop the crowd, no doubt getting quite a good view of the action and attracting many an admiring glance. What's not to love?
Bonus entry: Pedal-Powered Seampunk Velo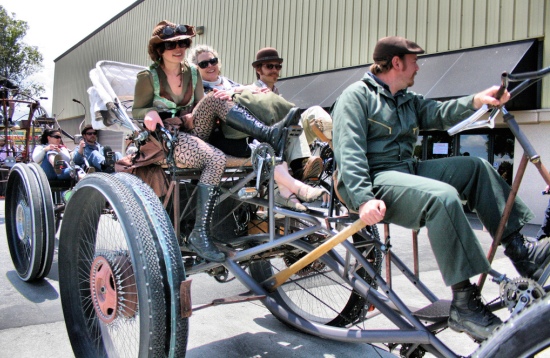 Image: Richard Masoner
Though not a bicycle by any means, this steampunk creation makes the cut as our bonus entry because it is fully pedal powered! Spotted at the Maker Faire 2010, this urban velo turned many a head. Seating three comfortably plus a "driver," passengers can't get too cozy in the backseat, as they're supposed to chip in and pedal. With a horse, er, human power of four, we're sure it can gather quite some steam. Thus ends our tour de steam, leaving only one thing to do: rummage through the garage for that old bike and steam-pimping it with anything suitable found in the house. Sounds like a fun summer project!
Additional source: 1