Image: Matt All images used with permission of the designers/photographers.
The age of steam power was a dangerous one, with the newly harnessed fury of industry taking its toll on bodies and minds. In the high-tech world of steampunk the risks that can be imagined are all the greater. And what's more, the eyes, at least, can be protected in style while tinkering away in the labs.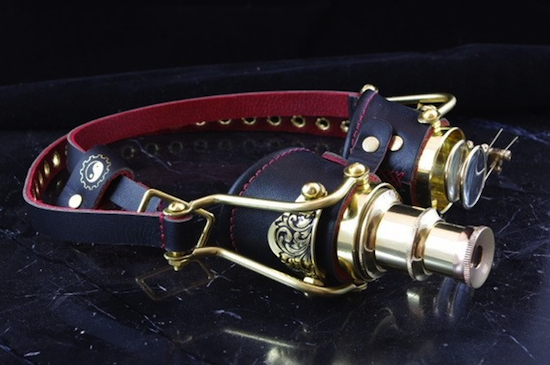 Image: Steampunkdesign
In fact, for the fashionable modern-day steampunk, all it takes is an old pair of safety or swimming goggles to get started; and, if they're to hand, a few leather pieces, lenses from an optometrist friend, rivets and some nuts and bolts. Here are some stylish examples of steampunk goggles and glasses to provide some awesome inspiration.
13) Evil scientist goggles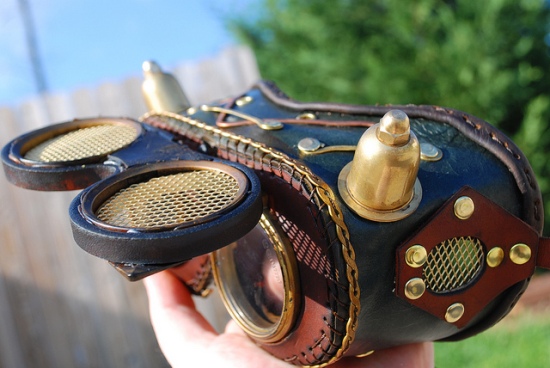 Image: JP & Anelle Ammons
Made by JP Ammons, these goggles are specifically designed for wearers with glasses. Yes, that's right: You wear your glasses, and then these goggles on top of them. JP claims they are surprisingly comfortable and geared for both men and women. They are lightweight, and instead of leaving steampunk gears directly in your field of vision, there's only clear glass.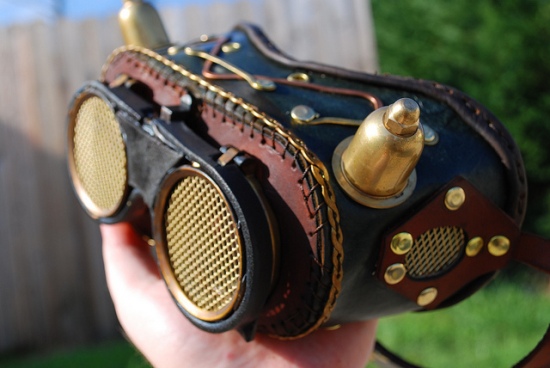 Image: JP & Anelle Ammons
Then, if you don't mind obstructing your vision a little, there are also flip-up mesh lenses to protect your eyes. As a special feature, they are reversible — gold or silver to match your outfit. Apparently, switching the lenses is easy. JP says, "[It] is a simple process of turning a retaining ring, popping out the mesh disk and flipping it around and replacing the retaining ring." Cool stuff!
12) "Timelord"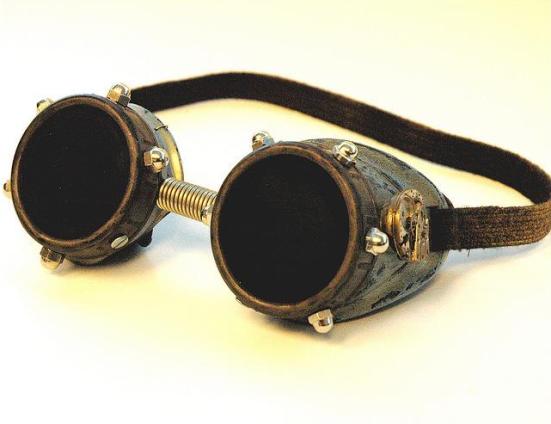 Image: Allen Boudreaux
This pair, called "Timelord" by creator Allen Boudreaux, took about a week to make. The base seems to be an old pair of black swimming goggles, carefully given a worn look. Six nuts and bolts around each lens plus gears on the side complete the steampunk aesthetic.
11) Aviator goggles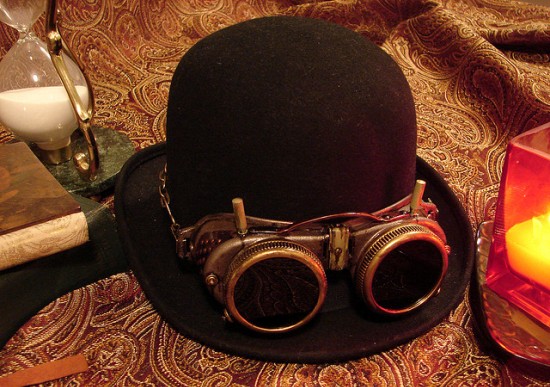 Image: Doctor Grymm at Dr. Grymm Laboratories
This old pair of welding goggles now look more like a pair of aviator's glasses or, teamed with a hat below, make the perfect accessory for any steampunk party. The repurposed brown leather and brass parts combine perfectly for this unique piece.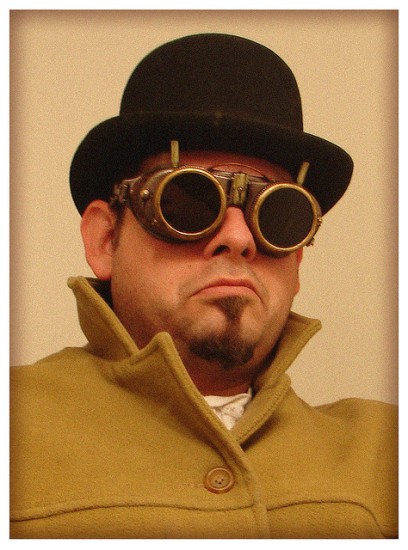 Image: Doctor Grymm at Dr. Grymm Laboratories
If you're wondering about the goggles' weathered look, that was achieved by creator Doctor Grymm's careful use of brass patina and grease. It is this attention to detail that makes these goggles so special.
10) Nautical goggles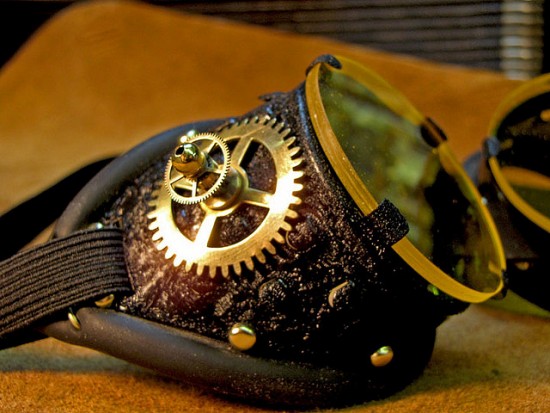 Image: Kimric
These goggles were made by steampunk artist Kimric Smythe, aka Boilermonster, from an old pair of German safety goggles. The brass and steel cog wheels, rivets and lens frames give this pair a positively nautical look, not to mention the weathered, crusty overall impression. What's that on the frames? Sand from the bottom of the sea?
9) Nautilus goggles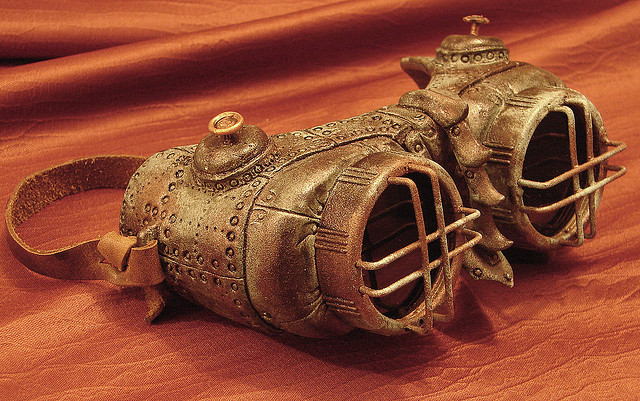 Image: Doctor Grymm at Dr. Grymm Laboratories
Another pair of deep sea specs, and another amazing creation of Doctor Grymm, the appropriately named "Nautilus Goggles" take their inspiration from Jules Verne's
20,000 Leagues Under the Sea
, and are just the right thing for steam-powered aquanauts heading into the ocean's depths.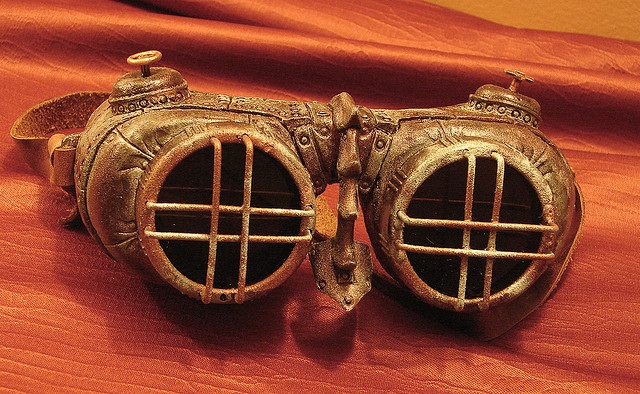 Image: Doctor Grymm at Dr. Grymm Laboratories
Incredibly, the stunning pieces, reminiscent of the metalwork of a deep sea diving suit, are completely hand-sculpted. Are they more
BioShock
or Captain Nemo, we wonder? They're definitely sinister, anyway!
8) Dr. Evil's goggles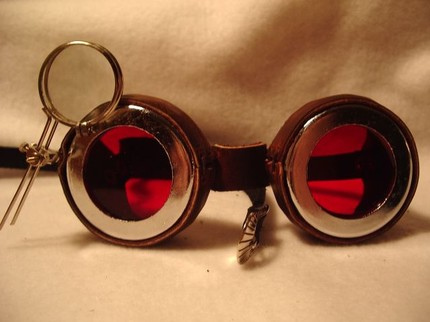 Image: Davey Stevenson
On the subject of evil eyes, these glasses, with their red lenses and fold-down magnification, certainly make for an intriguing look. The metal and leather frame is deliberately kept as small as possible to make for a minimalist pair of glasses — speaking strictly in steampunk terms, of course.
7) Fly goggles
Image: JP & Anelle Ammons
Is anyone else reminded of a fly's compound eyes when looking at these goggles? Using his trademark mesh lenses, JP Ammons outfitted this model with many rivets, buckles and straps. The lens frame is a cool golden color that contrasts nicely with the black leather background and brown leather strap.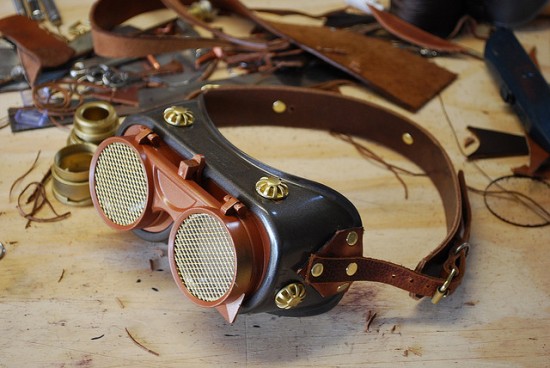 Image: JP & Anelle Ammons
Above is a slightly smaller version with more plastic parts, intended for the evil scientist's lab intern.
6) Victorian goggles
Image: Lady Wolf Star
This pair of goggles is perfect for the Victorian gentleman. Dark leather and brass will suit any outfit, while keeping the wearer's eyes and his potentially evil intentions hidden. The two magnifying lenses positioned above the right eye are very cool!
5) Mini goggles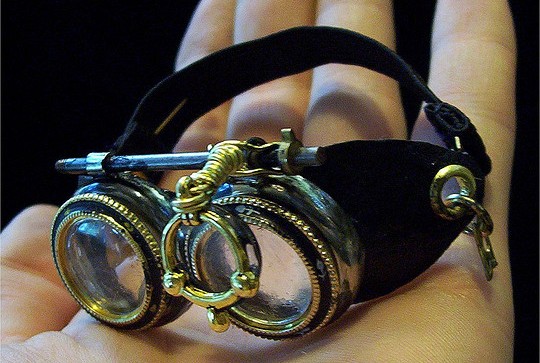 Image: Molly M. Friedrich
In case you ever want to steampunk a doll or a small child — and you surely might want to — then you have to get a hold of these adorable black-and-gold mini goggles made by Molly M. Friedrich, aka Porkshanks. The creator clearly doesn't want anyone to miss out, as these glasses show some amazing attention to detail, with even a miniature left-eye magnifier fitted in.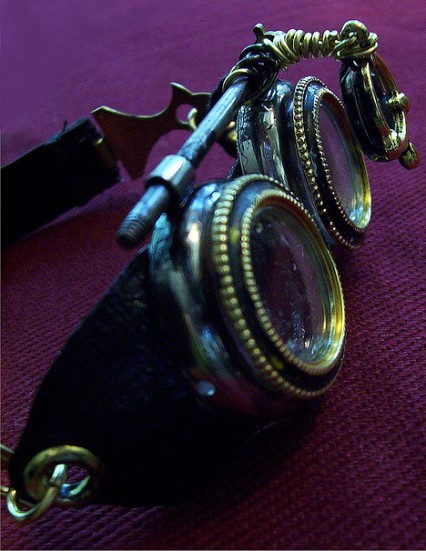 Image: Molly M. Friedrich
Cool use of an old piece of elastic for a strap!
4) Explorer scout recon goggles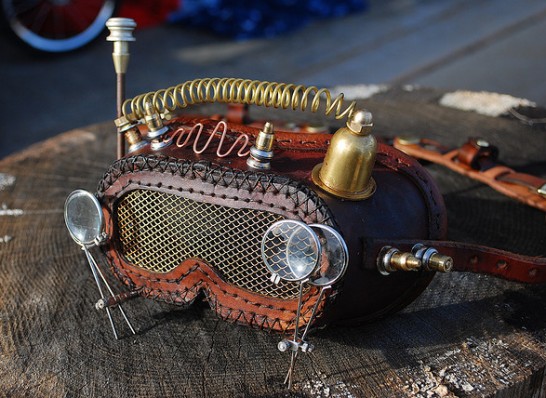 Image: JP & Anelle Ammons
Made to resemble a diving mask, these goggles are handmade and created without glue or any plastic or rubber parts. The usual single, tempered-glass plate for the eyes has been replaced with a yarn mesh. As no steampunk diver or explorer would want to make do without magnifiers, four standard jeweler's lenses have been attached as eye loupes. The leather head strap comes with two impressive steampunk snap extenders on the sides and two buckles for size adjustment. And check out the coil on top!
3) Motorcycle dearies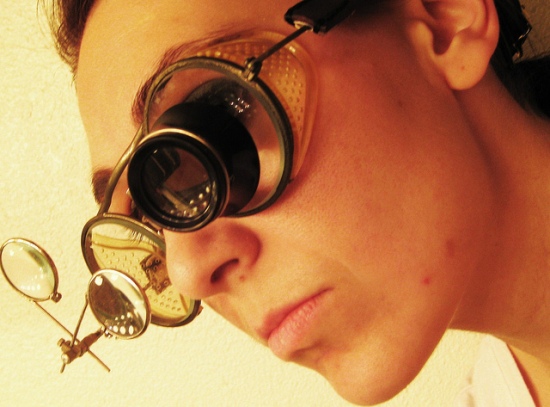 Image: Elle Paisley Designs at Etsy
These custom goggles were designed by Burlington, VT-based steampunk artist Elle Paisley from a pair of vintage Wilson driving glasses. Two optical loupes fold down over the right eye. As a special feature, a jeweler's magnifier is attached to the left lens. The broad strap was custom-designed by leather artist Travis Hubbird.
2) Industrial sewing goggles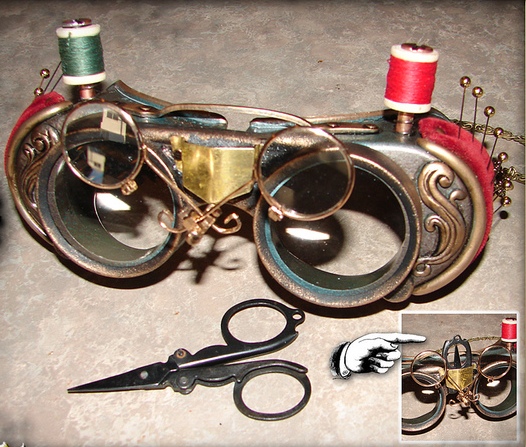 Image: Doctor Grymm at Dr. Grymm Laboratories
Like the aviator goggles (see entry 11), these cool steampunk glasses were also created by Middletown, CT-based steampunk designer Joey Marsocci, aka Doctor Grymm. He has designed steampunk artifacts for theme parks, private clients and for use as film props for almost two decades now. This pair of glasses is called "The Whole Nine Yards," and though it might remind you of a pair of binoculars, with a set of magnifying lenses attached, it was made for Joey's wife, who sews. He explains the idea behind the goggles: "Designed with the seamstress in mind, these goggles accommodate interchangeable thread bobbins, a pin cushion, magnifiers and a pair of folding scissors." We especially like the pin cushions with pins sticking out, on the side (safe ends out!). Full marks on this creation for both function and form! The glasses were amongst a host of exhibits featured at the Steampunk Exhibition, at the Oxford University History of Science Museum in 2010.
1) Telescope goggles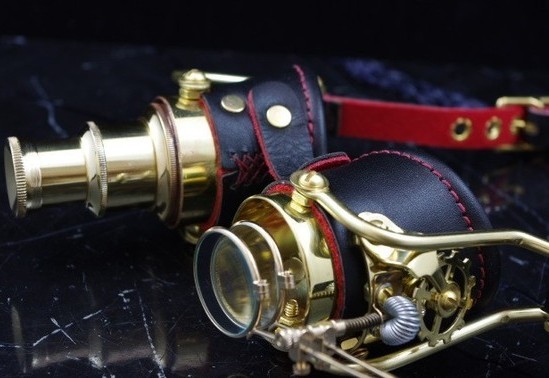 Image: Steampunkdesign
These one-of-a-kind, custom handmade steampunk glasses come with a built-in telescope. How cool is that? The polished brass accentuates this special feature as well as the two beautiful flip-down magnifiers for the left eye. Even when the telescope is retracted, the glasses look stunning.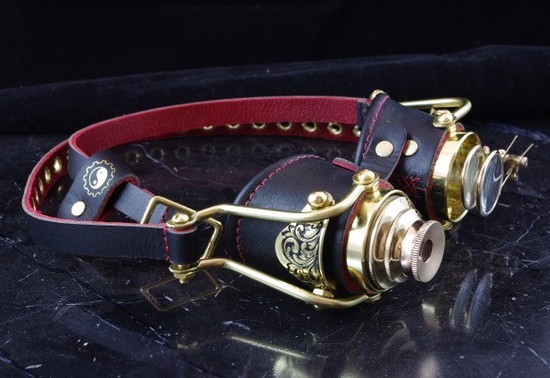 Image: Steampunkdesign
This brings us to the end of our list, but if you want to see more, follow the links to the designers' websites and feeds to see many other awesome creations. Or you could get to work yourself! You know what you need now: some old leather pieces, or belts; an old pair of goggles; and any kinds of lenses, rivets or nuts and bolts; or whatever machine parts strike your fancy! Happy steampunking!