A curious phenomenon has been popping up all over the world. Instead of leveling pre-existing structures to make way for their new yet admittedly costly replacements, we have placed an increasingly greater emphasis on repurposing what has already been created. It makes perfect eco-sense in light of all the materials and money saved, but it's not exactly a piece of cake. It's actually kind of a pain in the neck.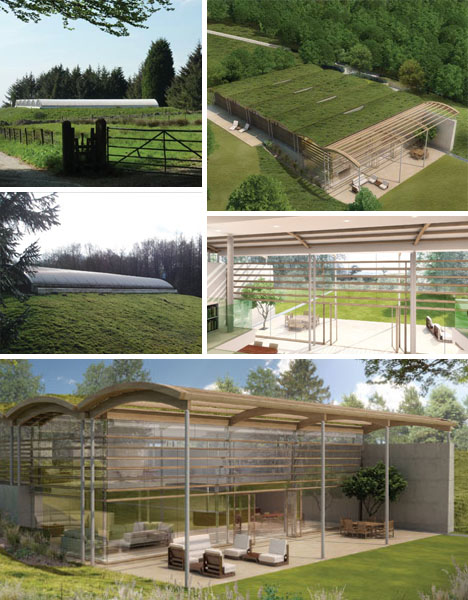 A place like Las Vegas, which is in a perpetual state of flux, could certainly be crafted from the unwanted relics of years past, but
building implosion
is generally relied on because it's quick, easy and it facilitates the construction of no-brainer, cookie-cutter buildings. To adapt an architectural vision to an already standing structure isn't the first thing that developers volunteer to do because it requires far more planning and carefully executed strategy due to the always unique conditions that must be accounted for. And yet it is
done
, in many cases, quite smashingly, I might add. London's famed Tate Modern art museum — once home to the Bankside Power Station — was officially converted into its present culturally relevant incarnation by the architectural firm Herzog & de Meuron more than two decades ago. Similarly, Paris' equally renowned Musée d'Orsay continues to make the most of what was formerly the site of the Gare d'Orsay railway station. Think about the crazy challenges that an archaic,
crumbling Scottish homestead
might present to an architectural firm — stone façade cracked in half like an egg; walls partially collapsed; piles of rocks obscuring the interior. WT Architecture actually faced this real-world scenario and responded with the successful construction of a modern yet historically retro update, dubbed The White House, which anchored new building elements to the most structurally sound pre-existing features of its antiquated rock dwelling. Amazingly, the amalgam of old and new bestowed the present incarnation with a one-of-a-kind, culturally relevant elegance. Repurposing no-longer-used, 40-year-old water-holding tanks? Bring it on! At least that's what British design firm Ian Simpson Architects said when contemplating what could be done with two long, dome-shaped concrete containers located in a scenic part of North Lancashire, each once containing 1 million gallons of water each. Upon entering a competition with other eager contenders, the proposal — to transform the Barnacre Equilibrium Tanks into a modern six-bedroom home and a smaller two-bedroom vacation getaway — got the green light. Now, concrete water tanks aren't particularly lovely to behold, so it would seem that the firm has their work cut out for them. They're hardly daunted, though. Among the various design improvements they've suggested for the concrete tanks, the following points are of particular note:
Sustainability is central to the water tanks' new incarnation, and while concrete is in and of itself one of the most eco-unfriendly materials out there in terms of pollution and carbon output, after determining through special testing that the containers were deemed to be in excellent condition, Ian Simpson Architects leapt at the chance to keep the structures as is and instead make strategic updates.
Alternative, low-carbon energy systems for the future water-tank dwellings will include solar panels, ground-source heat pumps, comprehensive thermal insulation and plenty of natural light courtesy of skylights.
The exterior of both concrete domes will be seeded with indigenous botanicals in order to naturally camouflage their less than supermodel good looks. More importantly, the sedum and grass will also insulate the structures, provide natural cooling benefits in the summer and offer a source of food for wildlife species.
Judging from the architectural designs depicted in the photos above, Ian Simpson Architects is poised to pull off a seriously dazzling eco-makeover for structures that likely would have just been jackhammered into oblivion. They firm has clearly addressed the most glaring concern — what to do with all of that ugly concrete — while also embracing the quirky design features within (which will ultimately lend great appeal to the overall interior architectural vision). Plus, let's be honest. Who wouldn't want to tell their friends that they've just signed the final closing documents on their new sprawling eco-water-tank mansion nestled smack dab in the middle of merry ol' England's rolling hills and dales?