Thank goodness for washing machines,
am I right
? Their eternally time-saving convenience comes into crystal clear focus when you take the time to chat with a homemaker from another era, which in my case happened when I learned precisely what my grandmother did to clean the never-ending parade of dirty duds produced by each of her six household members. Every piece of clothing was laid across an archaic, ridged device called a washboard and vigorously hand scrubbed until spots and stains were sent the way of Lady Macbeth (except that wishful thinking and murderous guilt had nothing to do with it). Can you imagine hand agitating the fibers of an average of 180 pieces of clothing each week? Smaller items like socks presented even greater scrubbing challenges since they didn't stay put as easily as shirts and pants, but somehow, my grandmother managed to make it all work, proudly proclaiming that her washboard-cleansed wardrobe staples could be easily mistaken for machine-washed versions any old day.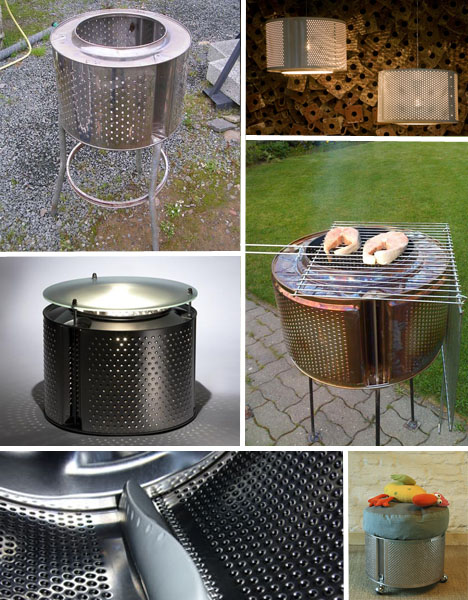 Once my grandfather finally gifted her with a newfangled upright washing machine, she confessed that she doubted its ability to do nearly as good a job as her two hands could, but that soon passed once she recognized precisely how effective it was at liberating her schedule. She became enamored with a crazy thing called free time and understandably grew to love her laundering machine so much that she continuously gave it workout after workout throughout the following six years until it finally broke down. Had she any clue that her broken machine could ultimately morph into anything other than a surprisingly convenient pedestal for her resurrected washboard, I'm sure that she'd be all over it, but sometimes old habits end up dying hard. Really hard, in fact. Nevertheless, for those with recycling vision and a DIY fire in their hearts, old washing machines contain one endlessly handy metal staple that can morph into all sorts of décor-y goodness: the inner drum.
Pull it out
and you too can create a wild array of nifty things that would normally cost a pretty penny in the store:
With its fire-resistant metal construction, you can easily pour charcoal briquettes into your old washing machine drum, lay a cooking rack over the opening and enjoy the great pleasure of outdoor cooking with practically none of the fiscal overhead. Your friends and neighbors are going to ooh and ahh over this one.
In this case, the perforated exterior of your washing machine's internal drum offers an attractive, modernized touch to your décor, with the added bonus of freebie storage and the convenience of a gliding base.
Resembling what you might cough up several hundred dollars for at a design center or trendy retailer, you can make your own pendulum lighting fixture that will cast a pleasing glow through those once again handy perforations. Who woulda thunk?
Three quick steps to an industrial-looking table with internal illumination feature? Place your recycled washing machine drum on the floor. Add an internal light within. Crown it all with a mounted tabletop and you're as good as gold!
The beautiful thing about summer nights is that the mercury can still plunge once the sun sets, so enjoy the starry nights without getting goose bumps by building yourself an elevated fire pit! You know you want to!