There are times when having an updated look helps your appearance and your attitude. For me, the warmer it gets outside, the more I want to shop for a new sundress or summer skirt. But my lack of funds, combined with my general feeling of "less is more," leaves me staring into my closet wondering what I can do. I know I have a portion (sadly, a large portion) of clothes I'm holding onto that I don't really wear. I am guilty of saying, "I have nothing to wear" while staring into a closet full of clothes. Yet I'm not the only one with this problem. What if we could turn our old duds into new studs with some DIY tutorials and a little bit of creativity? Well, turns out we can!
New (old) clothes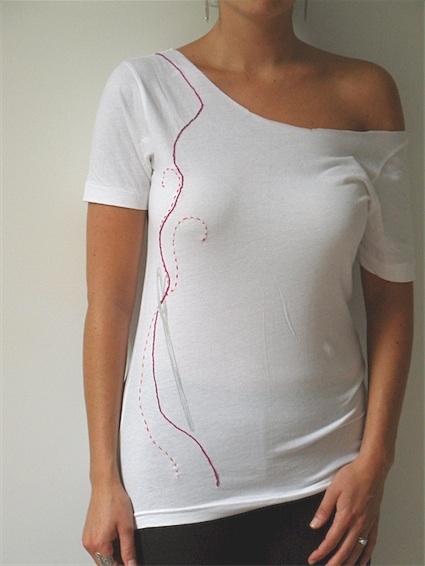 Visit the DIY website ThreadBanger, where
every Friday
eco-minded hosts show us how to upcycle clothing from our closets. Years ago, my aunt and I turned a pair of my old jeans into a miniskirt. ThreadBanger gives us a similar tutorial
here
, including step-by-step instructions with photos. This site has a wide variety of video tutorials instructing viewers on how to turn T-shirts into all sorts of new creations, like totes, T-shirt dresses, vests and much more. Over at
Dornob
, you can learn how to transform an old T-shirt into a summery tube top, a cotton romper, a gather dress and a fabric-rose-embellished top. Men and women can update their summer look with this hip
cut T-shirt upgrade
. This
simple boost
to a plain T-shirt can turn it into a fun, fashionable piece. You can also create a stencil design from heavy paper and transfer the design onto a plain T-shirt.
Voilà
, a new piece of clothing with a one-of-a-kind design. Want to dye an old piece of clothing, but keep the whole process eco-friendly? On Kindred's website,
this great article
tells you how to upcycle clothes with some color from the earth. How exciting to learn that you can make brown from coffee grounds, oak bark and ground acorns; or green from grass, spinach leaves, nettles and rhododendron.
Home goods
Your clothes can also be repurposed into thrifty green home decorations. Old band T-shirts can be revamped to adorn your couch as throw pillow covers. This
DIY video
shows us how to make a T-shirt pillow without sewing. If you're already a beast with a sewing machine, you could turn your old T-shirts into a quilt. One day I will do this, but I'm nowhere near that level of expertise! Even your laptop may need a green makeover. If so, grab an old sweater and
turn it into a sleeve
for your laptop. Moral of the story: Be creative. Take a pair of scissors, hold them firmly in your hands and believe in your ingenuity. You might be surprised what you create without spending a dollar.