1-800-RECYCLING recently interviewed Mario Yanez, creator and administrator of the
Local Food Miami
online network. This social networking site connects those interested in urban agriculture and local and sustainable food in South Florida. Here's what he had to say about sustainable food, organic growth opportunities and spreading the good eating vibes throughout South Florida.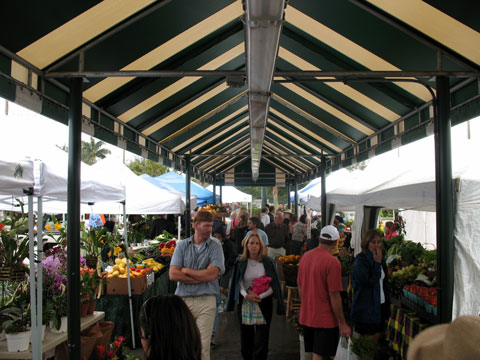 1-800-RECYCLING:
What prompted you to start Local Food Miami? When did you start it?
Yanez:
Local Food Miami's website started in March 2009. Back around that time, Will Allen (an urban agriculture leader) came to town and maybe 150 people showed up. Everyone was pretty much in awe that there were that many people interested in local food. Some of us met after that and kept meeting regularly. The challenge with South Florida is that the community is widespread and people don't know what's going on. Finding out what's happening is a major feat here compared to urban areas that are more centralized. The need [in greater Miami] is so great, because so many communities are classified as Urban Food Deserts and with our year-round growing season, we have no excuse for not being able to feed all our residents with fresh, sustainably grown food.
1-800-RECYCLING:
Was the community reaction to the site what you expected?
Yanez:
Everybody who has come across it is really interested. People are literally hungry for more; everyone's ready for locally grown food. The task will be growing food and marketing it. Everything's still in its infancy, and people need help connecting and pulling their resources together.
1-800-RECYCLING:
Local Food Miami has about 170 members as of this writing. Are there any plans to extend your network?
Yanez:
It's pretty basic — if you look at the
Local Food Cleveland
, there's so much more that can be done, such as sharing produce, community gardens, etc. From there, we've started putting together a network of other people doing urban agriculture. A lot of our work involves trying to organize the local food system. There are farmers markets around town, but it's hard to figure out who's doing what. Farmers markets don't always carry local food, and most of the time it's not organic. There's very little sustainably grown in Miami. A lot is grown throughout the state of Florida, but very little is making its way to urban areas. The infrastructure just isn't there. It's hard to sell my produce anywhere, even at some of the farm stands. We're trying to make cooperatives where we can market it on a bigger scale and pull resources together. Most people growing sustainable and organic produce do so on a small scale — we're trying to get the advantages of the big scale with the sustainability of the small scale.
1-800-RECYCLING:
Do Local Food Miami members ever get together in person to discuss sustainability issues, or just to hang out with like-minded folks?
Yanez:
Meetings and potlucks mostly organized by
Urban Oasis Project
/Growing Green Network have continued since the site started. While the site is great for organizing people, face to face is really most important. Members of Local Food Miami meet at different sites and different gardens and see what other people are doing.
1-800-RECYCLING:
What do you hope to accomplish from your site? Do you have any goals for 2010?
Yanez:
There are lots of goals for this year. One is to get a community food summit launched and get a larger conversation going — work up the site. We want to add a lot more important information on the site, including what's available locally as far as buying produce, restaurants and other institutions that use local produce, etc. We hope to bring a lot more functionality and a lot more dialogue and hopefully have a big summit for local food this March. In the meantime, we're busy going after funding and local opportunities to spread the word of our initiative.
1-800-RECYCLING:
What can people do in urban areas to help the local food dialogue?
Yanez:
Request local, sustainably grown food wherever you buy food.
Join a local CSA or buying co-op that mainly purchases local, sustainably grown food.
Grow food at home, in a community garden, on a roof — any nook and cranny anywhere — and share if you have more than you can eat.
Get active, participate in initiatives such as ours and push local governments to make local food and food security a priority.
Tell everyone you know about the importance and benefits of local, sustainably grown food. It is better for you, your community, your ecosystems and your planet — guaranteed!