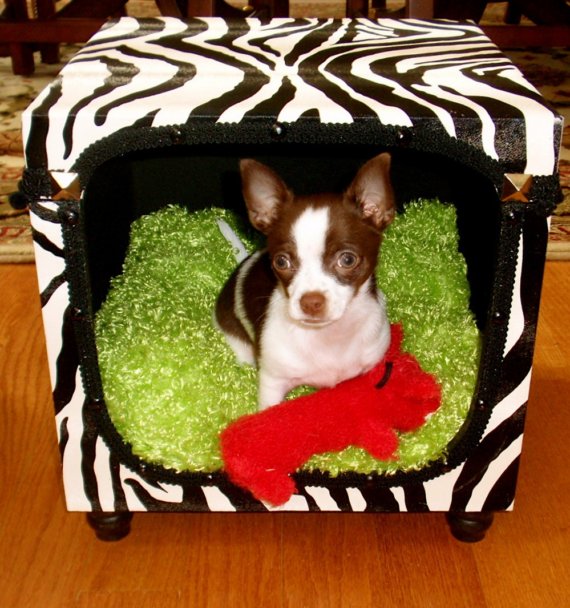 Image: Cool Funky Gifts All images used with permission of the artists.
Admit it: As much as you love your pets, you could make do without some of their accessories — especially the bulkier ones that take up space and look, well, functional at best.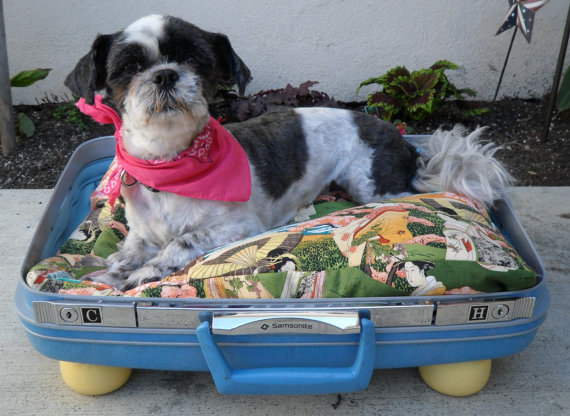 Image: Kaleidoscope of Colors
We've found a few crafty pet owners who had the same problem, so they went to work recycling old suitcases and travel trunks to create unique and stylish beds for their cats and dogs.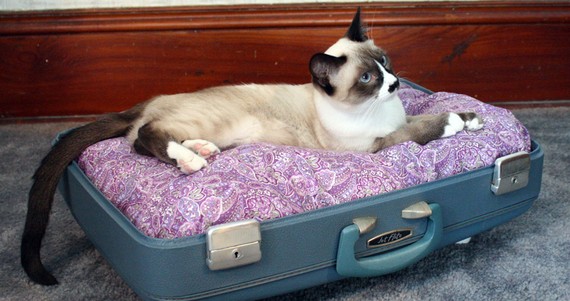 Image: The Pop Stops Here
So let's raise the curtain on these adorable suitcase pet beds — all personally tested and approved by our furry friends!
13. Red cat bed
Image: Love Nostalgic Whimsy
This stylish-looking cat bed (with a truly aww-inspiring model sitting in it) was made from a retro hard-top suitcase.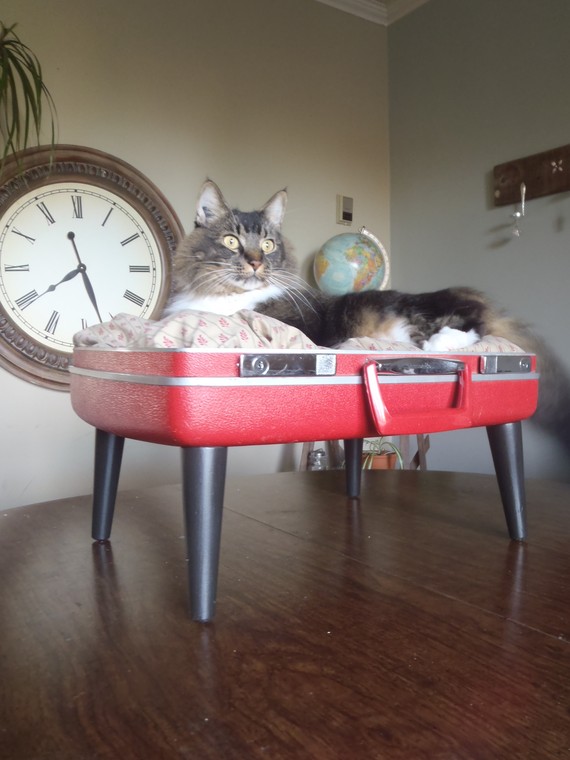 Image: Love Nostalgic Whimsy
Its attractive red color will brighten up any room. Creating a bit of contrast in the color scheme, it rests on wooden 6.25" grey legs, which also add a good deal of height, so your cat can better survey its domain!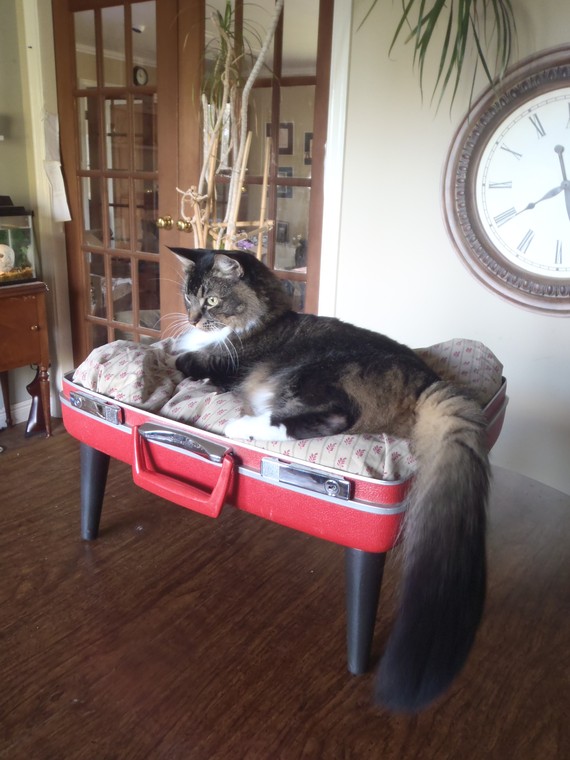 Image: Love Nostalgic Whimsy
The old suitcase pockets inside are
purr
-fect for storing pet accessories like leashes, collars and more. Creator Sherri's cat, Thomas, loved his new bed!
12. Fully reclaimed pet bed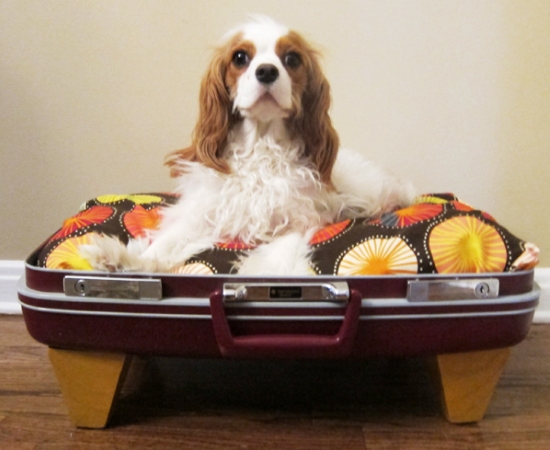 Image: Collard Green
This pet bed comes from online pet shop Collard Green, which is dedicated to using upcycled, recycled, repurposed and reclaimed materials for its leashes and collars. Then there's this bed, of course, which was once a suitcase that was then salvaged. Even the cushion is a reclaimed fabric pillow that has been stuffed with various repurposed materials. And the bed's legs were hand-cut from leftover pieces of wood. What's not to like? The pooch? Don't be mean!
11. Trip simulator bed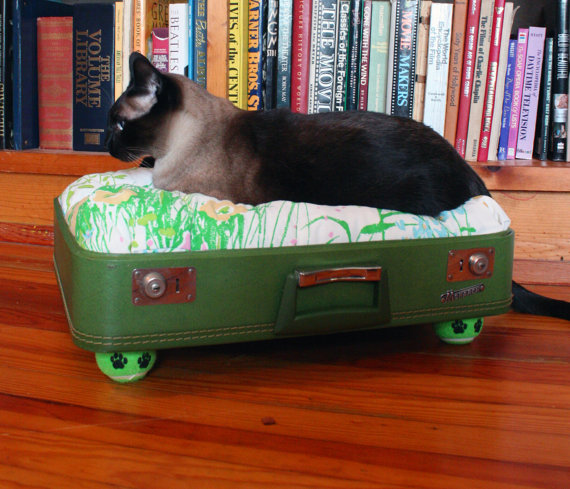 Image: The Pop Stops Here
Pet owners who've tried to pack a suitcase with a nosy cat or dog around will know that it's nearly impossible without having to start over and over again; or having a heart to heart with your pet that ends with one of you going to another room (that means you, Felix!).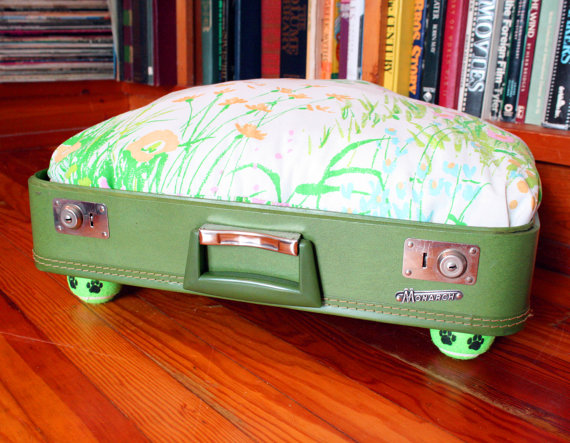 Image: The Pop Stops Here
Now, you can avoid arguments by giving your pet its own little suitcase to "pack" (that means, "got to sleep" to you, Fido!). Here, a vintage, olive green Monarch suitcase has been upcycled and stuffed with a comfy pillow covered in fabric retrieved from vintage curtains. And don't miss the tennis balls that have been repurposed as feet!
10. Retro polka dot pet bed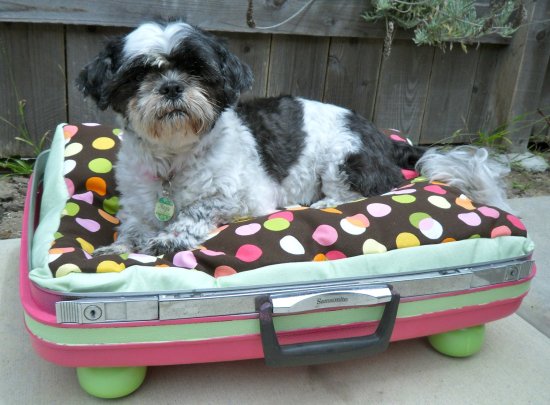 Image: Kaleidoscope of Colors
Mejia the shih tzu's bed was created from an old suitcase originally made by a company that prides itself on the sturdiness of its suitcases, so it's perfect for active little pooches like her. Painted a cheerful pink with a green stripe, the shell is matched by the round, green legs and a polka dog —
er
, polka dot — pillow.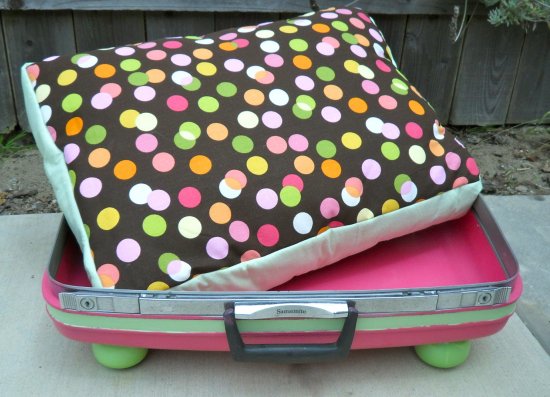 Image: Kaleidoscope of Colors
Creator Amanda Wick-Cunningham had this to say about the benefits of raised pet beds, revealing: "[P]et shelters are using elevated pet beds to help the animals stay warm and keep fleas away." Beautiful, and functional, too!
9. Trunk cat bed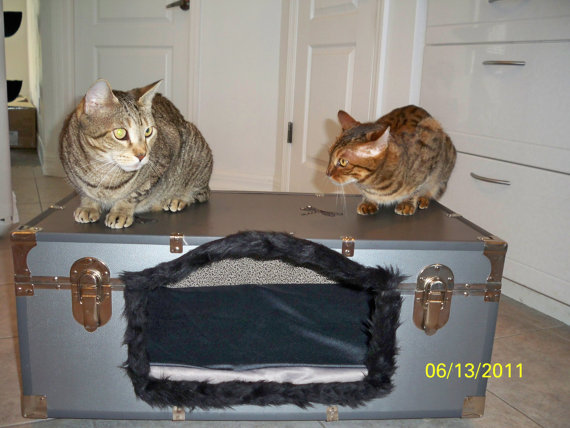 Image: 7 Cats Heaven
If you have no suitcase to spare, check your attic or garage for an old travel trunk. Though perfect for storage, they also make great pet beds. The only thing is, you'll have to cut out an opening for your cat to get in and out — like the cool fur-lined one seen here.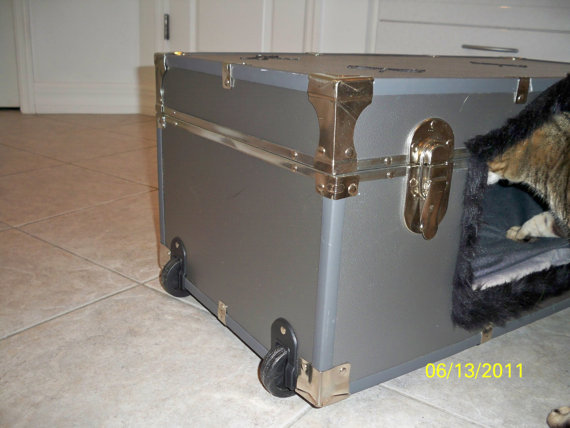 Image: 7 Cats Heaven
This trunk still has its wheels on one end and a handle on the other, making it super easy to move around. The advantage of using a closed trunk is that cats (or small dogs) can play both on top of it and inside. Double the fun! The two tabbies above look like they could do this all day long.
8. Branded pet bed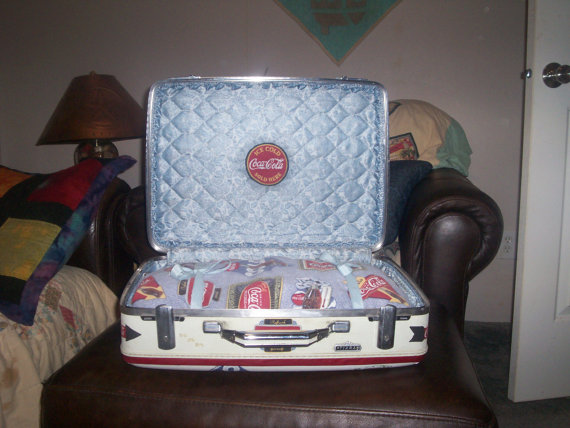 Image: Moses Crafts
For this pet bed, the whole suitcase was used. And the upcycling with this project extends not only to the vintage suitcase itself — whose internal pockets have been preserved for the storage of treats and such — but to all other materials used, as well.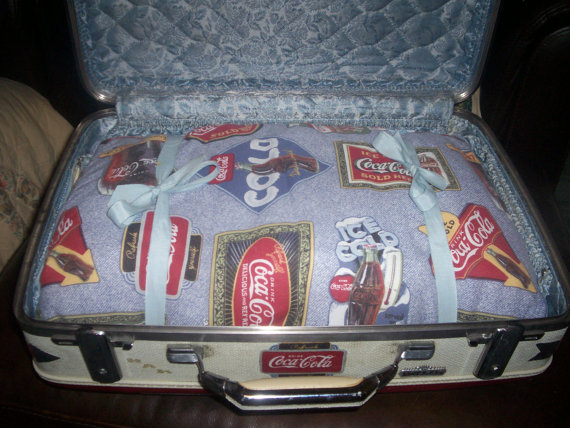 Image: Moses Crafts
As we can see, it's a pet bed tailor-made for one brand-conscious dog. We just hope they don't drink the popular soda drink! Water only for you, Fido!
7. Discreet pet bed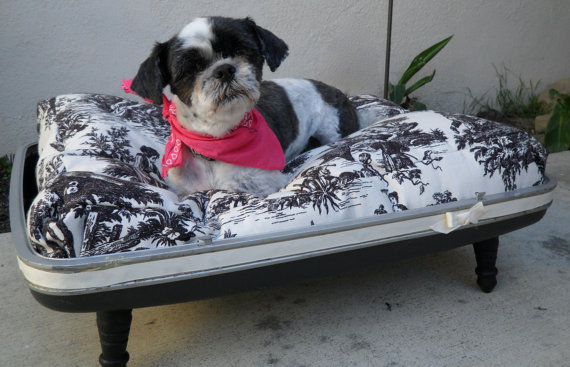 Image: Kaleidoscope of Colors
Pet owners who really like their pet's bed to be as inconspicuous as possible will love this black and cream pet bed. The black vintage suitcase bottom rests on matching black feet that look like they've been repurposed from a piece of furniture. And the cream ribbon trim and removable printed pillow complete the black and white color scheme. Chic.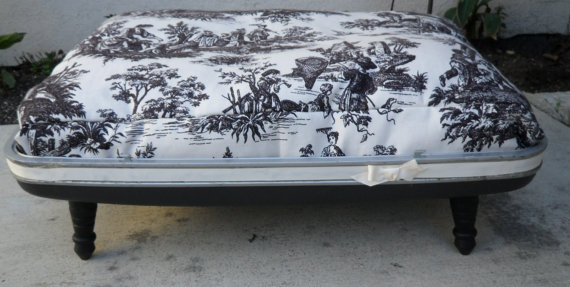 Image: Kaleidoscope of Colors
On its own, the pet bed looks like a low, comfy seat you'd almost be ready to snuggle into after a long day. We're sure little Mejia wouldn't be amused if anyone tried to intrude on her property, though!
6. Zebra trunk pet bed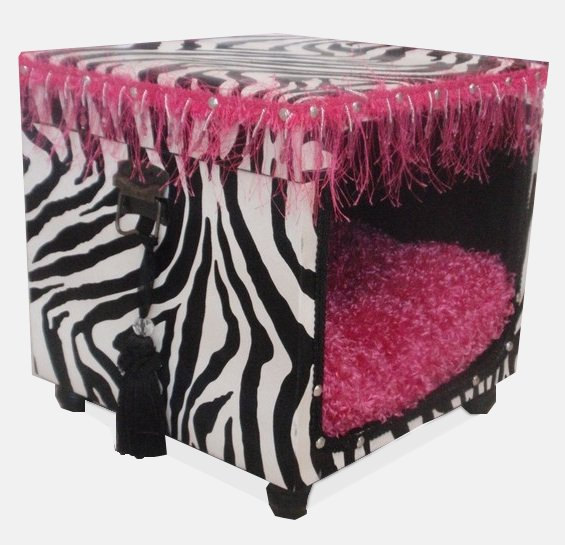 Image: Cool Funky Gifts
This mini pet bed features a design showcasing a funky zebra pattern contrasted with a hot pink pillow and pink accents. Made from an old trunk, it shows that practically any sturdy box can be upcycled into a stylish pet bed.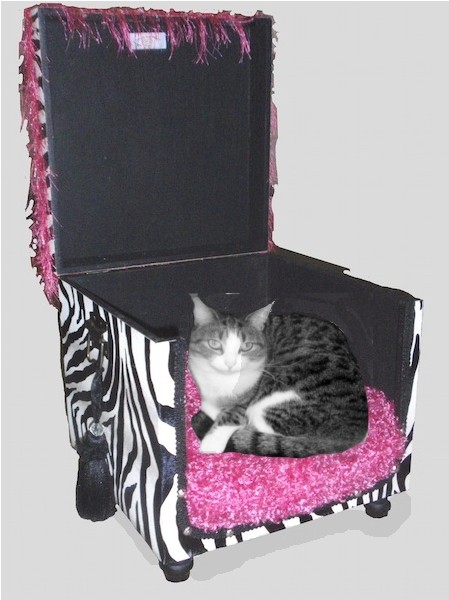 Image: Cool Funky Gifts
The trunk even opens up in case you want to keep an eye on your pet; you never know what they might get up to! This 13.5″ x 13.5″ x 13.75″ pet bed is perfect for any cat or a small dog (like the chihuahua, top image) that's 7 pounds or under. If your furry friend isn't territorial (fat chance, right?) you can even use this pet bed as an ottoman and rest your tired feet on it. Good luck!
5. Vintage pet bed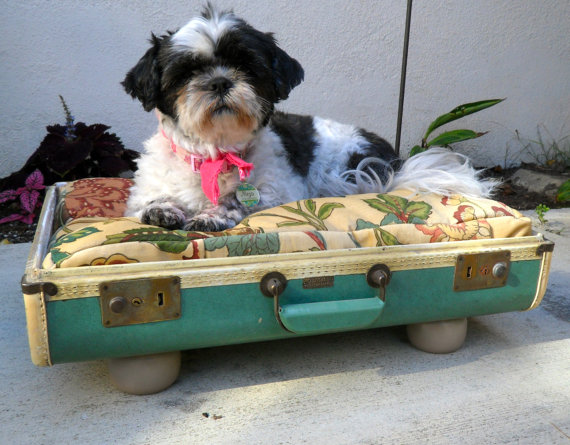 Image: Kaleidoscope of Colors
Lovers of floral patterns and times gone by will adore this vintage pet bed, with its teal color and floral pillow, that's been made out of an old hard-top suitcase.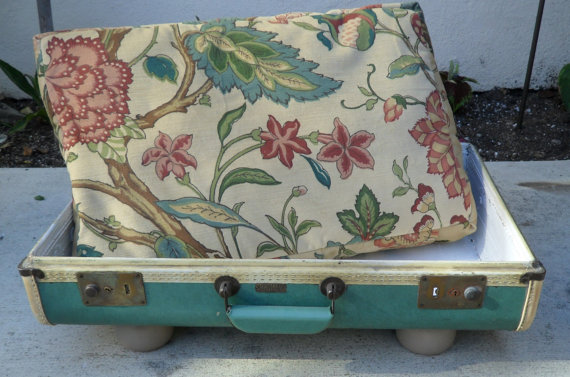 Image: Kaleidoscope of Colors
The suitcase's unusual handle and worn-looking lock fittings make this one a real vintage masterpiece. Whatever happened to lockable suitcases? Seems so much easier than fumbling around with padlocks, whose keys seem to be forever lost.
4. For the pet traveler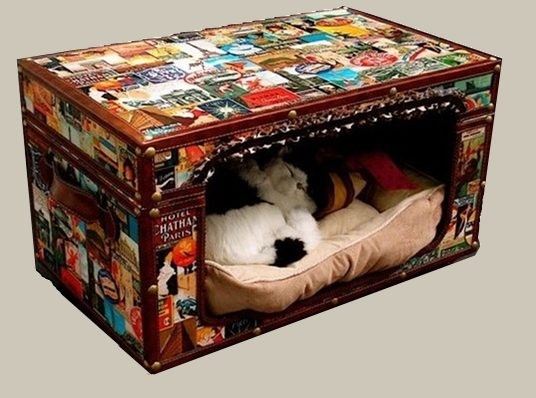 Image: Cool Funky Gifts
This pet bed, made out of an old trunk, is just
purr
-fect for the well-traveled cat. It's decorated with stickers from all over the world, so your pet can proudly show where it's been so far, if only in its dreams…
Image: Cool Funky Gifts
Or, you can just go for vintage travel stickers, as seen here. This pet bed will surely receive many admiring looks and could even be the centerpiece of your living room. We just love how content the snuggled-up cat is in it!
3. Blue cat bed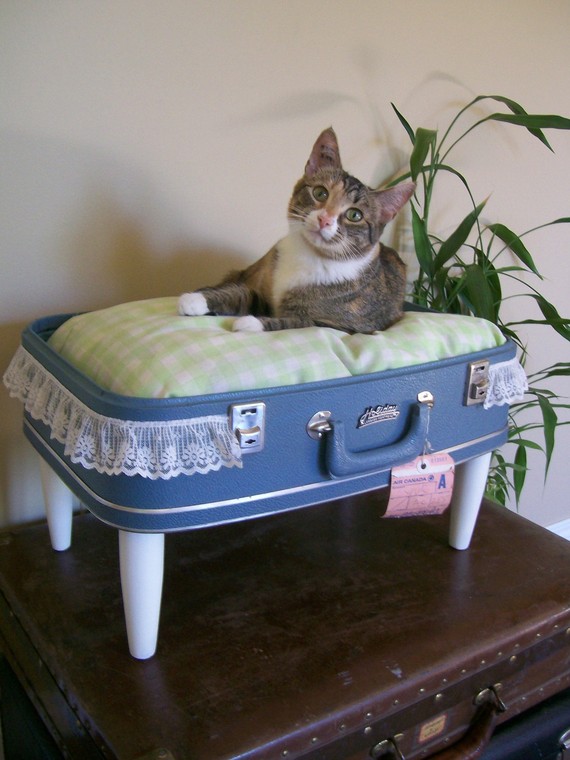 Image: Love Nostalgic Whimsy
This cat bed, also made from a repurposed vintage suitcase, comes complete with an old Air Canada luggage tag. The white lace around the edge of this 19.5″x 12.5″ x 10.5″ suitcase adds a touch of "country" to the pet bed (we're thinking Dolly Parton) and the four sturdy legs are easy to remove should you ever need to store the bed.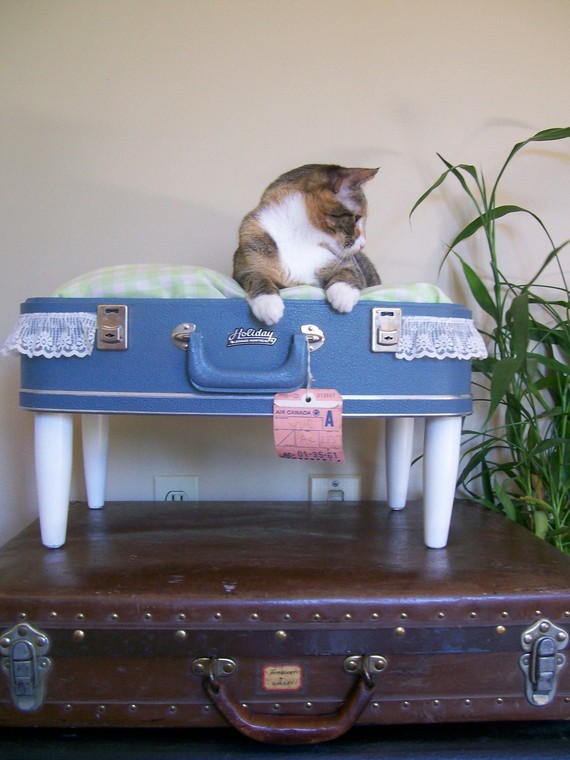 Image: Love Nostalgic Whimsy
Creator Sherri's cat seems to agree that this is indeed a fine bed, perfect for those lazy cat Sundays. The apple green and white checkered pillow does look very comfy. Maybe someone should try this for humans… but what to repurpose?
2. Gray sofa bed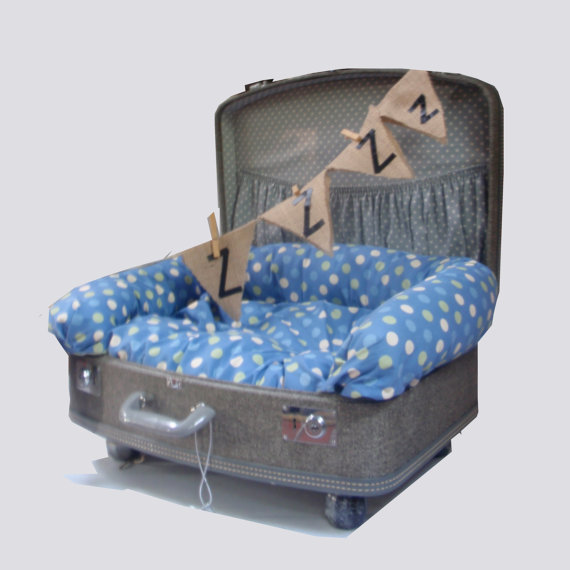 Image: Cool Funky Gifts
We simply love this retro suitcase pet sofa, which comes complete with arm — er, paw — rests. All the pillows can be removed for washing, of course, revealing the new dog-themed bottom and the original white and gray polka dot design.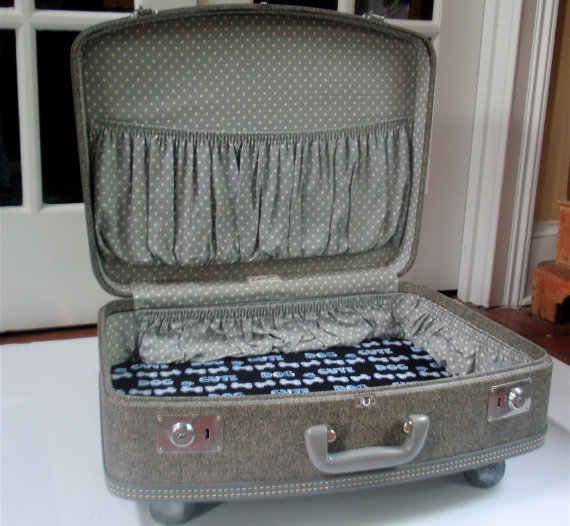 Image: Cool Funky Gifts
As the vintage suitcase is fairly small, measuring only 20″ x 14 " x 8″, it is recommended for small pets only. But we could imagine loads of our furry little friends just waiting for a chance to jump on this comfy bed.
1. Gothic pet bed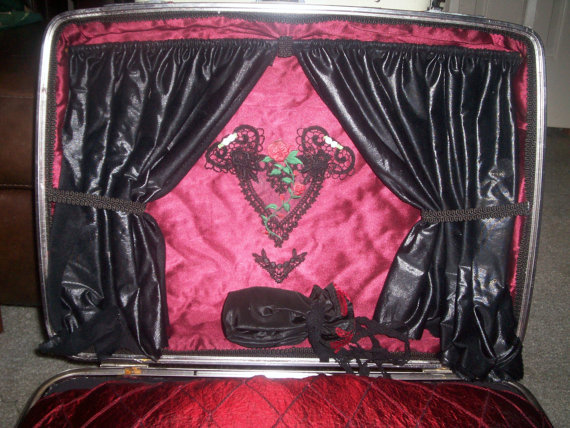 Image: Moses Crafts
If you really want to treat your pet like a star, consider this Gothic pet bed, which comes with a black lace "curtain" for your pet's big performance. And for after the show, there's a small black and burgundy drawstring treat bag. Cute!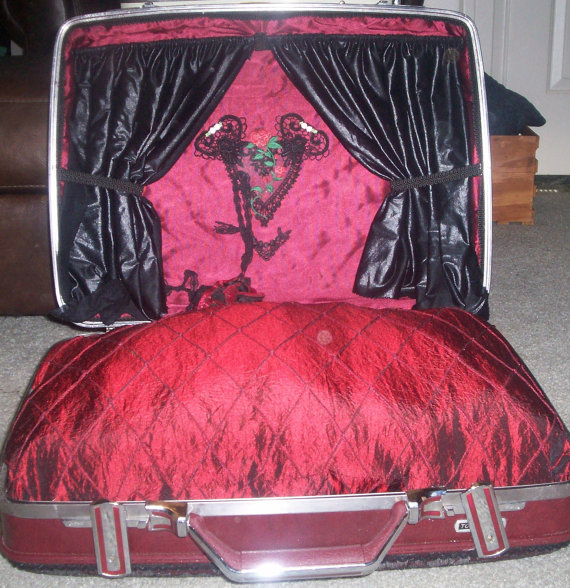 Image: Moses Crafts
According to the bed's description: "[T]he center decoration is made from vintage lace appliqués. The pillow is made from shiny burgundy drapery fabric that features diamond tucks and is filled with poly stuffing."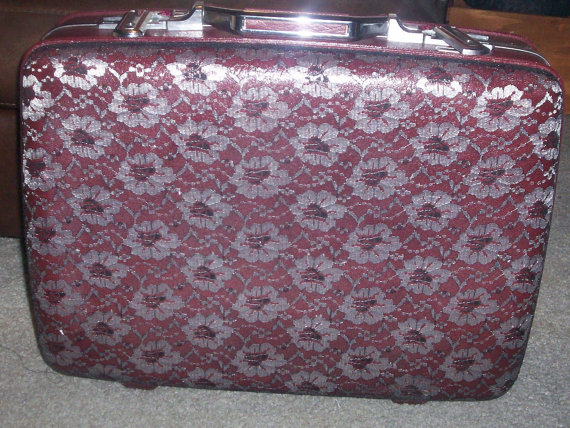 Image: Moses Crafts
And if you ever need to travel with your pet, perfect, you have the bed. Nobody will stop you at the airport because, folded up, it looks just like any other hard-top suitcase! Not that we're advocating pet smuggling, of course!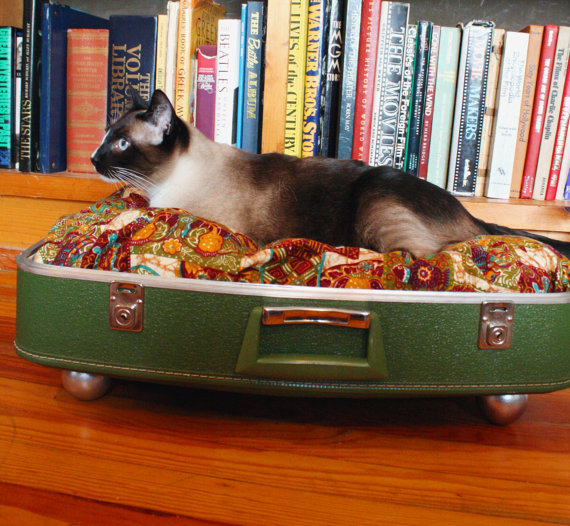 Image: The Pop Stops Here
There are lots more absolutely adorable pet beds out there. So, if you're inspired — and we're sure you will be — scour your place for discarded fabrics, trunks, suitcases and more, and build your own very special bed for your pet. Your cat, dog and Mother Nature will all be glad you did!