Portland is the most recent city to ban plastic bags from many retail stores. On July 28, 2011, the Portland City Council passed a resolution stating that, as of October 15, 2011, large grocery stores and various big-box stores cannot distribute plastic carryout bags to their customers. "We really wanted to try to reach the biggest generators of plastic bags first," says Lisa Libby, Planning and Sustainability Director for Portland Mayor Sam Adams. That's why the city council targeted the stores where people make the most frequent trips. The law is really a first step for the city, Libby says. Grocery stores can still use plastic bags at meat counters, and small retailers are exempt from the law. However, the resolution explicitly states that the council will revisit the law in one year to determine how it is working and what changes (if any) need to be made.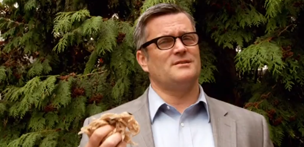 Portland, a city well known for its green focus, has been thinking about a bag ban since 2007. Like many cities, Portland has had problems with plastic bags. They were ending up at the
materials recovery facility
, where they damaged machinery and caused expensive repairs. In addition, loose bags were creating a litter problem and choking local watersheds. "We pride ourselves on having a fantastic natural environment here, even though we're in an urban setting," Libby says. Rogue plastic bags were a mark on the Rose City's image. The city was finally ready to move ahead with a plastic bag ban in 2010, but state legislators convinced Portland officials to wait. Several lawmakers were planning to introduce legislation banning plastic bags during the next session. Everyone agreed that a statewide solution would be better than individual cities passing ordinances, so Portland slowed its efforts.
Senate Bill 536
would have banned single-use plastic bags "except in certain cases," such as seafood retailers that pack fish on ice. The bill was approved by the Senate, but ultimately did not pass in the House. With the failure of SB 536, Portland quickly went back to work finding its own solution. Libby is still optimistic that a statewide law on plastic bags will pass at some point. "We hope that resolutions from jurisdictions will move us toward a more comprehensive state policy," she says. To help local residents prepare for the bag ban, city officials have been handing out reusable shopping bags for years. "The basic intent of the bag ban is to drive folks toward reusable bag use," Libby points out. About a year ago, staff noticed that most people were refusing bags because they already had so many at home. Hitting that saturation point can only mean good things for their campaign. Still, the city is still distributing plenty of reusable shopping bags to elderly and low-income people, who are less likely to have them. It is also doing what it can to help people remember to bring their bags with them when they go shopping. The mantra is slowly shifting from "ban the bag" to "bring the bag," Libby says. People were skeptical of the plastic bag ban when the city first started talking about it, but lately the positive feedback has overwhelmed the naysayers. "People expect Portland and Oregon to be leaders on issues like this," Libby says. "This will be one of those things we look back on and think, 'We can really make a difference.'"