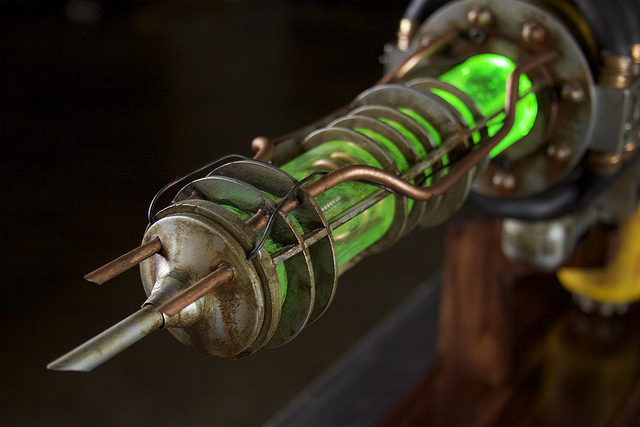 Image: CitizenSnips
For those whose ears perk up like alien antennae at words such as "steampunk" and "sci-fi," no retro-futuristic accessory of space war is as exciting as that staple of every cultural staple from '50s B-movies to today's video games: the raygun.

Image: CitizenSnips
These fictional energy weapons have been the stuff of kids' imaginations for decades, but they say boys never grow up, and on this evidence the maxim is true. Unbeknown to many, there exists a subculture of replica raygun making, whose heroes — or "hack modders" — are busy building their own pistols and rifles of the future out of practically anything they can find. Geeky? Unashamedly. But it's good news from a recycling perspective — and even better news if you still quietly make the sound effects when nobody's looking.
7. Pneumatic Aether Disperser Raygun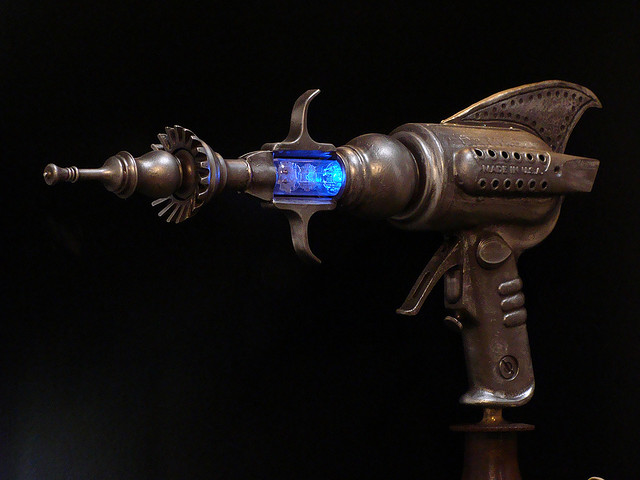 Image: Tinkerbots
Named the Pneumatic Aether Disperser Raygun, this wonderfully lit-up, if potentially deadly, little contraption is the handiwork of the gloriously talented but ever-graceful Dan Jones, a leading light in the subculture of replica rayguns — particularly those of a steampunk bent. Dan heads up Tinkertron Weapons Industries, and this particular product from his armory was, he claims, developed "in the early annums of the previous century," and is "the last known fully functioning weapon of its kind."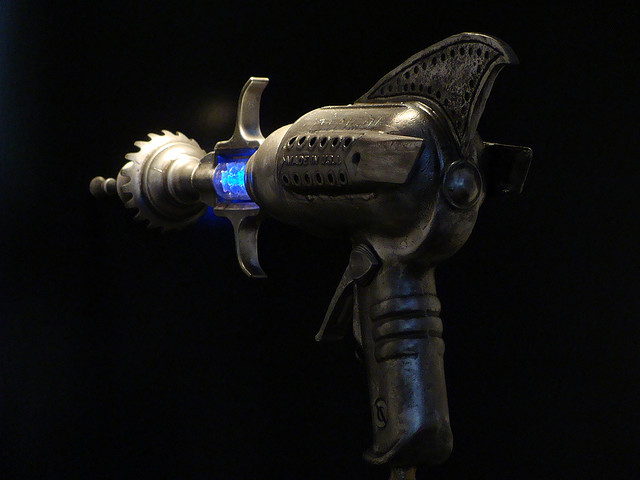 Image: Tinkerbots
"The Aether Disperser has only recently been deemed safe (enough) to be displayed in public," Dan continues; but believe not everything he says — except when he drops the mask of weapons specialist wizard and offers a window into the inventive recycling that goes into making each assemblage sculpture. Does the circular piece in the front look familiar? It's from an old meat grinder; the part perforated with holes, meanwhile, is a knife cutter. Simply genius.
6. Atomic Disruptor Raygun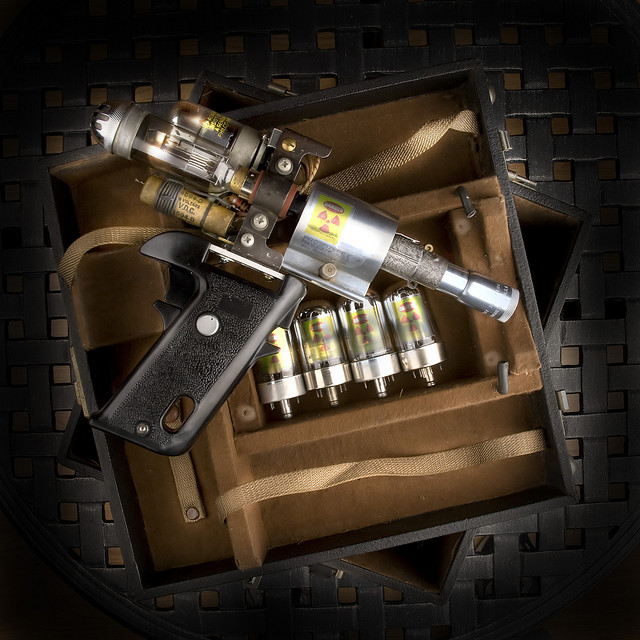 Image: Cohophoto
This neat little pistol jumps straight out of the pages of futuristic fiction — and, if you were a collector of such items, ideally straight into your hand! Named the Atomic Disruptor by its creator, Cohophoto, this "home-brew raygun" is a wonder of the sci-fi imagination that wouldn't look out of place on the set of
Star Wars
, but also a wonder of recycling, made as it is entirely out of disused camera and radio parts.
Image: Cohophoto
The pistol grip is actually the handle of a super-8 movie camera, an 8-mm projector lens forms the barrel, while power tubes and wires from a vintage radio make up the other bits and pieces of this gun. "Does it work?" asks Hack n Mod. "Nah, but that's not the point. Steampunk is all about obtaining that perfect vintage look to show off and this gun does provide one heck of a visual blast." Couldn't agree more. You can see more shots and construction details
here
.
5. Extruder Raygun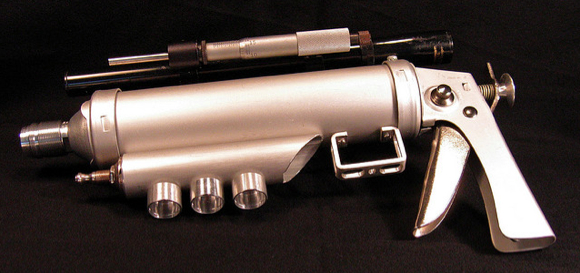 Image: Nathan Luoto
Simply dubbed "Raygun," this nice piece of work from Nathan Luoto is another would-be weapon of the future built out of found items. Already worked out what it was in its previous life? What if we were to say "cookie extruder" gun? The handle on the back is the giveaway — although it's led some into thinking it was formerly a caulking gun. As for the scope — perfect for targeting those pesky aliens — well, that's real, folks. This replica's creator claims to have been inspired by the rayguns of Paul Loughridge, himself a luminary of the subculture.
4. Retromancer Raygun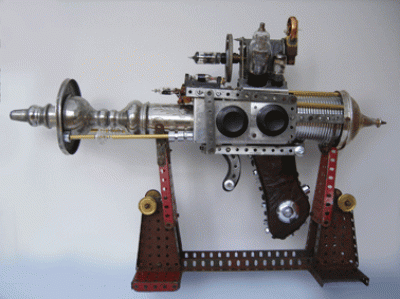 Image: Sproutlaw
For the cover of his 2009 novel,
Retromancer
, esteemed writer of all things sci-fi and fantasy Robert Rankin created this cool-looking raygun, images of which were posted on his Fanclubs forum. If you've read this far you're probably in agreement that half-decent replica rayguns of any description are just about the most awesome collectibles the geeky man on the street could indulge in, but it's comforting to know that this hobby is not beneath bestselling authors either — far from it.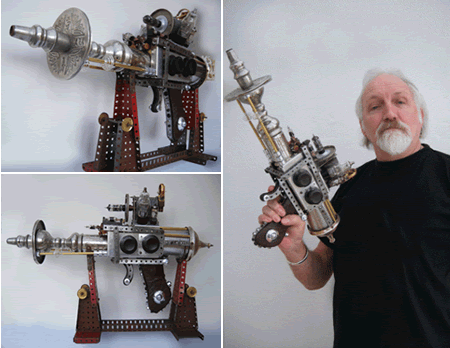 Image Sproutlaw via Greenlaunches
The disked muzzle of this supremely steampunk piece of notional weaponry used to be half a hookah pipe, while a load of old radio parts and half of a toy box full of Meccano make up the rest. Does the Meccano spoil the gun's overall effect? You decide, but go easy on Rankin, a novelist who also creates illustrations for his books as well as many of the sculptures for the covers.
Retromancer
's is a world where the Nazis won World War II by nuking America and only time-traveling hijinks can put things right. A raygun would be just the thing to arm yourself with if embarking on such escapades.
3. Steampunk Raygun Model 81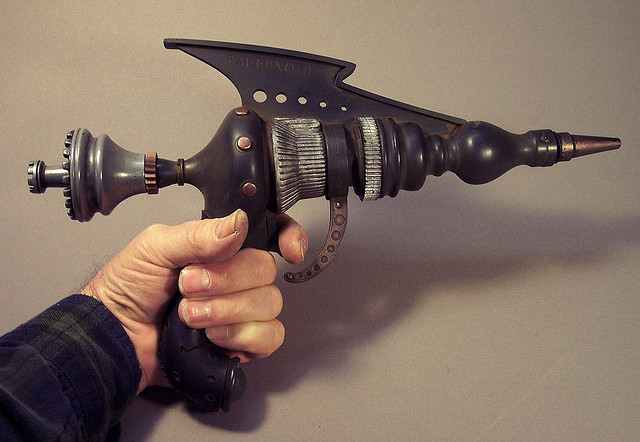 Image: Tom Banwell
This super cool antique raygun from Tom Banwell, an artist who has been
featured on 1-800-RECYCLING before
, is another slice of steampunk we wish we had the means to imagine, let alone manufacture. It's quite a traditional-looking weapon — very Flash Gordon, we'll venture to say. Yes, we can almost see a death ray emanating from the nose of that contraption, en route to vanquish Ming the Merciless from the face of the planet Mongo.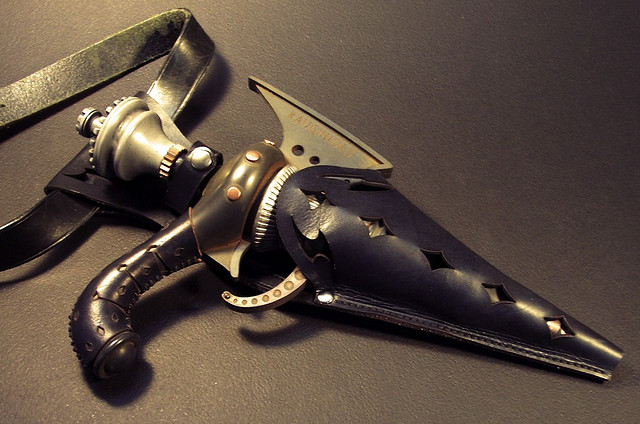 Image: Tom Banwell
Complete with particle accelerator, pulse delineator, stabilizer fin, power generator, exhaust port, trigger and not only a leather grip, but also its very own holster, this really is a finely crafted piece of work. Knowing Banwell, a guy who trawls junkyards and garage sales in search of parts to adapt to his various vintage designs, you know this is a recycler's, as well as an aesthete's dream. And, sure enough, as he revealed to 1-800-RECYCLING: "The recycled parts in the raygun are a faucet, trophy part, chess piece rook, lamp part, a dial and an air nozzle." Nice work, Tom.
2. Mass Effect M8 Avenger Assault Rifle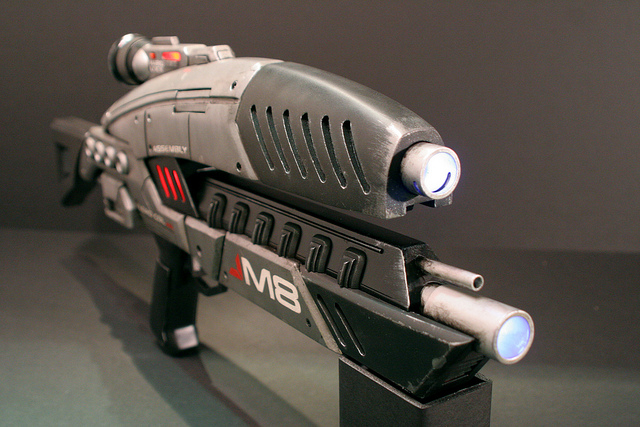 Image: Harrison Krix
This astonishingly lifelike weapon was created by Harrison Krix, a designer and replica props maker whose builds are derived mainly from movies and video games. Here we're in the territory of action role-playing game
Mass Effect
, a feast of space exploration set in the year 2183 — which, like other such games, has provided a galaxy of inspiration for makers of futuristically themed DIY guns. The accuracy with which this replica takes after the game's M8 Avenger Assault Rifle is pretty special — and it cost just $28 in raw materials, with recycled bits and pieces more than playing their part.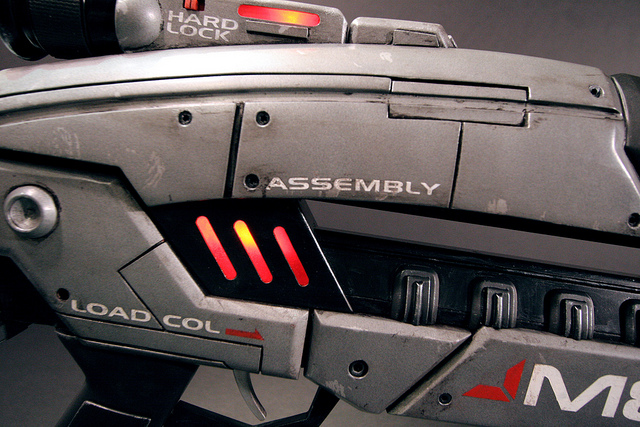 Image: Harrison Krix
Krix reckons 95% of the gun came from scrap he had in his workshop from other builds, though this piece took some serious skill to make, involving the use of rotary tools for cutting and beveling the gun from a sheet of MDF board. Among the other parts that found a new lease of life in this death weapon of the future were spare LEDs for the illuminated muzzle flash, pieces of red translucent acrylic from an old IKEA mobile to further tint the lights, an aged banister support for the cylinder master and an old ballpoint pen for the smaller barrel.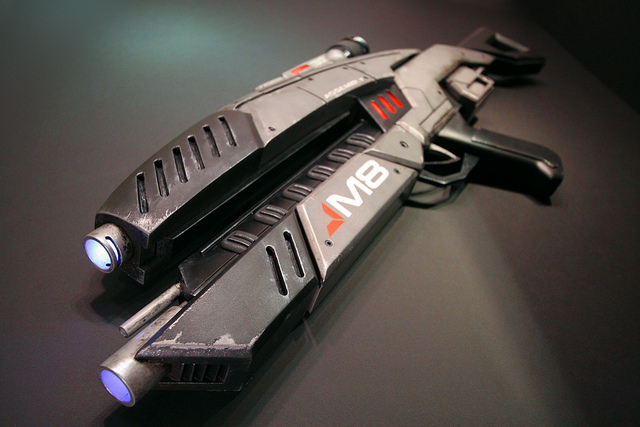 Image: Harrison Krix
The final brushstrokes make the gun looks well used but also cared for, and,
voilà
, M8 Avenger Assault Rifle. Check out the full build instructions if you dare to try to create your own
here
.
1. Fallout 3 Replica A3-21 Plasma Rifle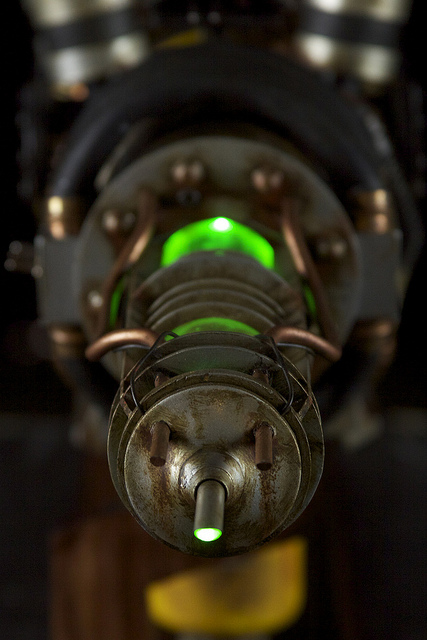 Image: CitizenSnips
Greasy, glinting proof that the tools of war can be a thing of beauty — at least if left in the realm of fantasy — this quite incredible piece of work takes our top spot hands down. The attention to detail is insane. A replica of the A3-21 Plasma Rifle from the highly popular and hugely addictive action role-playing game
Fallout 3—
set in a post-apocalyptic 2277 — this beast of a ballistics weapon is definitely the sort of thing we'd want to arm ourselves with if nuclear holocaust had come to pass and radiation-plagued enemies needed to be eliminated.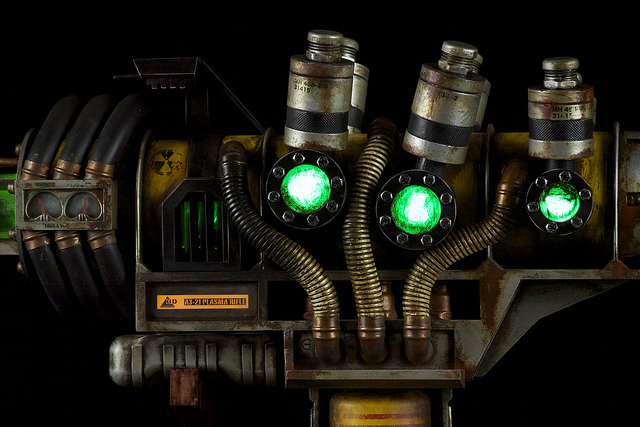 Image: CitizenSnips
What's more, it isn't just recycling the virtual idea of a weapon into something solid: this 20-pound gun was made with various recycled parts, including copper fittings and PVC connectors as well as bits of MDF, with colored LEDs used to create the lurid green glow that illuminates the rifle's portholes and extends right down to its nose. However, it wasn't only the work of creator and all-around energy weapon specialist Ryan Palser; the paint job he concedes he owes to his wife, who added the marks that make the gun look so weathered and dirty.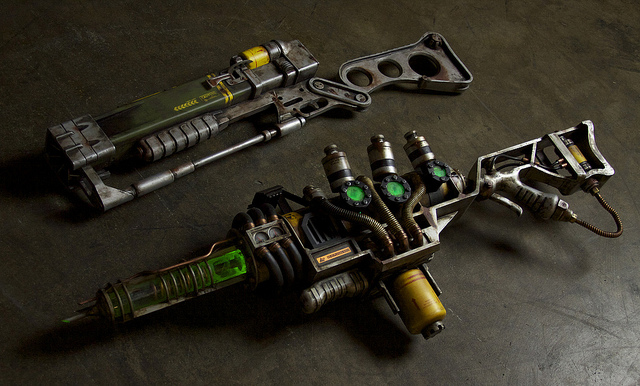 Image: CitizenSnips
You can see the whole construction process
here
together with close-ups of the finished product, which, for a gun born of a computer game, looks staggeringly real and ready for action. Prepare for the fallout!
Sources: 1, 2, 3, 4