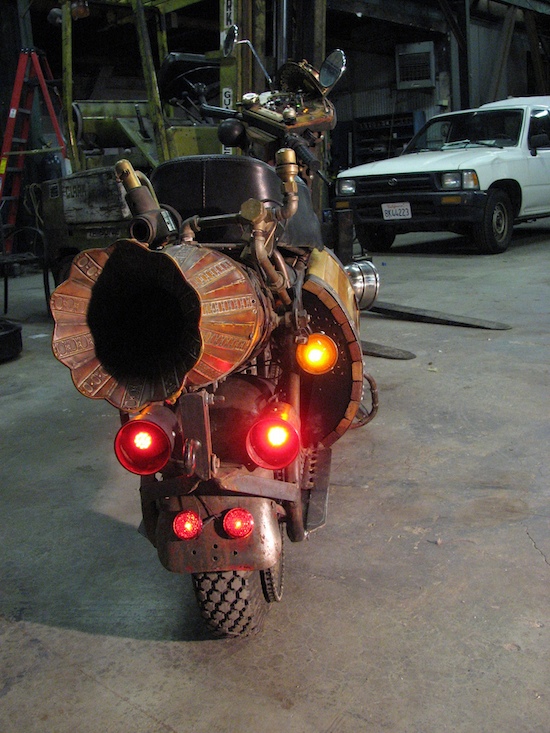 Image: Tom Sepe, used with permission
Nothing says steampunk or evokes the
Mad Max
movies like the deep
rrroar
of a motorcycle — especially one that sports features that could have been conceived in an era when steam-crazed inventors were tinkering with ideas of blazing a trail into the future… or indeed a lawless, post-apocalyptic world!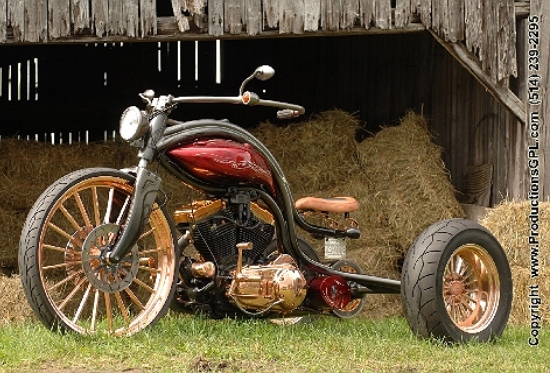 Image: Zeel Design, used with permission
We've found seven such creations that have been lovingly restored or built from scratch using reused, recycled or repurposed parts. As Daniel Pon, one of the creators featured below, puts it, a steampunk motorcycle is a "true vehicle for the subversive." We couldn't agree more.
7. Paradox Motorbike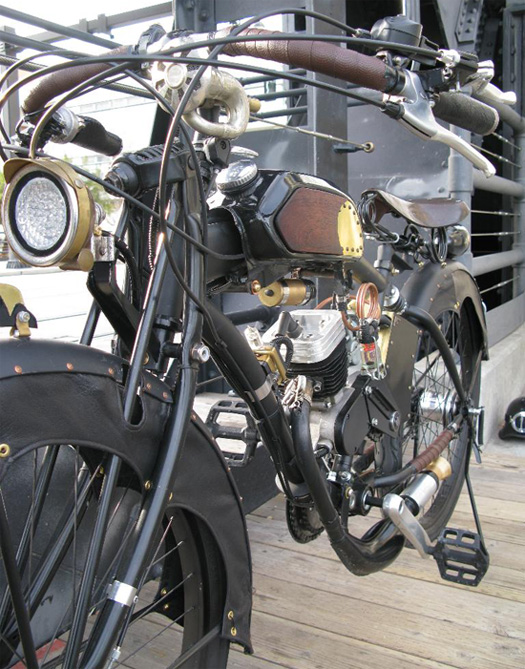 Image: Daniel Pon, used with permission
This motorized bicycle is a real stunner that was created using old parts and the same attention to detail people kept in mind when everything was made by hand. Among the cool features are leather bat-shaped skirts (made from found pieces of leather) used as wheel fenders and an antique brass bicycle lamp with a custom-made visor as a headlight.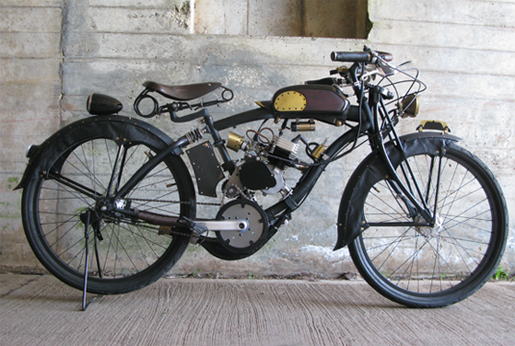 Image: Daniel Pon, used with permission
As Pon explains: "Most of these items were either fabricated from scratch or a modification of some other object." Modding items formerly used for something else and no longer serving their original purpose is exactly what we're about! Word!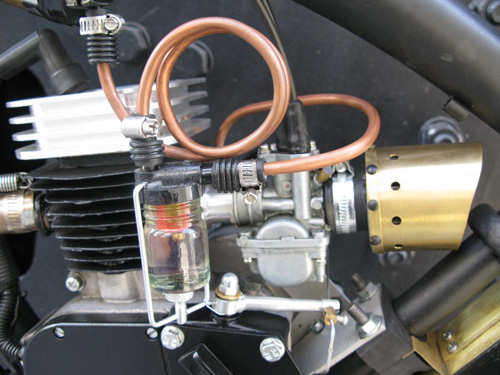 Image: Daniel Pon, used with permission
A closer look at the Paradox Motorbike's engine reveals what an awesome piece of work it is. Built around an old Chinese 66cc 2-stroke engine, the first modification one notices is the old copper tubing used as a fuel line. This was used in an antique motorcycle and the shape is no accident. According to Pon, "[T]he looping pattern was actually functional to aid in preventing particulates from traveling from the tank to the carburetor." Don't miss the antique glass fuel filter either!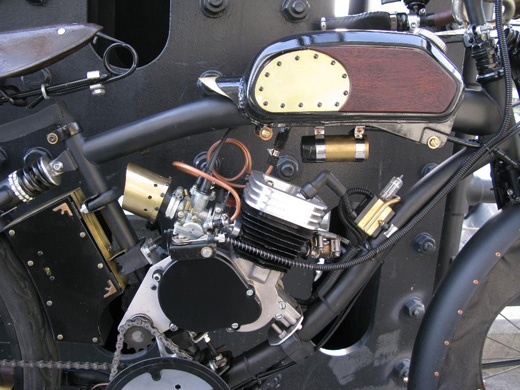 Image: Daniel Pon, used with permission
And it gets better. The jackshaft allows the motor to drive the pedal side chain, enabling the bike to work with traditional gearing. That means seven gears to you and I, which was perfect for Pon, who has taken part in the 49 Mile Vintage Motorcycle ride in San Francisco in 2010 — and was able to keep up with full-size motorcycles while riding up the hilly city's steepest slopes.
6. Bobster Trike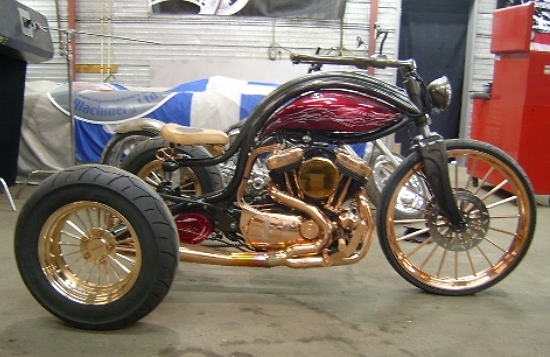 Image: Zeel Design, used with permission
This amazing steampunk-style trike was designed by motorcycle builders Zeel Design in Saint-Pie, Québec, Canada. As former Bombardier aircraft engineers, these guys really know their stuff, and create all their custom designs on their computer first. This allows them to play around on screen rather tinkering too much while building, thus saving on resources and materials. Nice.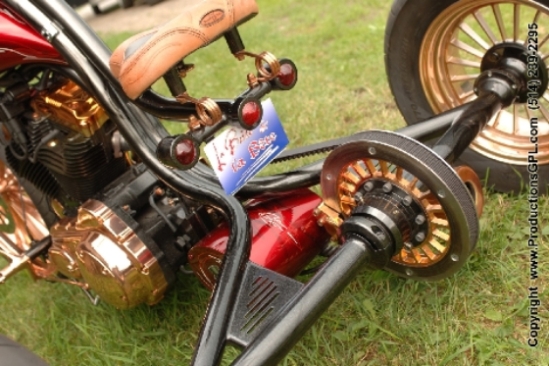 Image: Zeel Design, used with permission
The Bobster trike was made for the Discovery Channel's
Biker Build-Off
competition. It has a 1200cc Sportster engine, five-speed transmission and a handmade seat, and is fully copper plated, as seen above. The handmade fuel and oil tank have been combined into one, using vintage parts whenever possible. Below is an image shot during the building process.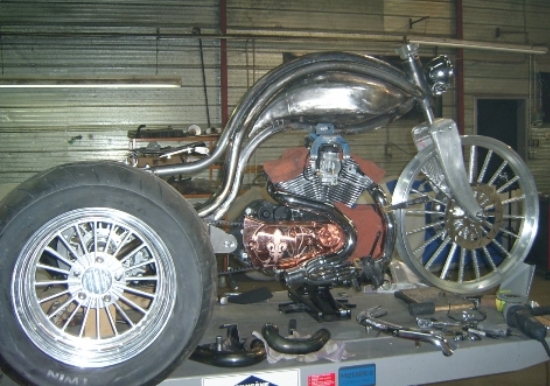 Image: Zeel Design, used with permission
Amazingly, the trike was hand built in just 10 days for the Discovery competition. Only a few motorcycles have a monster 26-inch front wheel (it's not often the most practical), but with its curved design, the Bobster pulls it off beautifully. The engine is hand engraved, and for a "mere" $65,000, it could be yours!
5. Whirlygig Emoto Steampunk Motorbike
This steam-electric hybrid motorcycle may look a little decrepit, but it's steampunk to the max! It was built by
Tom Sepe
around a 1967 Tote-Gote frame — which he had to cut in half to allow room for the batteries and his backpack — and strengthened with cross bracing. It's the finishing touches that really caught our eye, though. Check out the "control panel" below, replete with switches, flashing lights and even a repurposed knob (now looking like a joystick), which appears as if it might have come from an old cooker.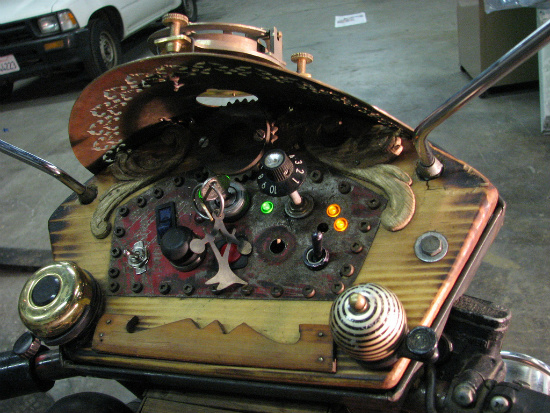 Image: Tom Sepe
But let's backtrack. Explaining this strange, steampunk machine's beginnings, Sepe says: "I had a small motor lying around my warehouse, and I tossed that in." Just like that!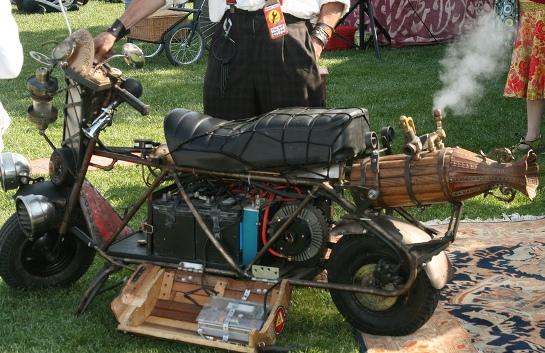 Image: Chris
The mechanical brake is custom made. According to Sepe, "This is just a metal disk I welded onto the rear hub, and I got this [brake caliper] off of a motorcycle brake. It rubs a little bit, but it stops the bike." And that's the main thing, or you'd be in trouble! Nice bit of salvaging, too!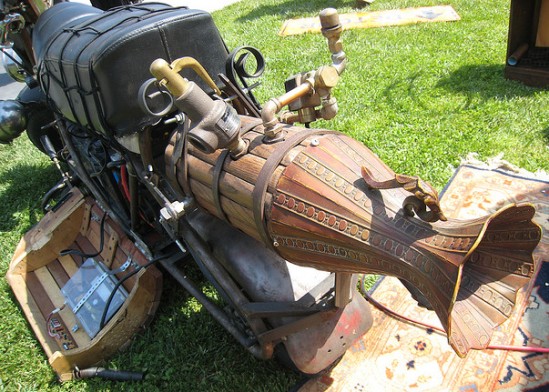 Image: Erica Olsen
Though the machine has a steam boiler on the back (made from an old fire extinguisher), it is only for steam effects; it's not connected to the wheels. Still, the effect is amazing. Says Sepe: "If I crank it up really high, then you get flames shooting out the back of the motorcycle. Which is cool." Couldn't agree more!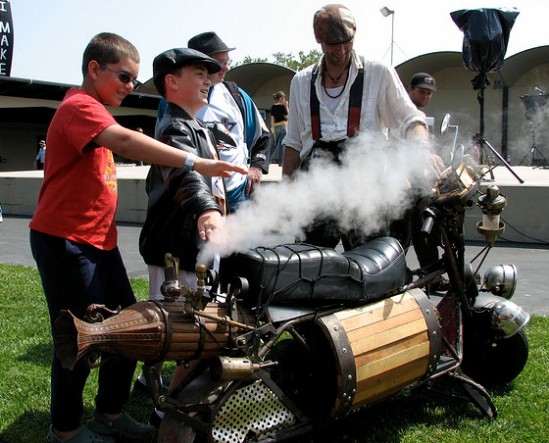 Image: Tom Sepe, used with permission
And letting off steam is child's play, as the image above shows. Ten points for repurposing, creativity and good old-fashioned fun!
4. Newstalgia Chopper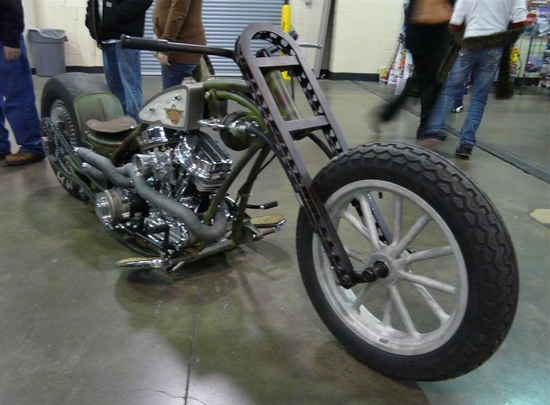 Image: Jalopnik, used with permission via Bikers Café
David Coker of Newstalgia Wheels custom built this chopper based on a 1964 Harley-Davidson. The blend of old and new is perfect and, perhaps unsurprisingly in light of Coker's business, the wheels steal the show.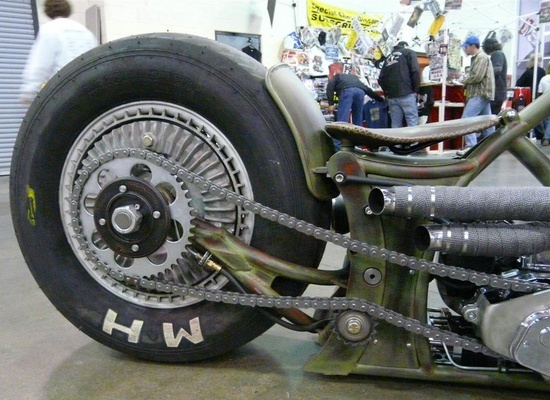 Image: Jalopnik, used with permission via Bikers Café
At the front of the motorcycle is a Radir spindle mount, and there's a seriously fat vintage tire at the back, with both suspended by airbag bellows. Another clever feature is the giant drum — taken from an old Mercury and wedged inside a drag slick — serving as the rear brake.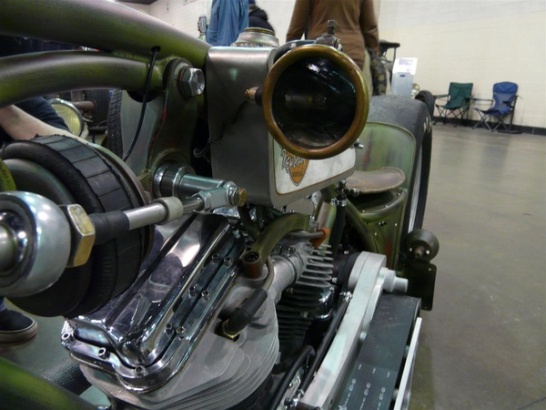 Image: Jalopnik, used with permission via Bikers Café
While two exhaust pipes demand auditory attention with their deafening sound, the extra-long chain vies for our visual attention. Wicker foot rests and a faux gas light complete the steampunk-meets-
Mad Max
look. These are extras you might find lying unwanted in your attic if you're feeling the urge to tinker!
3. Hubbard Steam-Powered Motorcycle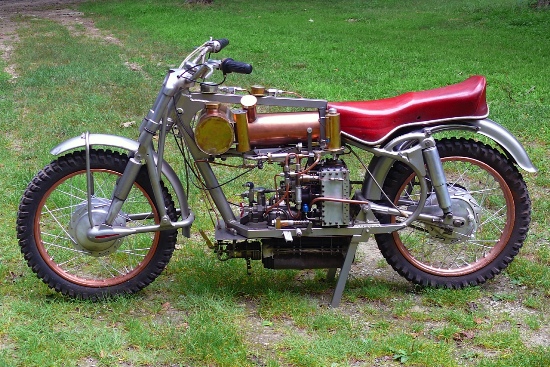 Image: Jim Anderson, used with permission
The Hubbard Steamcycle is one awesome machine, as it is an actual steam-powered motorcycle. Yep, can't get more authentic than this! In fact, only a few such steamcycles exist around the world, usually displayed in museums. According to current owner Jim Anderson of the Connecticut Antique Machinery Association in Kent, CT, "There has been very little commercial exploitation of applying steam power to two-wheeled vehicles, so most steamcycles that come to light are one-of-a-kind prototypes built by hobbyists and steam enthusiasts. The steamcycle restored here is no exception. It was custom built by Arthur 'Bud' Hubbard of Monroe, CT, during the early 1970s." Hubbard lovingly built the steamcycle, following an old 1918 article titled "A Design of a Steam Motor Cycle," published in
The Model Engineer and Electrician
— ensuring that the instructions didn't go to waste, even 50 years after they were written! The motorcycle frame is a 1956 Maico from east Germany that might otherwise have ended up in the scrap heap; however, over four years, Hubbard built a powerplant by hand to power the lovely vintage machine.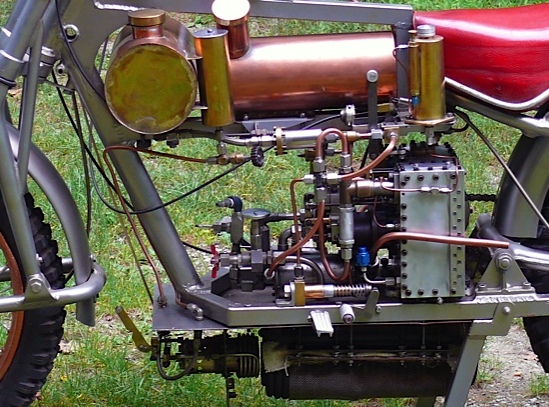 Image: Jim Anderson, used with permission
The detail above shows the water, alcohol and fuel tanks and the fuel system pressurizer (the shiny tanks from left to right). In the middle is the mechanical feedwater pump, and below it the manual feedwater pump and feedwater preheater. What's more, as well as the steam chest and cylinder, there's also a steam cut-off control should anything go wrong.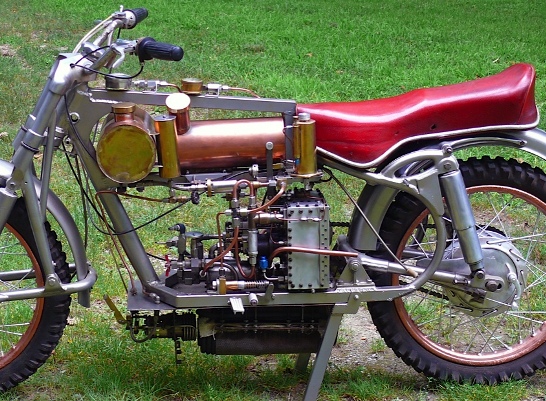 Image: Jim Anderson, used with permission
The steamcycle, despite it's awesomeness, was forgotten and spent many lonely years in a chicken coop, where it would have rusted into oblivion had it not been found by Dick Greene. Anderson bought it from Greene and lovingly restored it to its former glory, using salvaged parts whenever possible. Ever since, the steam engine has successfully run on compressed air. A steampunk fairytale!
2. Electric Motorcycle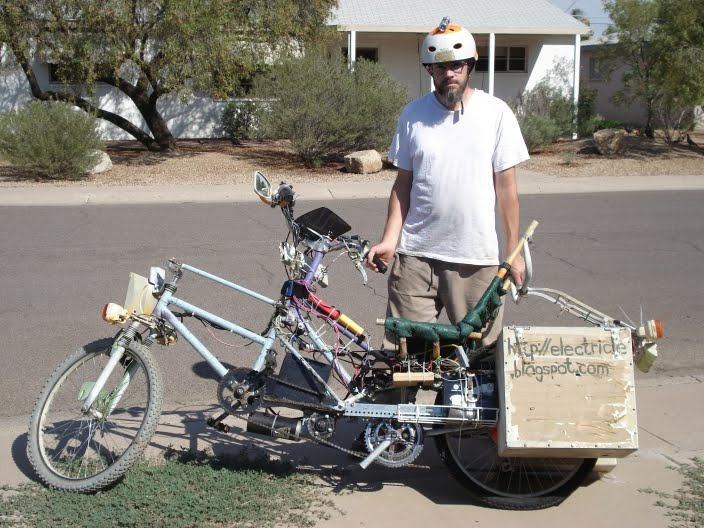 Image: Everfalling
This amazing electric motorcycle was spotted by Flickr user Everfalling at the Maker Faire 2010 in San Mateo, CA. It's clearly a homemade creation and one cool machine, combining modern qualities with a sense of nostalgia, particularly when it comes to its switches and dials. The light frame looks like it might have been made from some leftover aluminum rods, while the upper body has the traits of a treadmill. The handlebar, meanwhile, must surely have come from a bicycle.
We assume that much of the motor is hidden (and protected!) behind those black covers in front, while a look at the rest of the mechanics shows a wonder work of wiring. It's pretty much all in aluminum silver or black, too, sticking with the overall color scheme.
The saddle is like a lap of luxury, and may even fit two. We just love the look of this machine and the fact that it's electric as well. An upcycled beast that will surely inspire many a spinoff. Not exactly steampunk, but certainly somehow retro-futuristic.
1. RIOT Wheel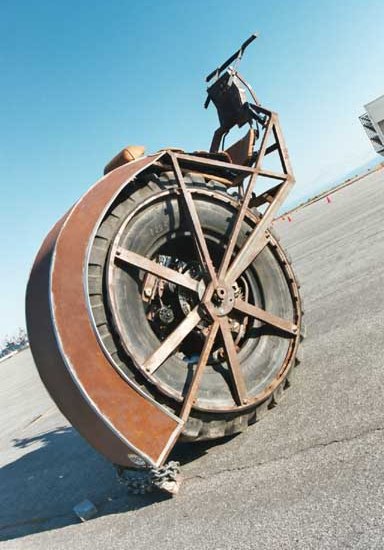 Image: Erik Andersen, courtesy of RIOT Wheel, used with permission
Jake Lyall's Re-Invention Of The Wheel, or RIOT Wheel, is, as a monowheel, in something of a different class to the other motorcycles featured here. Still, it's such an amazing DIY, post-apocalyptic-style creation that we just had to include it. Strange-looking in any case, this bulky 1,100-pound monster looks like it must have been made using at least some salvaged parts (although Lyall did have to spend some $5,000 in its making). The RIOT Wheel is, of course, unusual because the rider sits outside and in front of the single wheel, so his or her weight doesn't provide a reaction to the engine's thrust. Instead, a lead-weighted Honda 80cc four-stroke scooter engine suspended from the central shaft manages the job.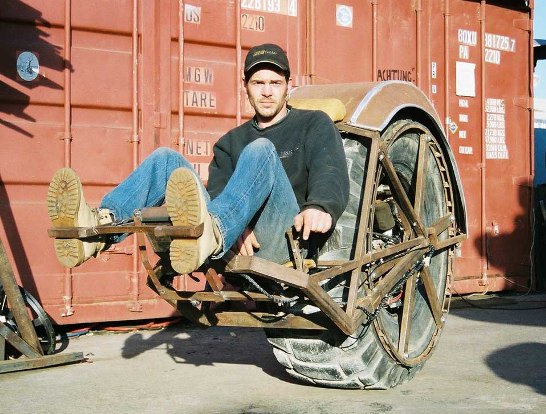 Image: Erik Andersen, courtesy of RIOT Wheel, used with permission
Lyall explains: "A separate 450-pound counterweight keeps the rider hovering above the ground at the front. Steering is done partly by processing a 65-pound gyroscope to give yaw, and partly by the rider shifting his weight." Reaching a top speed of 56 mph, it was once the fastest monowheel on earth (until its record was broken by the lighter, aluminum RIOT 2 and RIOT 3).
What makes the RIOT Wheel even more awesome is that it was a real community effort. Though spearheaded by Lyall, he has many people to thank who donated time, money, expertise or parts that may never have gotten used otherwise.
Bonus: P120 Fighter Futuristic Motorcycle
With its clean look and stretched-out frame, the P120 Fighter looks as if it's been chiseled from a big block of aluminum, like a motorcycle right out of the future. Just look at this awesome machine, created by Birmingham, AL-based Confederate Motor Company. This 160-horsepower motorcyle comes with a 1,966cc engine and reaches speeds of up to 190 mph! The sleek, aircraft-grade aluminum frame ensures the heavy-looking frame tips the scales at just 460 pounds, providing better fuel efficiency. Only 45 of these limited-edition motorcycle will be made, with each one going for $110,000! Maybe better just to scour you or your neighbor's garage for pieces of metal that make the grade and build your own! In your dreams… That concludes our tour of custom motorcycles either positively steampunk, or those that would have stolen the show in any of the
Mad Max
movies. We have to admit, we're pretty speechless in view of the awesome creativity displayed and the amount of work spent building or refurbishing many of these motorcycles. The only thing left to do now is pick a model, wheel out the old motorcycle that's collecting dust in your shed, barn or garage, and start building your own! Once you let everyone know what you're up to, we're sure the parts will start pouring in. Send us your pics when you're done, or of any other cool creations you come across.
Sources: 1, 2, 3, 4, 5, 6, 7