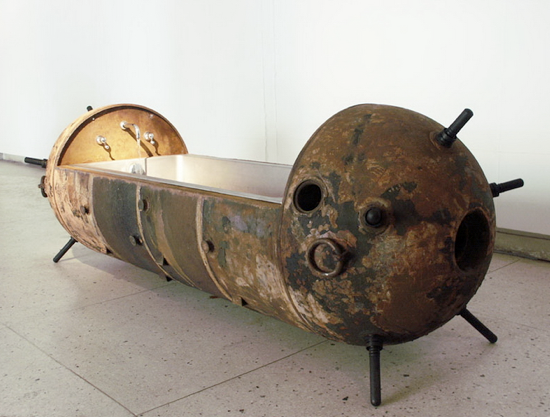 Image: Marine Mine, used with permission
What's the one indoor space in which most people spend a lot of time? Well, if it's not the living room or bedroom, it's most likely the bathroom. For fans of all things retro-futuristic who are a dab hand at fashioning new things from old, this amounts to a license to design bathrooms in the style we know and love: steampunk!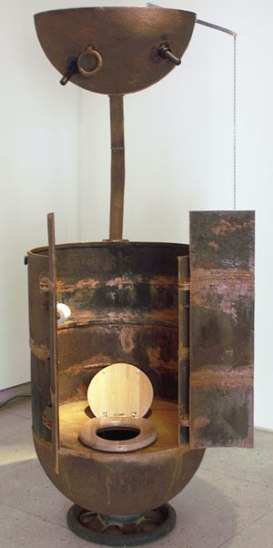 Image: Marine Mine, used with permission
To make marveling at this awesome trend a little easier for you, we've put together the best steampunk bathroom fixtures we could find. From toilets, shower and sinks, to bathtubs and a few smaller must-haves, we have it all. But see for yourself!
7. "Teslapunk" antique toilet of the future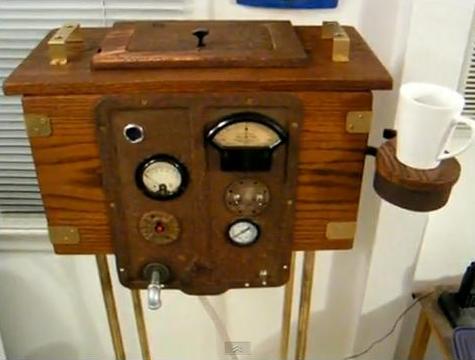 Image via YouTube
Now this is a toilet you won't see every day! Or do you know of another latrine that comes with a control panel, lights, gauges, flush control and even a laser-pointing mechanism? Didn't think so.
Image via YouTube
Here's the scoop about this awesome machine: It has a hand-made solid oak tank with a battery-powered flush pump and a 1949 Standard bowl; and when flushing (or doing any other business), especially at night, there's a little laser dot that will guide your every move.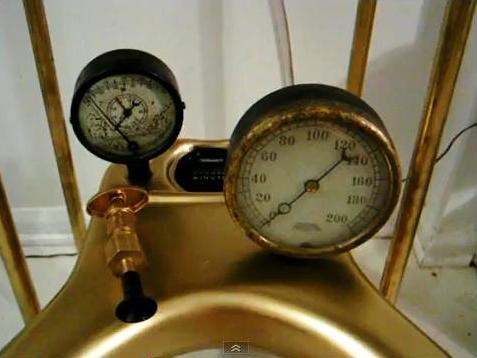 Image via YouTube
The antique gauges and other accessories were picked out with much care (and, we hope, recycled) and their use and placement were equally well thought out. Did we mention that there's a cup holder on the right? Click on the video links above if you want to see this quirky creation in action.
6. Naval mine bathtub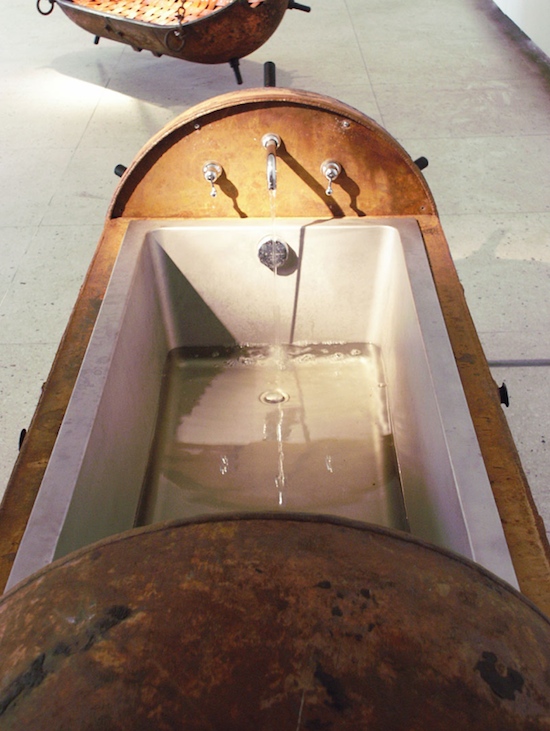 Image: Marine Mine, used with permission
This is a genius creation from the workshop of Marine Mine (more on which appears below). Yes, it's a bathtub made out of an old naval mine. It really doesn't get much more retro than this, and the military theme definitely got our juices flowing! How you entertain (or push out of your mind!) thoughts of the tub's explosive past while soaking in your bubble bath is entirely up to you…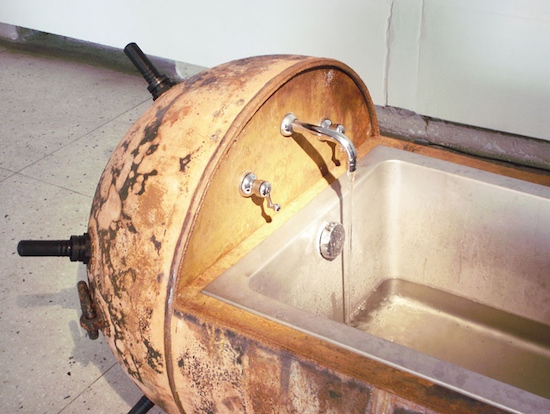 Image: Marine Mine, used with permission
Still, if relaxing in a rusty old explosive device doesn't faze you, then probably nothing will. Anyways, this bathtub is fully functional, if more than a little bizarre looking! If you have the space, it will surely add some spark to your bathroom! And in recycling terms, it doesn't get much better than turning an object of destruction into something of a far more peaceful quality.
5. Sink alcove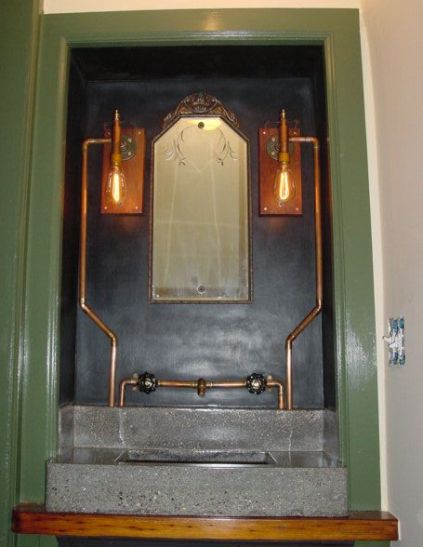 Image: Gary Leitzell, used with permission
Gary Leitzell made this cool steampunk sink alcove as part of the renovation of his old townhouse (itself once a farmhouse). He created the lights using some copper plumbing pipe that he had lying about. Edison would've been proud!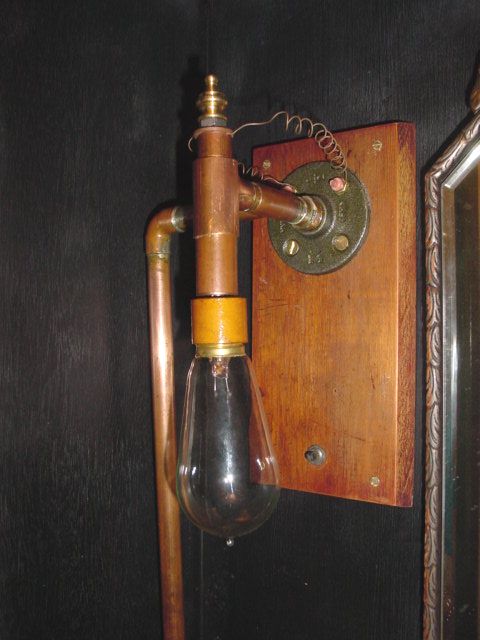 Image: Gary Leitzell, used with permission
The steampunk look was partly born out of necessity (but then, you know what they say about invention…). Gary says: "Since there is no space behind the wall to run wires, I made a wire run from the copper pipe that dumps the wires out under the sink." And it works superbly, in our opinion.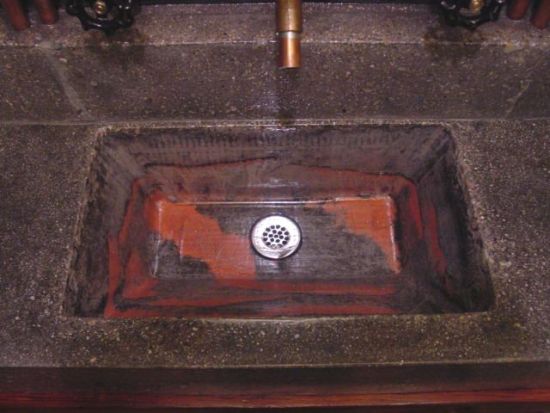 Image: Gary Leitzell, used with permission
As a closeup of the sink reveals, it's not nearly as rough in texture as one might suspect. The secret of the glossy look? It's been coated with a wet look sealer. Concrete, of all the things, given a nice shine. Who would've thought? Our conclusion on Leitzell's creation: two thumbs up for originality.
4. Aerolux glow lamp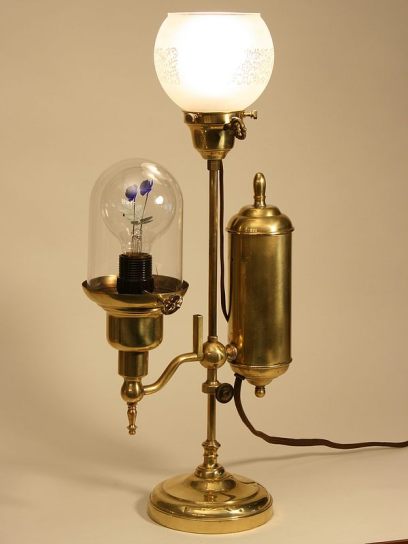 Image: Jake von Slatt, used with permission
Now, a cool steampunk bathroom shouldn't be lit up with just any old lamp. The light source, too, should be positively steampunk, right? Like the one pictured above, created by steampunk master craftsman, Jake von Slatt. Here's how he got started: "Like most of my lamp projects, this one started with a visit to the junk bins. [I used] part of an antique student lamp I rescued from the metal recycling bin before the ban on picking at our local dump went into effect… The other parts are from various more mundane fixtures and the bulb at left is a reproduction Aerolux glow lamp."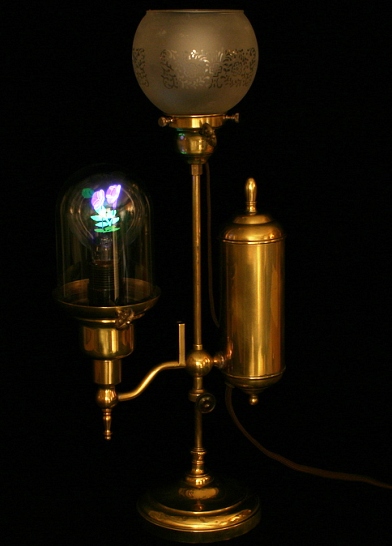 Image: Jake von Slatt, used with permission
Jake explains why the Aerolux lamp fits the steampunk theme so perfectly: "Aerolux lamps were popular as night lights in the early part of the 20th century and were manufactured in a wide variety of designs. This particular bulb is argon filled and sports two purple flowers and a pair of green leaves." Here's what it looks like in the dark — just beautiful!
3. Naval mine toilet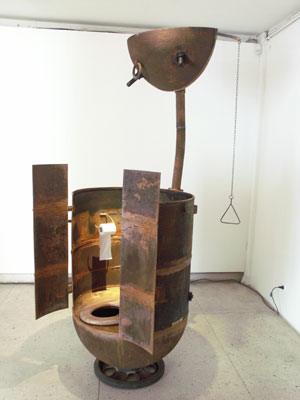 Image: Marine Mine, used with permission
The rough appearance of this toilet cannot be beaten because it really is — or rather, was — a naval mine that Estonian designer and sculptor Mati Karmin (see also: the sea mine bathtub, above) turned into a fully functioning, if admittedly bizarre-looking, steampunk-style toilet. Why did Karmin do this? Well, there's a bit of history behind the work, as you can imagine.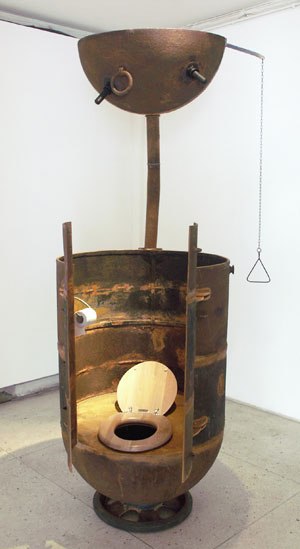 Image: Marine Mine, used with permission
The tiny Naissaar Island in the Gulf of Finland has been disputed territory for at least 300 years. According to Marine Mine's website: "Naissaar was used as a fortified naval base… by the Republic of Estonia in 1918-1940… [and] was classified as a secret military facility during Soviet times. There was a large factory for assembling marine mines in the center of the island and a railway [for] taking [them] directly to the harbor. Mining the whole Gulf of Finland would have been [a job that took] a matter of hours." Not a pretty thought.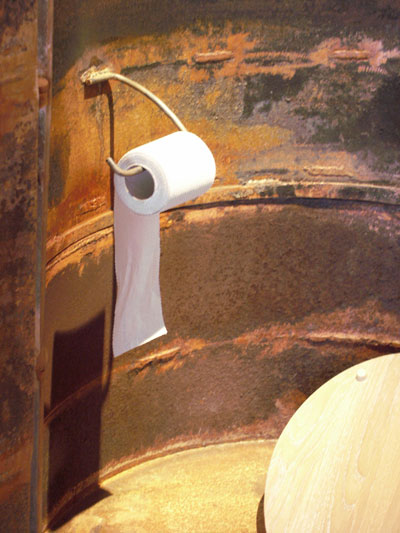 Image: Marine Mine, used with permission
When the Soviet army departed in the early 1990s, there were still plenty of naval mine cases left behind, although the explosive devices were at least deactivated. Many of the remaining cases were taken to the mainland and sold as scrap iron, but thankfully some found their way to the Marine Mine workshop! This unusual toilet is fully functional, with the toilet seat and lid made of wood for more comfort (thank goodness!). And, for more privacy, simply close the mine casing doors. We love it!
2. Steampunk shower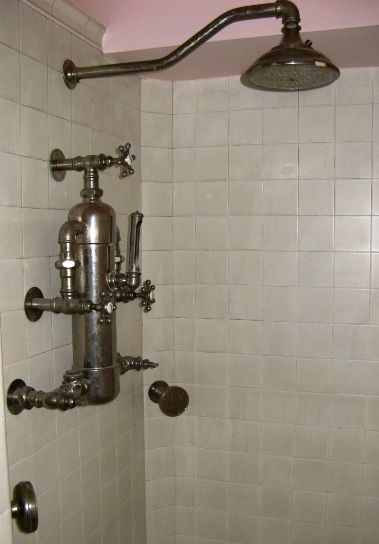 Image: Abra Staffin Wiebe, used with permission
This unusual shower would look good in any bathroom, be it a tiny studio apartment or a grand mansion. Sleek in silver, the expansive shower head reaches over an impressive shower apparatus, but we could picture this made out of leftover piping in any color.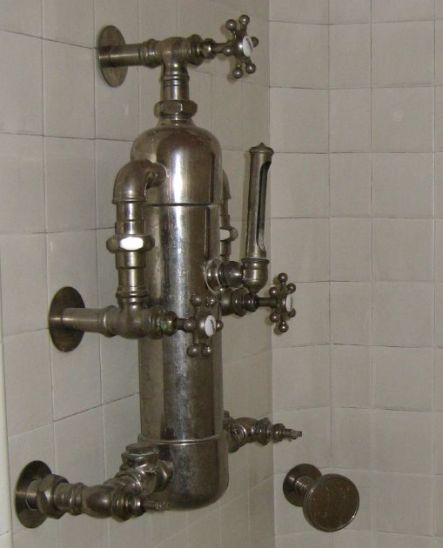 Image: Abra Staffin Wiebe, used with permission
The hot and cold water knobs look positively nautical (Captain Nemo, anyone?) and the mixing lever is almost a bit scary. For added comfort, there are two smaller shower heads on the sides. Neat!
1. Steampunk elevator bathroom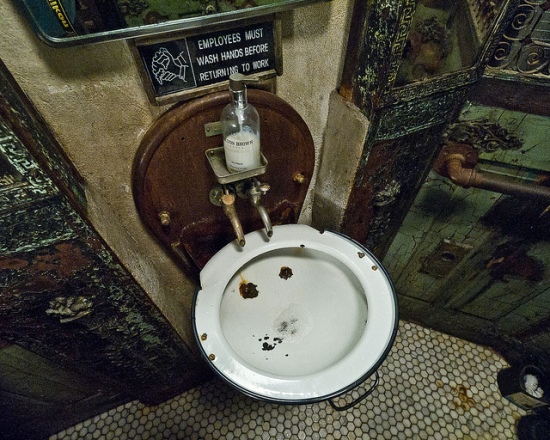 Image: Jazz Guy, used with permission
Next, this isn't just any old sink. It's part of the bathroom at New York bar and restaurant Smith & Mills. Though it's small, there's something you need to know about this steampunk latrine. Photographer Jazz Guy explains: "The bathroom in this restaurant is actually an old elevator car. The sink looks like an old railroad sing. You have to fold it back up into the wall to empty the water." Which means this bathroom is not only sweetly steampunk in style, but is also an ingenious piece of repurposing!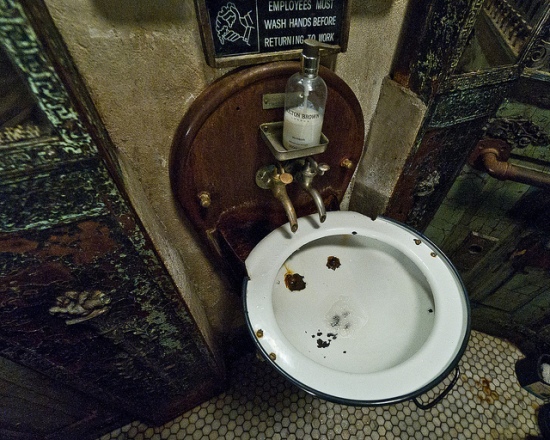 Image: Jazz Guy, used with permission
We love this bathroom's history, but just hope the elevator is not functional anymore! Imaging going up or down before you'd finished your business! Here are some
more pictures
of the bar and another angle on the bathroom.
Bonus entry 1. Light switches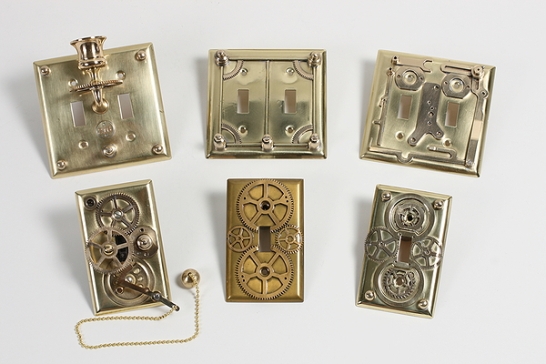 Image: Jake von Slatt, used with permission
If you're going to go for it by steampunking your whole bathroom and don't want to skimp on details, you might as well make sure your light switch covers are up to the mark. Jake von Slatt has designed a whole range, as you can see above.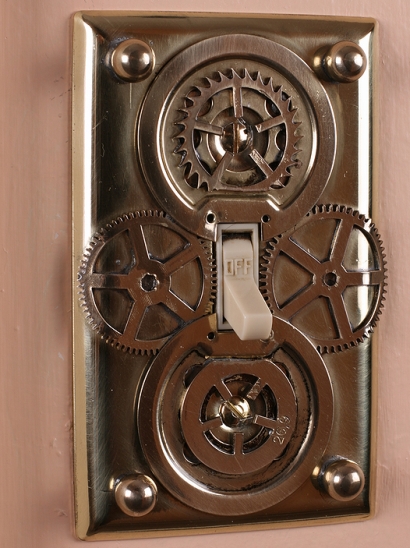 Image: Jake von Slatt, used with permission
Von Slatt has this to say about procuring the amazing brass bits for the ornamentation: "I dumped out my box of small brass bits and fished through them for some likely candidates. These have been lovingly collected over the years from many sources, but most came from our town dump." So you see, there is treasure everywhere, especially in trash!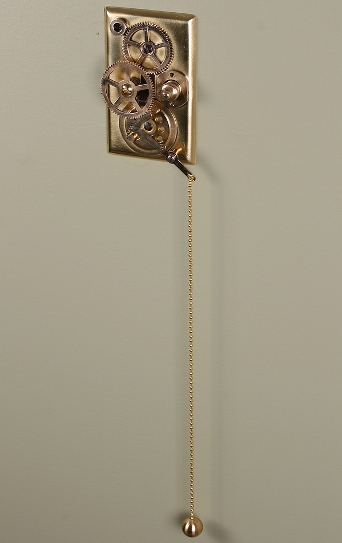 Image: Jake von Slatt, used with permission
A tip from Jake: If you want to give your homemade steampunk brass switches a more aged appearance, seal them "in a plastic container with a couple of tablespoons of ammonia." A few hours should do the trick! We particularly love the switch above because it's appendage could almost be the pull chain of a toilet!
Bonus entry 2. Toothbrush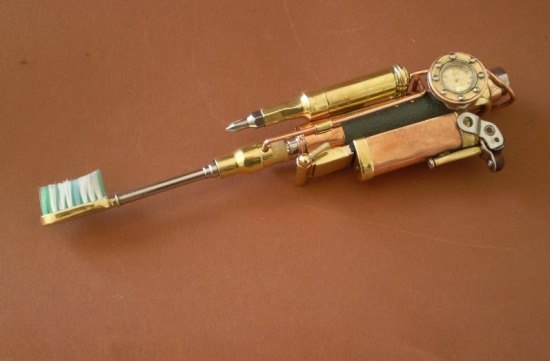 Image: Ivan Mavrovic, used with permission
Though not really a bathroom fixture, a steampunk toothbrush is certainly something every steampunk bathroom should contain! What's more, this awesome device is not only a toothbrush, but also multiuse steampunk pen gadget that comes with all kinds of nifty tools, including a fork, knife, spoon, lighter, USB stick, watch, lamp, screwdriver, pipe, shaving blade and nail clipper. Can you find them all?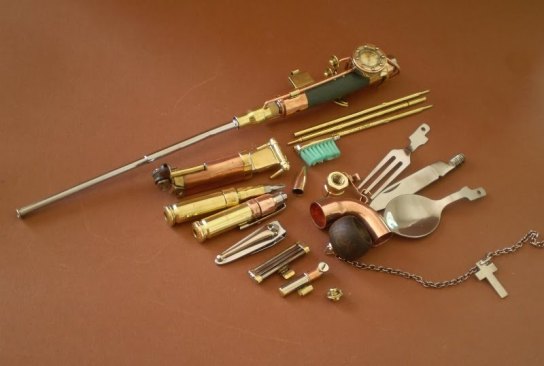 Image: Ivan Mavrovic, used with permission
Made out of leftover brass, cooper, steel, wood and leather pieces, it's a true multifunctional tool and steampunk as you like. Creator Ivan Mavrovic says this about its intended purpose: "[It is] safe for all ages… [In the event] of various extreme situations, with this pencil you can save your life and others, so it is always good to carry it with you. It can also be used for scaring thieves and thugs and resolving various life situations in a funny way."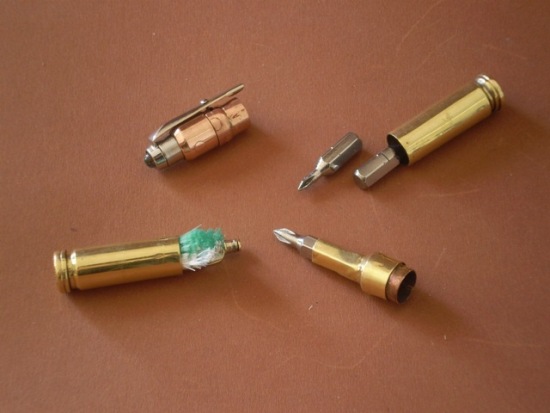 Image: Ivan Mavrovic, used with permission
Steampunk inventor Ivan Mavrovic is no stranger to this site; he's a pro at steampunking just about any household item you can think of and was previously featured in our
steampunk cell phone article
. Now, the only drawback we could think of about having your own steampunk bathroom is that guests and visitors might not want to leave it, marveling at the various details long after they've finished their business. Perhaps, then, it's better just to steampunk the whole house. We'll keep you posted on other cool or bizarre steampunk rooms we come across. Or, if you've tinkered with steampunk interiors yourself, tell us about what you've done!