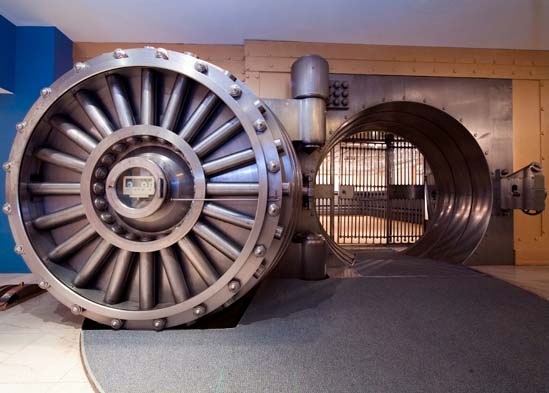 Image: One King West, used with permission
Reduce, reuse, recycle is our motto, and we feel especially proud when it's applied to really big objects, like buildings, for example. Bank vaults are of course not only large, but also incredibly thick and heavy constructions, but that's no reason not to repurpose them! In fact, it's amazing to see how many creative uses people have found for old bank vaults, converting them into everything from coffee shops and restaurants, to dressing rooms and art galleries. What's more, in inhabiting such repurposed spaces, it's surely impossible not to feel inspired by their history. These were once of course — and still are — the securest of places, where millions of dollars were stored, and which bank robbers no doubt plotted to somehow break into. Here are 10 bank vaults you'd happily spend a few hours in, without even feeling claustrophobic.
10. Board Room — Baltimore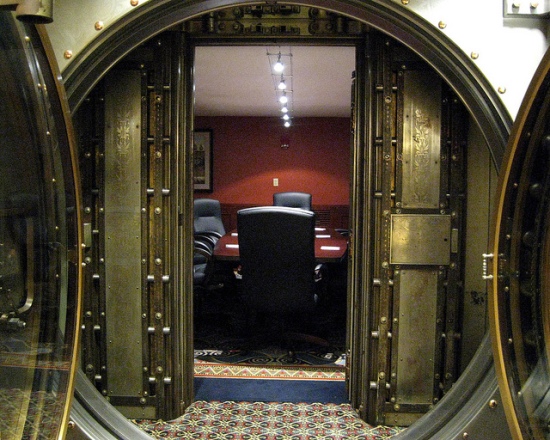 Image: Bill McChesney
Any staff meeting held in an old bank vault should prevent a
board
meeting from turning into a
bored
meeting! Then again, perhaps feeling safe, secure and snug while pondering the place's history would make a few people want to catch a few winks…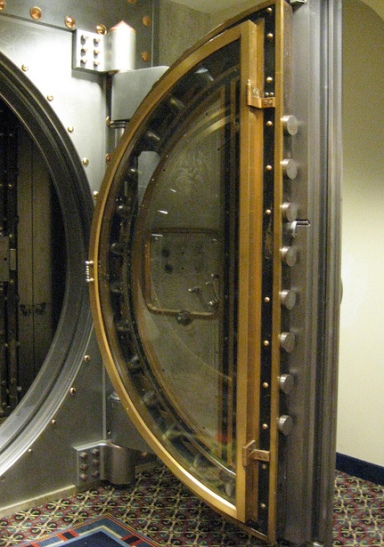 Image: Bill McChesney
We suppose it all depends on how much you like enclosed spaces. The massive and impressive door would surely worry even the coolest staff member should it ever slam shut! This board room is part of the Baltimore Marriott and comes equipped with a high-speed Internet connection and Wi-Fi — ample connection to the outside world.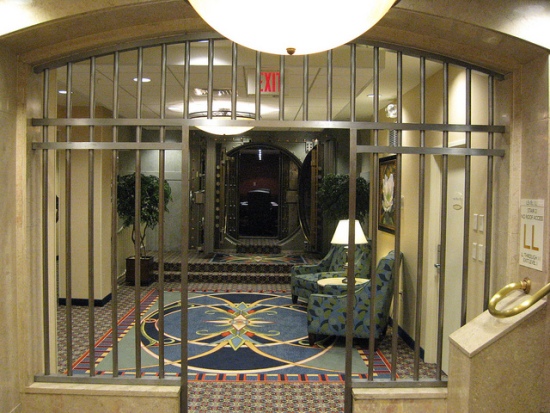 Image: Bill McChesney
The 247-square-foot room — aptly dubbed "The Vault" for its historical purpose — has space for 10 people, and it seems to fit nicely into the hotel's theme, which, in this shot at least, does look a bit like a prison. Maybe not the best place for that board meeting after all? In any case, far from boring.
9. Wine Cellar – Laurel, MS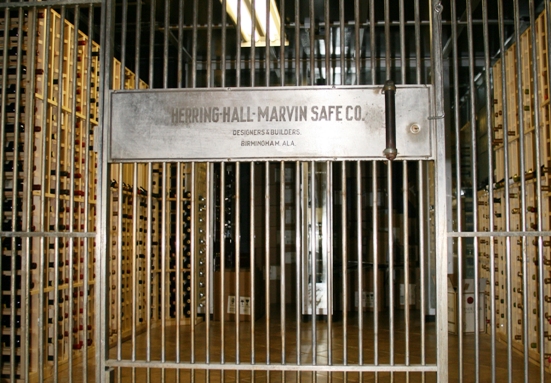 Image: Shawn Rossi
The Reserve restaurant at 401 Central Ave. in Laurel, MS, occupies a landmark early 20th-century building that housed the First National Bank until 2002. After extensive renovations, the restaurant took over in 2008, and today attracts customers with music and a selection of fine wines.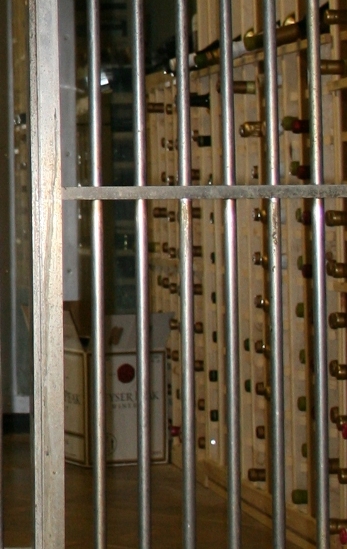 Image: Shawn Rossi
Sensibly, the bottles of wine are stored in the old vault, where it is cool, dark and, well, safe — perfect conditions for the finest wines to age gracefully in their bottles. Yes, as the close-up reveals, what we are looking at through those cage-like bars are indeed not safe deposit boxes, but more than 200 bottles neatly stacked on wooden shelves.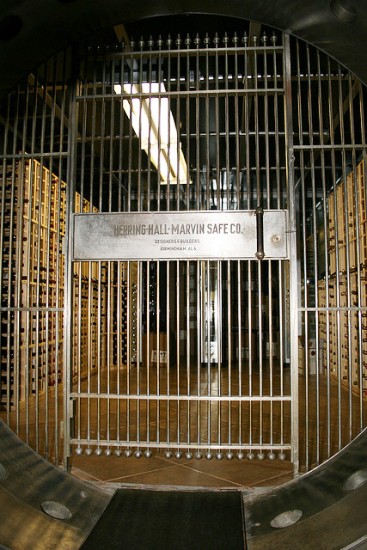 Image: Shawn Rossi
The 50-ton vault is the original strongroom once used by the bank, and made by Herring-Hall-Marvin Safe Co., as the old sign proudly proclaims. With better lighting and a few stools and tables for which to linger, we could see this as an atmospheric place for wine tasting. Just a suggestion. Bread and cheese, anyone?
8. Bar — Houston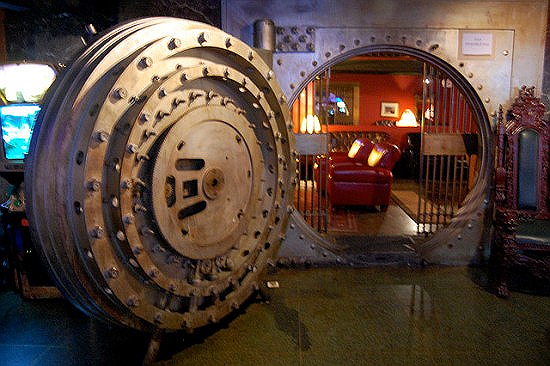 Image: Jim Kelly
The Kelvin Arms is a Scottish pub in Houston. As everyone knows, the Scots are serious about their whiskey, and this bar certainly doesn't beg to differ. The proprietors apparently moved their establishment to an old bank vault to keep their stock (and their patrons) safe. Well, some of it, at least, as the aptly named Vault Room is just one part of the pub, furnished with comfy leather chairs and long sofas. If the gigantic door doesn't deter you, this is the place to be while supping a single malt.
7. Arts Center — Crown Point, IN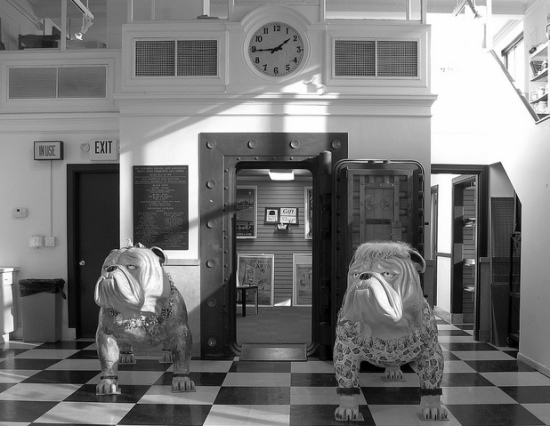 Image: Joe Marinaro
This amazing use of space can be found in the Crown Point Community Art Center in Indiana. Located in the old People's State Bank building, the center now features a ceramic studio, a sales gallery, a photo lab and a gift shop — the latter, seen here, in the bowels of the old vault. We just love the two ceramic bulldogs guarding the shop entrance. Somehow, the thick safe door, said to date to 1928, doesn't seem out of place at all. We're not sure if this is because of the bulldogs, the chess-board flooring or the artsy black-and-white photograph itself. Whatever the case, this sure is one cool place!
6. Coffee Shop — Bridgehampton, NY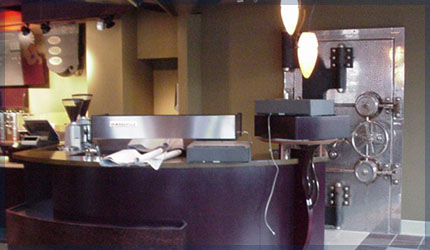 Image: Blumenfeld Development Group, used with permission
The Starbucks in Bridgehampton on Long Island is to be found in a historic building that once housed the Bridgehampton National Bank. The coffee shop occupies an area of the 1905 building that contained a vault — the door to which can be seen here, figuring prominently as part of the shop's design.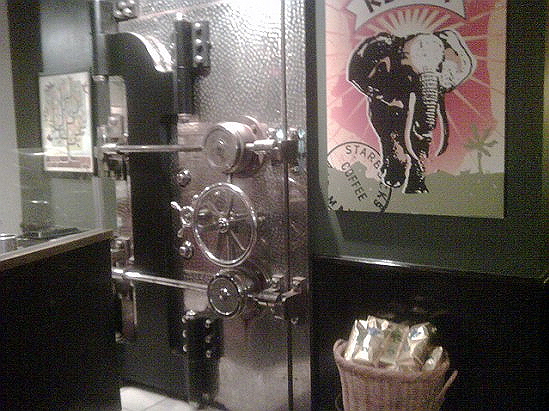 Image: Carl Black
We've heard that the shop has since been renovated, but we sure hope the vault door was preserved as it is!
5. Gallery and Coffee Shop — Quincy, IL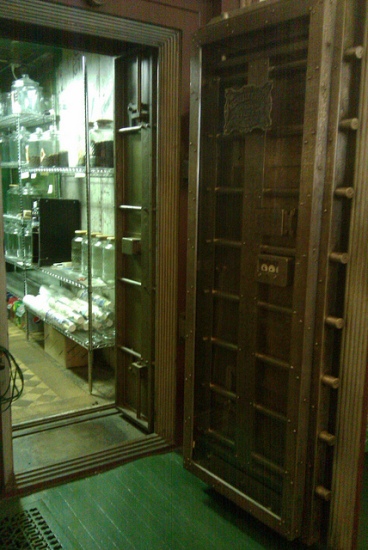 Image: Aechempati
Fittingly called Granite Gallery, this gallery and coffee shop in Quincy, IL, is, you guessed it, housed in a former bank. The old vault is today used as a storage room. We can only speculate on the kind of valuable exhibits that are stored there now!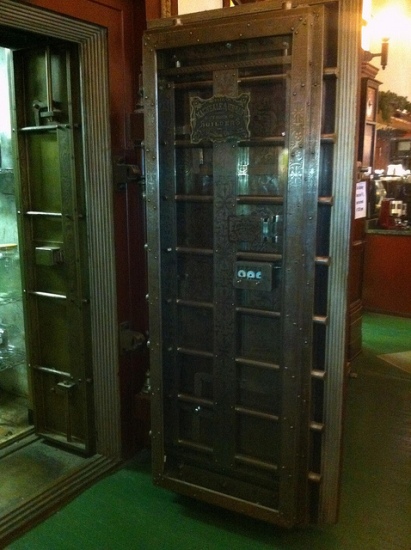 Image: Joanna Poe
Here's a better view of the bank vault door with the coffee shop in the background. Another old bank vault brilliantly converted!
4. Dressing Room — Ventura, CA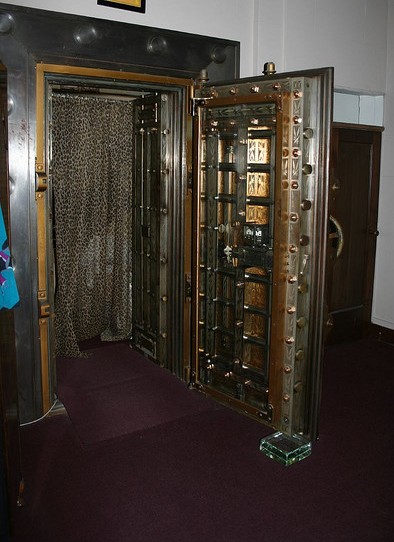 Image: Nancy
Would you change in an old bank vault while shopping for clothes? No? What if the door's locking mechanism had been disabled? Maybe? For customers at Rincon Cellars/Natalie's Eclectibles in Ventura, CA, this doesn't seem to be a problem, and, as far as we know, none of the shoppers have gotten locked in yet!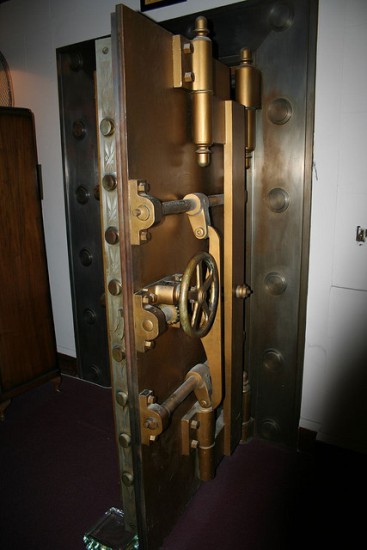 Image: Nancy
Still, we have to admit, the door does look quite impressive. We wonder if you'd get to keep the clothes you were trying on as a kind of compensation if you did get trapped inside and survived a night in the vault. Scary! Stylish, adaptive reuse, though.
3. Flea Market — Brooklyn, NY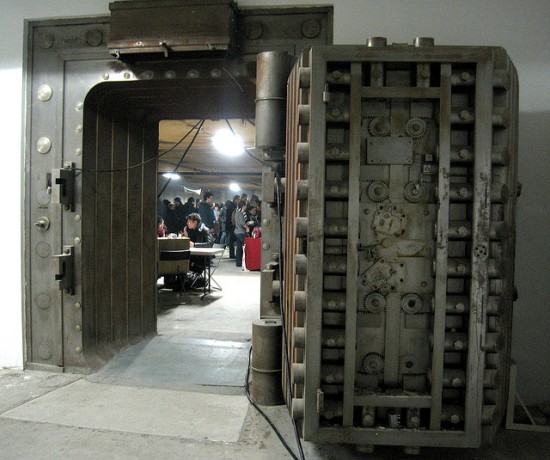 Image: Kris Arnold
The beautiful Williamsburgh Savings Bank building at 1 Hanson Pl. in Fort Greene, Brooklyn, NY, has not been used as a bank for some time, and residential areas have been in the process of being converted into luxury condos since 2006 (with one Magic Johnson at the helm). Built in 1927, this Brooklyn landmark is the borough's second tallest at 37 stories and 512 feet high, making it one of the world's tallest four-sided clock towers.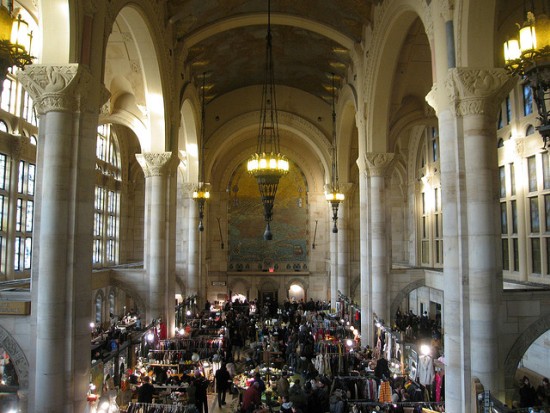 Image: Kris Arnold
The building's lobby, the Romanesque Beaux Arts bank hall and the Art Deco vault have been lovingly restored and are now used for commercial purposes — parties and other events — and Brooklyn Flea, the borough's popular flea market, as pictured here.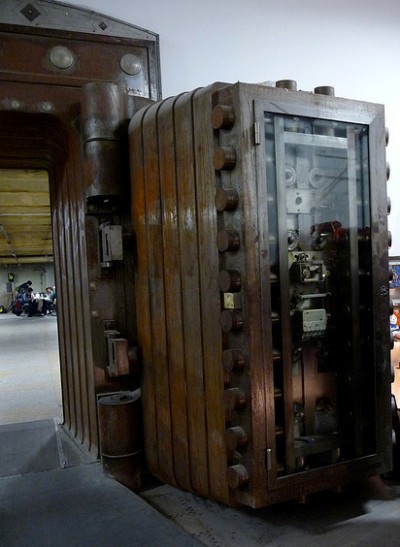 Image: Rex Roof
In the top picture, we can see the food stalls housed in the bank's old vault, and below that the flea market in the lobby. The vault's door is a thing of beauty: just look at the transparent pane, which enables you to look at the door's inner workings. Almost steampunk, we're thinking!
2. Cultural Center — Lisbon, Portugal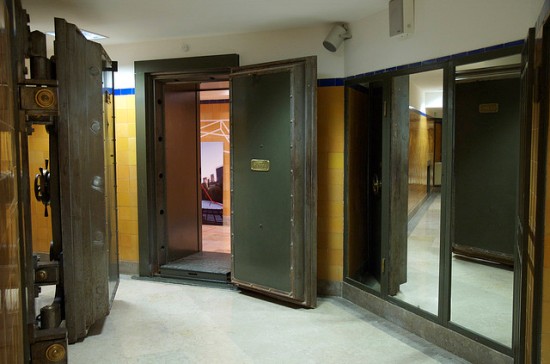 Image: Lydia and her Salad Days
Culturgest is a rather unusual cultural center in the heart of Lisbon, Portugal. Sponsored by the Fundação Caixa Geral de Depósitos, it is housed in one of the bank's old branches. Conference rooms and an outside amphitheater form part of the venue, but most spectacular of all may just be the two exhibition galleries housed in the former bank vault. In place of safe deposit boxes, you can now find the latest in contemporary art. A must to check out if you're in Lisbon, but make sure not to "withdraw" anything!
1. Hotel — One King West, Toronto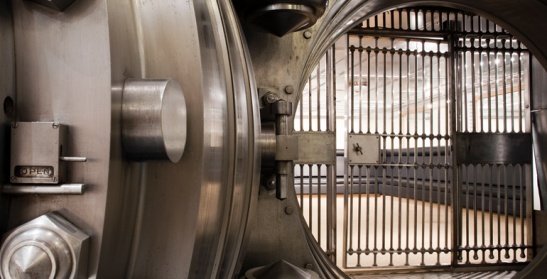 Image: One King West, used with permission
Toronto's heritage building at 1 King St. W. has always been a prestigious address, housing wine merchants in the mid-1800s, a bank from 1879 to 2005, and the current hotel since 2006. The vault (also pictured top) was built in 1914, when the Dominion Bank moved into the newly constructed 13-story tower, then considered a skyscraper. The vault's history is itself fascinating; according to the hotel's website: "At the time considered the largest and best equipped bank vault in Canada, the vault is approximately 33 feet square by twenty-five feet high, and is divided into two stories; the upper or Safety Deposit Vault and the lower or Treasury Vaults."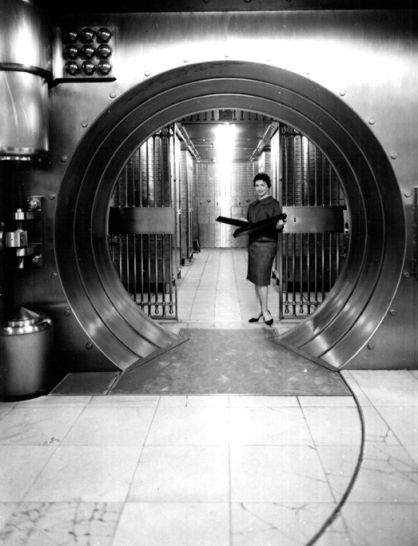 Image: One King West, used with permission
The vault door is to date said to be one of the "largest and heaviest doors ever built." It is 4.5 feet thick and weighs more than 40 tons! However, don't be fooled: "Despite this mammoth weight, the precision of the door's construction is so fine that a paper clip accidentally dropped in the opening will halt the door from closing." Impressive!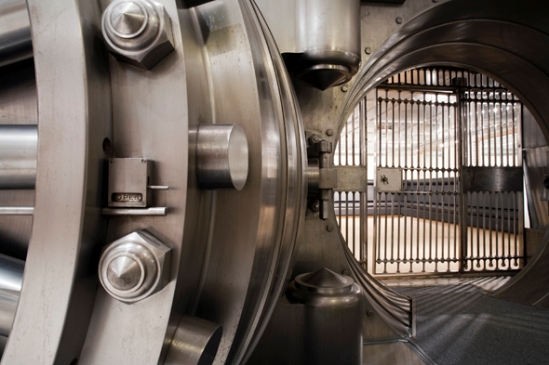 Image: One King West, used with permission
The vault is today one of the hotel's meeting rooms on the lower floors and can be reached via a winding central staircase. What a place for a top secret meeting, where no one can enter who is not invited! Back in the day, the bank, as a precaution against tunneling, built passages with steel grills, mirrors and lights around and below the vault, to allow full access for security men and increased surveillance. So efficient, it's almost creepy. Wouldn't want to be trapped in here! We know there are many more repurposed bank vaults out there that include
museums
, hotels, meeting rooms and
steak houses
and even a
bike shed
. If you know of a particularly cool one, make sure to let us know!
Sources: 1, 2, 3, 4, 5, 6