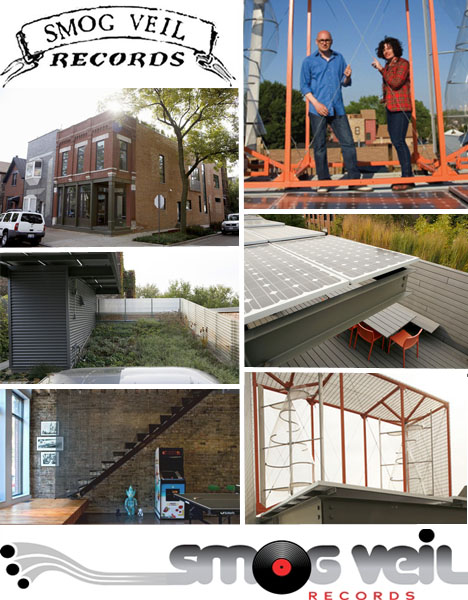 For 20 years now, indie-music lovers have relied on the quirky catalog of auditory delights made available by
Smog Veil Records
, encompassing such diverse artists as Pere Ubu, Rubber City Rebels, Vacancies and The New Christs. The label's left-of-center approach to the world of rock is also mirrored in its attitude toward sustainability, as evidenced throughout the remodeling process of its
LEED
-certified offices, which stands as a testament to the benefit of working
with
rather than
against
the natural environment. Marching to the beat of its own sustainable drum has been an integral part of Smog Veil's credo, and while some people talk the talk, the label has clearly put its money where its mouth is by making a conscious effort to run a squeaky green ship. Feast your eyes on the supremely green pedigree that this punk record label has earned through diligence, dedication and a deep commitment to the greater, greener good.
The rundown on Smog Veil Records
WHO:
Frank and Lisa Mauceri, proprietors of the indie punk label
WHAT:
The two-story, 5,600-square-foot brick-faced Wis Tavern Building, built in the 1880s, was transformed into a turbo-green residence and office combo for Smog Veil.
WHERE:
Chicago's Bucktown District
WHY:
The couple, who were bitten by the eco-bug while running their music label in Reno, NV, slowly but surely began integrating greener efforts into their daily business practices, which currently include offering compact discs packaged in 100% recycled paperboard printed with soy-based ink, transitioning to MP3 downloads rather than physical CDs whenever possible, and dramatically reducing the amount of paper that they use in publicity and marketing campaigns to help streamline their carbon footprint even further. They also distribute a green report detailing how their renovated building continues to score in terms of energy savings.
HOW:
Embracing a defined set of eco-friendly remodeling principles enabled the owners
to earn Illinois' only Gold-level LEED-certified status for a residential property.
Utilization of 80% of the construction waste, including the original floor joists and trusses
Unique terrazzo flooring made entirely of crushed recycled vinyl records and glass
Natural light is utilized as much as possible
Low-wattage fluorescent lighting
Low-E insulated glass
Soy foam insulation
Drywall made with recycled material
Sustainable energy systems galore, from 15 geothermal wells that steadily generate 55º air for cooling and heating (no matter the season), to 30 5,000-watt rooftop solar panels and silent double vertical-axis caged wind turbines, the latter of which generate 10 megawatts of electricity every year. All told, the entire green scheme creates 50% of the building's entire power requirements.
Wind turbines were purposely designed to be visible to birds.
A 1,900-square-foot rooftop garden offers natural insulating properties while controlling storm water runoff and offering biodiversity for local wildlife.
Energy Star appliances
Famous last eco-words:
"Our dream is to green the music industry by living a greener life." — Frank Mauceri